Time Schedule/Time Line, Essay Example
Pages: 6
Words: 1582
Essay
This Essay was written by one of our professional writers.

You are free to use it as an inspiration or a source for your own work.
The proposed project entails finding out the effects of poverty on education and life experiences of children and young adults. The project is expected to take a maximum of eight weeks from the starting date to the final product or complete research proposal. This will be important in evaluating the feasibility of the project. This time schedule hypothetically maps out what is to be done and when it is to be done in the course of the research or project. The overall amount of time given for completion of the study has also been factored in and the following is just an overview of when each step will be carried out in order to collect the data.
The research will begin (hypothetically) on 6 January 2014 and end on 7 March 2014. The first stage will be drafting of the research proposal or piloting before the major research. This will take place in the first week. Next, the submission of the proposal to the supervisor for approval will follow, after which data collection will begin. The next stage will be screening interviews, which will entail going to the source of the case studies or the archives, the American Community Survey (ACS). Accumulatively, this will take close to four weeks then the main study, which will entail completion of data collection and completion of data analysis for approximately two weeks with objective to have as many respondents as possible reached. The time allocated for these two activities is that long due to the external constraints involved since the collection of data will be dependent on the respondent's availability. Regular progress reports and updates will be provided to the supervisor and a final review of findings in the eighth week. The final report will also be drafted in the final week.
Resources Needed
For this project on the effects of poverty on educational and life experiences of children and young adults, the resources needed will entail gadgets for computation and compilation of data. These include electronics such as computers and calculators. Some of them should be manual considering that power blackouts may happen unexpectedly. For research on such a vast topic, there is need for availability of Internet connection as one of the programs for basis of research. Gathering resources is a very rigorous activity especially in this case where it will entail making several trips to and from the offices of the American Community Survey (ACS), the main U.S. Census Bureau to the United States Bureau (United States of America county data files) in order to obtain demographic data from every one of the counties. For such journeys, a means of transport has to be factored in, in the resources required or needed for the research. An automobile or any means of transport will make mobility between these points a bit easier.
Another resource needed is the research material itself and in this case, the case studies or surveys conducted in the past. These will be necessary because not everything will be available on the Internet and as such, the actual surveys will supplement the number of resources available. The resources could also be primary or secondary, where primary resources entail firsthand materials like maps, diaries, graphs, interviews, charts, statistics, as well as other documents which are original. Secondary resources needed entail writings on primary sources or about extracted information from the primary sources in form of summaries and opinions. Other resources could include a library for gaining access to such resources as encyclopedias, which are specialized, and other referencing material. Other resources needed might include journals and newspapers.
Personnel
The categories and types of assistance needed from others to conduct the proposed research will include policy makers such as the National Planning and Resource Management Committee in pushing for the results or findings of this research to be considered as credible for future planning purposes. Other personnel who are stakeholders in ensuring that universal goals such as education and health are achieved will be of importance to this study and they include nongovernmental organizations as well as the civil society. In the process of data collection, personnel (and not participants) will entail the librarians who will assist in carrying out book searches. The attendants and a couple of staff members at the archives, the National Census Office, and the United States Bureau will also be very important personnel in the research process. Another category of personnel will be the support staff who will aid in verification of the information gathered and also the advisory panel who will go through the research proposal. Last but not least, the most assistance will come from my supervisor who will go through the research proposal and offer necessary guidance in submitting a final copy without unwarranted flaws.
Budget
The following will be the expenses that are proposed to be incurred during the research. This research will reimburse some, but not all the personnel. There will be inclusion or allowance for new costs that will be incurred incase funding for the project is available, as well as factoring in of ongoing expenses for the items that will be given allocation for the project. The budget estimates will play an important part in developing the proposal as well as discussing it with funders and believably so, will be useful in monitoring the project once started and also in reporting after the grant has been completed. This in essence is an expense budget in which costs are grouped into subcategories which are selected in order to reflect all the areas of the expense which are critical.
Item
Description
Cost
1. Research materials
-these include pens, books, folders, calculators (all stationery)
Average cost per week will be 50 USD*8 = 400 USD
2. Statutory fees
-necessary at entry points to libraries and archives as well as use and access of national records.
Sum total of 800 USD estimated at 100 USD per record per week (2 records for 4 weeks)
3. Overhead costs
-these include transport costs (fuel costs), printing costs, internet costs, mail back fees for postage stamps.
Approximate total cost = 2000 USD
4. Miscellaneous
-emerging costs from price changes, contingency amounts, and appreciation cash tokens to some of the personnel as well as any arising costs during the project.
Approximately 4000 USD
Total
Approximate
= 7200 USD.
Needed Assurances/Clearances
The institution should be responsible for implementation of a comprehensive and systematic program for the protection of human research. There should be assistance accorded from the department in reviewing the research at a supervisory level. The study should be designed in a manner that it meets very high scientific standards as well as protection of human subjects. There should be a mechanism in place to assure that research protocols, which concern humans, meet the rigorous scientific as well as human protection guidelines.
There should be clearance from the Department Chairperson to ensure scholarly or scientific validity. This will satisfy that the procedures of research are consistent with research design which is sound. The other assurance is that the research design is capable of yielding the knowledge expected to be provided in the protocol of the study. There is need as well to assure that the knowledge that will emanate from the research will be beneficial. These reviews may be conducted personally by the Chair or a member of faculty or any other review mechanism as the Chair may deem fit. The research should fully assure the reviewer that the background, methods, as well as aims of the study are perfectly and clearly outlined.
There will be necessary release of information from the United States Bureau on Census and demographic data concerning populations in the various counties. This is in line with the years and dates of study and such information as will be reprinted or used will have to be verified by the state officials in charge at the archives and or libraries. There is also the necessity of having the participants filling in a voluntary consent form to signify their permission to take part in a research involving human subjects and parameters.
Below is an example of a sample consent form that can be used in this study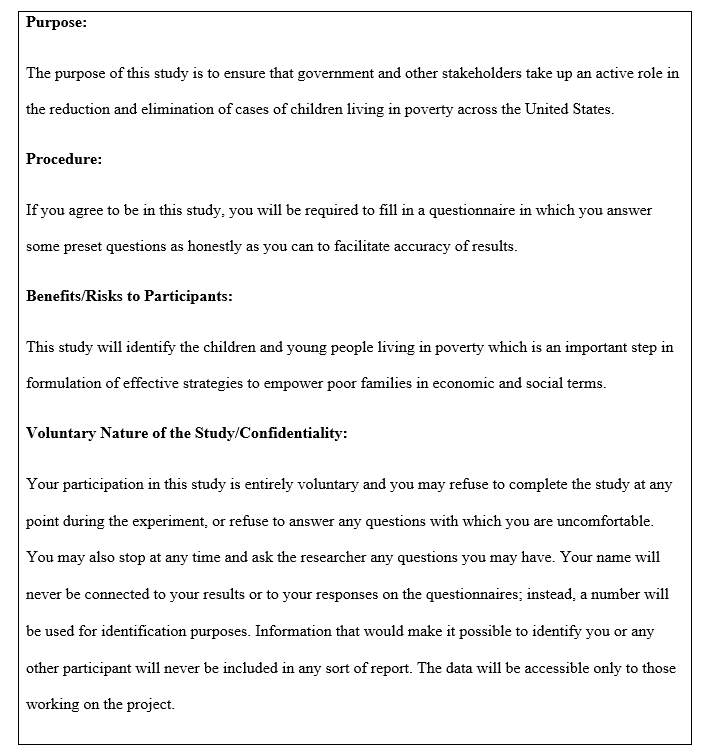 Contacts and Questions
At this time, you may ask any questions you may have regarding this study. If you have questions later, you may contact XXX at 555-555-5555 [email protected], or his/her faculty supervisor, ZZZ at 555-555-5555 or [email protected].  Questions or concerns about institutional approval should be directed to Sharon Rivera, Chair of the Institutional Review Board for Human Subjects, 315-859-4223 or [email protected].
Statement of Consent
I have read the above information. I have asked any questions I had regarding the experimental procedure and they have been answered to my satisfaction. I consent to participate in this study.
References
Brooks-Gunn, J., and Duncan, G. (2007). The effects of poverty on children. The future of children, pp. 55–71
Lindsey, D. (2009). Child poverty and inequality. Oxford: Oxford University Press.
Mattingly, M., Johnson, K. and Schaefer, A. (2011). More poor kids in more poor places: children increasingly live where poverty persists. Durham, NH: Carsey Institute, University of New Hampshire
Minijun, A., Delamonica, E., Gonzalez, E., and Davidziuk, A. (2005). Children living in poverty. Desk review papers for UNICEF. [report] New York City: UNICEF, pp. 1-55
Vlemsinckx, K. and Smeeding, T. (2001). Child well-being, child poverty and child policy in modern nations. Bristol, UK: Policy Press
Time is precious
don't waste it!
Get instant essay
writing help!
Plagiarism-free
guarantee
Privacy
guarantee
Secure
checkout
Money back
guarantee
Get a Free E-Book ($50 in value)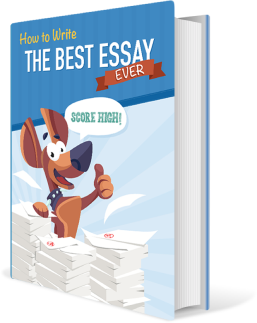 How To Write The Best Essay Ever!