Using Educational Web Tools, Essay Example
Pages: 1
Words: 629
Essay
Introduction
Kidspiration is an educational technology software program that is specifically designed for students and available at different levels depending on the grade level. This software allows children to visually learn through graphical organization and diagrams, such as the mapping graphic seen in Figure 1. (Inspiration Software Inc., 2012).  The purpose of this software is to help students research and conduct projects more easily. (McDaniel, 2012)   In addition to Kidspriation, there are many more types of educational technology tools available for educational uses, such as open source tools, video sharing, wikis, and collaboration tools. Deciding which type of education technology tool to use in the classroom depends on the availability of resources, requirements and needs for your classroom, as well as the willingness of the teacher to undertake a new type of teaching in the classroom.
The biggest challenge to implementing the different types of new technology into the classroom is that the technology is not as teacher-directed.  It is important that the teacher understand the technology and act confident.  Therefore, the best type of technology or software implemented should be software that can be easily manipulated and corrected if needed. (Kopler, et al.)  In this classroom, I feel that using wikis would be a great educational tool. Wikis are a group of web pages in which any individual can edit, from anywhere in world. The goal of wiki is to become a shared source of knowledge that grows over time (Godwin-Jones, 2003).  A good project for students using wiki would be the creation of an encyclopedia on the topic at hand.  (Educational Wikis, 2012)  Each student could be assigned a specific topic. For instance, if the topic is on "Marine Mammals in the Pacific Ocean", each student would be assigned a marine mammal.  They would obtain any information on the mammal, pictures, and references.  (This is also a great opportunity to teach students how to cite references).  The information is added to the wiki site and all of the student's information in the classroom is collaborated. In addition, the students are able to add information to other mammals that they are interested in after the initial part of the project is complete. This allows the students to have interaction with each other and complete a project as a group.  The main page of the project can also be collaborated as a group as well.  Placing this wiki page on the Web also allows other individuals from around the world to add information.  In addition to wiki, Kidspiration could be implemented as well.  A mapping tool can be constructed to organize the steps for obtaining information on the mammal and adding it to the wiki source
Conclusion
Overall, there are different types of technologies that one could use in an educational classroom.  Choosing the type of technology depends on the needs of the students and resources available in the classroom.  In addition, the teacher should implement the type of technology that is most comfortable for them and easy to manipulate. For my teaching requirements, using wikis and Kidspiration would benefit my classroom the most, as the projects can be collaborated and organized properly.
Figure 1.  Diagram obtained using "Kidspiration". Dissecting Education Technology.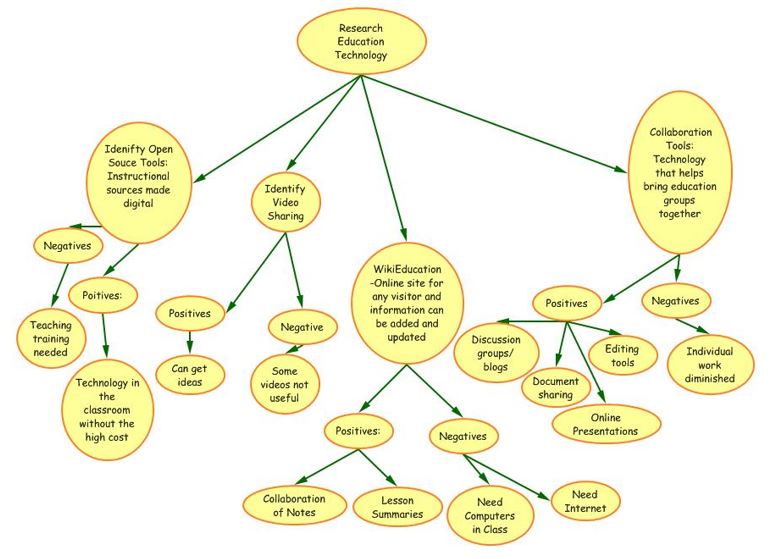 References
Educational Wikis. (2012).  Educational Wiki Ideas. Retrieved on March 31, 2012 from: http://educationalwikis.wikispaces.com/Educational+wiki+ideas
Godwin-jones, B. (2003). Blogs and wikis: Environments for on-line collaboration. [Electronic version]. Language, Learning and Technology, 7(2), 12-16. Retrieved December 4, 2004 from http://llt.msu.edu/vol9num1/emergin…. Available in HTML
Inspiration Software, Inc.  (2012).  Home page. Retrieved on March 31, 2012 from: http://www.inspiration.com/gcnk3?gclid=CMWvrdjYka8CFSoGRQodXRQe0A.
Klopfer, E., Osterweil, S., Groff, J., Haas, J.   Using Technology in the Classroom Today. Retrieved on March 31, 2012 from: http://education.mit.edu/papers/GamesSimsSocNets_EdArcade.pdf
McDaniel, R., eHow contributor (2012). How to Use Kidspiration. Retrieved on March 30, 2012 from: http://www.ehow.com/how_5121655_use-kidspiration.html.
Time is precious
don't waste it!
Plagiarism-free
guarantee
Privacy
guarantee
Secure
checkout
Money back
guarantee