Victoria's Secret Letter, Essay Example
Pages: 5
Words: 1425
Essay
This Essay was written by one of our professional writers.

You are free to use it as an inspiration or a source for your own work.
I am a [year]-year-old teenage girl writing this letter to let you know what I think of The Perfect "Body"advertising campaign, the one showing seven women modeling some of your two-piece lingerie. As you know by now, this ad has provoked a lot of negative comment on the Web, including an "#iamperfect" campaign on Twitter, and a Dear Kate protest campaign showing older non- or ex-models wearing the same kind of lingerie. But to me all these complaints overlook your use of quote-marks around "Body." The dictionary tells us that one of the uses of body is "the part of a garment covering the body or trunk." So your ad was coyly referencing the clothes, not the women wearing them. To be consistent, your follow-up campaign A Body for Every Body could have just said "Body" for Every Body, dropping the "A". Only the garments themselves need have been shown. But then it wouldn't be a Victoria's Secret ad.
That's not really why I'm writing. Instead, I cite the above reasoning on my part as an example of how anorexics continually rationalize things to themselves. We surround ourselves with reasons not to be free, to throw up instead of throw over. In Kingsley Amis' 1986 novel The Old Devils, the protagonist Malcolm, a middle-aged academic, is looking over a long-term translation project of his when "A great God-given flood of boredom and hatred went coursing through him." He almost tears up the manuscript, but his own pale thought stops him at the point of his own liberation. He puts the papers back and resolves to continue working on them. But the reader knows he is only going to be haunted by them.
The singer Karen Carpenter once told a friend that she was felt haunted by her own anorexia. She said she once startled herself with her own sudden reflection in a full length hotel-room mirror and broke down crying at the sight. Audiences were aghast at the sight of her on stage, and her brother Richard finally refused to perform with her. Yet she continued her tricks of pushing her food around on her plate instead of eating, of purging, of covering up her bony shoulders with padded clothing, and adopted the slogan A moment on the lips, forever on the hips. Eventually, her body, starved of protein, began to eat its own muscle. The heart is a muscle, and her body began eating that too. When Karen tried to begin eating again, one more time, her heart was too weak to handle food at all. That's what happens to some concentration-camp survivors — they die after they are freed. As for Karen Carpenter, she had to die to be free.
I don't know exactly when my own anorexia began. I was probably thirteen. I don't know the reason why I started. It was not a rational decision. I doubt if it was a decision at all. I just began seeing myself as fat. But when I looked at your models, who weighed more than I did, I did not see them as fat at all. I definitely wanted to look like them. Or at least I thought I did. That's where the rationalizing started. My parents tried to reason with me: Look at your arm! Look at it! Think! Eat! Nothing got through. I thought I would take up ballet because ballet dancers are thin, but when I did not have the energy and stamina to dance, I rationalized that it was just an adjustment, and anyway I was also too fat to stand on my toes.  This redoubled my determination to really diet for a change. No more compromises.
No prom either. I remember once walking home from school with some girlfriends when some boys they knew approached and asked them if they wanted to go to McDonald's. They all talked passed me — they didn't see me. It was just understood that I was not being asked, that I had no meaningful existence. Then they all turned and walked away together and did not look back. Students I knew driving by on their way home stared and then looked away.
I am not blaming you for the business you are in. I realize that women's bodies have been idealized for a long time. Playboy has been around since 1953. But Playboy was for men. I doubt they made a point of telling people, especially women, that they bought it. Victoria's Secret was begun as a store where men could buy lingerie for their wives or girlfriends, supposedly without embarrassment. It was almost as if men were now free to buy Playboy to give to their women, as if to say Can't  you at least try to look like her? But now Victoria's Secret is a store for women.
I guess that's progress. But here is a funny thing: although I've spent many, many hours staring at your ads in magazines and catalogs, I've never been in one of your stores. I rationalized that I just needed to lose another half pound first, then I would be worthy to be a customer. But in reality I knew that I was the last customer they would ever want to see come through their doors. It would be like someone with a portable oxygen-tank approaching a cigarette kiosk and asking for a couple of cartons of Marlboros. People would shudder.
One thing I should make clear: I don't buy into the whole every body is beautiful mantra. Hey, plenty of bodies out there aren't beautiful at all! In fact I've always thought that your clothes only look really good on girls with well-developed bodies that are no older than eighteen, if that.  After that they just begin to look wrong, no matter what the shape of the model. And after that, women face ahead a lifetime of either actively fighting imperfection or disguising it. Two-piece lingerie doesn't allow anything to be hid, so we are left with diet, exercise, plastic surgery — or just (to use my father's favorite 1960s put-down phrase) to let it all hang out — which is what the Dear Kate anti-Perfect "Body" ads have done.
Of these two sources of imagery — Dear Kate vs. Perfect "Body" —  I don't know which is worse for a young woman with a non-model's body. On the one hand, she can't really measure up to the models, but she doesn't really want to look like the other women when she gets to their age. Which brings up another point. A lot of men think that women are trying to look beautiful for them. But that is only partially true. Actually our real competitors are other women. It is probably the same for men who do bodybuilding. Sure, they want to impress the women. But they really want to show up other men. I think this is a big part of anorexia. At bottom it is about competition. We are saying I can delay gratification longer than you can. But Victoria's Secret is not about delayed gratification. It is all about what you get to wear after you have delayed gratification long enough to earn the body to buy the "body" you sell.
After I got into college I finally began to recover. A health counselor I saw knew the drill and got me eating again. Actually I don't even think I was that big a challenge for her, at least compared to some girls she had worked with. She just asked me to bring her some pictures of me before I became anorexic — when I was just another kid on the block, getting wet from the sprinklers in summer. I thought this was just some more therapy-talk, but when I found the pictures I immediately saw what her point was. After looking at them — I think I had unconsciously avoided them all these years — I went to the mirror. The difference was more than just being a few years older. Those pictures were of the real me, unhaunted. Suddenly I had my own "great God-given flood of boredom and hatred." I wasn't going to cry like Karen did.
And since then I really have never bothered to look at another Victoria's Secret ad.  I still have never gone into your stores either, even though doing so would no longer turn any heads the wrong way. You ads have a great effect on girls and women in today's society — when they no longer see them, the way those boys did not see me, that day back in high school.
Time is precious
don't waste it!
Get instant essay
writing help!
Plagiarism-free
guarantee
Privacy
guarantee
Secure
checkout
Money back
guarantee
Get a Free E-Book ($50 in value)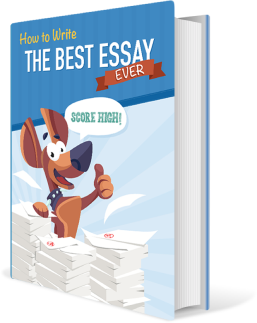 How To Write The Best Essay Ever!