Back to School Offer
Get 20% of Your First Order amount back in Reward Credits!
Get 20% of Your First Orderback in Rewards
Balance Theory & Spokesperson Strategies, Essay Example
Pages: 2
Words: 540
Essay
This Essay was written by one of our professional writers.
You are free to use it as an inspiration or a source for your own work.
Need a custom Essay written for you?
HIRE A WRITER!
Part I
Since Charlie hates cigarettes but his best friend Sam likes cigarettes, the fact that Sam likes cigarettes may persuade Charlie to feel more comfortable about cigarettes.
If this triad were to make Charlie uncomfortable, he may instead decide to no longer like Sam because Sam likes cigarettes. In addition, Charlie can conclude that Sam doesn't really like cigarettes and he was being persuaded by another friend or a business to say that he does.
Part II
Part III
Since Don Jeere's goal is to market their expensive lawnmower to a typical woman in her 30's and researchers found that the portion of this demographic that are most likely to do the lawn mowing chores are single mothers or those who support the mixing of gender roles in housekeeping, the spokeswoman for this campaign should be Charlize Theron. Charlize Theron is a popular actress in her late thirties who recently adopted a child without being married, making her relatable as a single parent. In addition, she is a strong woman that many people in this demographic may relate to for this additional reason. Since the lawnmower is expensive, it is important to pick a spokesman like Charlize Theron because there are very few people who dislike her due to her ability to stay out of Hollywood controversy and drama. Almost everyone in their thirties should be aware of who Charlize Theron is and know of and enjoy at least several of her films.
Part IV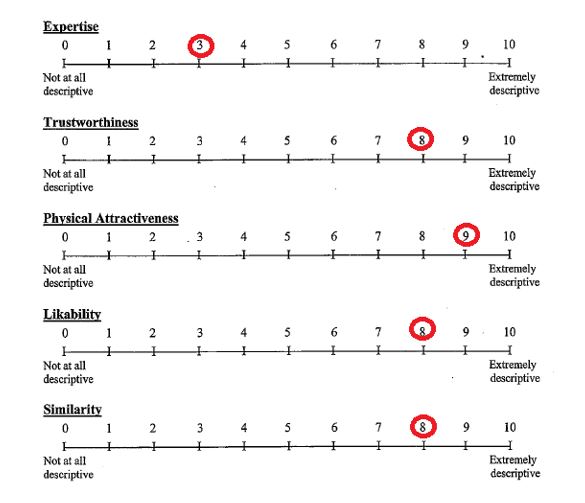 Part V
I do not wish to change my choice of spokesperson. Charlize Theron remains an ideal spokesperson for the Don Jeere lawnmower because she scores well on many of the categories included in the five source characteristics. Although this actress does not score highly as an expert, it is nearly impossible to find a famous woman in their 30's that is an expert in lawnmowers. Even famous figures like Martha Stewart who are known for their ability to keep homes, cook, and decorate aren't known for their mechanical expertise or skill with lawnmowers. Therefore, any woman who is relatable to this group is better than an unknown spokesperson who is an expert in the product being sold. While the "match-up hypothesis" states that physically attractive women are better at selling products that increase beauty, I believe that it is still helpful to make use of a spokesperson that people regard as beautiful in this situation. A few consumers in this target group may find her more of a role model and be more likely to buy the product for this reason. Although using Charlize Theron as a spokesperson for the Don Jeere lawnmower isn't effective according to the first two marketing strategies, she is highly relatable to women in this age group. If they see Charlize Theron, who is also a single mother, a strong woman, and in their age group using a Don Jeere lawnmower, the targeted consumers will be more likely to purchase the product because they will feel that it is something they need to make their lives easier and their lawns more aesthetically pleasing.
Time is precious
don't waste it!
Get instant essay
writing help!
It's a Free, No-Obligation Inquiry!
Plagiarism-free
guarantee
Privacy
guarantee
Secure
checkout
Money back
guarantee
Get a Free E-Book ($50 in value)
How To Write The Best Essay Ever!