Being at the Helm of the Global Ship, Essay Example
Pages: 5
Words: 1401
Essay
This Essay was written by one of our professional writers.

You are free to use it as an inspiration or a source for your own work.
Christian principles dictate that we must do the best we can to help others in order to promote charity. In the modern world, too many people have become selfish, thinking only of themselves instead of those less fortunate. To further this, even those who are occasionally charitable only contribute their time and money to volunteer work during the holiday season. However, it is important to remind everyone that charity should be conducted all of the time and constantly be on our minds. This is the only way that we can all contribute to improving the lives of the less fortunate. If I could be captain of the global ship, I would promote the involvement of community leaders in these efforts to recruit a large number of people to participate in the overall improvement of the community.
It is important for us to remember the Ten Commandments, which are followed as law by many of the major religions in the world today. Furthermore, the teachings of Jesus tell us to act just and pure. In order to ensure that justice is achieved, it is important for us to that everyone has an equal chance in their lives. Therefore, as a captain of the global ship, it is important for me to spread these teachings to others. This involves improving the positions of the poor so that they have access to the same opportunities that those with wealth have. It also involves creating a climate in which individuals that belong to even other religions are protected.In The Other Face of God, Mary Jo Leddy supports this belief by stating "we want to provide a space of safety in which the residents do not have to apologize for their religion or defend it". In addition to ensuring that these have access to basic human rights, it is also important to make sure that they have the ability to access education, which will allow them to be able to support themselves and eventually give back to the community. Therefore, as a captain of the global ship, I would work to follow one of the purest examples of human charity, which was the work of Mother Theresa, who lived among the poor while providing them with aid.
As second point that Leddy raises an important point concerning our tendencies to contribute to charitable causes. Often, it is easiest for us to contribute to causes that have the potential to impact us personally, which is not necessarily unselfish. While it is important to help others in our local community, it is also important for us to consider the extent of suffering that is going on in the world around us. Therefore, in order to be truly charitable, we must make ourselves more aware of the needs of others all over the world. One way this could be done is by living in the same conditions as the poor that we mean to help. As captain of the global ship, I would make this a part of my mission. After all, Leddy explains that the purpose of fasting "is to remember our hunger for God and to be mindful of those who are hungry". An excellent way to provide support for these individuals, also according to Leddy, is prayer, as it "becomes an urgent necessity when you are face to face with great suffering and need". Thus, as the captain of the global ship, I would integrate prayer with charity.
An example of this would be educating ourselves about the poverty and struggle of many individuals in African countries such as the Democratic Republic of Congo. The citizens of this country are among the poorest in the world, and it is primarily the actions of their government that have contributed to their inability to achieve health and happiness. In Globalization, Spirituality, and Justice, Groody states that political values, among others "are the concern of spirituality". Ultimately, volunteers would be able to reverse the poverty of the entire country if efforts were made to support business in the area. The Democratic Republic of Congo has the most valuable natural resources in the world in terms of quality and quantity, and providing these individuals with the information and infrastructure necessary to conduct business in the region would help the situation of nearly every individual in the country. Therefore, it is our job to be educated about the needs of others so we can best determine how to contribute to the solution of the problem. While many people donate money, food, and healthcare to these regions, it is important to emphasize that while this prolongs the pains of these people, it does not truly fix these problems. As the captain of the global ship, it would be necessary for me to support this process.
While it is important for individuals in better financial positions to help others all over the world, charity is also necessary from those who have little to give. It would be valuable to implement the knowledge of Christian principles in poor regions, such as the Democratic Republic of Congo, so that we may teach them that they should help one another despite their impoverished state. Doing so brings a sense of community. Groody states that prayer "connects us with other people". Often, the ability of people to band together and support one another is the first step that is needed to reverse their distraught state. Furthermore, giving them the gift of faith will help improve the situation as well. As a captain of the global ship, it is therefore my responsibility to build community.
Ultimately, Christian charity involves providing people with the resources they need to build better lives for themselves. This all begins with faith and trust that God wants the best for His people. Furthermore, it must begin with our understanding of the suffering that these individuals are going through. Only then will we truly have the ability to help others. Groody discusses the importance of fasting and prayer in renewing our relationship with God. Not only does this strengthen our relationship with God, however, doing so also strengthens our relationship with humanity. It allows us to truly understand and reflect upon the suffering that many people around the world are going through. We can consider that Mother Theresa was effective in her efforts to bring love and faith to the Indian people because she lived among them in poverty. Therefore, she was able to gain a true understanding of their struggles and determine what was truly necessary to ensure that they would be able to maintain health.
The single most important aspect of charity is to remember that Jesus loves us all equally, and because his love is equal, we are all equal. Therefore, it is important for us to treat others how we wish to be treated. It is highly likely that if we were impoverished or sick, we would want the help of others to feed us and nurse us back to health. This would be a major responsibility of mine as a captain of the global him. It is important for us to ensure that this will be the case for the children of the world. For many individuals, this will mean simply contributing money to a charitable organization that will visit a troubled area and ensure that this occurs. For others, it will mean personally volunteering their time and becoming involved in these efforts. Ultimately, my job will be to encourage these individuals to do so. Despite the extent of our involvement, it is important for us to constantly think of the individuals that are in need and help them in every way that we can. Doing so will directly contribute to the improvement of the world.
In order to ensure that these charitable efforts produce meaningful results, it is important to inspire leaders to participate and encourage others to do so as well. While some individuals are always concerned about the welfare of others, it is important for us to all be this way. Leaders are responsible for convincing others that this is the case. If we wish to implement change, then we must all work together and be involved. We therefore must work together to educate others on the problems of the world so that we may be able to develop reasonable solutions and facilitate change. Therefore, the ability to encourage others during this process will become the forefront of my responsibilities for this effort.
Time is precious
don't waste it!
Get instant essay
writing help!
Plagiarism-free
guarantee
Privacy
guarantee
Secure
checkout
Money back
guarantee
Get a Free E-Book ($50 in value)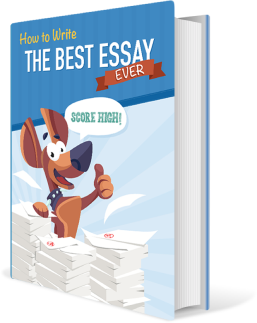 How To Write The Best Essay Ever!