Challenges Facing Former for-Profit Private Universities, Capstone Project Example
Abstract
When the topic of education is being given attention to, it is almost impossible to not consider the aspect of finances especially if the topic is related to the administration of for profit universities that are currently operating in the society at present. With the challenges already facing the industry of education, for profit universities need to even give attention to the growing need of retaining their clients through increasing satisfaction.
What makes it hard for such educational institutions to keep the interest of the students in deciding to remain enrolled in their establishments of learning? This is one of the main concerns that are to be discussed within the context of this study. Examining the different issues that are relatively making it harder for for-profit universities to retain student loyalty, this study shall try to impose and express interest on the possible solutions that could be applied in line with the course of developing administrational operations of such institutions.
Considering all the issues that the administrators have to face, this study is also interested in providing a clear vision on how to make a stand in creating changes that could increase the reputable recognition of for-profit universities in the society today. From this point, it is expected that such approach could become a good source of solution for organizations that are currently facing the dilemma of operating in the education industry with a for-profit goal. From here, it is expected that their competence in serving the values of the public would be heightened while also increasing their capacity to earn profit from their target market.
Chapter 1: Introduction
Background
According to research several for-profit universities had been under pressure from the federal government since prior to the last quarter of 2010. Undercover investigations found that a number of such universities used high-pressure marketing tactics to gain student enrollment for federal student aid funding. As the Department of Education began revamping rules to limit such behavior, the Florida Attorney General Wiggins launched her own investigation into the trend toward misrepresentation of retention and job placement rates (Keller, 2010, internet).
Although a number of institutions have been implicated, two are the most notorious offenders with respect to the number of complaints: Everest University and Kaplan University. Most of the complaints considered center around non-transferrable credits, billing problems, and deceptive sales practice. Nevertheless, to keep the problem in perspective, such complaints constitute less than 5% of the student body. Although it is better business practice to keep consumers happy, it is simply not always possible to achieve. Invariable, every business is going to have at least some dissatisfied customers (Scott, 2011, internet).
Problem Statement
The problem from a business standpoint is threefold. It is incumbent upon university administrators to demonstrate a profit to stakeholders, to maintain a transparent operation within federal and state guidelines as well as demonstrate an ethically sufficient business paradigm. The antecedent organizational imperative appears to be at the level of management and leadership (Ewell, 1999, p. 43). In order to address proficiently these functional requirements, management must implement certain changes. To delineate what these changes should be, the facts are analyzed and specific questions with respect to operational procedures are proposed.
Research Questions
The average universities retention rate from first year freshmen to sophomore in the United States is about 70% with variation between states. For four year private for-profit colleges it was less than 50%. Overall graduation rates for bachelor degrees in the United States are only 55% (The National Center for Education, 2012, internet). The for-profit private universities are not even meeting the national average with freshmen retention. The range of reported data is highly variable between institutions. Everest's institution overall returning student body is reported at about 36%. Kaplan is at 70% (OEDb, 2012, internet). The following queries represent the core questions this research is intended to address.
What customer service challenges are interfering with student retention in for profit private universities?
What are some of the business practices of for profit private universities associated with the student dissatisfaction trend?
By improving for profit private universities brand around a change effort to build institutional loyalty, will the institutional image radically improve over a period of time?
Research Hypothesis
This research presents a hypothetical response to these questions. As previously stated, the business imperative is at the center of the controversies. In essence, the allegations are for the most part the result of poor quality management processes at the level of marketing and sales as well as accounting and billing. Typically, when a business starts to take shortcuts to such an extent one or a combination of a few things must be happening. It could be the customer service personnel are not properly trained, management is leading by poor example, accounting, finance and collections are adhering to unethical business practices, operational personnel are underperforming, or you have a client who is unsatisfied by due diligence (Ewell, 1999, p. 53). It is probably a combination of these factors, but with for-profit institutions, the imperative usually boils down to a problem with the bottom line.
Certainly, the facts may be that is not just about how well managed is a business; ROI simply cannot justify proper operations. What this really means is that wherever these universities started, these institutions have adapted (even though not in accordance) to the fiscal reality. Part of this fiscal reality is depending on drop-out rates for profit. After a certain point in every semester, tuition is non-refundable at any institution of higher learning (Ewell, 1999, p. 59). So, if a depending on the number who drop after that time, marginal profit increase with respect to resources required to complete the semester. Furthermore, it appears as if these institutions have become overly dependent on federal student funding. What these universities need to do is restructure the organization such that it can remain profitable without these dependencies.
Significance of the Study
While education is one of the central industries that operate in the world today, it could be analyzed that there are different elements that make it one of the weakest links to development especially when it comes to the assumptions of for-profit educational companies that are aiming to both serve the aspects of educational development while also responding to business options that the organization has in mind (Green, 1998, p. 43). The establishment of business desires in connection with the social responsibilities of the organization often clash.
In this regard, this study would better put a definition on how much such elements could actually work for the development of such for-profit businesses while still retaining their identity and their reputation in the society as organizations that are dedicated towards educating the people and aiding them with the development options that they are in need of to become sources of social progress. Separating the conditions of responsibilities that the organizations hope to respond to is the primary aim of this research. This further makes it a significant source of information that could be used towards reestablishing the competency of the private educational entities and private universities.
This research is also considered to increase the possibility by which private universities are able to make considerable dedications towards completing their mission to the community while also defining their personal desires to get ample profit for the sake of maintaining their business competency in line with the operations that they are aiming to reach.
Purpose of Investigation
Balancing the elements of focus for organizations is an impeccable source of competence and established reputation in the market. The same is true when it comes to dealing with the desires of educational entities that have become for-profit. For educational organizations, it could be recognized that they are designed to provide attention to the point of serving the needs of the public especially in relation to getting the knowledge they need to establish progress.
True, it is first and foremost important for schools and universities to uphold that particular responsibility they promise to comprehend with in line with equipping the society with knowledge (Finn, 1998, p. 39). Managing their operations towards such conditions provide a great impact on how they are recognized by the society. However, when it comes to responding to new conditions of gaining profit as a form of business entity, for-profit universities face difficulties of realigning their concerns.
Balancing the different options of utilizing available resources to provide for the needs of the universities to respond to student needs while also considering how much they would get as profit from such operations often contradict the value of such elements directly. In this investigative research, the focus is on seeing how for-profit universities are actually able to find a conditional prospective in seeing how they are to provide attention to both ends of their operations, for their students and for their business all at the same time.
It is deemed that with proper management of assets and focal operations, business-designed universities are expected to make a great impact on how they provide for their clients and how they provide for their administration with a balanced view of their responsibilities for both sectors. This investigation then hopes to make a constructive presentation on how for-profit universities tend to create massive definition regarding their reputation as business entities and as social organizations. What makes it hard for most of these companies to find a way to make these two separate ends need and what could be done to help in the process of creating a great impact on how the same organizations tend to make indicative development on how they operate as an entity? These questions and the research problems presented in the previous sections of this chapter shall be the primary focal point of the investigation that is to be held as the central point of discussion in this study.
Research Design and Methodology
The design of this study is grounded on the desire to define the problem, identify the sources of it and create a reflective dependence of solution for the issues involved in the situation. Given that the organizations to be scrutinized or investigated upon are entities that have public responsibilities and private goals, the description of their characterization and operations shall be held as an important aspect of the presentation. Relatively the research is designed to make specific indications as it tries to create a dependable source of information that would explain the roots of the problem that for-profit universities are undergoing at present.
Following the principles of a qualitative study, the findings in this research shall be considered alongside the implications of other studies that have already been completed in line with the course of development that modern universities are taking. Focusing on the problems of operation and profit-defined goals of the companies involved, the studies that are to be chosen as resources for this research shall stand to be a source of data that would describe how the entities of operational education in private universities actually affect the reputation they are aiming to protect while also convening a specific control on how they administer the courses of profit earning in line with their desires to make comprehensive condition on reaching the standards of business and education they have to respond to.
From such investigative studies, this research shall create a balanced indication on how problems arise and how they could be relatively solved through reshaping the management operations of the organization. With this in mind, it is expected that this study would provide a great source of an eye-opener to how for-profit educational entities should operate in line with their desire to improve their ways of serving the public as part of their central existence in the industry and their corporal responsibility while not neglecting their desire to earn profit.
Summary
Several for-profit universities had been under scrutiny from federal sources for years now.  Operational defects on part of such organization prompted the Department of Education to begin implementing stricter regulations. Florida Attorney General Wiggins launched an investigation triggered by a trend of complains about misrepresentation of retention and job placement rates (Keller, 2010). Two of the most notorious offenders with respect to the number of complaints are Everest University and Kaplan University. Most of the complaints about these organizations are centered on non-transferrable credits, billing problems, and deceptive sales practice. Invariable, every business is going to have at least some dissatisfied customers (Scott, 2011), but the problems associated with these organizations point to an issue of fiscal responsibility as well as moral thinking about appropriate business strategies. It is incumbent upon business leaders in these institutions to implement changes that bring their organization more into line with publicly acceptable business practices and more fiscally responsible measures.
Chapter 2: Literature Review
Background
Education, they say, is an evidently important element of social progress; one matter that would be considered as a constant source of confidence especially when it comes to education is that it would always be "good for business". However, not all organizations or companies entering this particular arena of profiting industry are able to get the best benefits they hope to get from the operations they tend to accomplish. Due to the change in market perception towards the need to incur quality education compared to simply gaining education as it is, private-run educational entities have become a great course of transformation for public schools that used to be plainly for public operations. It should be realized that running a public school or university itself already has its particular challenges that makes it harder for such entities to operate well especially without government-based funding. Retaining the quality of education in such facilities that are presented to the public then becomes harder to contend with. Giving up these entities to private owners seems to improve the quality of education that is being provided under such administrations (Finn, 1998, p.38). While the picture might seem that easy to look at, it is not that easy to create. Unlike public universities, funding private educational institutions is hard enough to contend with.
Knowing that not the majority of the population of the society actually opt to go to private schools because of the expensive fees that are needed to be paid in exchange for the supposed "good service" and high-quality education, private universities need to make sure that in relation with their operations, they are able to provide their target clients with what they actually expect them to offer without losing control over their resources and assets. True, maintaining high quality education often requires private entities to retain high consideration over operational qualities. Along with that is the consideration over providing fees for educators [better educators mean higher salary provisions], expanding facility utilization through improving the way that they function and many others that are relatively connected to providing satisfaction that is necessary for being recognized as center of educational excellence (Forest, et al, 2002, p.66). All these aspects of development and quality maintenance involve funding.
Where do private universities get such funding? Basically, since they are privately administered and managed, such funding comes from their actual operations. This means that the amount of such provisions is then passed on to the shoulders of the clients. Question is, with much quality maintenance operations involved, is it possible that too much consideration on retaining the reputation of the organizations affect the acceptance of their clients with regards the services that they are willing to offer?
Examination of Actual Organizations
As mentioned in the introduction chapter of this research, Kaplan and Everest University are among the primary educational entities that are to be investigated herein as primary samples of the greater group of companies that undergo the same operation as do the two universities. The main problems that were distinguished as part of the operational downsides of the said universities include non-transferrable credits, billing issues and other deceptive points of sales. Considering the first issue on non-transferable credits, it is has been realized that certain private universities embrace this practice so as to make sure that they can retain students in their facilities until they graduate or at least until they receive their desired merits. Is this deceptive or is it just right for such organizations to impose such rules and policies so as to secure their future sales and profit earnings? Notably, coined as a form of marketing and customer-retention strategy, it is rather considered evidently distinct that private schools embrace such practice to provide a great impact on the satisfaction of the students enrolled in such educational institutions (Finn, 1998, p.37).
While every organization is given the chance to convince their clients to return for the services they offer, no organization is given the right to control the decisions of their clients in a manner of making a definitive course of assuring that they would stay in the organization through giving the clients no choice but to do so. This has become one of the bases of definition that researchers found out to be the reason behind the lowering number of enrollees in private entities that offer non-transferable credits to their students.
Considering the Need to Balance Attention on Serving the Public and Gaining Profit
Why do private entities of education institutions prefer to embrace such forms of operation? It could be realized that the desire to earn more and retain a relatively balanced entry of cash flow into the business for at least a full year makes it possible for administrators to embrace such form of operation (Finn, 1998, p.34). Compensating for the fees they ask for with the services they are willing to offer is observed to be the covering factor that private universities use to at least make sure that their clients are satisfied with what they offer (Ewell, 1999, p.67). However, when it comes to assuring satisfaction of students, it goes more than just providing them good education and extensive attention that counts. Giving the clients a choice to transfer is important to at least 56% of students studying in both private and open universities at present. Having a wider chance of getting their own choices and managing their own desires of learning is an important factor for modern students at present, something that privately administered universities should give ample attention to. Functioning for the educational excellence of their students compel them with them with the need to provide better options of learning that would best create a definitive reputation that they could be recognized with in line with other competitors in the industry (Ewell, 1999, p.122).
How then could this be resolved? Studies have been undergone and so far one common solution is found to be helpful, recreation of the management operations that the administrators are specifically depending upon. This means that the management of assets, resources and capital of such organizations need to be set in balance with the relative desired values to be received by the clients they are aiming to serve. Knowing their market and responding to the public responsibility of their organization is an important aspect of the process. With this in mind, it could be realized that running an educational institution, whether or not it is private, should be referenced upon the actual desire of providing ample education to the people without having them compromise their freedom of choice towards the education they are to get (Forest, 2002, 54); and this could only be incurred through the assumptions of proper management and allocation of resources and business-operation focus.
What could be learned from Successful Institutions?
Notably, while there are impending problems with the administrational approaches utilized by the other universities, other institutions are also able to contend with the challenge of gaining a reputable stance in serving the society in connection with remaining privately owned while serving the public with their social responsibilities. One university that has been noted for this reputation is that of Phoenix. The University of Phoenix is noted for the quality of education that it basically offers its clients with. The idea behind the administrational success that the university currently experiences is based upon the adjustments that they have incurred. Like other profit-designed universities, Phoenix also faces a great deal of challenge in retaining the balance by which it utilizes its resources and assets to provide for the needs of its clients (Snyder, 1999, p.45). Nevertheless, the administrators made effective use of what modern technology offers hence making a great deal out of what they already have and extending their sense of operation towards developing a more refined way of educating their hopeful students and also providing what their stakeholders specifically expect from them, proper monetary compensation as members of the organization.
How do they incur such form of success? As it could be realized the Phoenix University operates both online and off line [meaning in-campus]. Considering that distant learning has become a trend that most modern students tend to engage it at present, Phoenix realizes the potential it has in retaining students who may be coming from distant areas or may have problems attending regular classes in campus (Finn, 1998, p. 39). This way, they get the chance to receive minimal payment for the services and assistance they are willing to offer without the need to support a growing number of in-class enrollees. True, Kaplan University also has its online-based learning programs; however, it is the assertive utilization of technology and its application to service and operation that makes the two universities' operations different from each other (Snyder, 1999, p. 76).
Continuing the trend of providing high quality education, Phoenix sees to it that the standard of their distant learning programs is in par with the actual reputable stand that they are making in relation to the courses that they also offer in-class. Relatively, retaining quality in the service they provide creates a relative response from their clients identifying the satisfaction that they have with regards the service that the organization provides them with (NCHEMS, 2012, internet).  Learning in Phoenix through online learning is both rigid and requiring even though it does provide extensive convenience to the students enrolled in it. This aspect of the process of learning that the institution imposes in line with all of its operations [regardless of what type it is] makes it easier for the students to realize that they are getting the rightful value of the money that they have paid for to be served by the institution. This is one thing that makes Phoenix university separate from other learning institutions that opt to take the chance to operate both in-class and online.
Another aspect of success that Phoenix embraces is the capacity they have to balance out their assets and their resources so as to compensate for all the expenses that they are incurring each year. Relatively, such capacity makes it easier for them to make sure that the right amount of profit comes in every fiscal year amidst all the cash-outs that they incur at the same time. Adapting an effective system of financial control and auditing system, Phoenix University finance managers are able to provide real time updates that are necessary to make sure that their operations are paying off as expected. These updates also have a great impact on how the stakeholders [the investors] are able to see how much their money is growing within a specific span of time (NCHEMS, 2012, internet). With their trust reestablished in every point of business development that the institution incurs, the more confident they become in investing their money into the operations of the institution (Finn, 1998, p. 76). This approach makes it possible for the administrators to have an ample source of capital which they could use to maintain their operations, pay their personnel thus creating a more conducive environment that would provide high quality service to their students.
In turn, the students they serve become fully satisfied with the service. From such satisfaction comes "free" mouth-based marketing that need not be paid by the institution. Satisfied clients often refer more students to the university hence allowing the chance for the institution to accept more enrollees at the same time. This approach is most often than not more effective in relation to their online operations. In a way, keeping the clients satisfied is what the university invests so much on. With more students graduating with good remarks for what they have experienced from the university, the more recognition that institution gets hence establishing their competence in teaching and attesting to the proof that they are able to deliver what they promise to their clients (Forest, 2002, p. 56). In this case, the success of the institution could be acknowledged to come from client-centered approach that further allows for the indication of considerations that the institution makes in relation to establishing camaraderie with their investors who are also benefited by the conditions of standards that the administrators set for themselves to fulfill.
Summary of Review
Proofs of operational failures and successes between institutions of education serving in relation to the private scale of goals have been presented in this review. Notably, it could be analyzed that such operations differ based on what the administrators mostly focus on. Relatively, comparing three particular universities that are currently operating in the society, it could be realized that the success of operating a privately defined university that is designed to gain profit is based upon the condition of the institution's motivation to serve the public's concern. With education viewed as a relatively common ground of desire for most and rather a necessity that is considered in the society as a basic need for the modern world, it is inevitable that every institution enjoined in the industry is expected to provide what the public needs and demands for. It does not matter whether or not the institution is publicly or privately owned, the deciding factor that defines their competence to operate is their determination to put the demands of their clients in priority instead of simply disregarding the said factors while feeding their desire to earn in a business-centered consideration of operation. Overall, it could be pointed out the that literary researches used to present these data are reliable enough to provide a futile backbone for this research in relation to how it reflects the real problems facing for-profit universities and how they could resolve the said issues.
Chapter 3: Institutional Competencies and Excellent Customer Service
What gives educational institutions an edge is the reputation they carry as a reliable source of educational assistance for students. Public universities for example are often noted for their centralized system of administration controlled by the national departments handling the improvement of the country's educational status. Another characteristic that public universities are noted for include that of the existence of low to free fee educational service that they offer their clients with (Forest, et al, 2002, 43). Overall, the capacity of these institutions to provide educational services is dependent on the capacity of the national government to fund the needs of the students and the institution itself to make extensive educational advancements according to the current trends and situations in the society.
For many years, the existence of public universities has been a sufficient source of education support that the society requires. Nevertheless, as the population rises, the capacity of these institutions to solely provide what is needed by the community have been compromised hence opening the doors for the entrance of private and for profit institutions. Unlike public universities, private and for profit universities often have wider and a much freer system of operation as they are not completely controlled by the government although they are still required to abide by the common rules that educational institutions are expected to follow.
One thing about private and for profit educational institutions though that sets them apart from the other publicly controlled operations is the fact that they are more concentrated on increasing their capacity to provide better education to students [although these advancements come with a price] (Forest, et al, 2002, 48). It should be remembered though that for profit and private universities have some particular differences that set them apart especially when it comes to system of administration. Take note that private educational institutions are noted for the excellence of the academic provisions they are presenting their students with. Along with this development is the institution of a good source of assistance that students often need to survive in the courses that they have been enrolled into. While their services are released with a determining cost, it could be assumed that for profit universities are still at the brink of asking for higher value that they often allow students to acquire through student loans. In this case, the loans seemingly provided to students for them to acquire education and other services in line with it are support systems that are dedicated to improving student-service procedures that such organizations give  (Finn, 1998, p. 34). However, in the long run, these systems of support are the very ones causing dissatisfaction among the students hence pushing them to transfer from one university to another or worse is to drop out and decide not to continue studies anymore.
This is one of the primary problems being dealt with by for profit organizations dedicated to providing educational services at present. As presented in the previous sections of the discussion of this presentation, for profit universities, although are noted to help in the alleviation of the educational system's development problems, posses a new source of issue that students are compromised to handle that is related to both service quality and financing systems (Green, 1998, p.56). Practically, it is expected that as for profit universities require higher cost of fees for services and materials they provide, they are also expected to provide essential service that is in par with the monetary value that they require their customers with. Question is, are they able to withstand the completion of such promises to their customers? Relatively, there are those organizations that are able to provide such competent response to their customers' expectations but many others are at the bridge of not being able to provide the best source of confidence that their clients could best depend upon. This is the reason why in this section of the discussion, a presentation on how successful for profit universities like Phoenix University provides the needs of their clients extensively compared to the situation of those institutions that are not compellingly able to withstand the challenges as much as they desire to.
Understanding How Success Occurs
Success is often considered an over-rated word especially when it comes to business set up. For many organizations enjoined in the for-profit industry, the word success often means being able to gain as much profit as possible from the market. However, for those who are really able to decipher what the term means especially when it comes to identifying business capacity and the relative willingness of the administrators to go the extra mile for the market they are serving. For educational institutions, there are several elements that are at stake especially if the ideal process of "success" is being given particular consideration to. Some of the elements that are necessary to be considered when running or administering a for-profit education institution include administrational status, operational organization, [proper] financial management and customer satisfaction management (Ewell, 1999, p. 38).  Giving attention to these particular points of consideration often define the capacity of an institution to make comprehensive stance especially in establishing the name that they have in the market.
Administrational Status
The first element is administrational status. The question "what is the administration's stand in the management of the business" is often the primary query that deserves response especially from those who are in the position of leading the organization towards the realization of its real worth not only to the industry it is enjoined in, but also to the society that it hopes to serve. Most often than not, the mission and vision of the institution serves as a guiding path to administrators as they seek to complete the responsibilities they have towards their internal and external stakeholders. The matter with an organization is that it functions both within and outside its actual operations. This means that it has stakeholders both within and outside its operational functions. In this case, administrators of for-profit organizations are often regarded to have the responsibility to see to it that they are not focused on just one side of the coin, but instead are dedicated to providing both their internal and external stakeholders the chance to realize their worth and importance to the institution.
How could administrators handle such pressure? Depending on the mission and vision of the organization, administrators are expected to create policies that are dedicated to developing procedures of operation that are connected to such foundation of the organization. For instance, if it is the mission of the organization to provide excellent education to the highly spirited students, then policies of student admissions should be dependent on such core competence among the applicants and enrollees. Relatively, the functional operations of the institution should respond to the quality of education that they are trying to provide their students with. For example, if the institution does want to cater to the needs of highly spirited students, the courses and the programs that are embedded within each study-system ought to be dedicated to advanced and well updated courses subjects that are sure to fit the capacity of the students they hope to serve.
Basically balancing both the elements of education offered by the organization and the resources they have to make sure such provisions are completed successfully is considered one of the most successful keys that for profit universities need to use so as to assure that they have a clear track of development that they are aiming to follow. How could this process be fully embraced?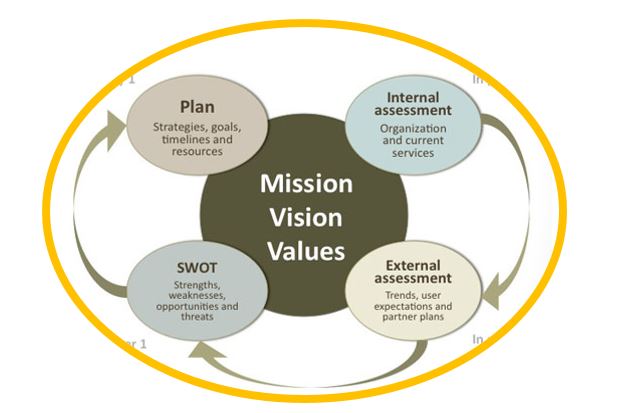 Observe from this particular diagram how the mission, vision and values of an organization should be the core foundation by which administrators try to find the most compatible sources of development that the institution should depend upon. Relatively, its point of central operation is extended to make a distinctive impact on how its position in the industry is related to how it is envisioned by its primary clients in the market. Setting up a name is one of the most basic yet the most crucial parts of administering any particular organization. This is especially true when it comes to establishing an education institution that is worthy enough of the markets' trust. Relatively making a mark in the industry is accompanied by the serious consideration of administrators towards the most comprehensive procedures that are often regarded to as the main source of organizational strength. From the diagram, the administrators are suggested to conduct an internal and external evaluation regarding the operational conditions of their organization especially towards their stakeholders [both their employees and their students (Ewell, 1999, p. 39)]. After which, planning for the needed changes ought to take root in the process hence creating a more responsive system by which the administrators are able to remain confident in their operation even while the demands and the expectations of the market continues to change. Remaining grounded upon the plan of operation and administering services of the institution towards its internal and external stakeholders could allow it to find a more comprehensive system that would make it easier for the entire organization to grow along the flow of industrial changes it must face.
Operational Organization
The operation procedures embraced by an organization defines the function that it takes in relation to the role that it hopes to consider in line with how it relates to the community. For an educational institution to be recognized as remarkable successful in responding to its role in the society, it is important that the operations it follows are specifically in line with such desire. The design of an operation should also be based upon the consideration of the organizational administrators towards the internal and external functions that the institution should perform as mentioned in the previous section. The internal functions on the part of for-profit educational institutions often include considerations over staff-performance development [especially that of the teachers and other educational support members] (Finn, 1998, p.39); development of procedures dedicated to manipulating resources to meet the standard of education that the institution hopes to provide; research and development approaches that are dedicated to constantly function as rendering the organization into a course of updated advancement (Ewell, 1999 p.76); and financial management that would assure the proper distribution of project towards the entire operation of the organization.
On the other hand, the external functions involve the relation of the institution with its clients and the social departments that are dedicated to looking after the quality of education that universities provide the community with. Clients are of course the primary blood line of the business' growth. This is why it is very important that their demands and specific expectations are duly responded to. In relation to modern university students, it is most often than not that these learners hope for more than just the theory-based teaching system. With the demanding environment of work areas today, most students hope to get ample experience even when they are still in their universities and would of course hope their educational institutions to remain in support to that particular desire. Responding to this expectation would help for-profit universities to increase student satisfaction especially when it comes to making it possible for the learners to experience the reality of their courses while learning. Question is, how would they likely be able to respond to such a demand?
One thing to consider on this matter is the fact that the institutional administrators are expected to establish outside or external affiliations with other institutions that are to be willing to admit practicum takers who are willing to train for the sake of getting academic credits and specific wok reference and job experiences early on. Doing so would require educational institutions to form partnerships with well-known organizations offering such programs hence making their reputation more inviting to their target students. This however is only one among the many well-developed systems that are dedicated towards defining institutional competence when it comes to providing students a sense of personal and academic satisfaction when it comes to completing their studies.
To further improve the process of designing a more acceptable design of operational management, some institutions have adapted a highly technological system that allows them to embrace developmental procedures alongside the desire to consider the need to extend functional conditions of the institution. This has been acquired through delegating responsibilities into departmental divisions that are assigned to attend to specific tasks and reporting progress into a centralized administration. Such process could be understood as follows: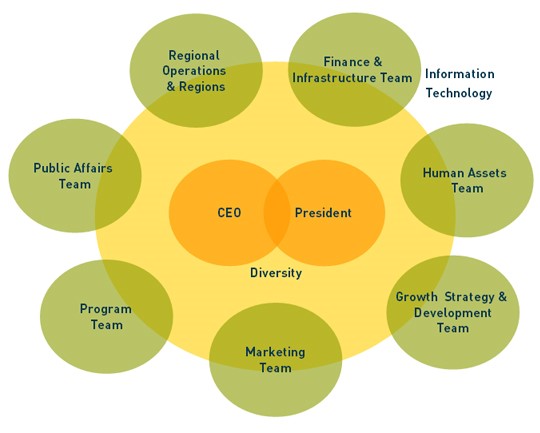 As seen from the diagram herein, the diversity of the departmental division within an institution makes it easier for the problems to be seen directly and attended to in an immediate manner. With each department concentrated within a certain function, the administration could serve as the central operation command provider that would see to it that each concern of each department gets attended to accordingly. Through the help of information technology, the separate functions of each department could be easily tracked by the administrators hence giving them a chance to see, hear and respond to the problems that the departments are able to gather and thus give considerable solutions that would provide ease to the continuous flow of operation in the organization (Green, 1998, p.45). True, the separation of duties between departments gives the administration an eye on every aspect of the institution's primary operations.
Proper Financial Management
As mentioned earlier, for profit universities often face comments and negative feedbacks especially when it comes to manifesting programs that are supposed to help students with their scholastic financial needs. Basically, for profit universities offer options of gaining university-based support system that students could use on a loan-borrowing system. With the nature of loan borrowing as it is, each amount borrowed gains an interest through time with which the said amount is not paid yet (Snyder, 1999, p.34). This often causes problem among students who specifically agree to follow the said aspect of financial program as a source of support for their studies.
What could be done about this problem? Of course, for profit universities often get great gains from such programs especially that the interest of each principal amount borrowed is often calculated per quarter as the student remains enrolled in the institution. Some other academies even impose the interest even after the students have transferred or have finished the program courses they are studying (Forest, et al, 2002, p.65). This approach is legal especially in terms of financial business operations. Nevertheless, if it does hurt the capacity of the organization to provide the source of competence and confidence that their clients have upon their institution, is the risk all worth it?
This is where proper financial management approaches come into action. Every financial assistance program that the organization provides should be relatively reasonable as possible. The financial programs offered ought to be designed to give the students a chance an amicable condition that allows them to pay for the money they borrowed within a time that does not constrain with their capacities to do so. As wide-ranged as the programs should be, the administrators should see to it that even though they do aim for higher profit possibilities, actually earning such profit forecasts would be much better if they could actually be paid for than if they remain as "accounts receivable" in the institution's fiscal year financial report.
This however is not the only concern of the financial management issues that for profit institutions should give attention to. Another matter to give consideration to is that of the fact that the budget source of the institution is limited to contributors [private stockholders who invest in the institution] and the students' payments [tuition fees and other miscellaneous fees imposed upon being enrolled in the university]. With this limited source, the administrators and its financial department should be able to create a well-planned system that would make it easier for the operation to be funded in a much sustainable process.
Learning has become more accessible to students today through online provisions and resources. Utilizing this approach effectively would provide for-profit universities a better chance to serve their students with lower fees relative to providing services in an in-class basis. Venturing to this aspect of distant education system could give the institution an edge especially for courses that could be learned at home by students who desire to learn more by themselves than as specifically instructed in class. Having a lesser need to pay for constant instructors to attend to classes and paying for the maintenance of classrooms for regular student use could of course lower down the expenses of the institution (Forest, et al, 2002, p.65). What is most often than not costly in this aspect of educational provision is that of the web hosting services that the institution should support. This is where the tuition fee needs enter. Balancing such fees with the services offered by the institution should be able to establish client confidence. Letting them see where their money is going and having them realize the worth of what they are paying for shall give them a sense of confidence in the system. Research and development departments could help so much in constantly finding more effective technological trends that are available today that are less expensive and yet are of high quality to empower the web-system of the university while supporting the needs of their distant students. Learning in this process becomes much easier to embrace especially if the clients [the students] actually see the efforts of the institution to provide them with the best service that they deserve.
Lowering operational expenses is a constant source of financial confidence in most institutions, may it be educational or not. The emerging technologies help so much in this process thus creating a more workable environment that the administrators of for-profit universities could operate better with. Through initiating continuous research on these matters and implicating them gradually into the system, the said universities are expected to increase service competence as well as client satisfaction along the way; a matter that would surely improve their reputation among their clients therefore increasing their competitive stance in the industry.
Customer Satisfaction Management
For any business organization to survive, serving its customers fully and successfully is a must. The same thing is true when it comes to the stand of for-profit universities as they try to consider the primary role they are taking in the society. The provision of education to the society is a noble cause. Nevertheless, earning profit from it need not decline the worth of that cause that any educational institution should be primarily dedicated to. Nevertheless, this is often the pitfall of failure that most for-profit universities fall into. Balancing their attention to providing education and gaining profit seem to be much of an impossible course to take especially if the demands of the industry on earning and the demands of the clients on gaining high-end service cannot be completely met. In this case, how then should customer satisfaction be met through proper management? The process of assuming successful customer satisfaction management success could be better defined alongside the conditions included within the diagram that follows: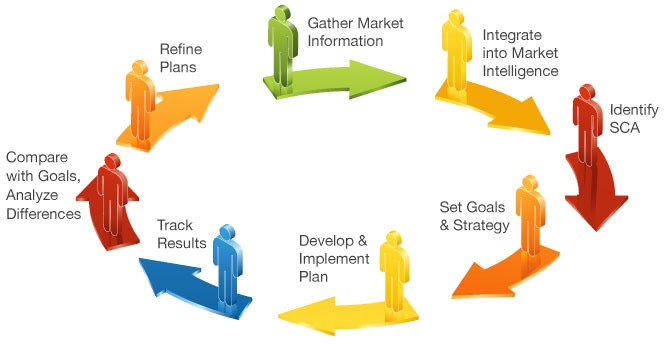 From this diagrammatic presentation, it could be analyzed how the procedures of establishing organizational developmental operations create a more specific path that for profit universities could follow in relation to customer satisfaction goals. Relatively, the gathering of market information involves the distinctive condition by which the organization tries to seek to know what the market wants and demands from them hence making an implicative picture that would likely provide the administration a tool that would identify market satisfaction based on demands and expectations. The information gathered from the research should be included within the marketing approaches that the institution shall design to be the brand determination of the university. From here, the SCA or the Sustainable Competitive Advantage (Green, 1998, p. 32) could be identified thus placing the institution's organizational operation in a specific position that puts it in relative par to the quality of service that its competitors provide in relation what the market asks for.
The implementation of both long term and short term goals and plans in relation to the research and the procedural identification undergone shall then allow the administrators to create a sense of organizational control that would help them respond to market demands at the right pace and the right time; with the intention of providing high quality of service that is in par with the monetary fees that their clients pay them with. This cycle is expected to continue regularly in an aim of creating a more client-centered operation that the for-profit universities could follow (Forest, et al, 2002, 54). Knowing and understanding what their clients need from them and from their services shall provide them a specific blue print of plans that they could follow so as to make sure that they are able to withstand competition while earning as much as needed for the maintenance of their operational competence as well as making definitive amount of profit as desired.
Once the clients or the target customers have been attracted into the system and invited to enjoin within the institution, it is then essential to find remarkable ways to retain their confidence with the institution. This process could involve the indication of the following points: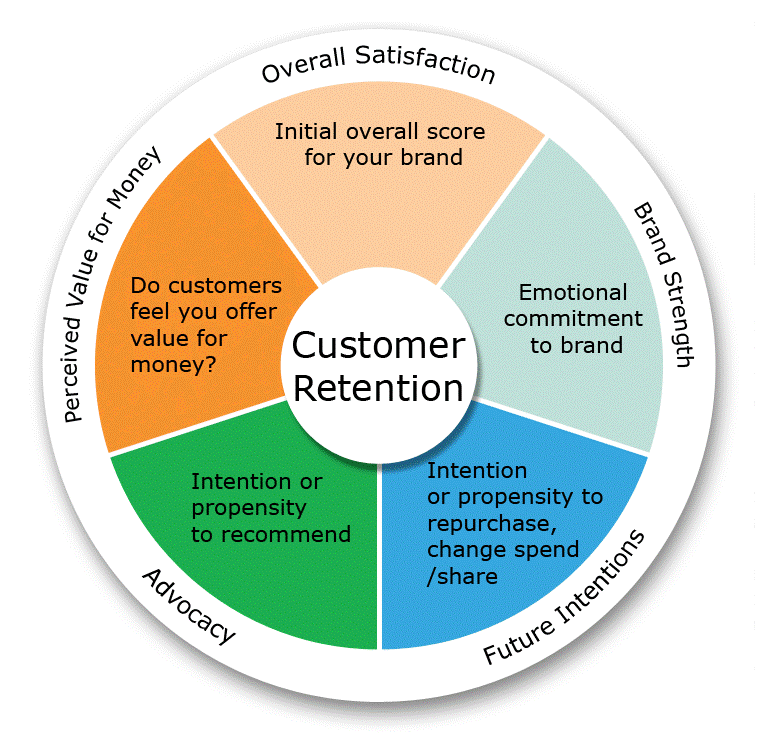 Observe from this particular presentation how the five aspects of customer satisfaction impact the indication of customer retention management. Notably, the brand strength is defined under the course by which the market recognizes the type of reputation that the institution presents itself with. For instance, in educational establishments, their brand could highly depend on what sector of the community they actually want to serve. Are they dedicated to high spirited students, achievers, athletes, scholars and the like? Whoever their target clients are defines the course of operations that they are willing to take. This is the reason why for for-profit universities, it is important to define their brand with much diversity so as to open their services to a lager scope of the market. Their brand specifications lead to the market's definition of their future intentions hence reassuring their clients of their strong connection with the advocacy that they would to stand with in line with market competition and social service options.
Summary
With such an established course of brand development, the administration is then expected to create a remarkable process by which the customers are able to receive the perceived value of their money hence making an extensive condition of defining their capacity to initiate social awareness that produces higher returns on customer retention and newer profit sources from newly attracted customers at every turn of the quarter. At this point, it is expected that the institution would be able to provide the clients with the overall satisfaction that they deserve which would motivate them to pay accordingly for what they are receiving from the organization.
Chapter 4: Changing Brand and Improving Reputation
Much ideal as it may seem, the previous chapter of discussion provides the most common yet the most effective procedures that business-defined organizations adapt so as to make comprehensive progress in the industries they are enjoined with. Relatively, the capacity of a for-profit university to consider such procedures shall allow it to become more responsive to market demands and thus define its brand and the service it hopes to offer the public with, along with these particular lines of development. Are these courses of development hard to contend with?
If the values and missions of the business are not as specifically established as they should be, then acquiring such a competent system of operation for brand determination shall indeed be hard to contend with. Nevertheless, with the administration focused on actually defining the definite grounds of operation on which the institution is depending upon, gaining such a heightened course of reputation in the market is not that hard to attain (Ewell, 1999, p. 54). Hence, as a defining factor of any for-profit institution, it is first essential to know what they stand for and how they likely want to attain that particular reputation along the way. Defining their operations under these conditions shall make it easier for the administration to create programs that would best fit the desires, demands and expectations of the clients they target to serve in the market.
True, for profit universities are known for high end payments they ask from their clients. Nevertheless, justifying the said fees with amicable educational support that fits the money's worth could make it easier for the market to see the real worth of the institution based on its business stratification and its social role of providing high end education to its students. It should not be forgotten that among the important procedures that should be considered in relation to the desire of increasing market confidence through developing institutional competence is that of the instigation of company or institutional culture that would serve as the organization's mark of excellence. The culture should stretch from within the internal operations of the organization towards its external affairs. This means that the culture of excellence should start from within its members. Empowering both the teaching and the non-teaching staff with the skills they need to respond to client demands should be a primary concern for administrators. Having satisfied employees who are well trained to realize their worth to the organization and the clients it serves shall result to a more motivated body of students that would provide good feedbacks about the institution. It should be realized by the administrators of for-profit universities that individuals who choose to enroll in their institution already know what is at stake. They basically have an idea of the fact that the university requires higher range of payment compared to public and regular private universities. Nevertheless, they still choose to enroll in such institutions. With such condition though, the enrollees on such institutions hope to receive their money's value through the services and support that they are to be provided with. Focusing on this fact shall provide the administrators a clear view on what they should improve in their process of providing the most considerable sources of strength for their organization.
Although profit is one of the primary concerns of such institutions, for profit universities should know that such a concern could be attended to if the specific concerns of the clients shall first be given attention to (Ewell, 1999, p. 59). Once such demands are given light, the profit shall come in easily. With proper management of operations and resources, the administrators and departmental heads of for-profit universities could gain the best fruits of their efforts from gaining the attention of satisfied customers while getting the appreciation of others who might be thinking of enjoining their institution as well. True, the best way of marketing is through positive feedbacks and word of mouth. It could be considered the cheapest, but is the most effective source of emotional confidence among clients who are willing to spend their money to gain ample education from a trusted institution.
Loans and university financial assistance programs have been shown to really provide help to students, however, its unmanaged structure [which is most often than not more dedicated to establishing possibilities of equipping the companies to gain profit] makes it more of a downside to the institution's stance than an asset. Observe from the graph below how such fact impacts the operation of for-profit universities: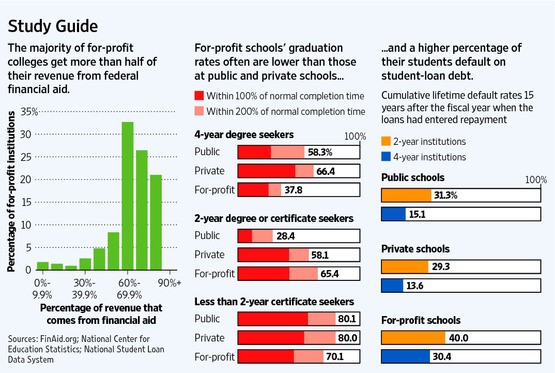 From the data presented above, it could be understood that learning has become an expensive decision. Nevertheless, those who are willing to take the chance to gain as much education as needed also become aware of the fact that they should also be willing to accept that good education is indeed costly. Many however tend to take their attention away from such competence as they realize that the education they are paying for do not amount to the money they actually shed for the said service. It seems like as if for-profit universities often find it demeaning on their part to find students who are not as much willing to complete their studies especially if they are required to pay for so much. Loans are supposed to lighten the financial load that they are to take in line with learning, nevertheless, as presented in the diagram. These options even places much pressure on the burden than lighten it because of the increased rate of interest that accumulates value through time. At this point, satisfaction among students is lost. This is why in the context of this discussion; it has been repeatedly mentioned how such an issue could be regarded with through proper adjustment of management and operational developments related to improving customer satisfaction. Balancing fees with services and financial programs with the actual desire to help the students completer their studies is the most compelling condition that must be given attention to by administrators of for-profit universities at present.
Chapter 5: Conclusion
Why do students study? When it comes to considering university studies, the issue is not just because it is a required curriculum. Most often than not, those who choose to enter higher edge of learning are in dire expectation to improve themselves in line with the desire to get better job, land a better status in their profession or simply improving the future that lies beyond them. This particular issue on the reason behind learning among students shall help for-profit universities to define their courses of operations and developments alongside such consistent sources of trust and dependence.
As presented in the context of this research, while there are numerous problems that for-profit universities face, there is always a solution to the problem. One specific solution is the establishment of a well defined process of management. The way the administrators see through the procedures of their operation and how each step makes a great impact in redefining the condition by which they are able to respond to their core values and the primary demands of their clients shall be able to instigate a full condition of making a recognizable reputation in the market. This reputation shall then become the branding mark of the institution hence helping it attract the specific group of clients it hopes to target to serve.
With new technologies and the specific assistance that these options offer for for-profit universities, facing problems that can be solved through effective management becomes an easy task to complete. Acquiring competence in such an aspect of institution operation provides these organizations a recognizable stand that would allow them to stand out against competitors in the market including public universities and private learning establishments as well. Giving their students an edge that cannot be given by other institutions as an option of learning is a must. This step shall provide these organizations a chance to make a difference in the society while also making remarkable profit from those who are willing to gain a marking edge from their studies even though it might mean paying a higher price of fee. The consistency of the organization's focus on such matter provides a more considerable approach that could make for-profit universities win the competition or at least be in par with those that are performing far better than they currently are in line with serving modern student demands. Presenting the overall context of this research, it is then considered that the three primary research questions have been answered completely through the following data:
What customer service challenges are interfering with student retention in for profit private universities?
As mentioned through the research data, customer service challenges that are often interfering with student retention in for-profit universities include low value for money paid, increased concentration on unreasonable student loans and a specific consideration on the offering of centralized subjects that cannot be credited in other universities when students decide to transfer. These three aspects of operation in for profit universities often jeopardize their primary role that is supposed to be primary dedicated to social education.
What are some of the business practices of for profit private universities associated with the student dissatisfaction trend?
Some of the business practices involved in operating for profit universities includes issues that are related to increasing profits at the expense of the students. Relatively, many for private universities offer centralized curriculum or at times termed as specialized programs that do not easily credit subjects from other schools nor are transferrable at the point of the students deciding to change their university choices. Along with this comes the increased interest on student loan schemes that at times are impossible to pay for when the actual schemes are already applied for payment. Increasingly, students become dissatisfied with this type of service hence creating a sense of conditional "stay" for many of those who want to enroll in such institutions.
By improving for profit private universities brand around a change effort to build institutional loyalty, will the institutional image radically improve over a period of time?
Basically, the system changes suggested in this research with regards the brand and reputation of the for-profit universities are expected to create massive definition on the reestablishment of the recognition that these institutions receive from the market. Approaching management and operation matters embraced by the administrators of the said institutions is expected to alleviate the dissatisfaction of the students and increase their consideration over the possibility of developing loyalty to their schools. Improving financial programs dedicated to provide students with better options of paying for their studies is also expected to create a new definition of the reputation that for-profit universities carry.
In a way, the condition of learning in for-profit universities could immediately take advancement if the administrators would be able to manage their resources and their operations properly. Taking care of their finances and how they spend it to balance out the need to maintain quality while earning the needed profit is expected to make massive changes on how the students or their clients actually see the stand of these institutions in providing them what they need and deserve.
Chapter 6: Recommendations
Although the research problems have been duly responded to in this study, it is still recommended that in future examination of the situation involving the development of the name of for-profit universities in the society, a consideration over the need to interview students and administrators directly be applied. This would increase the reliability of the data presented in the study as it does create a viable foundation of facts that come directly from the individuals involved in the issue in concern.
The interview section that is recommended herein is expected to increase the capacity of the upcoming studies to present the vision of the stakeholders that are involved in the issue being discusses. Considerably, such an aspect shall provide a more visual and actual condition that would provide operators and administrators the proper understanding on how to deal with the problems of considering student satisfaction. Increasing the capacity of the administrators to identify the problems and create responsive solutions to each of the issues involved is believed to make a definitive indication of change that could transform the manner by which students recognize the role of for profit educational institutions in their lives at present and in the future as well. Utilizing the concrete sources that were considered in this study alongside the results of the interviews could serve as an effective intervention that could highlight solutions to the current problems of for profit universities.
References
Ewell, P.T. (1999). Assessment of higher education and quality: Promise and politics. In S.J. Messick (Ed.), Assessment in higher education: Issues of access, quality, student development, and public policy. Mahwah, NJ: Erlbaum.
Finn, C. E. (1998, Jul.-Aug.). Judgment time for higher education: In the court of public opinion. Change, 20(4), 34-39.
Forest, J. and Kevin K. (2002). Higher Education in the United States: An Encyclopedia. Santa Barbara: ABC-CLIO.
Green, M, F., ed. (1998). Leaders for a New Era: Strategies for Higher Education. New York: Macmillan.
Keller, J. (2010). Florida Attorney General Opens Investigations into 5 For-Profit Colleges. The Chronicle of Higher Education. Retrieved from http://chronicle.com/article/Florida-Attorney-General-Opens/125016/.
Snyder, B. R. (1999). The Hidden Curriculum. Cambridge, MA: MIT Press.
The National Center for Higher Education Management Systems. (2012). Graduation. NCHEMS Information Center for Higher Education Policy Making and Analysis. Retrieved from http://www.higheredinfo.org/dbrowser/index.php?submeasure=27&year=2009&level=nation&mode=graph&state=0
The National Center for Higher Education Management Systems. (2012). First Year Retention: Retention Rates – First Year College Freshmen Returning Their Second Year, Four Year Total. NCHEMS Information Center for Higher
Education Policy Making and Analysis. Retrieved from http://www.higheredinfo.org/dbrowser/index.php?submeasure=227&year=2010&level=nation&mode=graph&state=0
The National Center for Higher Education Management Systems. (2012). First Year Retention: Retention Rates – First Year College Freshmen Returning Their Second Year, Four Year Private For-Profit. NCHEMS Information Center for
Higher Education Policy Making and Analysis. Retrieved from http://www.higheredinfo.org/dbrowser/index.php?submeasure=223&year=2010&level=nation&mode=graph&state=0.
OEDb. (2012). Ranking by Retention. OEDb.org. Retrieved from http://oedb.org/rankings/retention-rate.
Travis, S. (2011). For-profit colleges: Everest, Kaplan have highest number of complaints before Florida attorney general. Sun Sentinel.  Retrieved from http://www.tcpalm.com/news/2011/feb/10/-profit-colleges-everest-kaplan-have-highest-numbe/?print=1
Time is precious
don't waste it!
Plagiarism-free
guarantee
Privacy
guarantee
Secure
checkout
Money back
guarantee