Concepts of Urbanization Based on the Artwork of New Babylon, Essay Example
Pages: 1
Words: 2081
Essay
Architecture is considered to be the marriage between art and construction. While artistic ideas are considered as the function of this particular aspect of design, construction is the considerable application that brings such idealism come to life. In context, it could be understood that architecture and its procedures are all dependent on one specific goal; and that is to provide shelter to the human community. Architects are then given the chance to create something that would not only become a shelter to humans, but would also create an aesthetic presentation that humans themselves could appreciate. Design, as the term itself suggests, is an element that defines architecture apart from the basic procedures of simply creating a house, a building or anything that could be used as shelter for humans. Relatively, in the aspect of design, art meets function. While there is a strict distinction on how much value the works would have on the users, it also distinctively gives importance to how much the structure that has been constructed responds to visual satisfaction. As seen from the work on Depictions of New Babylon (image presented below)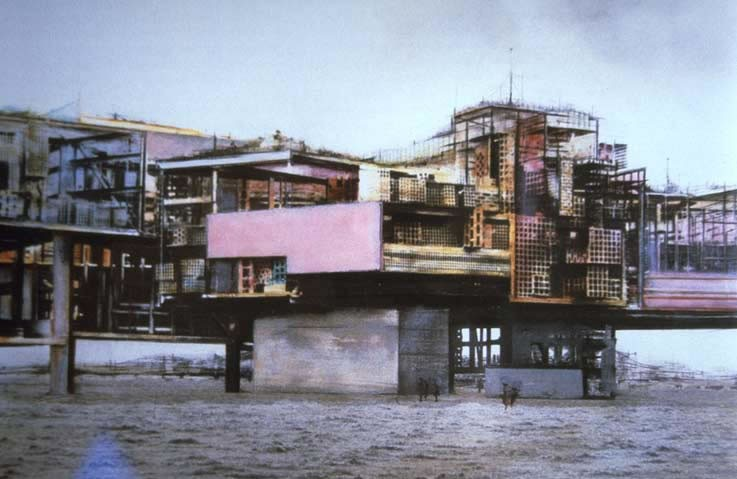 …it could be realized that function and structure could both be manipulated to respond to the current needs of the society which modern architecture is aiming to consider. True, at this point, urbanization is considered to be the turning edge by which architecture takes a stand on how it is supposed to handle pressures and issues of development to incorporate within the designs it proposes to the public.
Through the years, designs planned and created through architecture are considered to have evolved accordingly. Relatively, such advancement and evolution came to reality due to the fact that the demands of human shelter has already changed through time. While humans in the past may have simply needed a roof over their head, there are particular elements in the environment and among humans themselves that has changed that pattern of desire. The only consistent variable apparently holding architecture's evolution is that of reality? Question is, when is reality considered a reality?
According to Jean Baudrillard, the world [specifically America] today lives in a culture of hyper-reality. This condition of procedure specifically represented the manner by which humans demand for and create particular matters that could be considered beyond the walls of reality. It seems as if the modern human society has developed a desire for something that is out of this world thus asking for more every time they are giving something. Is this condition bad? The answer is "no". Naturally, it is because of such obvious exaggerated demands that particular innovations have already occurred and have captured the attention of the people. The fact is, this is the very element that is considered as the backbone of modern consumption.
In the field of business and commerce, it is important that the 'people factor' in the market be completely given attention to. The consideration over their demands serves as the blood of the company. It is the very reason for their existence. Relatively, the condition of development that businesses give consideration to are based on what the people want. These wants need not be possible or practical; they just need to be 'wants'. Businesses have for long existed to respond to such desires. For the sake of profiting from the public, these organizations try to expand their ideas, extend their creativity and manipulate their resources to be able to create something that would fit what the people want. Take for example the emergence of communication technology. Never before has it been expected that the dream of holding a phone talking to someone from a far distance would become possible and would be all real at present. Relatively, the continuous innovation in the mobile industry and how it is being connected to communication technology as well as computer technology creates a completely new version of reality that may have just been a dream in the past.
The same thing is happening in architecture. Nevertheless, it could be realized how much more complicated the issues in architecture are. Due to the fact that it deals with human shelter, protection and safety, architecture needs to be able to create something that would not only respond to what the people want but primarily to what they need. Although this elite field of creation also embraces the culture of consumerism, architects never lose sight on the goal that they are particularly grounded upon, to provide shelter. One specific element that affects the realities of architecture is the existence of scarce resources. The fact that there are now much less resources for creating homes and buildings alike, architects are challenged to manage the current resources to the fullest and make sure that there are still of these resources to be left for the generations that follow.
Managing resources involve creating alternative ones. Back then, most architectural creations are based on wood, metal and concrete materials. Relatively though, since such resources have become limited, the need to explore for other materials became necessary. Among the particular materials looked upon today are bamboos. Aside from the fact that they are easier to grow, they are also noted for sturdiness. But what of the design aspect? Again, this is a challenge that architects need to work around with. Although it might not be real for some, bamboos have become the new reality of modern architectural creations. Sustainable architecture is also one of the responses that architects are currently embracing to handle the need of working around limited resources. Making use of the same materials as before, but making sure that they would last longer and would function better, this is the idea that defines sustainable architecture. Making it easier for the houses and buildings today to make use of natural air and natural lighting are among the primary features of modern sustainable architecture.
Another condition that modern architecture needs to face is that of the existence of global warming. While it was easier to plan for homes before because of the better conditions of weather and more stable conditions of climate adjustments, there are particularly different situations that architects should give attention to at present.  Due to the existence of global warming, particular adjustments in weather and climate already occurs. How then would they make their creations sustainable enough and functional enough to protect and to provide shelter for humans? One is that of making odd designs possible for presentation. In the past, it was very common for architects to go for the traditional forms of home creations. A-houses and plain walls usually define symmetry, balance and excellent aesthetics. However, at present, as the condition of the weather changes, the need to utilize structural design as a primary defense to the concurring conditions in the environment becomes highly important. This is the reason why modern architecture is often notably defined with the term 'odd' but functional. True, some architects born during the 18th, 19th and even the 20th century might not be able to appreciate this new aspect of design in modern structures. Nevertheless, for those who are able to see the reason behind such 'oddness' such designs become strongly implicative on what the future even holds for the human society. Every edge, every curve has to have function for the entire structure. This is what modern architecture is all about.
One more inconvenience that modern architects need to focus on is the limitation of space that they are supposed to work on. Perhaps decades ago, people are able to accumulate lands where they could actually build homes and other forms of structures no matter how large or how wide they want them to be. Now, as the spaces offered are limited, architects need to find a way to make sure that such spaces are used to their best. While it is a common condition among architects to make sure that the homes and structures they create are comfortable for those who will use it or reside in it, they should also be able to understand how to make such matter real even when the spaces they have to work on are rather small in size. This especially happens when it comes to building tenement-type hopes where not one but several families are expected to occupy the area. The question on comfort and functionality becomes confronted by the desire to even make such areas aesthetically satisfying to the eyes.
These three sources of issues [limited resources, climate change and limited space] are only among, but are considered to be the top factors that architects are in need of giving specific attention to. Dealing with these matters shall then define the way that they see the reality behind their role and their work for the society. Going back to what Baudrillard implies, reality has become merged with unreal matters in this modern world. While in the past, some matters may have been considered a mere dream and were only seen among sci-fi movies, today, such dreams and specific 'creations of the mind' are gradually become the base reality for many.
Humans have many reasons why they have began to embrace the basic course of reality based on the impossible. Hyper reality has become a culture, especially in the field of modern architecture, due to the fact that it responds to the condition of lifestyle and life situation that the modern society has to survive with. The creation of the notion on simulated environments has become the solid backbone for modern architecture. Not only does it convey the actual reason for the creation of homes and other forms of human shelter, it also defines the condition by which it makes such necessities also responsive to the personal desires of human individuals.
To resolve the issues of limited resources, climate change and limited space, modern architecture is not afraid to be bold and likely experimental. when it comes to creating plans that would not only respond to the human society's need to have shelter but would also create for them a possibility of enjoying their homes and other structures created for them to the fullest, architects today are challenged to do more than what they can imagine is possible. Creating odd looking spaces and making them into awesome designs that might not have been dreamt possible before is the base source of confidence in modern architecture. The bolder the design, the better it is.
True, it could be sensed through the context of this discussion that reality at present is fabricated with matters that humans desire to accept as true. Media representations on reality stretches from imposing possibilities to creating a link to the existence of fantasies becoming real.  In architecture, the uncontrollable changes in the society and the environment pushes the field's limitation to the edge that it is now specifically existing based on simulated environments. Making sure that the real issues are addressed through [supposedly] unrealistic solutions is now gaining ample popularity among architects who are not afraid to go beyond what is traditional and what is specifically 'safe' when it comes to creating their designs. Yes, due to hyper-reality, modern innovations on passive lighting and passive heating have become a source of new designs in the field of architecture. Take for example the rotating tower in Dubai, due to the massive changes in humidity and air function in the area, architects found a revolutionary way to make the building sturdy, comfortable and specifically eye catching for those who would see and appreciate its beauty. Yes, it may seem impossible, nevertheless, due to the demands and the desire of the human individuals today, such changes and adjustments in architecture has become true and is now considered as the basis of 'real architecture'.
Works Cited
Ali, Mir M. (2001). "Evolution of Concrete Skyscrapers: from Ingalls to Jin mao". Electronic Journal of Structural Engineering 1 (1): 2–14.
Burckhardt, Lucius (1987) . The Werkbund. ? : Hyperion Press.
Jarzombek, Mark. (June 2004): "Joseph August Lux: Werkbund Promoter, Historian of a Lost Modernity," Journal of the Society of Architectural Historians 63/1 202–219.
Schwartz, Frederic J. (1996). The Werkbund: Design Theory and Mass Culture Before the First World War. New Haven, Conn. : Yale University Press.
Genosko, Gary; Bryx, Adam, eds. (July 2004). "The Matrix Decoded: Le Nouvel Observateur Interview With Jean Baudrillard". International Journal of Baudrillard Studies (Quebec, Canada: Bishop's University, Dept. of Sociology and Anthropology) 1 (2).
Poole, Steven. (2007). Jean Baudrillard. Philosopher and sociologist who blurred the boundaries between reality and simulation. The Guardian.
Simulated Environments: Reading Requirement.
Time is precious
don't waste it!
Plagiarism-free
guarantee
Privacy
guarantee
Secure
checkout
Money back
guarantee