Creative Nonfiction in First Person, Essay Example
Pages: 5
Words: 1372
Essay
This Essay was written by one of our professional writers.

You are free to use it as an inspiration or a source for your own work.
It happened one afternoon when I was on my way to my favorite store, I saw a 3-car accident on the road and I was clearly astounded as well as awe-struck as to how the three cars were almost inside one another. There were 3 officers on the scene, Officer Jacobs; 25, female, 6'2, slender build, muscular and Caucasian. Then, there was Officer McCullough, 5'10, male, dark skinned, stern, thick build and finally there was Officer Fife; Hispanic, 5'5, slender, level-headed, male and skinny. The officers were standing around trying to make sense of the apparent collision that was before them, there was a gray 2014 Ford Focus, a yellow 2008 Hummer and a 1999 green Mustang. The drivers were all Caucasian and female, there was definitely a lot of commotion.
Here I am, a 20 year-old video gamer on his way to his favorite video game store and observing all of the commotion that is going on in that moment. The first thing I said was, 'man those women are feistier than a kitten in a tree' and one of the females looked over at me. It was 2:44pm and I was only seconds away from my turning point at the traffic light but I decided to see what was going on so I have something to tell my friends when I see them. All of those times when people told me about the importance of traffic and vehicle safety, I never thought it was a big deal. I always just said "I'll be careful, it's not going to happen to me". Sometimes I thought that my friends and family were just overreacting or being negative, it never really occurred to me at the time that I acted like I was invincible which I am not as I realize today.
It's not so easy to acknowledge that you don't know everything that you think you do.
The red-haired female said to me, "hey you, come here!" The red haired lady told the officers, "this is my boyfriend, he saw everything". Officer Fife pulled me to the side and asked me, "Did you see what happened here?" I replied, "no sir, I did not. I just happened to be driving by when I saw the collision, but I didn't see who hit who or who slammed on their brake first". Officer McCullough gave me a stern look and said, "do you the penalty for obstruction and witness tampering, Officer Fife told his partner, "calm down, McCullough, if he said he didn't see anything then he didn't see anything, sorry buddy, my partner is a little turnt up because of the mountain of paperwork that he'll have to do upon our return to the station". Officer Jacobs had the blonde haired woman in handcuffs because he blurted out that she was a repeat offender and has a warrant for her arrest. Not long after that, I could smell Culver's starting their pre-dinner rush because the grill would always be on high and since it was distant, I could smell it standing the 500 feet that I was from the restaurant
The brunette female who was in the hummer was asked to step out and she nearly fell because she was practically a micro machine compared to her husband's hummer which she drove with his permission, the brunette was outraged. She was calling the two other women bad names and saying "what a waste of time this is, my vehicle wasn't even involved in the accident, I just got bumped a little bit from behind". The 39-year-old thick brunette said to the officers, "look, he didn't see anything, the blonde girl is dumber than a box of hammers, I mean why would she not try to avoid getting into an accident knowing that she was a repeat offender; man, stupid".
I was thinking to myself, "I'm going to go over to Culver's just as soon as I finish up my business here". Officer Jacobs said to me "hey guy, focus". Did you see anything that happened here, which I replied "no, I did not". I could hear the red-haired woman yelling at the passing semi-truck saying "forget you jerk, mind your own business". Officer McCullough told her "shut up".
Shortly thereafter, I could hear another police car siren working its way to the scene and I said to myself "there's another policemen working its way here and the officer in the car doesn't sound too happy" Just then a white Indiana State Trooper patrol car showed up and out steps Officer Courd, a Caucasian female, 6'5 slender build and very likable. I said to myself "this isn't good" Officer Courd said "let's get these people on their way so we can clear this road up". Officer Courd asked me, do you know a guy by the name of Michael Jerkins?" I said, "yes I do as a matter of fact"
Officer Courd then said, "My department has a warrant for his arrest and I was told that he lives somewhere near here", I responded, "well I haven't seen Mike seen he talked to me while I was sitting on my porch last week". Officer Jacobs then told the brunette that she wasn't in any trouble and that she was an innocent bystander just like me, the brunette said to me, "this is a load of crap and I wish they would hurry this up, I got somewhere to be and I don't have time for this". I said to myself in that moment, "Culvers picked a bad day to have their grills on high because I smell their cheeseburgers all the way over here"
Afterward, I noticed Officer McCullough was hauling the blonde haired woman off to jail then I was like "wow, by the time she gets out, her children will have had children; cops don't play about those warrants".
By this time, I was ready to be on my way and I didn't feel like answering anymore questions but I did anyway because I wanted to be cooperative. Afterward, Officer Courd walked up to me and the brunette told us what our fates were.
Officer Courd arrested the redhead woman for lying to the police and she was definitely not happy about that because she was cursing out the cops, I was like "she's hotter than a volcano after an eruption". The brunette wasn't in any trouble and neither was I, Officer Jacobs and Officer Courd spent 30 minutes telling us about the importance of road rage avoidance because of the simple fact that accidents can happen almost instantly. Just then Officer Courd asked me some questions about my driving history and I answered all of the questions honestly, I was like "man, even though I'm not going to jail or getting arrested, I feel like I'm at the station while getting my prints ran".
The brunette felt like she wanted to be anywhere but there with her constantly rolling her blue eyes and shaking her head with her curly hair. After Officer Courd ran our licenses, she said that it is important that we never forget what happened that day because lives could be altered in an instant. I said to myself "there's no way that I would ever do anything to end up in this situation ever again, it's too time-consuming; there's no greater love than for an innocent bystander to be somewhere else right now like us for example I said to the brunette". A small distance from where my car was, I could smell Culver's again and this time the smell was stronger than ever. I said "I'm definitely going to Culver's after I get away from here because it's calling my name, loudly". Officer Courd and Jacobs were telling me and the brunette that we were the most cooperative witnesses that they have dealt with all day to which I replied "well, I'm always looking to help out others".
This situation has taught me that being in the wrong place at the right time can be very beneficial and cooperation is its own reward because I remember saying "cops take their time trying to get everything squared away but it's worth it when you can say you walked away without handcuffs on". Patience is a human beings greatest weapon.
Time is precious
don't waste it!
Get instant essay
writing help!
Plagiarism-free
guarantee
Privacy
guarantee
Secure
checkout
Money back
guarantee
Get a Free E-Book ($50 in value)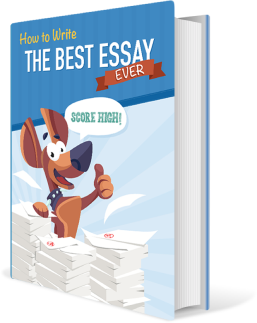 How To Write The Best Essay Ever!