Evaluative Review of Website, Essay Example
Pages: 6
Words: 1775
Essay
This Essay was written by one of our professional writers.

You are free to use it as an inspiration or a source for your own work.
British Library Website Review
Perhaps the difficulty of adequately reviewing the website of the British Library in a five-page essay can be expressed in that institution's own welcome to first-time visitors of its homepage: Explore 14 million books, 920,000 journal and newspaper titles, 58 million patents, 3 million sound recordings, and much more. Find what you need – in the arts and humanities, sciences, or any subject. I can only provide the broadest of overviews and select highlights.
I'll start with a summary of the sheer scope of the holdings available for either full or partial online-access. There are a total of about 157 million records online at various levels of availability. They are first divided into what is directly accessible through the website itself and the listings of its regular catalogue, much of which can only be seen or experienced onsite. By no means is everything available for online viewing or listening, although more and more is becoming available online every day. There are further divisions: what is available without registering, and which requires an online account. Finally, there are copies for free and for sale.
From the homepage one begins either the process of drilling down or simply browsing, and from the homepage onwards the design is to encourage both, with (I think) an emphasis on the latter. This is probably because the majority of website visitors are not and will not be scholars, who tend to do their serious research onsite (although that is steadily changing and will continue to do so as online accessibility continues apace). Also, those familiar with the Library's extensive services and collections will simply bookmark their pages of choice as their research progresses, thus bypassing the homepage, which is then left free to attract and make welcome the millions of readers who are new to the site and to the services it offers. In short, the vast trove of serious material is right below the surface, a surface which succeeds in bringing in the public at large, which will learn more at its own collective pace (Walshe, 2007).
The website's format, beginning with its homepage, is standard, with the expected links in all the right places: Catalogues, Collections, Discover, Services, Visiting, About, and Information for… aligned at the top. Almost all the expected icons are present as well, giving the Library the up-to-date look necessary to attract readers today: Facebook, Twitter, YouTube, etc. My own impression is that there is actually too much available on the homepage, so much so that it can be initially frustrating to find what you are looking for — basically a problem of information overload. Searching for a specific item, no matter how famous, is not necessarily intuitive and make take a few tries. But with familiarity this lessens as a perceived problem.
I will provide an example. I chose to try to get and read some historical newspaper accounts online dealing with the sinking of the Titanic, the reason being that the centennial of the ship's sinking has made it a news event (yet) again. From the Library's homepage, I simply typed in the phrase Newspaper articles, Titanic sinking. Unexpectedly (and somewhat comically) it yielded 0 results from both the website and catalogue options. At this point I should mention that the one expected but missing icon of the ones I listed above is . . . Google. The Library uses its own search engine. That is not surprising, but hardly helpful for millions of Google users, who, if they enter Newspaper articles, Titanic sinking will quickly find sites to visit.
I think this points to a future problem of institutions like the British Library, both online and onsite: in an age of increasing online availability, what use will their own search engines and access procedures be to the public it seeks to attract? This question is of course somewhat premature, but becomes less so with every passing day, if not hour. The question may also be unfair, as such institutions have always been predicated on the use and availability of expert help: librarians, researchers, etc., much of it available for free or at very low cost. In this case, while searching the Library's newspaper archives from the homepage, I clicked Collections and then clicked Digitized British Newspapers, and then clicked British Newspaper Archive. That sent me to a site that demanded that I register, even to view free items. Advanced service required a fee, the smallest of which was £6.95 for two day's worth of access, up to 100 page views. That's over $11, and it's probably reasonable from the Library's perspective to charge it. I wasn't tempted however. I registered free, got 30 credits, and was soon reading contemporary newspaper accounts of the sinking of the Titanic (until a glitch took my credits away). Still, I had resort to Google to find, for free and easily, the true extent of the Library's newspaper archive: I Googled reviewing the british library website and found a good website (Conboy, 2007).
It may be that allowing Google direct access to the Library's holdings (and the holdings of all such institutions) is a much more fundamental issue than it would appear to the casual visitor irritated by the failure of the house search-engine. I think this is the case, but I'm not able to competently address the matter. I will summarize it by saying that the problem of making the Library's homepage as friendly as possible to non-academic visitors will hinge on the its acceptance of Google as its default search engine. It may be that techies and Google savants already use it that way, as there are many detailed Google search-strings that the public is almost entirely unaware of, prompts that refine and expand the power of Google in quite impressive ways. (I should point out that Google and the Library do cooperate. In June of 2011, it was announced that 250,000 out-of-copyright books in the Library's holdings, published between 1700 and 1870, would be scanned and made available at Google Books (Press Release, 2011)).
The special features available are attractively presented, and provided me with a good deal of distracted browsing in researching this paper. I think the measure of a good educational institution's website is and will be its ability to waylay and seize the visitor, and to ensure they return soon and often — in other words, to addict them. One point that occurred to me, however, is: what is a special feature and what isn't? The entire homepage itself is virtually a special feature, and distinctions like Catalogues, Collections, Discover, etc. seem somewhat arbitrary. It may not be an important problem, and at first the effect (for those of us who like to read and go to libraries) is like that of stumbling into an old-fashioned candy store chock-a-block with barrels of multicolored goodies. Learning your way around is half the fun. And as I pointed out above, returning visitors, students, and scholars will bypass the homepage and its sirens.
It would be pertinent at this point to compare the Library's homepage with another of similar caliber. I immediately went to the Library of Congress online and repeated my search term Newspaper articles, Titanic sinking. This resulted in a good list of results, but no newspaper articles. So I returned to the homepage and the Historic Newspapers link and got 0 results! I then tried again, this time with just Titanic. Here I got a choice of newspaper front-pages to select and enlarge, with no need to logon or create an account, a distinct improvement from the British version. From here I went back to the British Library and typed in Titanic again. I got two sample front pages with a link to the John Frost Newspapers Archive, a commercial site.
My impression is that, in providing intuitive public access, the British Library will be at a competitive disadvantage in comparison to the Library of Congress, at least for certain subjects and materials, but no doubt the reverse holds as well, again for certain subjects and materials — and patrons. I can't help but wonder whether the British Library's website is subtly skewed to British expectations and perceptions in ways that escape me. (If so I'm unable to see how.)
There is one point that needs clarification. I've deliberately avoided the term digitize until now. The British Library and Library of Congress use the term digitize or speak of a manuscript being in digital form. An example from the British Library is the Codex Sinaiticus, the 1600-year-old handwritten copy of the Bible in Greek. To be precise, manuscripts that are hand-written at this point in our technological development can usually only be photographed digitally and then made available for viewing. But that doesn't necessarily mean that it has been digitized, a term which means (or should mean) something specifically different. We may think of a digitized document as one containing text that can be can be scanned into a computer which will then automatically convert the text into readable and searchable copy. Thus are old newspapers made searchable, and the holdings found at Google Books. However, handwritten manuscripts are not always or even usually searchable. But the Codex Sinaiticus is a kind of compromise, and this makes it additionally noteworthy. Being a project of such high importance, the resources were provided to make a letter-by-letter scan of the entire work, producing an electronic transcription. The result was then compared to other copies of the same Biblical text. Differences were flagged and inspected by scholars. Thus, the Codex, a handwritten document, is now fully searchable. However, not all documents will rate that level of cost and attention. Detailed proposals have been made for group annotations, basically a web-based cooperative protocol for scholars and other qualified personnel (Doumat, et al., n.d.).  So the next frontier facing both the British Library, the Library of Congress, and similar institutions will be to allow for uniformity of such annotation protocols, with, possibly, an able assist from Google or future services. The question is whether such venerable institutions will be open to that kind of democratization and loss of uniqueness. My guess is that they will have to be. In the meantime, the British Library's website is an excellent place to begin your research for topics related to anything and everything British and a good deal more. It isn't Google and doesn't pretend to be. That is something the website's first-time visitors will have to learn to accept — for now. My sense, however, is that institutional libraries in their turn will have to accept the inevitable and become ever more seamlessly a part of the web. Guaranteeing a revenue stream is the challenge.
Time is precious
don't waste it!
Get instant essay
writing help!
Plagiarism-free
guarantee
Privacy
guarantee
Secure
checkout
Money back
guarantee
Get a Free E-Book ($50 in value)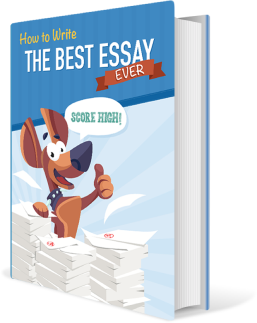 How To Write The Best Essay Ever!