Back to School Offer
Get 20% of Your First Order amount back in Reward Credits!
Get 20% of Your First Orderback in Rewards
Genetically Modified Crop Plants, Research Paper Example
This Research Paper was written by one of our professional writers.
You are free to use it as an inspiration or a source for your own work.
Need a custom Research Paper written for you?
HIRE A WRITER!
Introduction
Although the majority of gene technology is currently focused on how the sequencing of human DNA is helping to cure human illness and disease, it is the science of genetically modified foods that is being used to reduce hunger worldwide as populations grow and food production struggles to keep up. This paper will therefore discuss the technology, ethics and a personal view on the use of genetically modified food plants in enhancing the types of food most available to the poorest peoples, i.e. crop plants.
Biological Basis
Genetically modifying foods is the use of techniques in molecular biology to obtain new or enhanced characteristics, such as pest and virus resistance (reducing the need for expensive insecticides that can also be harmful to the environment), drought resistance (helping to reduce the need to draw on dwindling water supplies), and increased yields. The underlying technique is essentially to transfer the gene which has the target characteristic from one organism and placing it in the genome of the plant you want to enhance. Fig 1 provides an example of this in the production of genetically modified corn. (Chaudry, 2013)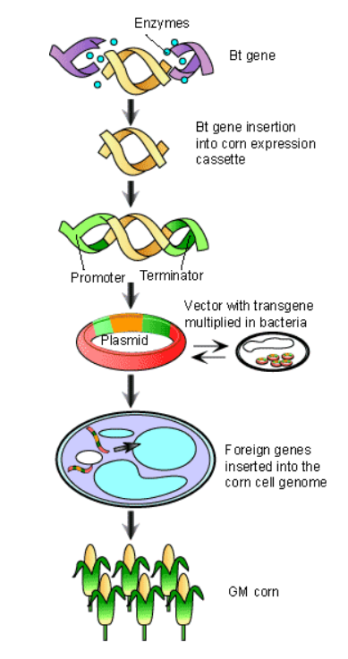 Essentially, the DNA of the target gene is isolated using enzymes sensitive to the sequence (e.g. restriction endonucleases) to 'cut' the DNA at specific locations, adding a promoter and terminator to form an expression cassette that the corn gene is capable of receiving, inserting the cassette into a bacterial plasmid (parasitic ring of DNA), and after millions of replications are made, introducing them into the host cell's genome. The next stage is to expand the cells that have successfully incorporated the new gene in culture, which is then used to grow new plants. (Chaudry, 2013)
Social and Ethical Issues
The concept of genetic engineering has been challenged on both ethical and moral grounds. Those against it feel that genetic programming of humans, animals, and crops /plants is an interference with the process of nature. There are also moral issues associated with the fact that it is now possible to change our human composition, our environment, and even determine what future generations will look like.
However, in the case of the genetic modification of plant crops, as the world population increases and the land available to grow food remains static, there is an urgent need to meet increased demands on food production. One of the big ethical arguments in favour of genetically modified crops is that strains can be developed that can be grown in many different environments throughout the world. These can be made resistant to such items as insects, variations in climate, disease and weeds.
Syngenta Zeneca is one company that has been producing and licensing the production of Golden Rice. In 2005 they were reported to have been granted 16 licenses primarily in the Asia Pacific regions. Golden Rice contains a large amount of Vitamin A or beta carotene that is converted into Vitamin A. It is Beta Carotene that gives carrots their bright orange colour and similarly the yellow in Golden Rice. In order to achieve this requires the introduction of three new genes, two from daffodils and one bacterium.
Golden Rice is of great advantage to third world countries as they have only historically eaten rice lacking in nutrients and vitamins. The consequence of poor nutrition can result in blindness or death, particularly in South East Asia where there is a heavy reliance upon rice. This is demonstrated by the fact that around 150 million children from poor families in more than 100 countries around the world suffer from Vitamin A deficiency. World Health Organization figures say that up to half a million of these children become victims of blindness each year, with 50% dying within one year of becoming blind. In order to help solve these issues, the patent rights for Golden Rice have been waived to enable mass distribution.
Opponents to production of Golden Rice argue that this type of genetically modified crop is still not safe for human consumption. One key concern has been the absence of sufficiently in-depth research and animal testing on the product. Early tests indicated that the rice was over-engineered to such an extent that it produced an excess of beta carotene producing a toxic effect and a potential to cause birth defects.
The concerns raised in western societies over the effects of genetically modified products are compounded by the fact that only the USA and Canada do not have legislation in place requiring the labelling of genetically modified food. This gives an indication of the lobbying power of the biotech companies over federal policymaking. It is also argued that there is in fact no world food shortage at all, but it is poverty that causes hunger as a result of the high price of the food already being grown. (Harrison, 2007)
Opponents of genetically modified food state that we have moved too quickly into production cycles without fully understanding the ramifications or side effects genetically modified plants may produce. There is also the concern of the transference of problems to humans by the introduction of allergenic proteins. (Herman, 2003)
Personal Viewpoint
There is no good argument to support not growing genetically modified rice other than that of fear and exploitation by the companies producing it. It is really a question of seeing the bigger picture here and providing healthier more reliable nutritional crops to the undernourished parts of the world. The developing world needs to move more towards genetically modified crops in order to produce improved yields and outputs. Although there has been some scepticism in the western world, there is no reason not to implement this on a widespread basis in the developing world if it is to reduce the hunger problem. Africa should be a specific target in this area so that more land in drought-stricken regions can be used for food production.
The counter argument is that there is sufficient food produced to feed current world populations and in fact hunger is caused more by poor distribution than lack of food. To solve this issue, more emphasis should be placed on creating a better distribution of wealth through more jobs and/or better paying jobs. People earning very low wages are not able to buy the available food. Even those with some land do not have enough to grow an excess to their needs that they can sell. Therefore the concept of 'give someone a fish and you feed them for a day, teach them how to fish and you feed them for life' is limited. Biotech corporations can help by producing more reliable food plants supplemented by encouraging land reform that enables farmers to own/lease more land for farming. This would improve public opinion of biotech companies, by promoting better wealth redistribution, and allowing the farmers to grow more food to sell.
There are no magic bullets to solving world poverty and hundreds of new biotech products are now either in use or in development to help solve these tricky moral and social issues. This indicates the contributions that biotechnology makes to society's wellbeing.
In my opinion the risks involved in the creation, production and implementation of genetically modified crops are much lower than the effects of the severe world poverty situation. We need solutions now and genetically modified food crops will be vital to feed growing populations of the world. The only alternative will be to run the risk of starvation and malnutrition in these countries with the resulting high rates of sickness and mortality.
References
Chaudry, A. (2013). Genetically modified foods. The Science creative quarterly, Issue 8, 7.
Harrison, B. (2007). Shedding Light on Genetically Engineered Food. Lincoln: iUniverse, Inc.
Herman, E. (2003, May). Genetic Modification Removes an Immunodominant Allergen from Soybean. Retrieved from Plant Physiology: http://www.plantphysiology.org/content/132/1/36.short
Stuck with your Research Paper?
Get in touch with one of our experts for instant help!
Messenger
Live chat
Time is precious
don't waste it!
Get instant essay
writing help!
It's a Free, No-Obligation Inquiry!
Plagiarism-free
guarantee
Privacy
guarantee
Secure
checkout
Money back
guarantee
Get a Free E-Book ($50 in value)
How To Write The Best Essay Ever!