Back to School Offer
Get 20% of Your First Order amount back in Reward Credits!
Get 20% of Your First Orderback in Rewards
Global Financial Crisis in Reference to Japan, the US and the UK, Essay Example
Pages: 6
Words: 1684
Essay
This Essay was written by one of our professional writers.
You are free to use it as an inspiration or a source for your own work.
Need a custom Essay written for you?
HIRE A WRITER!
Introduction
Global financial crisis is identified as the instance that created threat towards total collapse of huge financial institutions, banks' bailout by various national governments, and noted downturns within respective stock markets all over the world (Haidar, 2012).
In this paper, the basic idea is to note the way this global financial crisis hit the Japanese business structure and teh way the Japanese governance managed to get out of it and establish necessary stability to the market (Rogoff, 1999). The core objective is to learn the proceedings related to this process of stability and thereby create startegic approaches for the establishment of risk-prevented scenario in the furture.
Problems of Japanese Lost Decade
The basic problems of the Lost Decade in Japan are noted between 1984-2000. In accordance to the data collected from NIA (or the National Income Accounts) for these span following points were noted being severe causes for this crisis that prolonged for a decade. According to Reinhart and Rogoff (2008),[1] there are interrelated aspects in this context.
Poor Performance during 1990
Japanese economy was very good during 1980s and was on the verge of catching up with the US. However, threre was a drastic fall during 1990s and Japanese GNP/adult (between the age of 20-69 years), which was due to declination in the growth of TFP.
Fall of Workweek during 1988-93
There was the decline of workweek length from 44 hrs to 40 hours that was initiated by government fiat under the revision of Labor Standards Law, 1988. The holidays increased and it was followed strictly at the government sector. As a result there was a fall in the financial sector of Japan.
Capital Deepens in accordance to Declination of Return during 1990s
Ration of nongovernment capital-output where the government purchases were all treated as a mode of consumption, with the sum of total net exports and income factor are noted from abroad and were recorded as investment. It is here that the capital stock excluded all the government, yet added foreign capital (De hass, et al. 2012).
Increase in Government Share and Decrease in Investment Share during 1990s
During this period, the output share of government increased from 13.7% in 1984-90 to 15.2% in 1994-2000 for average price. There was also the declination in the domain of shares form private investment from 27.6% to 24.3%. These were basically from domestic investment domains with a declination of 3/point.
These issues really engaged Japan in the process of financial declination and led it to a state of financial crisis that made it suffer at a huge scale. These notable problems made the Japanese market get within the claws of financial hardship (Fernández de Córdoba and Kehoe, 2009).
Compare and Contrast Japanese Lost Decade with the US or the EU of 2008 Crisis           
Comparison and contrast between the Lost Decade of Japan with the financial crisis of 2008 in the US or the EU, turns up interesting, as there is an indepth connection between them. The very common crisis was that of the suffocation attained in the banking sector, where both the cases, attained the assumption that being fueled by bubbles of stock market and real estate gradually in both the cases this aspect crashed and initiated towards government bailouts. Moreover, these territories further kept on dealing with stubborn unemployment added bythe instances of anemic growth.
However, some contrasts turn up aas important as we note these two situations. The aging population of Japan was the core contributor in worsening the situation, whereas in case of the US and the EU, there is relevance maintenance of these territories. There are kinds of relatively noted positive demographics that can be marked among most of the young workers who were constantly entering the respective workforce. At actions led by the U.S. Federal Reserve seemed to be faster than that of Bank of Japan. It is necessary to note that in this context, the consumers of these territories attained higher debt and so were marked for poorer habits of spending habits, as agaisnt that of the Japanese population.
The diagram noted below shows specifically the differences of rates of interest in Japan and the US.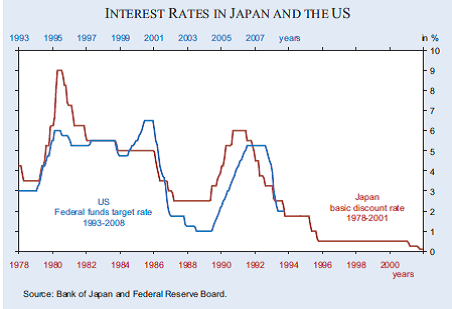 Realisations and Futuristic Approach      
Japan realised that the financial crisis in its premises were due to it speculation attained during boom cycle. Instances of low rate of interest fueled the relevant stock market and there was the real estate conjecture that offered soaring of valuations during 1980s. As a matter of fact, valuations of property added by public company turned tripled, where a small area as that of Tokyo turned worth than State of California considered as a whole. It was after a decade that the government realised that the crisis has turned unsustainable and that it raised the levels of interest rates. It was then that they followed notable aspects for modifications in reference to the crash of stock market with crisis noted by debt, most of which were led by the rampant situation. These crises also struck the banking sector and consolidated bailouts for diversified government initiations.
In terms of futuristic preventions, there are some valuable economic declarations that must be noted by the global economy (Rogoff, 1999). There are economists who supported interventions by central banks, yet others noted the same by market by surprise for relevant scope and timing (Bown and Crowley, 2011). Above all the significant lessons can be noted as follows (Wray, 2011)-
To act fast and quickly in order to stem the prevalent crisis, unlike the Bank of Japan.
Spending should not be a solution, as in case of public works projects that failed instantaneously
Counteract determined demographics as the increase of retirement age by Japan.
Not to rack up debt, where massive levels of Japan led to the crisis and BOJ increased interest rates.
Role of Private Sector in controlling these Financial Crises
The private sector increased its demands as agaisnt the crisis in Japan, the US and the EU. As agaisnt, the struggles that were continung on worldwide basis there were more supporting aspects initiated by the private sectors in controlling the Gobal financial crises. The alarms as initiated by the private sectors, as for instance Northern Rock, Merrill Lynch, Washington Mutual, Fannie Mae, Freddie Mac, etc were core initiators in offering these areas with necessary restrictions (Fischer, 1999). However, the private sector actually supported working strategies, whereby the employees were forced to offer quality results and that was very much supported by the public sector domains in order to control the financioal crises.
In reference to Japan, the private sector turned up as extremely rich sector and hold financial asset, whereby with its upport the public sector attained massive relieve from debt-ridden. In Japan, the private sector holds most of the outstanding the debt of the public via banking system. In case of the private sector remains unwilling to attain a write-off that can increase tax under social insurance, apparent plight over Japanese economy with typical form.
Conclusion    
Global financial crisis remained the core factor for the failure of notable businesses and declination of in wealth of consumer being in trillions of USD. There was a downturn in respect to economic activity thatfurter led towards global recession of 2008–2012 and added towards crisis of European sovereign-debt. It is necessary to note that governance must get associated in these contexts (Caceres & Kochanova, 1985)
Eventually, Lost Decade related Japanese collapse of bubble gets noted for asset price in economy of Japan that was a gradual process instead of a catastrophic change. The basic reference is towards the phase of 1991 to 2000. In contrast in the areas of the US and the EU, the actions were faster, yet there was phenomenal mode in of similar relevance towards the run-up modes towards these crises. These were:
Expansive policy for monetary modulations (Mishkin. 2011).
increase of notable prices over stock markets and real estate
fall in the private household savings (Tcherneva, 2012)
higher risk propensity added by comparable mode of low equity
ratios noted within banking sector
developments are for newer financial products with lower regulation over market degree
References
Bown, Chad P. and Meredith A. Crowley. ImportProtection, Business Cycles, andthe Exchange Rates: Evidencefromthe Great Recession. Federal Reserve Bankof Chicago, Working Paper 2011-16
Caceres, Carlos & Anna Kochanova.  Country Stress Events: Does Governance Matter? International Monetary Fund. IMF Working paper 12/116
De hass, R., Yevgeniya, K., Elena L., and Alexander P. (2012) Foreign Banks and the Vienna Initiative: Turning Sinners into Saints? International Monetary Fund, IMF Working Papers 12/117
Fernández de Córdoba, G. and T. J. Kehoe (2009), The Current Financial Crisis: What Should We Learn from the Great Depressions of theTwentieth Century? TheRegion, 23, 7–39.
Fischer, S. (1999) On the Need for an International Lender of Last Resort. Journal of Economic Perspectives. Volume 13 (4). 85-104.
Mishkin, F.S. (2011). Monetary Policy Strategy: Lessons from the Crisis. National Bureau of Economic Research. Working Paper 16755
Reinhart, Carmen, and Kenneth Rogoff (2008), "TheAftermathofFinancialCrises", mimeo, Harvard. http://www.economics.harvard.edu/faculty/rogoff/files/Aftermath.pdf
Rogoff, K. (1999) International Institutions for Reducing Global Financial Instability. Journal of Economic Perspectives. Volume 13 (4). 21-42.
Tcherneva, Pavlina R. (May 2012). Reorienting Fiscal Policy after the Great Recession. Levy Economics Institute of Bard College, Working Paper No. 719
Wray, Randall L. (2011). Lesson We Should Have Learned from the Global Financial Crisis butDidn't. Levy EconomicsInstituteofBardCollege. WorkingPaper No. 681.
[1] First, asset market collapses are deep and prolonged. Real housing price declines average 35 percent stretched out over six years, while equity price collapses average 55 percent over a downturn of about three and a half years. Second, the aftermath of banking crises is associated with profound declines in output and employment. The unemployment rate raises an average of 7 percentage points over the down phase of the cycle, which lasts on average over four years. Output falls (from peak to trough) an average of over 9 percent, although the duration of the downturn, averaging roughly two years, is considerably shorter than for unemployment. Third, the real value of government debt tends to explode, rising an average of 86 percent in the major post–World War II episodes. Explode, rising an average of 86 percent in the major post–World War II episodes.
Time is precious
don't waste it!
Get instant essay
writing help!
It's a Free, No-Obligation Inquiry!
Plagiarism-free
guarantee
Privacy
guarantee
Secure
checkout
Money back
guarantee
Get a Free E-Book ($50 in value)
How To Write The Best Essay Ever!