Nurse Practitioners, Research Paper Example
Introduction
While each job has conflicts the nurse practitioner has more conflicts than most. The task of the nurse practitioner includes patient care while working in conjunction with other individuals, some of who have had equal or greater years of experience (Huber, 2010). If not in years of experience, some nurse practitioners have more specialized backgrounds. In addition to working with other nurse practitioners one cannot lose sight of the fact that nurse practitioners have a direct responsibility toward doctors who may own or simply be advisory personnel in the practice (Huber). In any given day, the nurse practitioner has to contend with patient care and comfort while directing other medical personnel who are subordinate to his or her position (Joel, 2009). In addition, the nurse practitioner needs to remain keenly aware that she or he remains subordinate to doctors who are part of the medical practice.
Excerpts From My Job Description
When I applied for the job at the clinic I was given a job description. Needless to say it was a generic job description; as a new employee I would not be called upon to do every task. However, to prepare myself to be an asset to the clinic, I needed to be aware of each task and if I felt my experience was lacking in any one of these areas, it was up to me to bring myself up to the level of professional expectations (Buppert, 2012).
I was expected to perform direct patient care through examination, diagnostics and analysis of the patient's health and to develop both long- and short-term patient health care goals. As a nurse practitioner assigned to the walk-in side of the clinic, I expected these tasks to become routine in nature—making sure that the needs of each patient was being met to the level of my professional ability. In addition I would be required to use advanced nursing procedures including IV insertion and monitoring of drugs. Of course, excellent record keeping is required of most jobs, and my ability to accurately record details is of upmost importance.
The above items are generally accepted nursing duties and regardless of rank on the organizational table are generally completed by nursing personnel. Where the previous nurse practitioner ran into difficulty, and where even at this early stage I can foresee difficulties are subsequent duties on my job description. The next expectation of the nurse practitioner is to evaluate the condition of the patent in collaboration with the attending physician. Together the physician and nurse practitioner need to apply appropriate protocols, making mutual decisions regarding appropriate treatments.  Working as a team, the physician and the nurse practitioner needs to order and monitor the use of appropriate medicines and medical procedures (O'Riordan, Akturk, Ortiz, et al., 2009).
The nurse practitioner needs to be able to function as a preceptor for medical students, interns, beginning nurses, and even physician assistants (Huber, 2010). They may be required to perform lead work in clinical coordination, health management, or be responsible for projects encompassing management planning, development of certain protocols, and supporting other administrative tasks such as those necessary to maintain an active health clinic.
Huber (2010) identified other parts of the job description continuing with other team efforts: May attend administrative staff meetings to present clinical concerns. The nurse practitioner helps to establish departmental policies while working to improve safety and environmental concerns. In addition, the nurse practitioner will work to keep the spread of infection at a minimum. Finally, the nurse practitioner works to enhance professional growth by participating in educational programs and in receiving and disbursing professional literature to those departments and individuals where such disbursement will do the greatest good.
My First Day on the Job
There are nine physicians who are part of this practice. The practice is not new; it's been around for several years and is well established in the community. This being the case, why am I replacing a former employee? Did the previous nurse practitioner get a better job, was there a promotion, or was there a needed change in locale?
Being the "new person on the block" I am not assigned a panel of patients. Instead I am asked to work in the walk-in section of the clinic. These are patients who, displaying various ailments, are seeking immediate medical attention. Although I consider myself to be an accomplished nurse practitioner who has a thorough knowledge of the latest medical procedures, I am assigned to work under one of the physicians normally assigned to this part of the practice. I shall call this physician Dr. S.
It turns out that Dr. S. is an autocratic leader. Because of the fact that he is a licensed physician and we are employed in a professional setting, there is no question that I would address him by his title, Doctor. However as a trained professional in my own right, I don't need a physician to tell me when I should take a patient's temperature and blood pressure. Autocratic leaders have their place in an extreme emergency, but in daily practices they can make the work environment unlivable.
There are some benefits to having an autocratic leader (Lewin, Lippitt, & White, 1939). These individuals assert a take-charge form of leadership. They give orders and expect a quick reaction from their subordinates. There is no discussion; members of a group which have an autocratic leader do as they are told, when they are told. An example of an autocratic leader is a military officer leading troops into battle. Autocratic leaders are not always bad. The autocratic leader is usually pretty good at determining the specialized strengths of each member of the group and the repetitiousness of one doing certain tasks leads them to excellence.
Under normal circumstances, the autocratic leader wants little or no input from his or her team members. The leader dictates all the methods and the procedures used. In a low-paid repetitive industry, for instance, in a restaurant, the "I say! You do!" leadership style may be appropriate. But in a professional medical practice where the team members are college-educated and state-licensed, the autocratic leader just does not fit. Dr. S. is a highly skilled medical professional. Away from the medical practice employees tell me he is a personable sort of fellow. However, at work he creates more stress than the varying demands of our patients.
Fixing my New Job
Deming (1986) introduced totally quality management (TQM) into the workplace. It was introduced as a way to increase manufacturing production. However, since 1986 TQM has been found to be an effective management method in many other institutions, including, but not limited to schools and health organizations. It has become a driving force in process thinking, one in which the hierarchy is flattened and in which both managers and their subordinates collaborate in joint efforts to solve organizational problems. When individuals collaborate they each bring unique perspectives to the discussion. There are individual interpretations of both conflict and resolution; however, both conflict and resolution help to strengthen the objectivity of the discussion. When the outcomes of these discussions are presented to the person in-charge, he or she can best decide which outcomes show strength and promise if implemented and which decisions need further study and compromise.
In addition to flattening the hierarchy, TQM also supports reliance on data to measure progress. In a study generated by the Annenberg Institute, Hannon, Keeney, and Raiffa (1998) identified a six part inquiry cycle that uses data driven indicators. The first step identifies the institution's desired outcomes. The second step identifies how well employees are accomplishing those objectives. The third step consists of collecting and organizing data that will help answer the questions being asked by the clinic's administration. The fourth step is the assessment and interpretation of the collected data followed by appropriate actions (step five). The final sixth step assesses previous actions taken and marks the beginning of the next inquiry cycle.
Another researcher, Peter Senge (1990), authored a book The Fifth Discipline. The book first made its entrance, like so many other research projects, into the business community. Soon it also became a bible of work ethics in both the academic and health care communities. Senge's researcher is based on systemic thinking: finding as many different elements as one can possibly find and then searching for similarities between them. The concept works well in any departmentalized organization. For instance, in a health care setting there are consultation departments, pre-and surgical departments, patients who seek help for single episodes of one kind or another, and paperwork departments including recordkeeping, patient billing, and medical records (Buppert, 2010; Huber, 2010). Identifying each kind of event and searching for similarities between them cuts down on costs, procedural goods, and human factors including management and labor. Senge observed that for the organization to be successful, people need to know and understand what role they play within the entire organization. People need to know and understand how their individual roles serve as an incongruous part of the entire picture. Senge called attention to the fact that people work in both the formal and the informal structure of the organization. Although an individual may not be formally recognized as a boss, other employees still seek his/her expertise. It is my hope that Dr. S. and others like him who believe that their word is law and only their way is important will eventually understand that they are simply a knowledgeable player in an organization consisting of multi-talented employees. It has been well-established that consistently training new employees is both expensive and time consuming. Recognizing that different employees bring new and exciting ideas to the table, it is important to management to recognize all employees as stakeholders in the clinic.
A  More Personal Issue
The first part of this document examined my role as a nurse practitioner working for a physician. In many health care organizations it is normal for a physician to be head of a department and to have subordinates working for her or him. Hopefully, an improvement of my working relationship with Dr. S. will aid in creating a better systemic relationship throughout the healthcare agency. Other supervisors will follow the new example which is going to be set by Dr. S. and a new and different systemic relationship will pervade the healthcare organization.
When two or more employees work together, sometimes having different experience bases or coming from different cultures, conflict may arise between what different employees perceive as the correct way of completing assigned tasks (Joel, 2009). These differences among people working in close proximity to each other may result in personal conflicts. These differences do not well-serve the organization; they tend to harm the organizational culture. In a health care setting they can be particularly harmful. More so than in any other industry, human needs must be met. In order for these needs to be met, preferred relationships among personnel should be collaborative—at best, authoritative. Regardless of which management model is used, the patient must always come first. The solution to these differences if, indeed, there is a solution, is called conflict management.
At the beginning of labor theories perhaps dating as far back as Frederick Taylor (1911), conflict was avoided. The prevailing thought was that different employees, in an effort to keep their respective jobs, would "work things out." By the last decade of the 20th century, Terry (1996) identified several factors that caused conflicts. These included a scarcity of resources: competition for money, supplies, and people; jurisdictional questions about job parameters and who is supposed to take responsibility for which task; and personality clashes caused by differences in attitudes values and beliefs. Additional sources of conflict include differences in the goals that employees set for themselves; human nature is such that in the same organization different people come to work for different reasons and thus, the goals they set may be different from the goals set by other employees. When there is a difference in those goals, conflict may ensue. Lastly, there may be a communication breakdown. This is especially true in industries that employ workers from different countries who may have different customs and traditions; although the ultimate goal is patient service differences in national origins may cause different customs to be interpreted in a manner not intended.
Healthcare is an example of a complex system of many different departments functioning both as one and also exclusively, all at the same time. Because of their complexity, health care organizations sometimes generate errors on a regular basis. In the correct conditions they are also innovators and capable of being at the forefront of their profession. The complexity of the healthcare system means that misunderstandings and conflict often occur at multiple levels at the same time. A thriving healthcare organization involves the wide disparity of knowledge, power, and control among various players. While most conflicts involve some disparity between parties, it is not usually institutionalized, as is the case in healthcare. The ethnic diversity of providers of healthcare services in many communities is both large and diverse, generating potential barriers to helping parties create solutions. Differences in ethnic diversity can be even more overpowering when it encompasses patients in addition to healthcare personnel. These differences are especially noted among both employees and patients in areas where ethnicities have changed but the healthcare institution has remained static.   Healthcare involves people interacting with other people to repair and preserve the health and personal integrity of patients. Often this involves issues about which people may have strongly held personal or religious values that may seem to be, and often are, irreconcilable.
The following figure is copied from research conducted by Thomas-Kilmann (1974).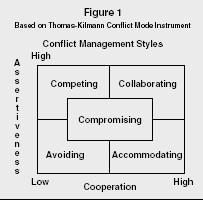 The figure is based on two planes: assertiveness and cooperation. On the plus side, it illustrates that employee assertiveness leads to competition and avoidance—not good qualities in any organization. Cooperation leads to accommodation and collaboration. Whether speaking of a health care institution or any other kind of organization, cooperation among and between employees always leads to a better-run operation than assertiveness.
As a nurse practitioner employed in a large clinic, I have both superiors above me and coworkers either employed at or below my level on the organizational hierarchy. In a previous section of this document I examined how I might get my superior, Dr. S., to work with me on a more one-to-one basis, each of us respecting the knowledge of the other. In this section of the document I am expected to discover ways in which my coworkers or subordinates can get along with each other, each of us respecting the other's knowledge while at the same time having an awareness of who will direct and who will follow.
Summary
Nursing is a proactive occupation. Nurse practitioners need to need to communicate with patients, their families, and their colleagues. This can be especially difficult in situations where medical professionals think that their experience and/or level of professionalism exceeds those of the person giving orders or directions. In a thriving medical practice usually have superior roles in the direction of the organization. Nurse practitioners often serve as middle managers or department heads. Below them is general nursing and patient maintenance staff. In their precarious roles nurse practitioners must protect each person's self-respect by focusing on the issues and not on individual personalities. The nurse practitioner must be careful never to blame individual participants for the problem. When discussion is encouraged and both positive and negative issues are brainstormed, all parties will actively engage in conversation about their individual concerns. The nurse practitioner needs to summarize key themes and assist all interested parties in developing alternative remedies to the issue at hand. As a further incentive to helping employees through key issues the nurse practitioner, working as a facilitator, must permit all parties an equal amount of time to work through their differences. At a still later date the facilitator or nurse practitioner needs to follow-up on the conflict resolution, offering continuing feedback.
References
Buppert, C. (2012). Nurse practitioner's business practice and legal guide. (4th Ed.). Sudbury, MA: Jones and Bartlett.
Deming, W. E. (1986). Out of crisis. Boston, MA: MIT Press.
Hammond, J., Kenney, R., & Raiffa, H. (1998, Sepember/October). The hidden trips in decision making: Uncertainty in patient diagnosis. New York: Harvard Business Review.
Huber, D. (2010). Leadership and nursing care management. (4th Ed.). Maryland Heights, MO: Saunders Elsevier.
Joel, L. (2009). Advance practice nursing: Essentials for role development. (2nd Ed.). Philadelphia: F. A. Davis Company.
Lewin, K. Lippitt, R., & White, R. (1939). Patterns of aggressive behavior in experimentally created social climates. Journal of Social Psychology, 10: 271-301.
O'Riorden, M. Atkurk, Z., Ortiz, J., Bueno, , D. et al. (20110. Dealing with uncertainty in general practice: An essential skill for the general practitioner. Quality in Primary Care 19(3): 175-181.
Senge, P. (1990). The fifth discipline. New York: Doubleday.
Taylor, F. (1911). Principles of scientific management. Cambridge, MA: Harvard University Press.
Terry, P. (1996). Conflict management. Journal of Leadership Studies 3(2): 31.
Thomas, K. & Kilmann, R. (1974). Thomas-Kilmann conflict mode instrument. Sterling Forest, NY: Xicom Inc.
Time is precious
don't waste it!
Plagiarism-free
guarantee
Privacy
guarantee
Secure
checkout
Money back
guarantee