Back to School Offer
Get 20% of Your First Order amount back in Reward Credits!
Get 20% of Your First Orderback in Rewards
Global Issues in Fashion Marketing, Essay Example
Pages: 5
Words: 1369
Essay
This Essay was written by one of our professional writers.
You are free to use it as an inspiration or a source for your own work.
Need a custom Essay written for you?
HIRE A WRITER!
Introduction
A major global issue facing fashion marketing lies with the rapidity of change in the industry. Fashion is experiencing changes in its marketing structure at an arguably more rapid pace than other industries. I believe this has influenced how different brands represent themselves. It seems to me that the rapid changes in the fashion marketing space favor more established players like Gucci and Channel, with lesser-known brands left without any sizeable leverage. An examination of the global dynamics in the fashion marketing industry is necessary.
Body
The five attributes of innovation are relative advantage, compatibility, complexity, trialability, and observability. Innovation refers to the implementation of change in industry practices. Relative advantage is a term that means the extent to which an implemented idea is better than other existing ideas, for instance, the design of a new clothing design that uses material that is better than those existent in the market. Such a design is termed as having a relative advantage.
Compatibility is the extent to which a given innovation conforms to the values and requirements of potential implementors. In the fashion industry, one could design new clothes that conform to the cultures of the designers. The designers will be open to mass-producing the design because of its compatibility. Complexity is the degree of difficulty of a given innovation in terms of implementation. Take an example of designing clothes that use extremely rare materials. Mass-producing similar clothes will be difficult to implement.
Trialability is the range in which a given innovation can be tested before being actually implemented. For instance, a design could be tested by selling it to a selected market. If the sales prove productive, mass production is implemented. Observability is the degree to which a given innovation gives actual results. Some innovation methods in fashion, such as modifying the designs of clothing to correspond with bags, can result in better results. The results may be in the form of getting more customers from schools or social workers.
Discussion
Huge brands are favored by the current communication overload characteristic of the digital era. Customers are bombarded with a lot of information on their social media, search engines, and other online platforms (Unni 2020, p.274). The information that smaller companies put out there becomes diluted by the mass campaign strategies adopted by the leading brands. Smaller brands cannot match the financial capacities of the more established brands and often have to settle on a low return on their marketing dollars.
I also believe that the disproportionate factors in global fashion marketing have derailed small brands. Their low popularity has forced them to adopt radically different marketing strategies. Most of them have been forced to adopt rapid discounting schemes (Sangvikar, Kolte, and Pawar 2019, p.256). This makes customers accustomed to the everyday low prices. Many of these small-time players use discounting strategies to attract more customers. However, it seems to me that they are just buying out customers using the discount schemes, preventing the creation of authentic brands that are worthy of recognition as the best (Kim and Sullivan 2019, p.6). An example is the fashion company, John Lewis, which experienced a 99% loss in the first half of the year since it unintentionally underpriced its goods. Larger companies do not experience the same difficulties.
I have observed that the current fashion marketing strategy is mainly dependent on the brand identity of the fashion companies. The small brands that have not gained much traction suffer from lower traction than the large companies. As a result, more established brands are favored by customers more than the local lesser-known brands. Gucci experienced a 48.7% increase in the first-quarter sales in 2018 (Huggard 2020, p.43). Gucci is also quick in collaborating with celebrities to develop fashion designs that are likely to be valued by the public. The company paired up with Dapper Dan, a hip-hop legend, in developing an 80s theme clothing line (Adler and Fromer 2019 p.1455). The lesser-known brands cannot hope to afford promotion and endorsements by the well-known celebrities. They are, therefore, more likely to lag behind the leading brands like Gucci.
The increased popularity of leading brands on social media platforms puts pressure on smaller brands. There is also an obsessive emphasis on the use of social media in fashion marketing. These platforms are indeed valuable for getting exposure to the market. However, the indiscriminate participation by many brands in the multiple social media platforms serves to compromise their marketing position (Guercini, Bernal, and Prentice 2018, p.3). Companies need to be strategic about the social media platforms they use. A platform is only considered valuable if it elevates the brand perception in the mind of the target customers. A company should not use Facebook or Instagram simply because competitors are found on the same platform.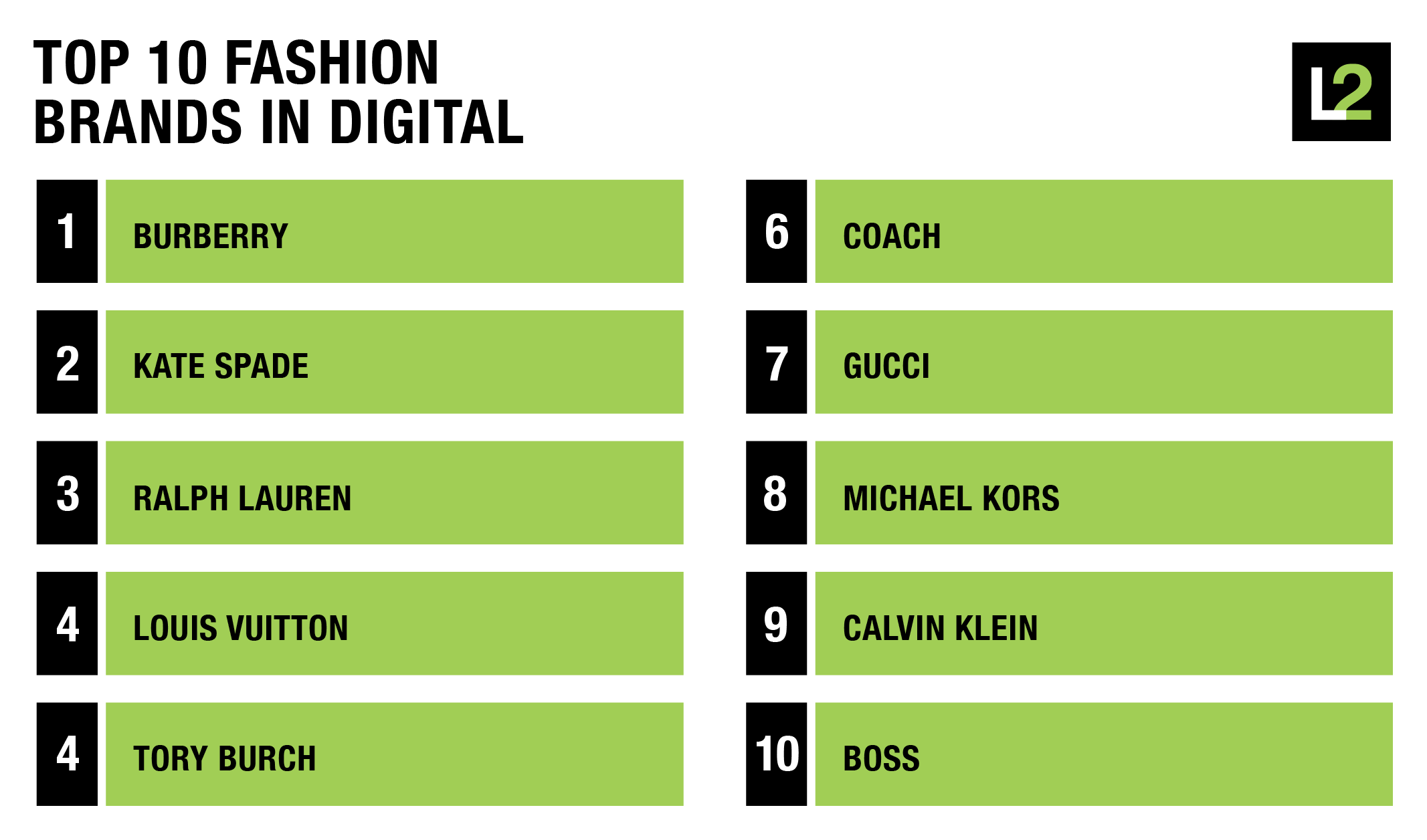 http://www.l2inc.com/wp-content/uploads/2015/11/Blog-Top10-FASHION.png
Simplicity has emerged as a critical determinant of a brand's overall impact. This is important to consider given the multitude of other companies that are found in the fashion industry. Leading brands such as Christian Dior emphasize simple yet elegant designs that are increasingly becoming important to the users (Donzé and Wubs 2019, p.88). This is not only limited to the fashion industry but is also used by world-leading brands such as Apple and Amazon. Simplicity enables the user to bypass many complexities and procedures involved with using a company's products. This improves the ease of use of the products (Karlsson and Ramasar 2020, p.337). Many fashion brands can benefit from making their products simple and easy to use. However, this requires going back to the basics in product development. The change might be drastic, but it is worth the investment, both in time and money. This leads to the increased value of the brand.
Also, dominant brands benefit from an already established brand identity, reinforced by stories. Chrisitan Dior has excelled in its storytelling efforts. This makes it a household name without spending a lot on marketing (Donzé and Wubs 2019, p.85). However, small brands struggle to find the appropriate product and marketing mix that lead to the generation of public interest (Karlsson and Ramasar 2020, p.342). This is not easy to do. Most small companies end up copying the more prominent sized brands and degrade their brand perception. A recent trend has involved online surveys by small brands where they quiz their customers on what they like out of the brand. This has led to the different inputs, making the brand more confused rather than uniform and solid. There is a need for consistency in the message that the brands give to their customers.
Conclusion
I believe that the more prominent brands have a significant advantage over smaller players in fashion marketing. Some of these advantages are afforded by economies of scale, such as social media marketing. Moreover, dominant brands benefit from an already established brand identity. Smaller brands, as a result, suffer from these disparities. Catching up to the leading brands will prove to be a difficult task.
Reference List
Adler, A. and Fromer, J.C., 2019. Taking Intellectual Property into Their Own Hands. Calif. L. Rev., 107, p.1455. https://heinonline.org/HOL/LandingPage?handle=hein.journals/calr107&div=43&id=&page=
Donzé, P.Y. and Wubs, B., 2019. Storytelling and the making of a global luxury fashion brand: Christian Dior. International Journal of Fashion Studies, 6(1), pp.83-102. https://doi.org/10.1386/infs.6.1.83_1
Guercini, S., Bernal, P.M. and Prentice, C., 2018. New marketing in fashion e-commerce. Journal of global fashion marketing, 9(1), pp.1-8. https://doi.org/10.1080/20932685.2018.1407018
Huggard, E., 2020. The role of the fashion communicator as a cultural intermediary. In Communicating Fashion Brands (pp. 39-56). Routledge.https://www.taylorfrancis.com/chapters/edit/10.4324/9780429464423-3/role-fashion-communicator-cultural-intermediary-emily-huggard
Karlsson, M.T. and Ramasar, V., 2020. Selling women the green dream: the paradox of feminism and sustainability in fashion marketing. Journal of Political Ecology, 27(1), pp.335-359. https://doi.org/10.2458/v27i1.23584
Kim, Y.K. and Sullivan, P., 2019. Emotional branding speaks to consumers' heart: The case of fashion brands. Fashion and Textiles, 6(1), pp.1-16. https://fashionandtextiles.springeropen.com/articles/10.1186/s40691-018-0164-y
Sangvikar, B., Kolte, A. and Pawar, A., 2019. Competitive strategies for unorganized retail business: understanding structure, operations, and profitability of small mom and pop stores in India. International Journal on Emerging Technologies, 10(3), pp.253-259. https://papers.ssrn.com/sol3/papers.cfm?abstract_id=3517701
Unni, M.V., 2020. Does Digital and Social Media Marketing Play a Major Role in Consumer Behaviour?. International Journal of Research in Engineering, Science and Management, 3(4), pp.272-278. https://www.ijresm.com/Vol.3_2020/Vol3_Iss4_April20/IJRESM_V3_I4_63.pdf
Time is precious
don't waste it!
Get instant essay
writing help!
It's a Free, No-Obligation Inquiry!
Plagiarism-free
guarantee
Privacy
guarantee
Secure
checkout
Money back
guarantee
Get a Free E-Book ($50 in value)
How To Write The Best Essay Ever!