Good to Great by Jim Collins, Book Review Example
This Book Review was written by one of our professional writers.

You are free to use it as an inspiration or a source for your own work.
The book Good to Great by Jim Collins is a great analysis of specific factors that contribute to making a company very successful, as well as the explanation and application of these factors. Collins was very specific throughout the text when presenting the reader with his analysis, and therefore is a very useful tool for anyone studying, or involved in the business world on any level. The book Good to Great by Jim Collins is an expert overview of keys to success in today's business world.
In Chapter One, Collins outlines the criteria of a "great" company over a "good" company, as well as giving the reader a comprehensive list of companies Collins believes to be great. Included in this list are Abbott, Fannie Mae, Circuit City, Gillette, Kimberly-Clark, Kroger, Nucor, Philip Morris, Pitney Bowes, Walgreens, and Wells Fargo. The reason Collins chose these companies in particular is because all them far exceeded their market–more than three times over a fifteen year period. These companies lay the framework for his larger, collective argument and analysis.
Also contained in Chapter One were what Collins himself calls some of the most important findings his research and analysis brought forth–many are very unexpected in nature. One of the most important points hammered home in Chapter One was the fact that "greatness" was so often not achieved because it is easy to "settle for good". Collins not only attributes this to businesses, but people themselves as well–clearly stating that it is partially laziness and partially human nature that prevent some from attaining "greatness". This was not the only interesting revelation presented in Chapter One, however.
Collins made another main point in Chapter One that is not only interesting, but also extremely noteworthy. Specifically, he made a very compelling point that not only does the Executive order of a company have very little to do with success, but in certain circumstances the CEO can negatively affect the company–especially if the CEO is a very public, or celebrity figure. This is certainly not a fact that was expected, but Collins is very clear and adamant on these points. He calls greatness a conscious choice.
This is definitely one of the major things I took from this book that I will apply universally–whether in business ventures or otherwise. The concept that Collins puts forth–that achieving greatness is a conscious choice–means that through hard work and circumstance, the level of greatness is attainable. Just this knowledge in and of itself is very important, because it gives every person and business something to work towards–greatness involves progress.
One of the major points of the book as a whole actually discusses the individual, and their place on the team moving forward, to best promote progress. The "first who, then what" mentality put forth by Collins is absolutely critical in all of its components, many of which are not generally considered standard practice–though they absolutely should be.
A major component of the who before what approach has to do with the actual staffing of the team and company. Collins is very specific when he affirms that building the correct team of individuals should be the first priority, over anything else. This can be the concept that also presents with the most challenges due to its nature. Although part of this process is naturally going to involve a hiring process, and possibly even promotions for existing employees, there is the other side to the coin as well that can be unpleasant. Collins places a high importance on creating the right team to move forward, and unfortunately some individuals may have to be fired, or asked to step down, to achieve this in the best way possible.
The other primary concept involved in placing the who before the what involves how best to utilize the talent within the company. Although it is my own experience, and as is the norm with most companies, the most skilled employees are often used to fix problems within the company. Collins argues against this ardently, seeing it as a waste of resources. He believes the talent should be concentrated on pursuing the best opportunities for the business, not wasting time trying to fix problems.
On the other hand, Collins also puts forth another principle of greatness in business–another main theme of the book–is the ability of a business to be able to confront all facts and situations, even unfavorable ones. Specifically, Collins places a lot of importance on the creation of a healthy environment that encourages the type of dialogue that lends itself to the truth at all times.
A major component of this deals with the executives themselves, and what they must do to create an environment that fosters the addressing and fixing a problem. Collins makes certain to mention that this should be conducted in a blameless fashion, where employees feel they can speak freely without fear of their bosses. He says that a boss must maintain only a certain amount of charisma–a balancing act between maintaining their position without detracting from priceless and valuable dialogue with subordinates. One part of this is actually rather stunning–Collins claims that trying to motivate employees is inherently a waste of time, as the proper employees should not need to be motivated at all.
Overall, one of the most important themes discussed in the book regarding improving any business is "The Hedgehog Concept". The concept explains how businesses should focus only on what they are best at, and narrow down their goods and services only to what makes them the most money. Although at face value this may seem like common sense, there are many companies that spread themselves too thin, or waste a lot of money trying to develop new products when they should be constantly trying to improve what they are best at in order to achieve maximum efficiency. This is also, Collins explains, the best way to maintain consistency within business figures as well, maintaining investor faith. To sum up, the three circles of the Hedgehog Concept are that a business should concentrate on what they make the most money doing, what they are most passionate about, and what they can strive to be the best in the world at. If a business follows this model, they can ascend from good to great.
A very important key point in the text is what Collins has to say regarding technology within a company. According to Collins, a business must carefully assess any technological advances, and invest in carefully selected ones that will be long-lasting and efficient in the long run. In these select technologies, the business should strive to lead the industry.
To illustrate two main points, and applying the Hedgehog Concept–if the technology is not something that fits into the three circles model, than it should be avoided. Collins speaks about the importance of having discipline in business as another major theme. A big part of discipline and restraint in business can be directly linked to the three circles of the Hedgehog Concept. In every aspect of business, the three circles should be applied to make an informed decision that will not be regretted in the future.
Another principle of business that Collins addresses in his book Good to Great can be summed up in simple terms as patience. Collins claims that great businesses always rise out of good businesses that run like perpetual machines. Again, the overtones of perseverance and hard work are instilled within this concept. The author takes great care to hammer in the point that there is generally no one dramatic action that elevates a business to greatness. Collins says the success is always gradual–but a gradual increase. What sets the great apart from the good in this respect, according to Collins, is the good tries to skip steps–looking to rise quickly, they also fall just as quickly, and often continue within this same pattern.
The book Good to Great, written by Jim Collins, is perhaps the most prolific book available on the success of a business, and how to achieve "greatness". First he gave examples of companies with staggering numbers of success, and deconstructs what makes their success viable. The insight Collins gives throughout the text is invaluable information that every business person should be schooled in.
References
Collins, James C. Good to Great: Why Some Companies Make the Leap–and Others Don't. New York, NY: HarperBusiness, 2001. Print.
Stuck with your Book Review?
Get in touch with one of our experts for instant help!
Messenger
Live chat
Time is precious
don't waste it!
Get instant essay
writing help!
Plagiarism-free
guarantee
Privacy
guarantee
Secure
checkout
Money back
guarantee
Get a Free E-Book ($50 in value)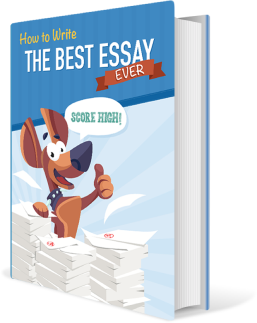 How To Write The Best Essay Ever!