Back to School Offer
Get 20% of Your First Order amount back in Reward Credits!
Get 20% of Your First Orderback in Rewards
Home
/
Lab Report
/
Identification of an Unknown Based on Physical and Chemical Properties, Lab Report Example
Identification of an Unknown Based on Physical and Chemical Properties, Lab Report Example
This Lab Report was written by one of our professional writers.
You are free to use it as an inspiration or a source for your own work.
Need a custom Lab Report written for you?
HIRE A WRITER!
Introduction
Organic compounds are molecules that contribute to the ability for life to exist (Stoker, 2010). Organic alcohols in particular, have many practical uses including their ability to play a role as an active ingredient in mixtures used for cleansers, cosmetics, fuel, and more. An alcohol is any class of organic compounds characterized by one or more hydroxyl (−OH) groups attached to a carbon atom of an alkyl group (hydrocarbon chain). Alcohols may also be considered as organic derivatives of water (H2O), in which one of the hydrogen atoms has been replaced by an alkyl group, typically represented by R in organic structures (Wade, 2015). An understanding of the characteristics of alcohols can be used to identify specific molecules. Solvency, a study of their involvement in chemical reactions, and an examination of physical properties can be used to identify unknown alcohols. The functional group we are considering in this experiment is the hydroxyl functional group, -OH.  The intended purpose of this experiment is to apply the knowledge of chemical and physical properties of an alcohol combined with the use of critical thinking skills to conduct laboratory experiments that, through the process of elimination will identifying an unknown alcohol compound. It is hypothesized that an unknown alcohol sample can be identified by an examination of chemical and physical properties.
Materials and Methods
First, the identity of the unknown substance was evaluated by determining its physical properties. Color was immediately noted and odor was detected by carefully wafting the fumes of the chemical towards the nose. The phase of the chemical (solid, liquid, gas), was also noted. The solubility of the solution was then measured to assess this aspect of its chemical properties. Further testing was done to determine whether the unknown substance had the ability to react with Benedict's solution and a final chemical property test was conducted using hexane.
Results
Table 1: A summary of the physical properties and chemical reactions of the unknown compound.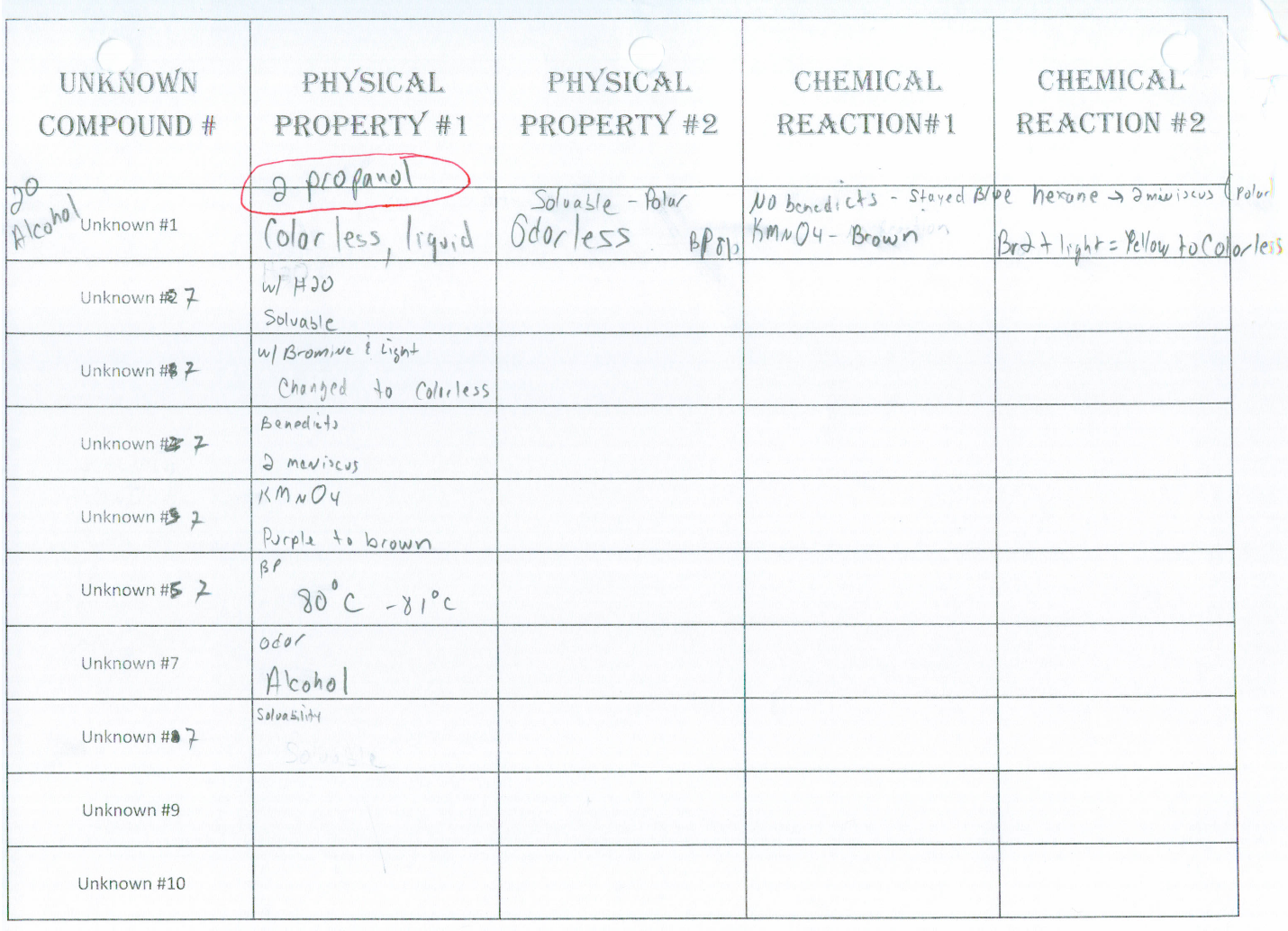 As demonstrated in table 1, the physical properties of the unknown sample were colorless, the phase was liquid, it was found to be soluble, and the chemical was found to have an odor like rubbing alcohol. A reaction was found to be present when exposed to Benedict's solution. Last, when exposed to hexane, a chemical reaction was not detected. Since these physical and chemical properties are representative of 2-propanol, it was concluded that the unknown substance was 2-propanol.
Chemical Reactions

Figure 1: Chemical reaction between 2-propanol and Benedict's solution.
Figure 1 diagrams the chemical reaction that occurred between 2-propanol and Benedict's solution (KMnO4). In this chemical reaction, the hydrogen group is lost from the 2-propanol, creating a double bond between the carbon and oxygen. The hydrogen from the 2-propanol is donates to the potassium and oxygen that were formally a component of the KMnO4.
Discussion
The identity of chemicals can be evaluated based on an understanding of physical and chemical properties. It was found that characteristics including odor, color, and phase can be used to identify chemicals. However, it is important to consider that many chemicals share these features, so it is beneficial to distinguish chemicals with similar physical properties by assessing their chemical properties. Thus, it is beneficial to examine their chemical reactions using common indicators, such as hexane and Benedict's solution. Prior to the beginning of the experiment, it was hypothesized that the unknown substance was rubbing alcohol due to its colorless appearance and strong odor.
In the future, it would be plausible to conduct additional experimentation to understand the identity of the substance. The most revealing chemical property is often the boiling point of the solution. Thus, in further identification experiments, it would be beneficial to assess the boiling point of the solution. Other testing could be conducted to determine its polarity with regards to other known substances. 2-propanol is also known as isopropyl alcohol and is commonly used to sterilize wounds and materials in the medical setting. Knowing its identity, an interesting additional test would have been to detect its flammability, as 2-propanol is highly flammable.
It was found that the unknown substance was 2-propanol, which is a valuable understanding due to the many uses and dangers that this chemical can pose in the laboratory. Knowing its identity is valuable for ensuring that it is stored away properly, such as being kept in a dry area to avoid the likelihood that that it will engage in a combustion reaction. Furthermore, it is important to have a diluted version of this chemical readily available for use in decontamination processes (Biewer, 2006). Overall, it is important for laboratory professionals to understand that 2-propanol has many practical uses, but it is important to use it safely to ensure the safety of the laboratory. When this chemical is being used, it is important to consult the material safety data sheet (MSDS) so that the staff has a comprehensive understanding of chemical properties and related safety procedures for the specific product.
References
Biewer, M. (2006). Alcohols. Retrieved November 12, 2015, from  http://www.utdallas.edu/~biewerm/10-alcohols.pdf
Stoker, H. (2010). Organic and biological chemistry (5th ed.). Belmont, CA: Brooks/Cole, Cengage Learning.
Wade, L. (2015, July 24). Alcohol | chemical compound. Retrieved November 11, 2015, from http://www.britannica.com/science/alcohol
Stuck with your Lab Report?
Get in touch with one of our experts for instant help!
Messenger
Live chat
Time is precious
don't waste it!
Get instant essay
writing help!
It's a Free, No-Obligation Inquiry!
Plagiarism-free
guarantee
Privacy
guarantee
Secure
checkout
Money back
guarantee
Get a Free E-Book ($50 in value)
How To Write The Best Essay Ever!