Individuality and Community, Essay Example
Pages: 3
Words: 765
Essay
This Essay was written by one of our professional writers.

You are free to use it as an inspiration or a source for your own work.
The respective concepts of individuality and community are often viewed in terms of a certain antagonism: in the case of community, identities are defined by social relationships. The individual, in other words, does not exist as a proper autonomous entity, but instead finds their identity determined by their relationships to other in the community through various institutions such as family, the Church, neighborhoods, etc. Individuality, in contrast, entails that there is some aspect of the human being that cannot be reduced to the social level: rather, individuality asserts that the singular individual is the fundamental unit of social life, and that all other manifestations of social relationships are in fact products of the individual.
These two concepts of individuality and the community do not always have to be in antagonism: for example, we can say that they shape each other. When we say that someone is an independent, autonomous and strong-willed person, this does not mean that they exist without any connections to a social community. Individuality for example can flourish in certain communities, in terms of creativity; individuals can also group together and form collectives. Nevertheless, in art there seems to be a tendency to emphasize the tension between individual and community: this is arguably because art is a radically individualistic and autonomous gesture, the pure act of creation, and thus the antagonistic side of the individual and the community often appears in this context.
Consider for example, Emily Dickinson's poem "Much Madness is Divinest Sense." Dickson is arguably one of the archetypical examples of the artist as individual, and in this poem she exemplifies this trope: the poem is essentially an argument in favor of madness, which is clearly an argument against social norms and thus the logic of the collective. Dickinson makes this clear in the following lines: "Assent – and you are sane – / Demur – you're straightaway dangerous – / And handled with a Chain." (187) Dickinson is using the theme of madness as a way to explore individual and community relations: the phenomenon of madness is a clear example of how community can subjugate the individual. In so far as the individual differs from the dominant social norms, he or she will be deemed to be "mad", which for Dickinson, is just a name for not following social norms, i.e., to be "mad" is to assert one's radical individuality. Dickinson's ode to madness in this poem is thus an ode to individuality against the "herd mentality" of the collective and the communal.
Don Marquis continues this typical artistic approach to the dialectic of the individual and the community when he writes in "Lesson of the Moth" the following: "I was talking to a moth the other evening he was trying to break into an electric light bulb and fry himself on the wires/why do you fellows pull this stunt I asked him." (196) Marquis' question anticipates that the reason for this is "convention"; the answer of the moth, however, is to live intensely and individually. This, however, is still a manifestation of the individual and community antagonism, and one that sides with the individual: namely, the individual decision to live intensely is granted a philosophical authority over conventionality to the norm. Essentially, this antagonism in a work such as Marquis' is irreconcilable: to conform to social normativities, which is what the community here means, is to sacrifice one's individuality. In a certain profound sense, in the artistic visions of Marquis as well as Dickinson the two cannot co-exist.
Certainly, as mentioned, this appears to be a typical account of individual and community from the artist because the artistic work seems to be a creation of intense individual creation and autonomy. This, however, is not true of all art, only these examples. Great collective art was the theme of much of the early art of the Soviet Union, including great poets such as Mayakovsky. Also artistic collectives exist to disseminate a communal approach to creativity. In other words, the individual and community relationship may be one of antagonism, to the extent that community suppresses individuality; at the same time, it is important to note that over-emphasis on the individual can lead to egoism and selfishness. It is the balance between the two that, if not crucial to art, seems to be crucial to a free and just society.
Works Cited
Dickinson, Emily, "Much Madness is Divinest Sense", In: Editor Name (ed.) Book Title in Italics. City Where Published: Publishing House, Date. p. 187.
Marquis; Don, "Lesson of the Moth", In: Editor Name (ed.) Book Title in Italics. City Where Published: Publishing House, Date. p. 196.
Time is precious
don't waste it!
Get instant essay
writing help!
Plagiarism-free
guarantee
Privacy
guarantee
Secure
checkout
Money back
guarantee
Get a Free E-Book ($50 in value)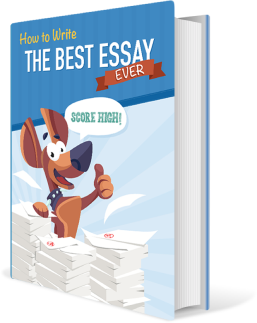 How To Write The Best Essay Ever!