McDonald's: Company Analysis, Essay Example
Pages: 19
Words: 5229
Essay
Introduction
McDonald's has revolutionized the way in which people from all over the world eat fast food. When thinking about the success of the McDonald's it is equivalent to thinking about the American Dream. The McDonald's franchise was not the first, but it has been the premier example of a successful business model that started from just a single-drive in food place by a pair of brothers. McDonald's has grown to have over 30,000 locations within over 100 countries. The McDonald's franchise has followed the standards of innovation, consistency, and resiliency.
There have been roadblocks and challenges along the way, but for the most part McDonald's has seemed to weather the storms. Their business strategy entails acknowledging the challenges from external and internal sources and commandeering a way to stay on top of the issues when they service. This following business analysis is to provide a critique overview of McDonald's history, their business strategy, their internal and external environment, and examine the driving forces behind McDonald's success. This information along with their successful financial statistics will allow the paper to see into the future 40 years ahead in determining if the company will sustain their success, and their impact on the environment. A strategic plan will be develop to keep McDonald's as the market leader and ahead of their competition in the future.
History
McDonald's is considered one of the first pioneers of the fast food industry. It began when Patrick McDonald opened "The Airdrome" in California at 1937. After three, years his two sons, relocated the entire building and opened the restaurant with a different name "McDonald's Bar-B-Que Restaurant. It was a regular drive-in featuring an extensive menu and car hop service. The company was founded by brothers Maurice and Richard McDonald. The McDonald's brothers opened their first McDonald's restaurant located in San Bernardino, California in 1948. At the time, the menu included hamburgers, fries and milkshakes. In 1954, the two brothers met with Ray Kroc, a 52 year old Multimixer salesman, who was impressed with their company and decided to pursue them nationwide (McDonalds, 2013). The biggest event at that time in 1960 was the announcement that McDonald's has sold more than 100 Million more hamburgers in more than 100 restaurants in America, and opened up the Hamburger University in 1961. When students "graduated" they received a Bachelor degree of "Hamburgerology".
The Business started to develop, and in 1967, McDonald's starts the business internationally. Therefore, nowadays we can see McDonald's restaurants in 119 countries around the world. McDonald's changed history with creating the first Drive-thru. The first drive-thru restaurant was opened in Sierra Vista, Arizona. The local army fort where there was no shortage of solider were usually not allowed to leave their vehicle wearing their army fatigues. In order for McDonald's to continue to serve them, they solved this problem by introducing a new service "drive-thru". The Drive-thru became one of most successful implementation in services field.
From this innovation in their fast food service, McDonald's started to expand the business at a rapid pace. In 1963, the Ronald McDonald clown debuted as the spokesperson (clown), while McDonald's sold their 1 billion number of burgers. The Big Mac introduced in 1968 was an instant hit, soon after; the famous frozen French fry was also introduced. To meet the needs of workingwomen the Happy Meal was introduced in 1979; the meal included a burger, fries, a soda and a toy. By June 1993, McDonald's had 2,576 companies operating, and had over 9,000 franchises. In over 60 countries, they had over 1000. In the United States daily there were over 18 million people visiting a McDonald's location.
Developing Business Strategy
At the time, McDonald's had the second biggest brand recognition of any global brand. They had a high brand awareness with a $1 million advertising budget dedicated to the company. They introduced the new ad campaign in 1991, "Great Food at a Great Value," that was successful in promoting productive value-meal combinations. In 1992, they followed up with their largest outdoor advertising campaign by a single brand. Their advertising messages focuses on customer satisfaction and value. Due to their increase brand awareness it was particularly pertinent to McDonald's as many customers that were buying impulsively, and would select the McDonald's locations out of a manner of convenience. An estimated 28% of the company revenues were obtained from their franchise fees. This amount was based on the percentage of sales gathered to cover the corporate services costs that included R&D and centralized marketing research. Now over 70% of McDonald's restaurants are franchises. McDonald's usually placed businesses in new countries aligned with company-owned restaurants that are located capital cities. There are franchised after they have well been established.
To attract more mature customers the company launched its Arch Deluxe in 1996, but the low-fat burger fell down. In 2001 subway surpassed McDonalds as a fast-food chain with 148 more stores than McDonalds, causing McDonalds to announce its first ever quarterly loss. The coffee based specialty drinks were successfully launched in 2006. In 2012, McDonalds sustained to emphasize beverages, value, breakfast, and traditional core favorites. They expanded the McCafé beverage offerings with the Chocolate Chip Frappé and Cherry Berry Chill. McDonald's has expanded the coffee business offering over 1,600 McCafé locations, which in different countries such as Europe have different areas that are normally being located inside the restaurants that provide specialty coffees, desserts and snacks. In addition, McDonald's has increased their convenience and accessibility, and with extended operating hours, self-order kiosks, optimized drive-through, and opened over 250 new restaurants.
In 2010, Don Thompson was elected and continues to be the president and CEO of McDonald's, currently one of the world's largest food service companies. McDonald's Corporation franchises and operates McDonald's restaurants that provide menu at different price points providing value in 119 countries. McDonald's customer-focused Plan to Win ("Plan") offers a common framework for a global business while also allowed for local adaptation. From the implementation of various initiatives surrounding the five pillars of McDonald's:
Plan, People, Products, Place, Price and Promotion.
McDonald's has improved the restaurant experience for customers globally and grown worldwide comparable sales and visitor counts in each of the last nine years. As of December 31, 2012, there were 34,480 restaurants in 119 countries, 27,882 were franchised or licensed that included 19,869 franchised to established franchisees. There are over 4,000 licensed to developmental licensees and over 3,000 licensed to foreign affiliates that are located in Japan. While McDonald's operates over 6,500. (McDonald) All restaurants are operated either by the Company or conventional franchisees fall under the franchise arrangements, and the developmental licensees and foreign affiliated markets are under the license agreements. The franchises that fall under the conventional franchise arrangements contribute a measure of the capital required by investing initially in the seating, equipment, signs, and decoration of their restaurant businesses. They have helped by reinvesting into the company over time. Modernizing the customer experience continued through McDonald's grand remodeling approach, which provides latest restaurant designs and retailing efforts. The enhanced appearance and functionality of McDonald's restaurants, which provide a more relevant experience for customers. In 2012, there were over 900 existing restaurants remodeled, the adding drive-thru capacity to attract additional guest counts.
Their Financials are continually improving: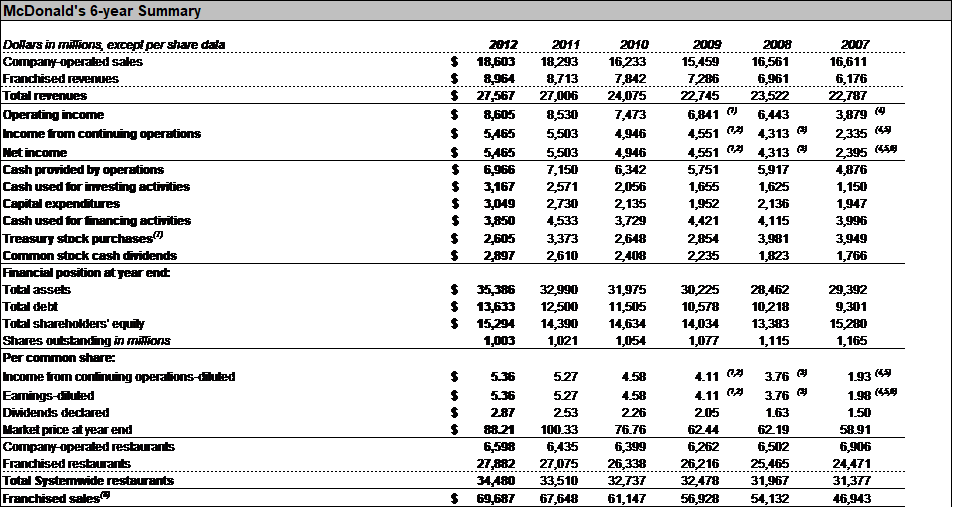 Internal Analysis
McDonald's brand mission statement is "To be our customers' favorite place and a way to eat." McDonald's global processes have been aligned around a global strategy called the Plan to Win centering on the five factors of an exceptional customer experience: Products, People, Price, Place, and Promotion. McDonald's has stayed dedicated to improving their operations and enhancing their customers' experience. (McDonald's) This mission includes becoming the first company for people in each local area independently in location. In McDonald's, there is a strategy named "Plan to Win" since 2003. It exists in the field till now, and it forced McDonald's to have 32 months of international, comparative, and productive sales which is the longest streak in the last 25 years. McDonald's has had a success which lies generally above the industry average growth. To maintain the excellent service to all customers and continue to attain success with a profit through strengths such as McDonald's process innovation and technology. Their vision refers to exceptional quality, cleanliness, high quality service and excellent value in customer service.
McDonald's company states that their values in business are the corporate responsibility of the company. Both factors work together with independent franchisees and suppliers in order to achieve a maintainable future not only for the company but for all the surrounding communities. McDonald's strong values having helped them to become the success they are, and how it is incorporated into their daily routine. The one the primary cores of the McDonald's values are customer satisfaction. One of the reason for McDonald's business are the customers. They are trying to explain the admiration by serving a high quality food and excellent service. McDonald's strive to achieve a welcoming environment, and are committed to the people who are working for them. McDonald's maintained a well-trained team with intercultural experiences and diverse backgrounds that are a part of their success.
The business model which contains the "three-legged stool" (suppliers, operator and employees) as the primary foundation for developing the business globally. The most prominent is to keep the balance between those "stool's legs". Ethics is also one of the values. McDonald's tries to conduct their business with fairness, honesty and integrity. McDonald's states that: "We are individually accountable and collectively responsible". (McDonald's). This necessitates not only focus on attainment more money but also on customers and the health of the whole system. The changing environment, customer, employee and systems need lead to the McDonald's progress and innovation as well.
Their business strategy is rooted in their care paid to their customers and customer satisfaction. The customer service philosophy is talking about to retaining customer loyalty and dedication is the central core. If the company do not incorporate the principles of customer service to serve their customers, a company cannot survive. Customers will continue support the company products or services if the company cares about customers, their comfort and concerns. Adam Smith's legendary Wealth of Nations (1776) said that customer service is the essence of the basic principles of competition. If one company wants to succeed, the company needs to comprehend what kind of products or services customers need at different times. If not the customer will lead to other companies understand what they want to satisfy their needs.
The products produced can be separated into several groups: Hamburgers, Chicken, pork and fish products. They have French fries, Soft drinks, and healthy alternatives such as salads and desserts. Their biggest seller are their hamburgers. They have Big Mac, Double Cheeseburger, McDouble, Big N'Tasty, etc. The most edible items on the menu with its signature taste are the French fries. The main reason for this is that no matter what other product the customer is willing to take, but in every set the first salads were added to the menus in 1985. Currently there are more, and more people are concerned about their health so, McDonald's puts its all efforts to gain more and not lose any of customers throughout the world. Coca Cola is the biggest soft drink supplier to McDonald's, followed by specialty coffees, and Hot and iced tea that is delivered by S& D Coffee in the US. McDonald's also offers hot chocolate, assorted juice and other local beverages such as milkshakes are available in different markets all around the globe. The desserts that McDonald's offers includes such items as ice-cream (McFlurry), McDonald-land cookies, Freshly Baked cookies, Pies, Cinnamon melts, the fruit and yogurt parfait, smoothies and other items which depending on the country and region.
External Analysis
The fast food restaurants industry is just one of the numerous components of the extensive food services listing. The total estimated revenue from this sector is about $1.86 trillion (US dollars) during the year 2012. Around $706.7 billion is the estimated earnings in 2012. This contributes to around 38% of the food service sub-sector of the world. The revenue from the industry is expected to grow at an estimate of 3.2% in 2012. On a global level, the fast food industry plunged down because the global recession arose and the unemployment rate hit high in the United States and many other countries. To keep the market position and to keep up the idea, some of the fast food operators set up promotional activities to attract customers and also shut down some of the underperforming stores (Smith, 2012). The recovery of McDonald's after the global financial crisis is at a surprising pace, and the rate in sales growth continues to grow. One of the biggest fast food restaurant in the world announced that it is still gaining market shares from its competitions. The high rate of unemployment does not alter telling people to spend money and eat at McDonald's. It has suggested and improved breakfast menu with the new frappe drinks. It was the critical success factor in recovering after the huge losses. The surprise of industry execs, McDonald's reported a growth of 6.0% worldwide while the comparable store sales growth was almost 3.8%. The company is forecasting the further expansion of 5-6% worldwide. The chart below shows the slowdown experience in 2008.
Though the convenience that is provided by fast-food retailers which was valued by the growing numbers of travelers and families in the first part of the 90's, the recession and fierce competition had produced a decline in growth and decreasing profits for the fast food sector. Predominantly the most hard-hit were independent restaurants that found it problematic to compete with the value-pricing strategies of the burger chains' and their powerful advertising budgets. As a result, independents encompassed only 56% of all the restaurants in the U, S Sales declined in 1993, down from 63% in 1986, the restaurant industry in fact indicates that saturation in the "limited menu" portion of the restaurant industry was forcing growth-oriented chains to expand overseas and consider alternate outlets domestically. The growth in the restaurant industry includes the: total sales growth for this section during 1990–1991 that was only 0.3% in the U.S. Customer satisfaction, nutrition, and the price which seemed to form the basis for competition nationally. Even though all of the rapidly growing restaurant chains have pursued various strategies. "For example, Rally's advertised "We get it right or you get it free," Boston Chicken emphasized nutrition by roasting, steaming and baking its dishes, and Checkers, a double-drive-through burger chain, offered made-to-order burgers at lower prices. Drive-through window sales industry-wide reached $25 billion in 1992." (GlobalENS 3)
McDonald's International Revenues
Geographic Region
Percent of Total Revenues
US
35%[8]
France, Germany, UK
21%[9]
Rest of Europe
14%[10]
Australia, China, Japan
8%[11]
Rest of Asia, the Middle East, Africa
8%[12]
(WikiInvest)
One of the problems that the fast food industry is facing is the criticism about the product, for being high in fat content, increase in body mass index (BMI) and putting on weight. A number of books and documentaries have increased awareness among the public about the harmful consequences on one's health. The various articles get the health conscious consumers skeptical towards fast food and look for other resources to meet their likes. The rise in commodity prices has significantly affected the fast food industry. The cost of food and beverage inputs comes up to approximately 33% of costs, and higher cost of other raw materials has drastically reduced the profit margin. Due to fierce competition from other players in the market, trying to build a price increase is not possible either. Instead, many of the fast food franchises promoted meals at a remarkably affordable price, affecting their limits making plenty.
Situational Analysis (PEST Analysis)
Demographics will appear where most of your potential customers live their age, gender, needs, likes and dislikes. It appears that McDonalds has been successful in creating and fulfilling a need for just about everyone and appears to have hit on every demographic.
Daily traffic at McDonald's is 62 million people, more than the population of Great Britain
McDonalds feeds 68 million people per day. That is similar to 1% of the world's population.
McDonalds hires over a million workers in the U.S. every year with over millions of employees worldwide. (Business Insider)
The socio-cultural aspect of McDonald's is rooted in their 27 billion in revenue each year that has made it the 90th largest economy in the world. $8.7 billion of this revenue comes from the franchise stores only, making McDonald's richer than Mongolia. One in every worker in the United States has been employed by McDonalds. As for entertainment, McDonalds offers a recreation area for kids with slides and games, and free WIFI for adults. Parents get a break as their children eat a happy meal and play in the play area. McDonalds is an equal opportunity employer. Male, female, young and old, different nationalities and even handicapped people can be found working at McDonalds.
The political and legal aspect of McDonald's takes into account the global offerings that they must adhere to. Although global consumer confidence continues to negatively affect the overall sales in retail for the food industry, yet McDonalds is still outperforming the market as it has grown its market share. The other significant contributors to comparable market sales were the U.K. and Russia. Despite ongoing economic challenges, McDonald's priority remains: growing the overall business by balancing a strong focus on their unique value offerings, endless premium product innovation, and new products. In APMEA, comparable sales rose 1.4%, and approximate visitor counts rose 2.2%, despite a challenging year of economic pressures, partly due to Japan's uneven recovery and the slower economic growth of China. Several problems have been due to economic uncertainty and government-initiated austerity measures implemented in many countries.
McDonalds has worked hard to streamline the customer experience through their major remodeling initiatives, which offer modern restaurant designs and retailing efforts. The enhanced appearance and functionality of the restaurants delivers a more enjoyable experience for the customer. Over 900 existing restaurants were remodeled during 2012 with the most adding drive-thru capacity to attract additional guest counts. McDonalds has also extended the accessibility of more convenient locations with extended hours and efficient drive-thru service. More than half of the restaurants use some form of various order points to maximize drive-thru capacity, including 1,500 with hand-held order takers to help improve customer service times. As mentioned earlier McDonalds also offers free WIFI and television to its customers. McDonalds tries to invest in the latest technology.
McDonalds incorporates a long-term, average annual constant currency, financial goal to measure business as they continue to build the business. McDonald area has also delivered strong results for their shareholders ever since its inception. McDonald's long term, average annuals constant currency financial targets are: 1. Statewide sales growth of 3% to 5%, 2. Operating and revenue growth of 6%, and 3. POIC in the high teens. McDonalds strives to keep its prices affordable and uses a cost low advantage strategy to be competitive in the food industry. McDonalds also recognizes their responsibility to give back to the community locally and globally. In 2012 McDonalds sponsored the 2012 London Olympics. The McDonald house was built to help families and children that are dealing with cancer. Globally, McDonald's uses a customer focused plan that provides a common framework for a global business and continues to prepare for local adaptation. Multiple initiatives encompass the five pillars of the McDonald plan. The five pillars include—People, Products, Place, Price and Promotion, each incorporated to enhance the restaurant experience for customers worldwide. This idea has grown worldwide comparable sales and visitor counts in each of the last nine years. McDonald's restaurants are located throughout the entire world.
Environmental Impact
Environmentally, McDonald's has strived to continue their success in trying to in waste reduction, and being a leader in protecting the environment. Since 1993, Michael Quinlan, McDonald's CEO, felt pretty confident about his company's environmental performance. McDonald'' formed a partnership with the Environmental Defense Fund (EDF), which has helped to win over the approval of the customers and its efforts to reduce waste, combined with its highly-publicized move from polystyrene "clamshells" to paper-based sandwich wraps. It has helped to repositioned McDonald's as the market leader, and purport the image in protecting the environment. In 1994, however, there was another problem with a nonprofit environmental group, this groups called the Beyond Beef Coalition, aimed at McDonald's in a bigger plan to reduce beef consumption. The environmental complaints this time held to launch an attack at McDonald's that did not criticize supplementary factors of their business but, rather, aimed at their central products and growing markets. "Quinlan did not want this campaign to devalue the reputation the company had solidified through the EDF partnership." (UMich 5) It has been proved that as income rises, so does meat consumption. Take in for example the Koreans in 1975 and Japan that red meat consumption doubled as the population has grew in Asia so has the meat consumption. As more people around the world are adopting an American Style diet, they are consuming meat at a faster pace than the world's farmers are able to produce.
The Beyond Beef Coalition saw the expansion of the "cattle culture" to the developing world as one of the greatest threats to the global environment. "The Coalition was comprised of individuals and organizations involved in environmental protection, animal rights, public health, and world hunger. " (UMich 4) Similar to the Environmental Defense Fund, this groups of activist aimed at McDonald's for its business strategy due it to being the industry leader, and one of the largest buyers of beef throughout the world. The goals of the Coalition were: to reduce individual beef consumption in the "U.S. by at least 50%; to replace beef in the diet with organically raised grains, legumes, vegetables and fruits; to change current cattle-industry practices, and to promote humanely and organically raised beef as an alternative for those who continue to include some beef in their diet." (UMich 6) The main aim for the McDonald's campaign was to notify at least 1 million McDonald's customers about beef's negative effect of on the environment through a large campaign around their thousands of McDonald's locations around the United States. The volunteer activist group, Beyond Beef protested outside of a McDonald's establishment on April 17, 1993 to leave leaflets and children's literature that informed passersby's of McDonald's environmental costs with beef. The activist groups collect names for petitions in an effort to assist individuals to reduce their beef consumption by 50%, and to encourage McDonald's to make a vegetarian component to their U.S. menu. By doing so they are also able to deliver 25% of advertising to the new item. According to research conducted by the University of Michigan, there has been no other commercial entity such as McDonald's that has been responsible for the encouragement of prime beef consumption. In the United States alone in their over 9,000 restaurants in addition to tens of thousands around the world, McDonald's proudly displays they have served over 85 billion hamburgers and counting. (UMich 5) According to them the real cost of beef is:
* Tens of millions of cows slaughtered;
* Trillions of gallons of water used to develop their feed;
* Millions of tons of methane, a greenhouse gas, released;
* Millions of acres of public land eroded and destroyed;
* Enough grain fed to cows to produce millions of hungry families with a daily meal. Most McDonald's patrons are unaware of how their individual decisions as consumers make up to create such a devastating global consequences.
The Future (SWOT Analysis)
From their most recent financial statistics, McDonald's has made in 2012 $27.56 billion in revenue, and $5.46 billion in profit. They have over 1.8 million employees in 2013, and they have over 34, 000 local restaurants that serve 69 million people in over 119 countries on a daily basis. (McDonald's) Their main competition now is Subway, Wendy's, Yum! Brand (Jack in the Box, etc.) Inc., and Burger King. Using the SWOT analysis, we can see that that are several strengths that include that they are the market leader, and they have the largest fast food market share in the world. They have better brand recognition than most other global companies that are valued at over $40 billion. McDonald's is the one of the most recognized brands throughout the world. They have an annual $2 billion budget allocated for advertising, and is able to adapt their food menus to match the local community. In an effort to strengthen their brand they have partnered with notable brands that include Heinz ketchup, Dannon Yogurt, Pepsi and Coca Cola, and others that add value to the corporation.
However, there are several weaknesses that McDonald's must overcome in the future to sustain their success. These factors include the negative publicity they contrived from critics that heavily criticized their unhealthy food choices that are targeted towards children let alone the rest of their demographics. McDonald's helps to contribute to the problems of obesity that has expanded to be a factor around the world. The increase in introducing healthier food choices could potentially lower McDonald's popularity as competition will soon spring up to offer better healthier food alternatives. While customers are their focal point, they also have an increasing number to employee turnover, as employees are low paid and low skilled. Yet the major problem with McDonald's is their low differentiation from other fast food competitors, and opts to compete based on price than product differentiation.
In developing a strategic plan for the future, one must incorporate all of these factors as they will continue to be a problem and strength in the far future. Their current market share is broken down: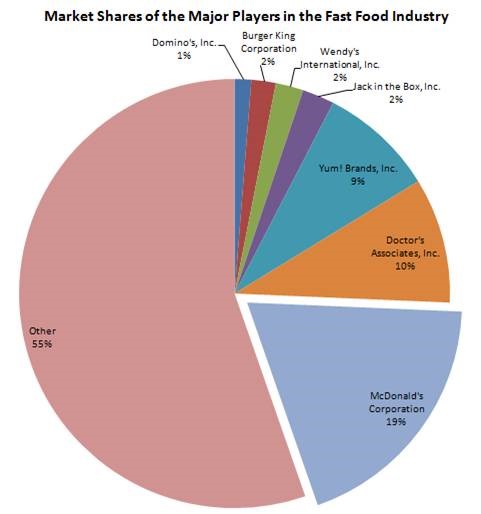 The long term strategy must recognized that the external factors will continue to change. McDonald's must thus constantly monitor and erect the most efficient and effective actions to taken into response to the situations. McDonald's needs to continually be involved in government related programs, the image created can be further supplemented by the active link to the political system. By engaging in programs that promote international growth, contribute to employing more national citizens, and maintaining a positive relationship with the government, McDonald's will continue to maintain its' market share. McDonald's needs to comply and cooperate with various resources that can be used to implement new government programs that benefit society. Changes in economic factors such as the price of raw materials have effects on the profit margin. McDonald's needs to take control of their suppliers, in becoming self-sufficient, they are able to forecast the changes in the deficit, and minimize the proverbial dip in profit margin. The growing concern in health will continue to be a critical component as society progresses. The changes in health and factors will continue to change. If America continues to eat the way they have been doing, the factors of chronic diseases will be a primary concern for the customer base. McDonald's will continually invest in Research and Development in order to develop more products that create a neutral balance that benefits those that are looking for healthier alternatives for consumers. This change will help to improve McDonald's image overall, and win the confidence of the general consumers, which will continue to lead to a better profit margin.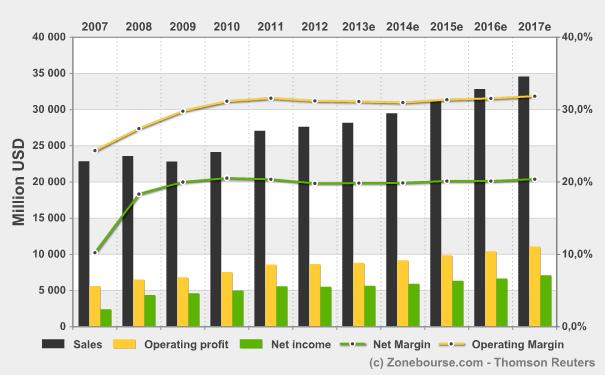 The values estimated for the next five years includes an increasing amount of income, focus on the changing trends and the amount of attention being paid to placing healthier choices on the menu. These include the strategy of heaving a salad and fruit bar for those that are looking for healthier choices. Also placing vegan choices on items, which can be served in a like manner for burgers and fries, but with vegan ingredients. The threats to new entrants have been high as there are certainly no legal barriers that have kept competition from entering the industry. Since McDonalds is already an established company and in 40 years will continue to grow they will enjoy the luxury of maintaining a large amount of market share with new restaurants in developing countries. By offering menu items at a value price, more consumers will continue to demand McDonald's products. While many of the competition have tried to imitate, by continuing to use quality products people will continue to be the preferred Choice. As evident in this financial chart in the next five years, the income, sales, profits, and margin will continue to improve. By the year 2043, McDonald's will be the largest franchise in the world. They will employee the most people around the world that contributes to countries GDP, and push for more products on their menus that cater to all types of food choices.
McDonald's could be on pace to be the first trillion dollar company, and will be able to use improved technology to support its millions of customers that will no doubt still take to consume their trillions of burgers that will be served, on a daily basis. McDonald's will still need to provide a strategy of sustainability that will help to reduce their environmental impact on beef and waste reduction with smaller packaging, better recycling alternatives, and using more organic food choices to cut down on water consumption. The feasibility of this long term strategy working for McDonald's is extremely high. Experts have agreed that the type of strategy that McDonald's currently implements has allowed them to be a public mainstay that more and more companies wanting to invest and buy franchises to place on every corner. Potentially with McDonald's adhering to these type of strategies used they will be one of the first companies to make a trillion dollars, and can possibly help developing companies by employing more and more people. It can also cross over to providing better training and educational classes that will help with low skilled workers, and helping them to compete with more people around the world. McDonald's will need to invest in other companies such as competitors like Yum! Brands, that has a diverse portfolio. By investing they will be able to add and grow to their customer base and their profit margins. This will set up for McDonald's to remain a success beyond forty years from now.
Works Cited
"C- Case Sustaining McDonald's Environmental Success." Pollution Prevention in Corporate Strategy. 1995. Web. 10 Dec 2013. http://www.umich.edu/~nppcpub/resources/compendia/CORPpdfs/CORPcaseC.pdf
Gus Lubin, M. B. "19 Facts About McDonald's That Will Blow Your Mind." Business Insider. 2012. Web. 10 Dec 2013. www.businessinsider.com/19-facts-about-mcdonalds-that-will-blow-your-mind-2012-4?op=1
Kowitt, Beth. "Why McDonald's wins in any economy." CNN Money. 23 Aug 2011. Web. 10 Dec 2013. http://management.fortune.cnn.com/2011/08/23/why-mcdonalds-wins-in-any-economy/
"McDonald's Investors. Company profile" McDonald's. 2013. Web. 8 Dec 2013. http://www.aboutmcdonalds.com/mcd/investors/company_profile.html
"McDonald's Corporation." 4-Traders. 2013. Web. 10 Dec. 2013. http://www.4-traders.com/MCDONALDS-CORPORATION-4833/financials/
"Making a difference one family at a time." McDonald's. 2013. Web. 10 Dec 2013 http://www.mcdonalds.com/us/en/our_story/our_communities/rmhc.html
"Our History." McDonald's. 2013. Web. 10 Dec 2013. http://www.aboutmcdonalds.com/mcd/our_company/mcdonalds_history_timeline.html
Rosenbaum, Eric. "McDonald's: More than a trillion served, by robots," CNBC. 8 Dec 2013. Web. 10 Dec 2013. http://www.cnbc.com/id/101253344
"SWOT Analysis." Strategic Management Insight. 10 Mar 2013. Web. 10 Dec. 2013. http://www.strategicmanagementinsight.com/swot-analyses/mcdonalds-swot-analysis.html
"10-K Form McDonald's Corporation." United States Securities and Exchange Commission. 2013. Web. 10 Dec 2013. http://sec.gov/Archives/edgar/data/63908/000119312511046701/d10k.htm
"Stock:McDonald's Corporation (NYSE:MCD). "Wikinvest." 2013. Web. 11 Dec. 2013. http://www.wikinvest.com/stock/McDonald%27s_Corporation_(NYSE:MCD)
Time is precious
don't waste it!
Plagiarism-free
guarantee
Privacy
guarantee
Secure
checkout
Money back
guarantee