McDonald's Target Market and Bases of Segmentation, Marketing Plan Example
This Marketing Plan was written by one of our professional writers.
You are free to use it as an inspiration or a source for your own work.
Need a custom Marketing Plan written for you?
HIRE A WRITER!
McDonald's new breakfast product is Almond Quinoa Oatmeal. It has 290 calories, meaning that they are neither too high nor too low, and 8 grams of protein and this is a fair amount to strengthen the muscles and leave one satisfied. The oatmeal has 6 grams of fat and 51 grams of carbs which are on the higher side. The product also contains 220 mg of sodium, which is in low amounts.
Assuming that the market category for this product is adults, I choose age as the basis of demographic segmentation. Many food companies hold campaigns that target age-specific audiences. People who are 50 years and older are likely to suffer from diabetes and cardiovascular diseases resulting from unhealthy eating (Meneilly et al., 2018). While the consumption of fast foods tends to be common among people, particularly 35 to 44, it decreases as people age because they become more focused on eating healthy food. According to a study by Adams, 24% of people aged 35 to 44 eat at McDonald's while 15% of people over 50 frequent McDonald's (2019). However, a higher percentage of people aged 35 to 44 are overweight or obese compared to people aged 50 years and above. Therefore, the Almond Quinoa Oatmeal is best suited for adults aged 50 and above because they focus more on eating healthy food. The product has lower calories, which ensures that they do not gain excess weight, which will prevent obesity. The amount of protein contained in the oatmeal is beneficial in strengthening the muscles, which makes it excellent for older people who have arthritis, which is most common among people aged 50 and above. The amount of carbs contained in the oatmeal also provides its target market with energy, and the low sodium levels help these populations maintain stable blood pressure levels and help with muscle function. Therefore, I selected age as the basis of my segmentation because the breakfast product is healthy and nutritious. As people begin to age, they start eating healthier food because of a high risk of chronic illnesses.
Pie Chart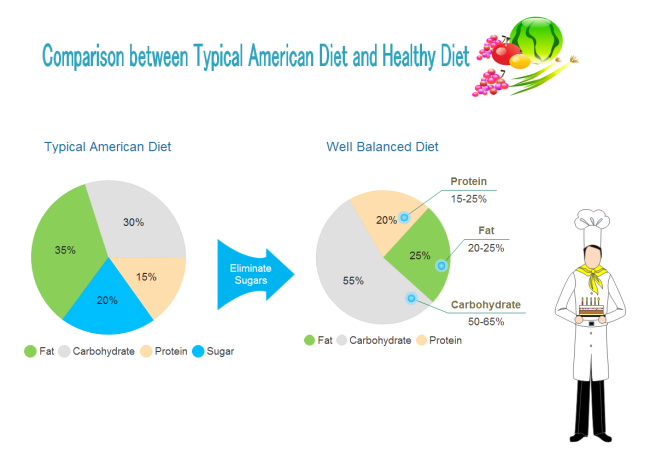 The pie chart presented above compares the typical American diet that young people enjoy and the right diet that the new McDonald's product comprises. According to the pie chart, young Americans enjoy food with high fat, sugar, and carbohydrate content. A healthy diet requires the elimination of sugars, more amounts of carbohydrates, and lower amounts of fat. This is in accordance with oatmeal that is high in carbs, a fair amount of protein, and low amounts of fats.
Therefore, age is directly proportional to healthy eating. As people age, they start eating healthy food, which makes the new McDonald's breakfast product most suitable for older populations.
Target selection criteria
The three target selection criteria are stability, accessibility, and availability (Oey, Noviyanti, & Sanny, 2018). Since the new breakfast product's target market is adults aged 50 and above, McDonald's has to determine if this population is available, is a stable customer platform, and if it can be accessed. Based on a study by Ibrahim, Arunasalan & Mohamed, older people aged 55 and above go to McDonald's every day at six o'clock in the morning and then return at three o'clock and in the afternoon (2020). Older people who are retired like to take breakfast at McDonald's while reading the paper, talking about the economy and politics. Therefore, they are available at McDonald's, and they are stable because they have a normal routine. Therefore, McDonald's can easily access this target market because they have specific times for being at Mcdonald's.
McDonald's can also access its target market through advertisements. The most common form of advertisement is through social media platforms such as Facebook, Linked In, Instagram and Twitter. A study by Jung, Walden, Johnson, & Sundar indicates that 47% of internet users aged 50 to 64 and one in every four users aged 65 and above use social networking sites (2017). Also, over half of online adults aged 50 to 64 are among the Facebook and LinkedIn masses. Therefore, if Mcdonald's wants to access its population on the internet to advertise its new product, the target population will be accessible.
In comparison to the young people who eat the typical American diet that mostly consists of French fries, burgers, and soft drinks, older people are the most suited for the new product. The young population aged 18 to 25 is explorative in that it may not readily stick to the productive. Since the food is low in fat, the younger population may not find it too suitable for its taste. Also, based on their work and school schedules, younger people may not have a stable time to take breakfast at McDonald's. Therefore, the older generation is most suited for the breakfast product because they have more time to have breakfast, have a steady routine, and enjoy food with the nutritional value included in the product.
Profiling Information of the target market
"Building wealth takes years of smart decisions, especially health-wise. This makes the self-made heroes and heroines most suitable for our new Almond Quinoa Oatmeal. As smart and successful people, they get up early to catch up on politics and economics's daily trends. They read and discuss a lot with similar smart minds, and they spend 15 to 30 minutes each day on focused thinking. So, which better way can they catch up on their early mornings to read, catch up and discuss various matters other than at McDonald's with our new healthy product specially intended for them?"
References
Adams, C. (2018). Mcdonald's Users' Perceptions Of Health And Nutrition, Quality, And Value On Visit Frequency.
Meneilly, G. S., Knip, A., Miller, D. B., Sherifali, D., Tessier, D., & Zahedi, A. (2018). Diabetes in older people. Canadian journal of diabetes, 42, S283-S295.
Jung, E. H., Walden, J., Johnson, A. C., & Sundar, S. S. (2017). Social networking in the aging context: Why older adults use or avoid Facebook. Telematics and Informatics, 34(7), 1071-1080.
Ibrahim, N. F., Arunasalan, T. D., & Mohamed, N. A. (2020). Cheap vs. healthy: Analyzing McDonald's menu using linear programming. Bulletin of Electrical Engineering and Informatics, 9(2), 771-776.
Oey, E., Noviyanti, & Sanny, L. (2018). Evaluating international market selection with multi-criteria decision-making tools-a case study of a metal company in Indonesia. International Journal of Business Excellence, 16(3), 341-361.
Stuck with your Marketing Plan?
Get in touch with one of our experts for instant help!
Messenger
Live chat
Time is precious
don't waste it!
Get instant essay
writing help!
It's a Free, No-Obligation Inquiry!
Plagiarism-free
guarantee
Privacy
guarantee
Secure
checkout
Money back
guarantee
Get a Free E-Book ($50 in value)
How To Write The Best Essay Ever!