Organizational chart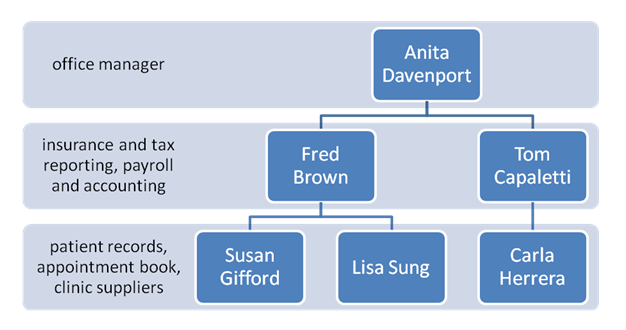 2. There are three business processes performed by New Century, namely: insurance processing, patient records, and appointment processing. Although all the employees help whenever necessary in these tasks, there are specific employees in charge of them. Susan Gifford is responsible for the maintenance of patient records; Tom Cappaletti is responsible for insurance processing, while Susan Sung is in charge of appointment processing.
3. A transaction processing system will be used by New Century to handling transactions that involve collecting, alteration and retrieval of transaction information. Business processes such as insurance reporting, patient records, accounting, insurance reporting and tax reporting involve all these functions; therefore, a transaction processing system will me of paramount importance to the clinic. A business support system will be useful to the clinic in compiling patient subscriptions, introducing alternative income generating services and knowing its clients better. It is also important in extending and supporting business operations to promote the services of the clinic. For a business such as a clinic, the quality of its services is critical for its success hence the usefulness of this system. The performance of employees is important for a business and it demands that the business organization provides support to its employees to help them enhance their performance. A user productivity system will be helpful in achieving this. Some tasks such as tax reporting and insurance reporting, accounting and patient records are prone to errors, and this system will help in minimizing such errors.
4. Business-2-Business e-commerce will be appropriate for the clinic during the systems development process because it be able to access instant information regarding market prices and availability of products. B-2-B will allow the clinic to transact business with suppliers of IT systems.