Back to School Offer
Get 20% of Your First Order amount back in Reward Credits!
Get 20% of Your First Orderback in Rewards
Perioperative Services, Business Plan Example
This Business Plan was written by one of our professional writers.
You are free to use it as an inspiration or a source for your own work.
Need a custom Business Plan written for you?
HIRE A WRITER!
Abstract
This mini business proposal seeks to outline an improvement of surgical management in my organization that will increase its income generating capacity. Approximately 234 major surgeries are performed internationally every year at an incidence of 1 in every 25 living person. 25% of these patients develop complications. The present crude post-operative death rate for major surgeries is 0.5 -5%. In industrialized nations 50% of all adverse events following surgery are preventable hospital related surgical errors. Studies have revealed that inconsistent application of surgical principles even in the most sophisticated surgical settings, such as my organization; is responsible for these preventable surgical errors. These are errors are related to wrong site, wrong patient and wrong procedures. Surgical time out (STO) was advocated as a safer cost effective strategy in modern perioperative intervention (Morrit, 2012).
Mini Business Plan Proposal for Perioperative Services
Introduction
This mini proposed business plan aims at increasing revenue while reducing costs, and maintaining efficiency. It is expected to generate maximum capacity utilization of operating rooms. It has been observed that the operating rooms are underutilized. In my opinion implementing surgical time out (STO) strategies would lead to improved efficiency and limit errors and costs. Ultimately, increase in revenue will follow. The core components of surgical time out are patient identification and verification of operative site inclusive of patient and procedure (Altpeter et.al, 2007).
Overview
This product can be defined as process improvement and procedure change aimed at promoting efficiency and enhancing revenue within perioperative cycle. This encompasses preoperative evaluations prior to arrival at the operating room, assessment upon arrival the day of surgery to ensure that it is the right patient procedure and site.
Upon admission verify that the patient is capable on undergoing surgery.  Careful cost effective management for complications during post-operative period is implemented, and follow up discharge education is made available to patient and family. These procedures are all mandatory elements of surgical time out (STO) product/service. Occupational Safety and Health Administration (OSHA); Association of Perioperative Registered Nurses (AORN) and Joint Commission on Accreditation of Health Care Organizations (JCAHO) have endorsed the implementation of surgical time out as an income generating product in operating rooms of surgical units (Altpeter et.al, 2007).
Backster (2007) and colleagues revealed five benefits of applying surgical time out to operating room procedures that   could reduce costs and improve revenue while maintaining efficiency. The researchers cited incidences where by beta-adrenergic blockade was prevented, DVT prophylaxis enhanced, preoperative antibiotics effective, normothermia ensured, and euglycemia. The estimated financial benefit per 100 cases was $88, 640 at a rate of $900 per patient (Backster et.al, 2007).
Market analysis
Implications of instituting surgical time out are responsibility for errors shifted from surgeon only to entire surgical team, which has an input in the outcome of surgery. Wrong site, patient errors are greatly reduced. When errors do occur they emerge from clinical information system dysfunctions.
This market analysis, therefore, encompasses costs incurred when implementing surgical time out (STO) at my institution. The average cost of an abdominal surgery is $5,000 US. Institutions where surgical time out (STO) management is not implemented the cost could be doubled due to management of complications after and during surgery.  Current costs for nursing, anesthetists, and axillary staff is at an average of another $5,000 (Altpeteret.al, 2007).
In situations where surgical time out (STO) is not implemented these costs vary due to attending complications. When compared to the costs of treating preventable emergencies such venous thrombosis; surgical-site infections; intraoperative normothermia excessive blood loss surgical time out reduces costs by half and increases revenue subsequently (Altpeteret.al, 2007)
Functional financial statements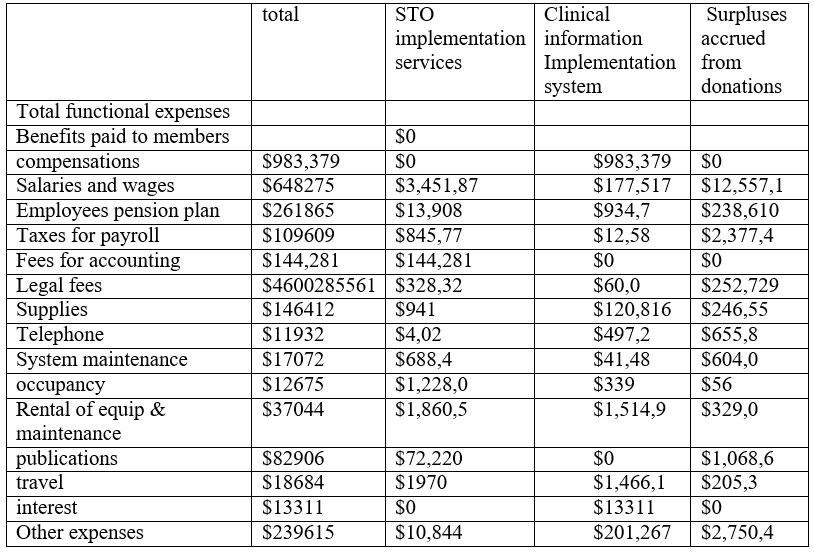 Reimbursement codes
Codes applied to the proposal are standardized measurements utilized by medical coding systems in allocating expenditures for procedures. These codes pertain to documentation of surgical procedures within the surgical time out (STO) intervention techniques. Variations in coding patterns arise from the individuals insurance specifications. Each reimbursement is responsible for a unique type of work, for instance the agreed payment cost for treatment by the government and the medical providers by the government.
They highlight various reimbursement codes, which are used in an operating room setting where surgical time out is implemented. CPT and ICD9 codes, or the HCPCS, here, the ICD9 codes are responsible for diagnosis description on an international basis. These codes are particularly related to surgeons' fees, use of the operating room, anesthesia services, oxygen swabs; infusions and ambulatory requirements post operatively.
Precisely, these codes facilitate in documenting a patient's condition for specific treatments and can further show a billing for the entire surgical care. However, the HCPCS or CPT codes are responsible for a specific kind of treatment and lastly, the CPT code describes suitable surgical services which can be classified under medical as well
Staff type
Surgical time out (STO) intervention includes four basic categories of staff. These include the surgeons who would be performing procedures; operating room nursing service staff; anesthetists and non-nursing staff who prepare rooms for surgery such as cleaners and attendants. While this is a nursing process improvement and procedure safety plan for increasing revenue, it is necessary to include the entire operating room staff in this proposal because each has a responsibility to patient safety and income generality.
Operational plan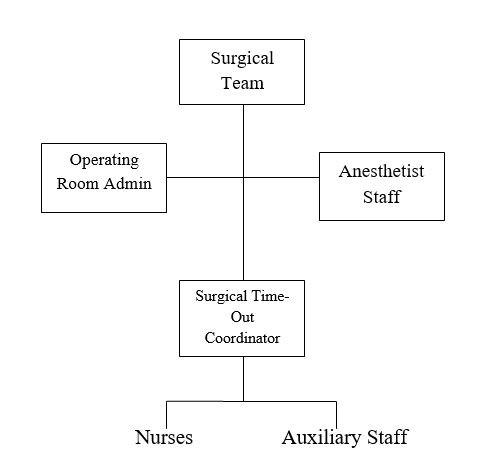 This operational plan will entail a bureaucratic structure whereby the team leader will execute operations. In this case all surgical time out (STO) interventions are led by a team of qualified surgeons, specialists' anesthetists and surgical trained nurses. In my capacity as planner it would be valuable to work closely with the surgeon, anesthetist, surgical nurses and axillary operating room staff to successfully implement the surgical time out product in my facility. Correlating ideas from a paid consultant would be beneficial in establishing the clinical information system framework for this intervention. Brainstorming activities will be encouraged for smooth intervention since training will be essential in applying the steps required for surgical time out practices.
This plan would be implemented following the PDAC cycle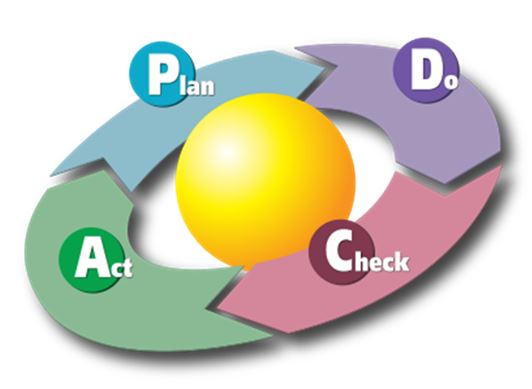 (Altpeteret.al, 2007)
Conclusion
In summarizing this proposal it would be valuable to incorporate Kurt Lewin's change model in guiding this implementation process tom understand how effective this program can be. Kurt Lewin (1890-1947) is the theoretical application chosen bureaucratic leadership incorporated in this expected staff performance outcome. Unfreezing could show improvement in patient identification strategies; prophylactic intra-operative temperature control  could be acknowledged, but shelved for more consideration; prophylactic antibiotic and venous thrombosis implementation accepted.
In the transition administration could accept proposal as worthwhile, but argues that there are not enough surgeons to implement STO strategies; STO is a time consuming event and the organizations do not have evidence based structures to accommodate the intervention. During the Freeze (refreezing) clinical information systems could be established to accommodate STO strategies and applications of recommendations considered for training to undertaken and implementation begin (Lewin, 1943).
References
Altpeter, T. Luckhardt, K.  Lewis, J. Harken, A., & Polk Jr, C. (2007). Expanded Surgical Time Out: A Key to Real-Time Data Collection and Quality Improvement. American College of Surgeons. Elsevier Inc.
Backster, A. Teo, A. Swift, M. Polk, C Jr., & Harken, H. (2007). Transforming the surgical "time-out" into a comprehensive "preparatory pause." J Card Surg. 22(5):410-6.
Lewin K. (1943). Defining the 'Field at a Given Time.' Psychological Review. 50, 292-310.
Morrit, J. (2012). Documentation Relating to Surgical Errors. Power point Presentation
Stuck with your Business Plan?
Get in touch with one of our experts for instant help!
Messenger
Live chat
Time is precious
don't waste it!
Get instant essay
writing help!
It's a Free, No-Obligation Inquiry!
Plagiarism-free
guarantee
Privacy
guarantee
Secure
checkout
Money back
guarantee
Get a Free E-Book ($50 in value)
How To Write The Best Essay Ever!