Revolutionary Breakthroughs in Electrical Energy Storage, Research Paper Example
Research topic
"Revolutionary breakthroughs in electrical energy storage have been singled out as perhaps the most crucial need for this nation's secure energy future."
Executive summary
Energy needs are increasing tremendously in the last few years and the need still continues to grow with industrialization and technology growth. As a result, evolution of existing technologies of non- renewable energies will not be sufficiently enough to meet our needs for portable power, transportation, and electric grid energy storage (Aitken, Donald 2010). This great energy concern calls for engineers and scientist to research and come up with innovate advances particularly for large scale  electrical energy storage to enable full utilization of intermittent renewable energy sources like solar and wind power on the electrical grid. In this research paper, solar power as one of the alternative energy source will be tackled; this is because solar power is one of the available sources of alternative energy which is mostly under used because of poor methods of harnessing and poor storage methods which end up wasting alot of it. This paper shall also discuss the processes involved in taping solar power, converting it into electrical energy and storing it for future use. Further it shall examine possible business opportunity that will arise from the innovation of solar as an alternative source of energy, describe its commercialization potential, and consider all possible legal protection to this innovation either federal and or international.
 Introduction
The world is changing dynamically in the field of energy because of the increased need of energy for industrial production, domestic use, transportation, and national grid storage. As a result the non- renewable sources of energy are being depleted and may never meet the future needs of energy if other alternate sources of energy are not harnessed to back up non- renewable energy sources. More so, sustainable development requires that green energy be emphasized as preferred to non- renewable energy sources like fossil fuels and nuclear energy since they are environmentally non-friendly. Therefore, in order to meet the future energy demands in an environmentally friendly way, scientific breakthroughs which will effectively generate, store, transmit, and use large amounts of power are required. We require cost-effective methods to capture and convert energy from the sun and other renewable energy sources, and because of the intermittent nature of those energy sources, proper techniques must be put in place to enable this energy to be stored for future use when the demand will be high. Also systems need to be developed which will enable transmission of large amounts of energy efficiently from its place of production to where it is needed for consumption. This research paper will concentrate on solar power as an alternative source of energy which is under utilized due to lack of proper storage of energy derived from solar power. Research provides that a 1.5 KW of PV system will keep off about 110000 pounds of carbon dioxide which is the core causer of green house effect from the atmosphere for more than 25 years coming. It will as well prevent the need of burning 60000 pounds of coal guaranteeing us free acid rain, free urban smog, and no pollution of any kind at all (Aitken, Donald 2010). Consequently, because of these benefits associated with solar power and its potential to help in meeting future needs of energy sustainably, I have decided to research on solar power and be able to provide proper guidelines which will help people to decide and start using solar power either for business or for domestic consumption so as to promote sustainability.
Literature review
Alternative sources of energy are those sources of energy that do not cause undesired effects to the environment such as fossil fuels or nuclear energy (Aitken, Donald 2010).. They are renewable and are mostly thought to be "free" energy sources. Alternative sources rarely emit carbon dioxide as compared to conventional sources of energy. They include solar energy, biomass energy, wind energy, geothermal energy and hydroelectric energy sources. The adoption and usage of these clean sources of energy together with recycling shall enhance human survival in the 21stt century and after because they promote sustainable development. In this research emphasis will be put on solar power as an alternative source of energy.
Solar power is produced by taping sunlight and converting it to electrical energy. Sunlight is collected by the use of solar panels which are large flat panels made up of numerous solar cells.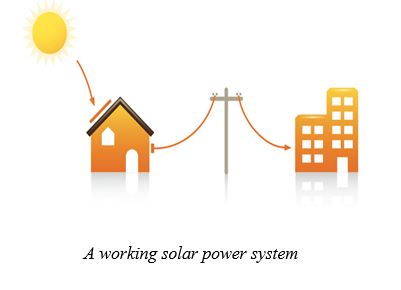 A working solar power system
National Technical Information Service (2010) provides that electric energy obtained from solar power can be applied in three main ways;
Stand –alone: it is also called solar home system. This system is not connected to the grid, and more often these systems are installed in remote areas where utility supplied power does not exist. It is installed in remote areas because it is cheaper to install it than to place electricity cables to the site. A battery is used to store excess energy to be used when there is no sunlight or at night.
Solar-home-system
Grid-connected: this is a system whereby the utility supplied electricity is connected to the property, but the owners prefer to harvest clean and free energy from the sun. This is done by the owners who wish to stay in an environment which is friendly to exist. In this system, electricity is supplied from the solar energy system first, then to the battery connected and finally from the grid.
Back-up: this is a system which is connected to unreliable grid or one of poor quality. They are mostly installed in areas where blackouts are major orders of the day.
In the current world solar energy is mostly used in remote areas even though it has begun to become more popular in urban areas as well.
Solar energy history
The history of solar energy is very interesting when we look at it from the point of who invented solar energy. During the time of intense industrial revolution when fossil fuels were plenty and seemed not to end at one point, a few people existed who were concerned about the future of their inhabitants when the non-renewable sources will finally be exhausted.
In 1838, Edmund Becquerel was the first person to observe and publish ideas about the nature of materials to change light into energy. This invention was deemed interesting but it was left un-pursued. Later in1860-1881, August Mouchout, patented a design for a motor operating on solar energy. Further he designed a device that could change solar energy into mechanical steam energy which later operated a steam engine. However, his invention was not supported by the French monarch who went for more coal from England for its transportation hence his invention was overlooked and not regarded as a priority. In 1876-1879 the first book about solar energy was written by William Adams. The book was called "A substance for fuel in tropical countries". William and his student Richard experimented solar power using mirrors and were able to power 2.5 horsepower steam engine. This invention surpassed that of Mouchoits 0.5 horsepower steam engine. Williams design known as the Power Tower concept is still in use today. In 1883 Charles Fritz managed to turn suns rays to electricity. His solar cell was able to convert at a rate of 1-2%. 1885-1889 another French man Charles Teller who is the father of refrigeration installed the first solar energy system for heating household water.1892-1905 Aubrey Eneas was the first person to form the first solar energy company. This company sold the first solar energy systems to Dr. A. J. Chandler of Meza which was later destroyed by wind leading to the Company down fall.
In 1904 Henley Willse discovered the need to store generated power and he built two big plants in California. He was the first man to use power at night after generating it at daytime. Calvin fuller, Gerard Pearson, and Daryl Chaplin of bell labs discovered the use of silicon as a semiconductor which enabled the construction of the solar panel with efficiency rate of 6% in 1954. In 1956 the first ever commercial solar cell was made available for sale to he public but was very expensive costing $300 per watt. It was used for radios and toys.
In 1950s -1960s space programs used solar technologies. Vanguard the first satellite that was launched in space used solar energy to generate electricity in 1958. As from 1970s many people had become familiar with solar power as an alternative source of energy and the price of solar cells dropped to $20 per watt. Between the years of 1980-1991, Luz Company which is situated at A Los Angles produced 955 of the world's solar based electricity. This project failed to proceed due to withdrawal of investors as the price of non-renewable sources dropped and the support from the federal and state was not promising.
In today's world solar power is in rampant use and people have a renewed focus of it as it has many advantages than fossil fuels and it is more affordable. Many governments are now faring financial assistance to solar energy projects and innovations. The main concern now is the storage of the energy that is generated from solar power for future use.
Tapping/ harnessing of solar energy
Sunlight rays from the sun hit the solar panel (photovoltaic/PV) and are absorbed by silicone semi conducting materials. Electrons are then loosed from their atoms and flow through the material to produce electricity. The process by which light is converted into electricity is called photovoltaic effect. An array of solar panels converts solar energy into direct current electricity which is interred into an inverter. The inverter converts direct current into 120-volt AC electricity needed for domestic appliances. The AC power then enters the utility panel and it is distributed to appliances in the house.
Storage of solar power
Solar power can be stored in a battery as direct current. The battery power will supply the house with electricity at night or during blackouts. Incase the battery of filled, then the excess electricity can be exported to the utility grid if the system is connected to it. Electricity can also be drawn from the grid when solar power is not enough or the battery has very little stored energy. Solar energy has only depended entirely on batteries for storage and this has hindered its growth and competition in the energy market due to its higher costs as compared to non-renewable sources. However, recent solar energy storage breakthroughs has hinted that if proper storage techniques are discovered, then renewable sources of energy such as wind and solar will become more affordable and viable competitors in the energy market place (Richard, Komp, 2009). A major breakthrough in solar energy storage innovation is the nanoparticle Ultracapacitor device. This device makes use of proprietary nano- structured materials which are used to store large amounts of solar energy as compeered to the existing mechanisms in the market.
Nanotechnology
Nanotechnology involves changing the configurations at molecular and atomic levels (nano means "one billionth") to primarily change substances and applications (Richard, Komp, 2009). With this technology batteries are made lighter but posse's very high energy density and capacity. A nanocap which is a type of ultracapacitor is also an energy storage unit. The difference between a nancap and a battery is that a nanocap stores electrical charge while the battery stores chemical energy (Richard, Komp, 2009). This technology provides strange dielectric constants. Given that the electric field can be adjusted by means of decided ability, nanocap offsets big problems that resistance usually lessens the real surface area provide an advantage in using an electric charge. By so doing, nanocap allows thrice the energy storage density than the most recent existing lithium batteries on the market. Nanocap also has got an increased ability to cycle, which promotes efficiency, reduces weight as well as provide higher power and energy. All this work the nanocap technology does can be at the same cost or less than what other products in the market cost.
Full application of this technology will have many applications which will range from;
Telecommunication infrastructure,
Transistor and consumed battery applications in cell phones
Computed,
Smart grids,
Electronic networks,
Energy storage for it serves as storage media for renewable energy technologies since it allows a steady and predictable release of stored energy into the grid systems
Nanocap technology has a very huge potential of providing long-term solutions for energy infrastructure issues. And given that it helps us with a better method of storing renewable energy sources, this technology will help us reduce the dependence on non-renewable energy sources like fossil fuels which harm the environment (William & Stephen, 2008). This technology thus ends up with creating a very desirable, profitable end results which are better energy efficiency, cleaner air, and cleaner water.
This technology can be patenting under the US federal state law.
Net metering and grid interactive system
Majority of utilities are encouraging net metering and solar energy buy back schemes. This support from utilities is intended to store the surplus solar energy in the grid for future use instead of storing it in the batteries. Net meeting and grid interactive systems have made the businesses to take the advantage of different electrical power and gas suppliers and buy the most economical. From engineering perspective, a photovoltaic system that is joined to the grid is more efficient, greener and cheaper compared to backwoods one (Richard, Komp, 2009). Such a system is more efficient since the inverter is capable of tracking the modules "maximum power curve" instead of the lower voltage required to recharge batteries. It is arguably greener because it does not make use of batteries which emit sulfurous gases; contain caustic chemicals and which wear out. And it is cheaper in that one does not need to buy the battery, control panel, charge controller and generator. With all this you have a least cut down almost $ 6,000 off a typical stand alone solar power system (William & Stephen, 2008).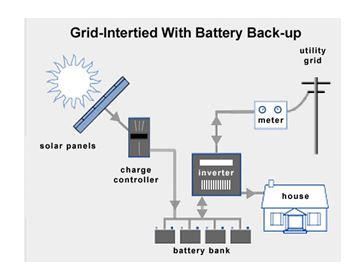 Off-Grid System
Currently, the cost of solar power is very high which implies that the grid interactive systems are failing to pay themselves in the line of cost saving in comparison with grid electricity. The costs are expensive because the balance of system (BOS) is high especially during installation of solar power system (William & Stephen, 2008).  Despite this, majority of people with houses connected to the grid have chosen to install grid interactive system since they are greener during energy generation unlike fossil fuel power plants.
The cost of solar energy and commercialization
Solar energy has been very expensive since the demand was small and technologies of converting it into electricity were not advanced. 20 years ago, solar energy was costing seven times as much what it is costing today (William & Stephen, 2008).  Increase in manufacturing volumes and advance in technology, have made its price to fall significantly and it is believed that it will continue to fall as many people realize its benefits. Another benefit associated with solar energy is payment to people who channel the excess electricity from solar to the national grid by a system called net metering.
The real cost of solar power will depend on the size of your house hold, the amount of electricity you consume, a particular solar energy system you choose, the amount of sunshine you receive in your region. How ever a rough estimate of the cost is;
A solar hot water system will cost approximately $3,000
A photovoltaic system will coast approximately $ 9,000 for 1 KW system.
An average family needing about 2.5KW system whose current electricity bill lies between $50_$75 per month, solar power will cost them about $22,000
Less government rebate -$7000
Less tax credit-$1, 163
They will only pay $13,337
How ever if the family is producing excess electricity and injects it to the national grid, they will save given that
(2.5KW system= 2500watt per × watt rebate=$7,000)
(3KW system =3000watt ×$ 2.8 per watt rebate=$8, 400)
Usage of solar power
Solar energy may either be passive or active depending on the technique used to capture sun rays convert them and distribute them as power. Photovoltaic cells and thermal collectors employ active techniques where as passive solar techniques relies on designing buildings in such a way that the rays of the sun get use when they reach the earth surface
Solar energy can be used to produce electricity, to heat water through photovoltaic cells and directly for drying clothes. Solar energy can be use for heating swimming pools, power cars, calculators, attic cars, and other small appliances. It can be used to cook food and be used for lightening indoors and outdoors (Richard, Komp, 2009).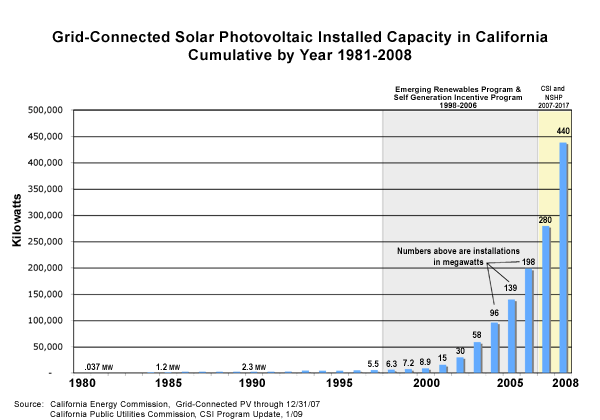 Advantages of solar energy
After the initial investment has been recovered solar energy from the son become free
One can get paid by the utility company incase his/her system produces excess energy which the utility buys and build a credit on ones account. This scheme is called net metering
It does not require  any fuel to operate
Has immediate savings which remain for many years to come
It is environmentally friendly
Solar energy is clean, renewable and sustainable hence protects our environment.
It does not contribute to global warming
It is generate where it is needed
It is independent or semi independent
Solar energy systems can operate wholly independently without connecting them to the grid or a gas. Solar energy can be used to offset utility –supplied energy consumption
Low maintenance or no maintenance costs.
Disadvantages
The initial cost of installing a solar power system is very high due to high cost of the semi conducting materials used in building one.
The cost of solar energy is relatively higher as compared to non- renewable supplied utility energy sources.
To achieve a good level of efficiency, solar panels require a large area of installation.
The efficiency of solar systems depends on the location of the sun even though this can be over come by installing sun tracker components.
Conclusion
Engineers and scientist should put more efforts to make real breakthroughs in renewable energy storage technologies so as to guarantee enough energy at the grid for future use. The innovation of technologies such as storing of charge directly on surfaces of supper capacitors with hundredfold increase in capacity in comparison to batteries as well as harvesting and storing of electrons from chemical bonds to build up, efficient and reversible energy storage systems with higher capability than the existing forms of energy storage must be embraced and supported by governments to ensure that energy reserves are created for emergency and future use (Richard, Komp, 2009). Solar power can become one big source of energy which is sustainable if much attention and research were done on its subject mater and the ideas and innovations implemented.
Reference
Aitken, Donald W. (2010). Transitioning to a Renewable Energy Future, International Solar Energy Society, January, 54 pages.
National Technical Information Service Stand-Alone Photovoltaic Systems; A Handbook of Recommended Design Practices. Springfield, VA: Sandia National Laboratories, National Technical Information Service, U.S. Department of Commerce, (2010).
Richard J. Komp, (2009). Ph.D.  Practical Photovoltaics; Electricity from Solar Cells, 3rd Edition. Ann Arbor, MI: aatec publications,
William Marion & Stephen Wilcox (2008), Solar Radiation Data Manual for Flat-Plate and Concentrating Collectors. Golden, CO: National Renewable Energy Laboratory,
Time is precious
don't waste it!
Plagiarism-free
guarantee
Privacy
guarantee
Secure
checkout
Money back
guarantee