Back to School Offer
Get 20% of Your First Order amount back in Reward Credits!
Get 20% of Your First Orderback in Rewards
Setting up the Servers, Essay Example
Pages: 3
Words: 861
Essay
This Essay was written by one of our professional writers.
You are free to use it as an inspiration or a source for your own work.
Need a custom Essay written for you?
HIRE A WRITER!
Server Installation Guide
In order to install a server or workstations in a legacy network, there is a requirement of defining a plan that will divide installation process in to separate areas. The first area is related to software necessities. As per the organization's standards and current business requirements, feasible operating system will be selected. In case of new server installation, Microsoft server 2008 will be selected. Service packs will be the subset of software necessities, as they include critical security patches and hotfixes. After installing the operating system, browser, word processors and other required software will be installed, as they will server for services that the server will provide. After installation software, the next domain that is related to hardware requirements is considered. This domain highlights requirements of different business application and the operating system itself.
Ensuring minimum Hardware Requirements
Hardware specifications must be adequate in order to meet the minimum hardware specifications. As servers are engaged in heavy duty tasks and multitasking jobs, Processors with two or more cores will be best suited for the job. Moreover, storage devices also require replication for disaster recovery or to support business continuity functions. If the server will maintain a database, large capacity storages devices will be considered.
Preparing the Network
This section covers all aspects related to the current network. Typically, fundamental requirement for connecting the server via a network is the IP address, DNS, subnet mask and gateway. There is a requirement for ensuring connectivity of the server by configuring the Ethernet card.
Installing Operating System
The first step is to insert a DVD in the DVD drive.
Click on 'press any key to boot from DVD'. If this option do not appears, there is a requirement for setting parameters in BIOS boot sequence.
NOTE: Estimated time is approximately 30 minutes for complete installation but it is not necessary that the setup will complete on the exact time. It depends on the hardware specification of the server (Vulnerability – patch management, n.d).
For a new server installation, it is not necessary that the partitions of the hard drive are created. However, windows server installation wizard provides options to create partitions and format them to NTFS or FAT32 respectively. Moreover, If SATA (Serial Advanced Technology Attachment) is connected with the system; there is a requirement of loading device drivers at the startup (Download details – microsoft download center – windows SBS 2011 standard installation guide, n.d).
Installing Device Drivers and Required Software
After completing Windows server installation, device drivers are configured. It is important to review any conflict that may cause server to stop a particular service associated with that device driver. Likewise, Interrupt requests (IRQ) assignment will be dissimilar for all the device drivers. Before connecting the server to the network, antivirus installation and other security patches must be updated, as it is an essential part of server installation.
Starting Network Services
After securing and configuring all the required software, server will be connected to the inbound network by configuring Ethernet. IP address, Gateway, Subnet mask and DNS will be defined. One the server is connected on the network, network services will become operational. In a typical server some of the services are DNS, HTTP, FTP, Proxy, SNMP, DHCP, Routing and Remote access services etc.
Client Installation
For client installation, system software will be installed in similar procedural steps apart from the information that is required for installation.
IP Scheme: Defines whether client will use static IP address or DHCP
Setting Administration password criteria: There is a requirement to set administration password
Application access: Names of the application that need to be access
Required media: Media that will be used for installing system software
Setting Micro Management Controls (MMC): Shortcuts for accessing management facilities residing on the server (Server sentinel 5.0, n.d).
Active Directory Installation
Step 1
Type 'dcpromo' in the run command by clicking on the start menu as shown in the Fig 2.1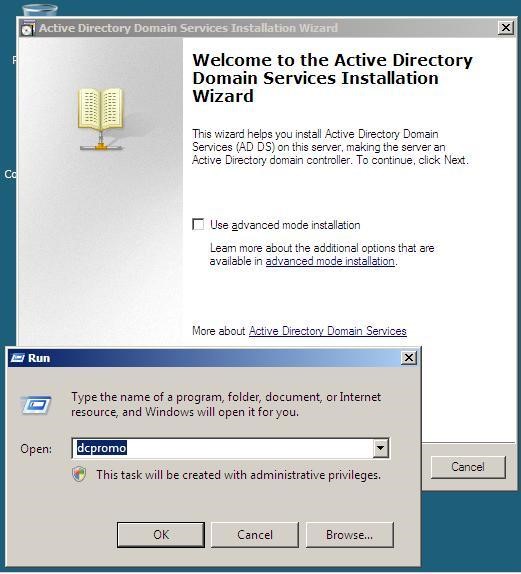 Fig 2.1
Step 2
Click the option "create a new domain in a new forest" as shown in Fig 2.2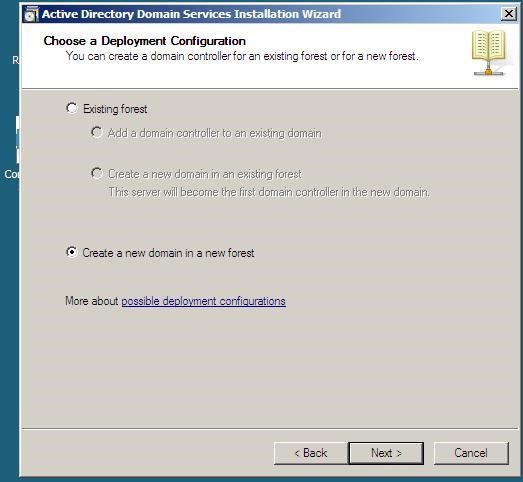 Fig 2.2
Step 3
Type the existing or new domain name for integrating it with the active directory, as shown in Figure 2.3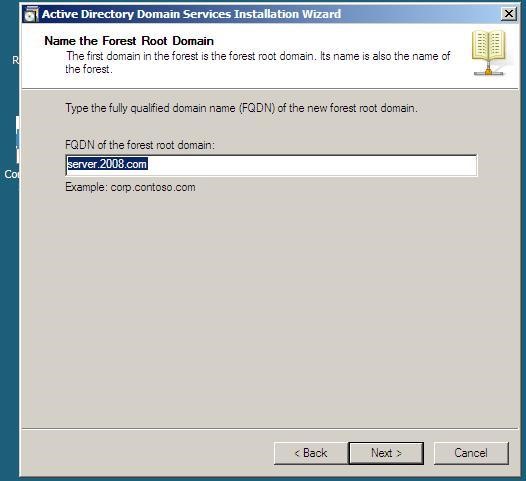 Fig 2.3
Step 4
Set the password for the domain controller, shown in Fig 2.4 below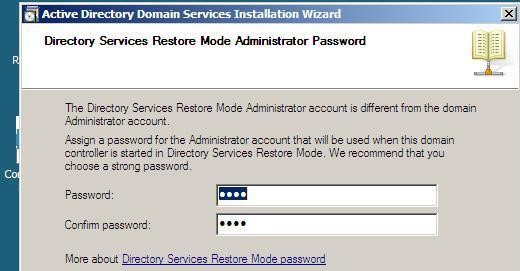 Fig 2.4
Step 5
After setting options user has to wait as windows installs Active directory as shown in Fig 2.5
Fig 2.5
References
Download details – microsoft download center – windows SBS 2011 standard installation guide, n.d Retrieved 10/11/2011, 2011, from http://www.microsoft.com/download/en/details.aspx?id=13913
Vulnerability – patch management, n.d | endpoint security | IT solutions | lumension Retrieved 10/11/2011, 2011, from http://www.lumension.com/
Server sentinel 5.0 n.d Retrieved 10/11/2011, 2011, from http://public.support.unisys.com/search/DocumentationSearch.aspx?ID=405&pla=ps&nav=ps
Time is precious
don't waste it!
Get instant essay
writing help!
It's a Free, No-Obligation Inquiry!
Plagiarism-free
guarantee
Privacy
guarantee
Secure
checkout
Money back
guarantee
Get a Free E-Book ($50 in value)
How To Write The Best Essay Ever!