Starbucks Coffee Company, Case Study Example
Executive Summary
In the coffee industry, Starbucks serves as the global leader in providing the market with innovative and new products and locations that are easily accessible. This paper evaluates Starbucks performance in the coffee industry by examining the internal and external environment. Howard Schultz's efforts and vision contributed to the success of the company because of his leadership and success efforts. Rival groups like McDonald's have tried to emulate his success model but have failed. Starbucks ability to expand globally, product innovation, successfully picks locations and customer service talent are unique features that have powered the company to gain competitive advantage.
Starbucks driving forces makes the industry an attractive business as most population in the globe consumes coffee or tea. Attractive profits for this industry are elaborated using five forces model, which outlines competitive pressures. The strategic position of Starbuck shows that it has high quality products, which are highly priced, with a wide range of product line. The market power and brand image of Starbucks has led to profit earnings annually. Key success factors for Starbucks are utilization of technology, product innovativeness and locations, which are convenient.
The mission statement is also mentioned in the paper and its impact on the market share of Starbucks in global coffee industry. Starbucks tangible and intangible resources are an advantage to creating core competencies and competitive advantages that permit implementation of strategies. A SWOT analysis is provided to demonstrate the impact it has on the industry's strategic approach. The paper details the strategic issue the company should address and change in order to be competitive. Lastly, an implementation model is provided which describes actions that facilitate implementation of strategies chosen.
The organization's industry
Starbucks is a corporation that has established itself as one of the leading manufacturers of food products in the world. The company is founded on commitment to quality thus producing food items that have penetrated into the hearts of customers. This has moved Starbucks at the top of the industry (Thompson & Shah, 2010). Starbucks has a competitive advantage that has forced many of its competitors to either face out of the industry or be bought by Starbucks itself. This has been attributed to the company's commitment to quality products, which makes consumers loyal to the company.
Dominant economic characteristics of the industry
The industry in which Starbucks operates is made up of two distinct groups:
The specialty coffee group
The mass production coffee group.
The mass production coffee group enjoys a 41% of market share. Whereas, the specialty coffee, makes up 12% of consumers. This industry is evidently attractive as the competition arising from the threat of new entrants suggests. The economic factors include:
Global economic crisis of 2008 and 2009 that contributed to lower profit margins, rising costs of operations and an increase in levels of unemployment.
In order for competitors to be successful, they must possess the success factors that include:
Marketing
Innovation
Expansion of the industry categories in which they operate.
The main driving forces of the industry
There are two principal driving forces in this industry:
Increase in the consumption of coffee: studies conducted previously indicate that there has been a 1.8% increase in coffee consumption since 2005. It is estimated that the total coffee consumption amounts to $ 19.3 billion. This increase in coffee consumption includes regular coffee. The differentiated products facilitated the growth of buyer preference.
Value migration: consumers are increasingly becoming dynamic and their demands, attitudes and lifestyles are shifting, as well. They are demanding the high quality, top-notch products in the market. Coffee companies are designing their strategies in line with an absolute customer perception. Because of consumer behavior, new entrants in the market predicted this shift and acted in accordance (Gamble & Thompson, Jr., 2011). Alternatively, major players in the industry resounded by cutting prices but this did remarkably little in raising the image of their brands. Customers are seeking for premium priced and high quality coffee and coffee companies ought to have anticipated this market shift early enough.
Substitute products: The industry is battling against new entrants of substitute products. Coffee can be easily substituted with other beverages such as tea, energy drinks and soda, which are sold anywhere. So far, this industry has managed to provide customers with a wide range of choices. Companies and restaurants operating in this industry have diversified thus embraced creative ways of producing rich flavors of coffee. These innovations have enabled Starbucks to develop a strong customer loyalty and brand image. This has been shown by customers who have proven to be unwilling to accept Starbucks' substitute products. Starbucks is currently facing large competition in the industry.
Industrialization: Westernization influences have driven many economies to embrace the aspect of industrialization and have made coffee to be the statement associated to prosperity and wealth. For many individuals, their choice of beverage is coffee. Due to industrialization and dispensable income, the coffee industry is succeeding and many countries are becoming new vendors of specialty coffee (Laudicina, 2010).
Innovation: This continues to ensure that the target market is maintained and grows in attracting new customer. Additionally, the company offers differentiated products from rivalry groups. The customers being a larger fraction of the equation of product innovation facilitates for the company to listen to their ideas, suggestions and complaints via online and in-store feedback of goods and services offered (Starbucks, 2011). The positive effect of this driving force gives Starbuck the capability of leading and others follow because it has managed to continuously and successfully introduce new products to the market.
Identify and assess the strengths of the industry's competitive forces summarize the industry impacts.
The company's main competitors sell premium coffee at low prices. The industry is facing price wars due to the price superiority of competitors. Despite having the advantage of prices, supporters of Starbucks argue that the companies do not have an atmosphere like Starbucks. Two main competitors for Starbucks include McDonalds and Dunkin' Donuts. The industry's competitive forces are bargaining power of buyers, bargaining power of suppliers, substitute product, potential new entrants and seller's rivalry.
The bargaining power of buyers is reduced due to the existing products differentiated based on power brand, taste and quality. This has forced retailers to research the product choices of their consumers in order to stock them despite their high costs. Power of suppliers is weakened because of these suppliers come from lower economic countries coupled with undifferentiated product quality and independence in growing.
Culture and customs of a given country contributes to reduced pressures of substitute products. The financial impact on the power of substitute for consumers is minimized because some consumers opt for caffeine intake from energy or soft drinks, but the sheer numbers of global tea or coffee drinkers controls this aspect. New entrants' threats attributed to lowered coffee prices from easy access to pre-existing distribution channels and suppliers, competitors and little regulation. However, brand loyalty and economies of scale offset these forces. In addition, new firms find it difficult to differentiate themselves due to high innovation of products. The introduction of new products has intensified on rivalry forces, which has moved to product differentiation on quality, selection and service. The coffee industry faces high rivalry intensity due to economic crisis and consistent and slow sales growth. Finally, rivalry companies have been able to stress on brand quality and image since customers are not restricted to switching products.
Identify and describe the key success factors of the industry
For survival in the coffee industry, key success factors (KSFs) include distribution, technology, marketing, skills and capability, service and others. Technology comprises of use of Internet for marketing of products and mobile apps communication. Distribution is all about strong distribution or suppliers' network and the Internet and stores retail capability. Service KSFs concerns ability of customer service plus the expertise of quality control (Thompson & Shah, 2010). Skills and capability KSFs mentions courteous, personalized services for customers and innovations for production capabilities.
For Starbuck, the market KSFs was used due to the presence of a brand name that was well respected and known and the product line breadth. Additionally, other KSFs for this industry showed location conveniences and their ability to capture new segments in the market niche. The main key success factor in this industry is the expansion into real estate, which allowed coffee companies to identify the best target locations for their businesses (Thompson & Shah, 2010). Currently, the industry supported coffee companies to expand and strengthen their reputation and image in areas where they expanded. In the industry, the costs of production by embracing standard contracts, cost controlling practices and centralized buying.
Using a strategic group map identity and discuss the major players, their strategies and how the strategies differ.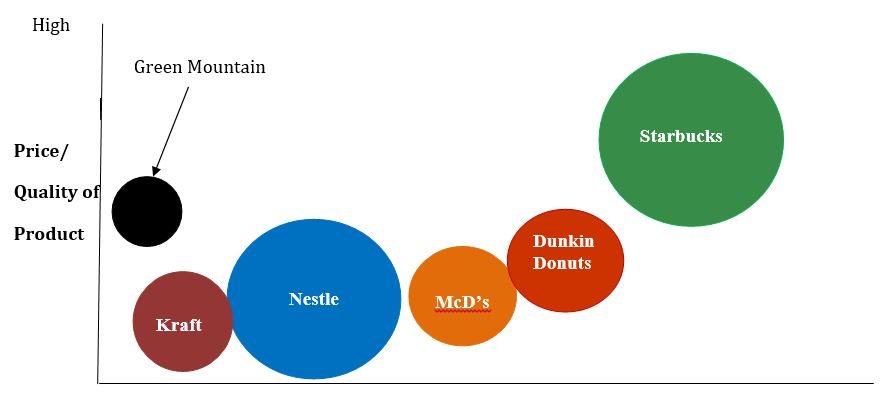 Product Line Breadth
The major players in this industry are the McDonalds and Dunkin' Donuts. McDonalds is currently operating its own restaurants and has established franchises in the local regions. The company has designed an internal marketing team that helps it to keep in touch with customers. With the current strategic marketing team, McDonalds has been running well. Dunkin' Donuts is one of the global restaurants that franchises companies. The company is currently employing the strategy of reducing waste making drinks. This move will increase productivity and assist in sparing money for programs aimed at seeking customer loyalty. Such programs will help Dunkin' Donuts to improve customer service and relations. In addition, a reduction in waste will help the company to operate in a cleaner environment, which is vital for customers.  The values here relate to "building a company with soul" where corporate social responsibility was inclined to the environment and social issues, being emphatic with importance given to employees by paying attention to customers' pleasure. This incorporated the views and opinions of employees in developing the company. The elements of the strategy included farmer loans, sourcing of company's products in an ethical way, environmental stewardship and community involvement.
Is the industry attractive
The overall coffee industry is attractive especially for Starbucks because it is competing in the specialty category. While there are no difficulties for new entrants in this category, they must overcome the challenge of the industry's brand loyal customers. The national coffee association has produced data indicating that over 108 million people in the US drink coffee daily. Moreover, the data shows that over 166 million people have taken coffee in the past thus expansion is evident.
An in-depth financial analysis with regards to profitability, liquidity and growth and then provide an assessment of the overall health of the firm's finances
Financially, Starbucks is performing well. As the case suggests, all the financial figures are raising up from 2007 to 2010. However, a scrutiny of the figures reveals that the cash flow per share has been declining financially. For example, the current and quick ratio indicates that after funding long-term users, they also fund part of the working capital. This indicates that the liquidity position for the next year would be comfortable. Starbucks must find out what caused the downhill trend in the cash flow per share. The dependent variable, return on assets, is affected significantly by liquidity ratios. On the other hand, return on equity is not affected by quick, liquid and current ratios. In 2009, the quick ratio increased to 0.40 from 0.34, which affected the working capital ratio and significantly, affected the growth, liquidity and profitability of the industry. The operating margins for 2010 continued to decrease, which implied that the expenses incurred by the investors decreased due to lower profit margins experienced during the working period. The following is a summary of the company's liquidity, profitability, and growth: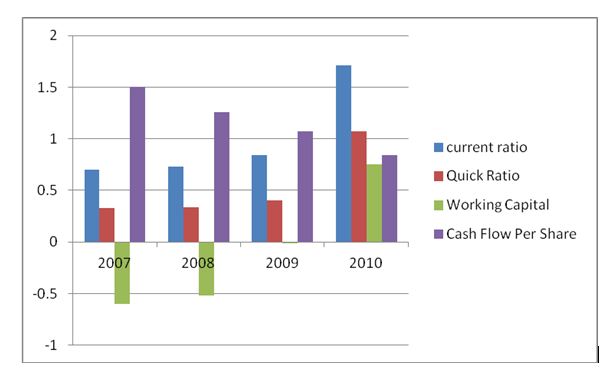 Profitability (percentage)
Operating Margin
20.00
20.15
20.16
18.

5

Operating Margin
10.05
10.27
11.05
10.34
Pretax Profit
11.22
11.64
12.5
11.75
Net Profit
8.16
8.30
8.56
8.28
Return on Assets
12.59
13.13
14.07
11.52
Return on Equity
19.25
21.9
15.78
29.08
Return on Investment
13.77
23.47
25.74
15. 77
Return on Assets
13.77
14.64
12.21
13.75
Return on Equity
29.81
27.80
22.77
16.13
Growth
Growth  Coverage Before Tax
28.01
84.00
615.56
Growth Coverage After Tax
17.89
53.38
390.46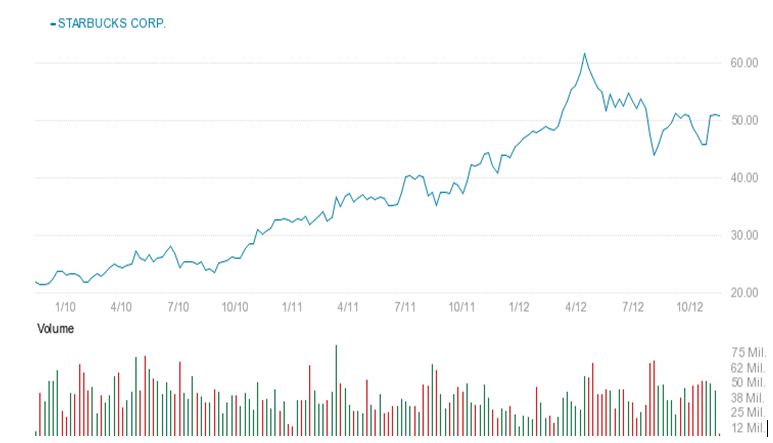 Source: http://www.dailyfinance.com/quote/nasdaq/starbucks/sbux/charts
Using tools such as value chain and resource based view identify the competencies and skills the firm has that provide the organization with a competitive advantage and summarize their impacts.
The channel value chain entails the outlets used by Starbucks in enabling consumers to purchase their products. Starbucks is aware of the sales methods used by the outlets to customers. The company is aware of the location of each outlets and this enables it to have a demographic profile of customers. Customer value chains show how the end buyers add value to the products. Starbucks can increase customer value chain by making sure that the outlets maintain the recommended store environment. Further, the company can attain a competitive advantage by ensuring the outlets provide exemplary services and provide a broad menu for customers. Starbucks has a prosperous and bright future courtesy of the company's training and R&D. These primary and secondary resources of the industry help in achieving the value chain and thus, enable it be competitive advantage. By training employees, Starbuck becomes competitive because they are able to compete with other companies. Through training of employees, the company is in a position of better understanding their environment and customer. Consequently, will meet all their expectations and mission statement of the business without losing their ethical values and morals. Tangible and intangible assets are resources used by Starbucks in creating competitive capabilities and core competencies that have led to the industry having a sustainable advantage. Primarily, this has been possible through the use of expertise and human capital, which has fueled growth of revenue for new initiatives.
Conduct a SWOT  analysis and describe its strategic relevance and summarize their impacts
Strengths
Starbucks has attained a niche in the market as a high quality brand of coffee and offering exotic blends of coffee.
The coffee bars atmosphere provides customers with a feeling of style, sophistication and a sense of knowledge.
The company has employed highly educated employees who have the skills of communicating the message of their brands.
These strengths have enabled Starbucks to meet the demands of customers because it provides them with exotic, rich blends of coffee. Their strength lies in their strong financial performance based on Starbucks operations in retail stores. The company has focused on the quality of its brands so that customers can experience the difference between their sense of taste and the cheap brands found in other restaurants (Gamble & Thompson, Jr., 2011). Moreover, Starbucks ensures that customers have a feeling of sophistication, style and a sense of knowledge whenever they enter their coffee bars. The company has been successful in achieving growth because it has employed highly educated employees who are able to communicate the culture of Starbucks.
Weaknesses
Coffee is highly regarded as a substitute product. This means that an increase in price or scarcity in supply will make people to find other means of consumption.
Despite the provision of excellent services and quality products by Starbucks, the company does this at a cost. The company pays its employees more compared to other retailers and restaurants in the industry. Furthermore, the company is experiencing high costs resulting from benefits offered to part time and full time employees.
These weaknesses are likely to hinder the company from achieving the needs of customers because in case of an economic recession; customers are likely to spend conservatively. This is because coffee is regarded as a substitute product. If customers are not loyal consumers of coffee, they are likely to spend conservatively thus preferring cheap coffee to Starbucks's premium coffee. Starbuck has an over reliance on the declining U.S. market share that is saturated due to intensified marketplace rivalry. This is overcome by fully utilizing their finances that will contribute to their expansion into emerging markets and realization of their opportunities.
Opportunities
Emerging global coffee markets
Advancements in technology
These opportunities will enable Starbucks to serve the needs of customers and acquire experience in global markets through franchising approaches. This approach enables Starbuck create streams of revenue using franchise fees thus maturity of market and increase of retail revenue. Emerging coffee markets will enhance the company's growth because it continues to be a leader in innovation production. In addition, advancements in technology are likely to allow Starbucks to decrease waiting time while increasing quality. Technology is continuously becoming dynamic and this is making things better, faster, and quicker. Starbucks will certainly make its way in the coffee industry.
Threats
Economic recession
Emergence of new entrants in the market
Increasing costs of dairy and coffee products
The above threats affect the prices of coffee. In case of an economic recession, coffee drinkers who are not loyal are likely to consider substitute products. This is because substitute products offered by other restaurants are not expensive. New entrants in the market are flourishing because original coffee houses such as Starbucks are experiencing problems lowering prices. This is because the costs of dairy products and coffee beans are rising.
The SWOT analysis presented depict that Starbuck will gain a competitive advantage over others because their strengths and opportunities are vast. Additionally the threats and weaknesses are common and expected for any industry, but management can formulate strategies and implement policies that override these problems. SWOT analysis helps management and board of directors forecast the progress of the industry thus, they can draw a draft to investors on how they can contribute to curb and minimize existing problems of the industry. The uniqueness of their environment and atmosphere gives them a competitive advantage because competitors cannot be able to copy. Accordingly, Starbucks must ensure that the company upholds all standards in order to be able to succeed.
The SWOT analysis of Starbuck illustrates the soundness of the company's internal and external environment. As a result, the total impact of the analysis is positive because it gives managers the way forward on how to approach problems facing the industry. The importance of this analysis is to be able to deduce whether the company can compete in the international markets. The question here is whether the company is sound to withstand all international pressures of the environment. From the above, Starbuck has a marking to withstand all pressures and become a strong international competitor.
Assess the strength of the company relevant to the other industry participants using a competitive strength assessment (CSA) matrix. What conclusions can be made concerning the ability of the company to compete based upon the CSA matrix.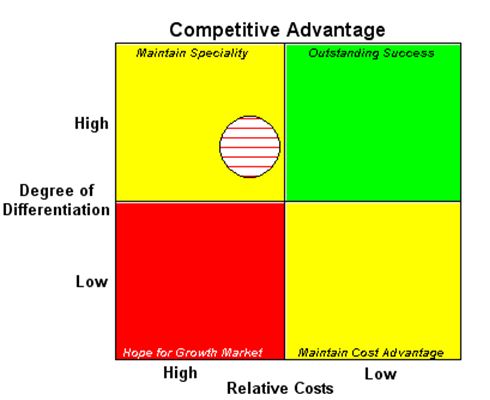 Figure 1: Starbucks competitive advantage Chart
 Starbucks is the company with the largest competitive strength and enjoys a strong competition position followed by Dunkin Donuts in second position and Krispy Kreme taking the third position. The above chart illustrates that Starbucks has managed to attain its competitive position through maintaining high degree of product differentiation in the industry. Krispy Kreme offers superior quality of doughnut in an attempt to win the company's market share. The company has a strategy of producing fresh and hot doughnuts that are appreciated by customers. Customers believe that Starbucks is best positioned to face the competition because of its ability to maintain premium coffee in the market. Many people associate themselves with Starbucks' taste and stores have reported increased sales and revenue due to the convenience of the stores. Coffee run fast in the stores and this has created a positive customer opinion about Starbucks. The company uses its strategic plan of providing tasty, unique, and sophisticated premium coffee to their advantage. This is achieved by allowing customers to sample their brands and compare with those of competitors.
The firm's present mission. Does the exiting mission fit with market forces? What changes to the mission should be made.
The company's mission statement is establishing the company as the provider of premium coffee in the world as they maintain their principles (coffee, customers, neighborhood, partners, shareholders and stores) while they grow. It is based on the present scope and purpose of present business. Despite being a good mission statement, it lacks two components:
Concern for employees and technology. Starbucks must evaluate whether it has advanced in terms of technology. Although the vision of the company shows concern for employees, this must be shown in the mission statement, as well.
Customers in the market are already viewing Starbucks as money oriented company.
Therefore, the mission statement must, ensure that consumers are placed at the heart of the company. Further, the mission statement must state the company's position in terms of technology. If the mission statement does not emphasize on embracing new technology, Starbucks might lose its competitive advantage. This is because it will not be able to produce unique products anymore.
The strategic change of Starbuck affects the mission statement by embracing the features not incorporated in the statement. This aids in achieving a competitive advantage for the business and promote growth and expansion of the company, which raises the economic situation of all principles. Thus all needs of the principles are met, which reduces the chances of having rivalry groups penetrating their market segment.
The firm's present generic strategy. Does the present strategy fit with market forces?
Starbucks has focused on the generic strategy of product differentiation. This strategy puts more emphasis on ensuring product differentiation within the target segment. This generic strategy has enabled Starbucks to demonstrate strong marketing abilities. Starbucks managed to run television advertisements and the company's marketing budget constitutes 14% of the company's total costs. Further, this strategy fits with the current market forces. This is because the strategy has enabled Starbucks to invest in a strong R&D department, which has given the company a strong ability to produce unique brands. The company applies the broad differentiation strategy, which allows the company focus on market position due to segmentation or structure of cost. In effect, the market forces fit in the strategy because production has been improved, sophistication of marketing concepts and availability of finances to fund HRM project proposals. These market forces promote the attainment of a sustainable advantage since they incorporate all factors that contribute to the success of the company through applying valid strategies. By way of innovation of products and power of the brand, consumer preferences are achieved thus reaches many potential customers with the wide product mix range.
What are the strategic issues the firm must address to become competitive
Starbucks must address two key strategic issues in order to become competitive in the industry:
First, Starbucks is currently facing problems of customer service: it cannot speed up services to increase their customer service. As the case indicates, consumers believe that Starbucks is only concerned with creating more profits rather than ensuring quality customer service. Starbucks cannot increase prices because this move will intensify the situation and make the company to lose more customers.
Secondly, Starbucks lacks an internal strategic plan. This has hindered the company from creating a proactive feedback mechanism where customers can express their satisfaction thus having an improved customer satisfaction. Starbucks is also producing more waste in the process of making drinks and productivity. Further, the company's services are slow due to lack of automated espresso machines.
What strategic changes would you recommend to address the firm's strategic  issues
After reviewing the case, I would recommend the following strategy for Starbucks in order to address the current issues while strengthening the company's foundation:
Starbucks should invest 40 million every year in order to increase labor hours in each store. This might be the best solution for the company. As the case illustrates, fast service is important for customers. If the company does not make complex changes, it is likely to experience more downturn. This involves simply adding more 20 hours of working per week in every store. Starbucks customers have maintained their loyalty to the company because of its unique and sophisticated style. Therefore, providing fast services will help the company in increasing its market share.
Another alternative could be lowering of prices of products offered by This solution is likely to generate more customers to the company even, though the profits are likely to go down. As the case suggests, incase the company lowers its prices, there will be more fixed costs and variable costs required to reach similar revenue. This means that Starbucks' net profit will go down even with the same amount of revenue. If Starbucks chooses this move, it is likely to lose customers who have been loyal to the company, willing to pay more to purchase the company's premium coffee.
Starbucks also needs to participate in environmentally and CSR activities because it will be helpful in creating and enhancing its corporate image. This will attract a sizable number of customers to use its products. The company should also invest in new, emerging, and promising markets like China, and Africa. The company may also have to develop new coffee brands besides the existing ones.
Focus on external environment components, which are the driving forces, key success factors of the coffee industry and the strategic group map.
Expand globally into emerging markets by using franchise strategy.
Use the ten–part implementation model to briefly describe the actions necessary to implement the recommended strategy or strategies.
Plan of Action
Starbucks is operating in an industry that requires excellent reputation and brand identity for winning the trust among external and internal stakeholders. The company has been able to establish this reputation:
Through providing customers with a unique coffee experience. Starbucks is slowing down the previous expansion plans of international and retail stores because the market is currently saturated.
The company has put more focus on marketing brands that already exist in the stores. Although Starbucks has an excellent brand identity, in the market, the company must closely monitor factors such as customer priority that are likely to have severe implications on the business. This is because customers in the market are of the view that Starbucks is money oriented. They do not feel that their interest have been put at the heart of the company. If this issue is not well addressed, it is likely to cause problems for the company in future.
Further, for Starbucks to maintain its market position, it must continue providing differentiated products like and maintain its innovative skills.
Additionally, the company will have to utilize some of its profits in the offering of CSR services and financing other environmentally friendly activities.
Additional investment may be required in the development of new coffee brands. This is also applicable in the entry into new global markets.
Management needs to put emphasis on new advertising and marketing strategies, which incorporate the ideas of their employees. This is because they contribute to the growth and success of the company. By giving the employees a chance of presenting their ideas, the management displays their ability of having a cordial relationship with staff members.
The management should establish training programs for their personnel in order to give them sufficient information on new market trends and technological innovations. The platforms for growth should always be worthy of coffee produced by Starbuck. This gives them an upper hand and thus, they ignite an emotional attachment with the tastes and preferences of their customers.
The economic model delivered by management needs to be sustainable and promote all environmental conditions. This pertains to eco-friendly packaging that follows green energy rules to reduce pollution and promote on sustainability. This promotes the health of their workers and working conditions become favorable for all parties.
Starbuck partners need to be inspired and engage in all activities that affects the company. This will mean that the leaders need to be ethical when sourcing funds and include the environment impacts of their decisions. The aim of this is to ensure that the company maintains high standards and quality of dealing with their investors and other stakeholders.
By going globally, the management should ensure that their presence should have a positive impact on the local neighborhood. This relates to offering employment opportunities to the people, which improves on their status quo.
References
Gamble, J. E., & Thompson, Jr., A. A. (2011). Essentials of Strategic Management. New York: McGraw-Hill Irvin.
Laudicina, P. A. (2010, April/May). Globalization Enters a New Era: What Course Will it Take. Corporate Finance Review, pp. 5,7.
Starbucks. (2011). Career Center. Retrieved from www.starbucks.com: <http://www.starbucks.com/career-center>
Starbucks. (2011). Company Profile. Retrieved from Starbucks: <http://assets.starbucks.com/assets/aboutuscompanyprofileq12011final13111.pdf>
Starbucks. (2011). Customer Service. Retrieved from www.starbucks.com: <http://www.starbucks.com/customer-service>
Starbucks. (2011). Starbucks to Expand Premium Single-Serve Coffee Offerings. Retrieved from Starbucks.com: <http://investor.starbucks.com/phoenix.zhtml?c=99518&p=irolnewsArticle&ID=152908   8&highlight=>
Thompson, A. A. & Shah, A. J. (2010). Case Study: Starbucks' Strategy and Internal Initiatives to Return to Profitable Growth.
Time is precious
don't waste it!
Plagiarism-free
guarantee
Privacy
guarantee
Secure
checkout
Money back
guarantee