Taxi Stakeholders, Essay Example
Pages: 8
Words: 2125
Essay
Part A
Stakeholders Analysis
Brown et al. 2016 define stakeholders as groups of people who may be organised or unorganised but have one interest in a given issue or plan (3). They may come from different positions in society and may have varying numbers of participants and diversity. Stakeholders can be categorised into primary and secondary groups. Primary stakeholders consist of entities that have legal or contractual obligations towards an operation. Secondary stakeholders are entities without any legal or contractual mandates on a process. Still, they are impacted directly or even indirectly by the activity (Khan, Skibniewski, and Cable 2019, p. 2). Identifying the stakeholders is vital since they are the bearers of the vision of an organisation or project, and they are the ones who determine its progress and success (Sancino 2017, p. 37). Analysing stakeholders informs the development and evaluations of alternatives in the implementation of a proposed project or business idea within an operation. London taxi stakeholders can be analysed using a power/interest matrix, as shown below.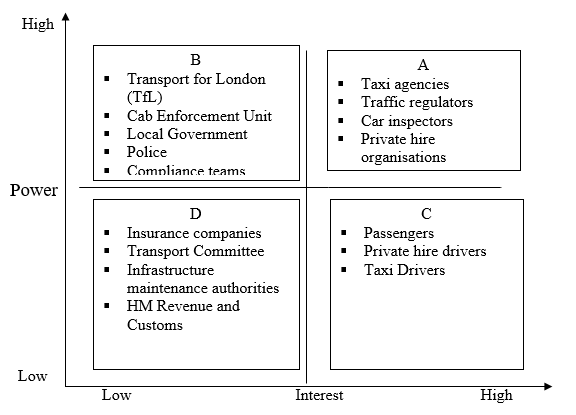 The London taxi stakeholders' power/interest matrix has four quadrants labelled 'A' through 'D.' Quadrant 'A' represents stakeholders with high power as well as interest. It means they are the most essential and should be given priority in meeting their needs in the taxi operation. Quadrant 'B' portrays stakeholders with high power but low interest. These stakeholders have significant influence over the process of taxis, but their importance is little. Quadrant 'C' represents low power high-interest stakeholders. Although they have minimal control over the operation of the London taxi, they have a high interest. The last quadrant, 'D,' represents stakeholders with both low interest and influence in the London taxi operation. They are the last to be considered in decisions and communication.
Recommendations for Uber
Uber has been accused of ignoring its employees' rights and their welfare. Such claims come from poor working conditions characterised by meagre pay and long working hours. For Uber to improve its management, heed their workers' interests and uphold their rights, they need to update their working charter and strategies to accommodate the rapidly changing technology in local and global markets (Coleman, Clarkson, and Cassim 2016, p.3). Refreshing the action plan is in tandem with the second suggestion by the Transport Committee to Tfl as a measure to improve the taxi industry (Transport Committee 2019, p. 6). In the new action plan, Uber should include the employees in developing clear goals and plans to achieve them. Inclusivity is requisite for enhancing workers' welfare by making them feel important and needed while closing the gap of inequality in the workplace (Kristyanto and Wahyudi 2017, p. 153). When workers feel appreciated, they readily commit to deliver their best (Al-Belushi and Khan 2017, p. 2).
Uber needs to change its management approach. It should adopt a leadership-oriented paradigm that encourages fairness in the workforce as well as creativity. As noted by Peck and Hogue, aspects of management alone are focused on the status quo and do not pay attention to the perception of employees (2018, p. 1). A leadership system advocates for the transformation and focuses more on ensuring the future of an organisation with the interests of the workers in mind (Lunenburg 2011, p. 141). Besides, adopting this system will create a much-needed atmosphere for more exceptional innovations and growth.
Application of Quality Gap Model
Little effort has been directed toward studying the quality of service and its improvement compared to the attention given to the production of goods and advancement in technology. Service accounts for the most significant percentage of world GDP. For instance, 70% of the world's GDP is obtained from taxi services (Franceschini and Mastrogiacomo 2018, p. 86). Also, 74 % of Europe's GDP is derived from services. As stipulated by the service gap model, the value of a standard service can be defined in terms of the level they align with the client's anticipation. Importantly, the model outlines five gaps. Gap 1entails the disparity between what the customers expect and the belief of the organisation's management on service outcome. It stems from an incorrect analysis of consumers' needs by the service provider. It may occur as a result of a few communications between workers in touch with the consumers and the managers. The situation is as a result of inadequate market study. Gap 2 revolves around the quality description of service and the management ideology. Moreover, discrepancy 3 arises between the specification of the quality of service and its delivery.
On the other hand, difference 4 involves the delivery of service and outside communications. The last gap arises from the disparity of experienced service and what was expected (LAPAAS 2019).  Concerning the case study, Uber's management observes clients' level of satisfaction directly through the mobile application. The app allows clients to rate their experience and the driver during a ride. Through this platform, the management conclusively analyses consumers' level of satisfaction in comparison to their expectations and the organisation's anticipation. Also, the firm directs all the communications to consumers directly through the app. This means that drivers cannot mislead the clients in determining fare, time, and location. For example, clients can track their rides and even know when the driver will arrive. Also, Uber uses credit cards instead of cash, as indicated in the case study. As such, gap one may not sufficiently apply to Uber. However, all the other differences, 2, 3, 4, and 5 are applicable since they involve the delivery of service. Notably, delivery of service relies heavily on the drivers, their experience, communications skills, satisfaction, and their perception of their work and the company they represent (LAPSAAS 2019). Given that the drivers complain a lot about long working hours, lack of rest days, insufficient aggregate pay, and neglect from the management, their interactions, and delivery of rides to customers may derive variance from what either the client or the administration expects. The administration should reconsider engaging the drivers to frequent training and in developing goals and fitting working schedules to overcome these gaps. Also, the management should strive to settle drivers' dissatisfactions by listening to their grievances and responding appropriately. Attaining drivers' happiness is vital in improving the delivery of quality service and closing the gaps existing in the process.
Factors Affecting Uber's Corporate Reputation
Poor Relationship between Drivers and the Management
The provided working conditions determine the relationship between employees and the managerial team. Uber drivers feel oppressed by the terms of work. They are charged 20-25% commission during start-up, and the commission may rise as high as 60%, as indicated in the case study. With this punitive commission, the drivers are forced to work for long hours and engage in more extended travels in an attempt to maintain their pay. Many are forced to adopt hard-living standards, including sleeping in their cars as they attempt to save time and money. This kind of working environment creates dissatisfaction, which in turn destroys drivers' attitudes toward the company and the job. Essentially, this is detrimental to the organisation since it negatively impacts the concept of internal marketing, where the workers may not readily identify with the firm or represent its right image to clients (Harris 2017, p. 107). Henceforth, Uber should focus on remedying its relationship with the drivers and provide a suitable working environment to prevent the situation from getting to a crisis level.
Quality of Service
The lack of harmony between drivers and Uber management may trickle down and negatively impact customer relations. In turn, this poses a significant threat to the quality of service offered, which in turn influences customer loyalty (Harris 2017, p. 95). Quality is dictated by the time, speed, and technique of delivering the service (Moore and Walley 2017, p. 65). Delaying to pick a client or to take them to their destination within the required time, coupled with how the drivers and the management communicate to them, are the key determiners of clients' satisfaction and the reputation they attribute to the organisation. Uber should ensure employees' rights are upheld and provide proper support to ensure the quality of service delivered.
Engagement with Competitors
It is evident from the case study that Uber has aggressive competition. The battle revolves around controlling the London taxi industry and gaining monopoly powers (Heathman 2020). Uber's competitors include Wheely, Ola, Kapten, Bolt, Viavan, Xoox, and others. These companies acquired their operational licences recently, while Uber has been in business since 2012. The competition is gaining momentum every day with offers ranging from luxury options to price cuts (Katwala 2019). Viavan offers a shared ride to clients in a bid to make it cheaper compared to Uber, which only allows single passengers. Wheely focuses predominantly on premium clients, whereas Uber serves both luxury and low-end travelers. Uber is disadvantaged by the legal dispute that has seen its licence put on probation, giving the competitors an upper hand and damaging Uber's reputation. Uber should adhere to all taxi regulations to avert its current standoff with the law and develop a fair competition system.
Part B
Mind Map Illustrating Building Long-Term Success
Building enduring success for an organisation does not exist as a single entity. It is an interaction of several concepts that work together to ensure long-term operation, profitability, and success. They are illustrated below.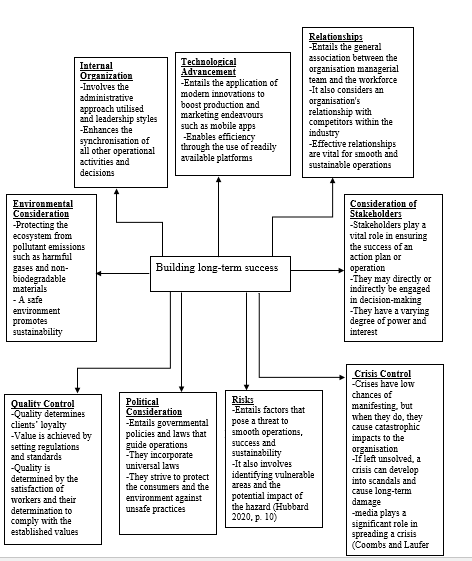 Part C
Every organisation strives to attain success and sustainability in its operation. Nevertheless, there must be consideration of all factors that contribute to long-term service. Uber has experience and a considerable market share. However, operating as a middleman endangers its performance and sustainability in the current era characterised by increasing competition and technological advancement. By working as a broker, Uber treads in a delicate position where it neglects its employees' welfare and suspends relevant laws appropriate for it to thrive in the London market. Notably, this position necessitated the suspension of Uber's licence to operate in the UK. Once the appeal period is over, and the organisation does not provide a strong case, it will cease its operations in Britain as per the law.
References
Al-Belushi, F., and Khan, F.R., 2017. Impact of monetary incentives on employee's motivation: Shinas college of technology, Oman-a case study. International Journal of Management, Innovation & Entrepreneurial Research EISSN, pp.2395-7662.
Brown, G., Strickland-Munro, J., Kobryn, H., and Moore, S.A., 2016. Stakeholder analysis for marine conservation planning using public participation GIS. Applied Geography, 67, pp.77-93.
Coleman, R., Clarkson, J., and Cassim, J., 2016. Design for inclusivity: A practical guide to accessible, innovative, and user-centered design. CRC Press.
Coombs, W.T., and Laufer, D., 2018. Global crisis management–current research and future directions. Journal of International Management, 24(3), pp.199-203.
Franceschini, F., and Mastrogiacomo, L., 2018. Service gap deployment: a framework to link quality gaps to service activities. International Journal of Services and Operations Management, 29(1), pp.85-99.
Harris, F., 2017. Reading 17: Internal marketing. In 'Building long-term success' by Hall, W., and Keynes, M., 2017. Reading Block 3: B207 Shaping business opportunities. The Open University. pp 107-117
Heathman, A., 2020. From Bolt To Ola: The Next-Generation Taxi Apps To Know. [online] Evening Standard. Available at: <https://www.standard.co.uk/tech/uber-app-alternatives-london-bolt-kapten-viavan-wheely-a4357906.html>.
Hubbard, D.W., 2020. The failure of risk management: Why it's broken and how to fix it. John Wiley & Sons.
Katwala, A., 2019. From Bolt To Kapten, Uber's London Rivals Are Plotting Its Downfall. [online] Wired.co.uk. Available at: <https://www.wired.co.uk/article/uber-alternatives-london-bolt-kapten>.
Khan, A.Z., Skibniewski, M., and Cable, JH, 2019. The Project Stakeholder Analysis Process. PM World Journal, Vol. VIII, Issue VIII.
Kristyanto, V.S., and Wahyudi, T., 2017, October. Human Capital Investment and Its Role in Encouraging Inclusivity in East Java. In Mulawarman International Conference on Economics and Business (MICEB 2017). Atlantis Press.
LAPAAS, 2019. Gap Model Of Service Quality(5 Gap Model). [online] Lapaas Digital Marketing Company and Institute. Available at: <https://lapaas.com/gap-model-of-service-quality/>.
Lunenburg, F. C., 2011. Reading 21: Leadership versus management – a key distinction – at least in theory in 'Building long-term success' by Hall, W., and Keynes, M., 2017. Reading Block 3: B207 Shaping business opportunities. The Open University pp 141-144
Moore, R., and Walley, P. 2017. Reading 11: The importance of quality. In 'Building long-term success' by Hall, W., and Keynes, M., 2017. Reading Block 3: B207 Shaping business opportunities. The Open University. Pp 65-64
Peck, J.A., and Hogue, M., 2018. Acting with the best of intentions… or not: A typology and model of impression management in leadership. The Leadership Quarterly, 29(1), pp.123-134.
Sancino, A., 2017. Reading 4: The politics of business and management. In 'Building long-term success' by Hall, W., and Keynes, M., 2017. Reading Block 3: B207 Shaping business opportunities. The Open University. Pp 34-45
Transport Committee, 2019. Raising the Bar Taxi and private hire services in London. Holding the Mayor to account and investigating issues that matter to Londoners. London Assembly
Time is precious
don't waste it!
Plagiarism-free
guarantee
Privacy
guarantee
Secure
checkout
Money back
guarantee