Back to School Offer
Get 20% of Your First Order amount back in Reward Credits!
Get 20% of Your First Orderback in Rewards
The Change and Culture, Research Paper Example
This Research Paper was written by one of our professional writers.
You are free to use it as an inspiration or a source for your own work.
Need a custom Research Paper written for you?
HIRE A WRITER!
Introduction
Organizations can change dramatically in terms of both structure and culture when involved with business mergers.  This paper examines one such case study in the context of a healthcare organization.  There are a number of different sociological theories that could be applied to the consequences of a Company merger. For example: (i) Conflict Theory | the concept of conflict over resources, (ii) Role Theory | the expectations of people in change situations, (iii) Social constructionism | how people and organization create their perceived reality, (iv) Integration Theory | understanding social behaviour at micro / macro analysis, (v) Structural functionalism | meeting individual biological needs.
Impact on culture – the new entity
Conflicts can arise in a merger when two organizational cultures collide and one dominant culture starts to take over the other.  This creates human resentment and alienation resulting in a power struggle in the respective organizations.  A good example being the recent General Motors and Daimler Benz merger. Two different cultures resulting in a human conflict between the American and German car manufacturing teams. Analysis can be conducted by looking at the respective mission, goals and objectives for each firm, completing comparative analysis and producing a revised version for the new firm that builds in a transition plan for resources to collaborate in identifying a new acceptable culture and identity.
Individuals do not always embrace a specific role identity in firms and even more so when the power broking of mergers take place.  Daimler Benz was really a Trojan horse to General Motors and they had roles for image purpose but hidden roles to change the shape and agenda of the new organization with the Daimler culture becoming dominant.  The CEO of Daimler demonstrated how he carried out his social role to the media and management team of General Motors whilst scheming to implement his dominant role over the new merged company.
Ritzer produced a sociological model that considered the sociological implications of integration. This from a macro and micro viewpoint. Extremely useful for analysis of mergers and acquisitions. The ability to take both an objective and subjective view from different perspectives.
Placing this into context with the Healthcare merger you might expect the following types of reaction taking place
Initial power struggle whilst the dominant force attempts to reassert control
Resistance from those being subjected to the dominant force
Alienation – mainly from the party that is being dominated
New Management and leadership styles being imposed
Conflicts – may result in non-cooperation or resistance movements
Storming, Forming and Norming
Forming – This is where we introduce all the team members
Storming –the group changes from the current state to the future state
Norming –the group reaches consensus on the future state process
Performing –the group is now settled in terms of understanding one another
Adjourning –the group now collaborates in a sharing environment
Management may take a number of combined actions in order to ensure that the newly formed combined staff work together harmoniously in order to provide quality care.
Obtaining the right leadership balance
Women are taking up an increasing percentage of senior administrative jobs in Healthcare and this promotes a number of challenges for them "Traversing the Balance Beam. The struggle for balance seems chronic as demands on women's time and attention increase. Although the experience of multiple roles has been shown to enhance managerial effectiveness and women's overall well-being, wearing many hats does create challenges."  (Centre for creative leadership, 2012)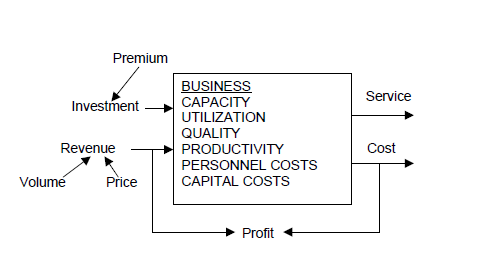 Areas of balance factors include:
Work / Life Balance – dedication to the job vs. home life
Controlling Stress / Anger – Maintaining a healthy leadership composure at work
Time Management – Maintaining planning and effective time management over work schedules
Rest and Relaxation – Means of "chilling out", Spa's, gym, exercise routines, holidays etc.
Mentors – Build mentorship relationships to help you succeed
Delegation – Effective delegation reduces your stress & inspires confidence in others
Technology – gain familiarity with computers, software and automated assists.
Inclusion of visionary leadership styles in the senior management.  These are not charismatic charmers of people but instead are determined inspirational leaders. They take control and lead by example building a culture of discipline and focused on the success of the Company.  They do not create a coercive or tyrannical regime but a meritorious organization built upon performance and recognition.  These people are self-determined and willing to go to extraordinary measures in order to fulfil their objectives.
Meg Ryan was the Ex CEO of E-Bay and a great example of a transactional leader.  Her style can be exemplified here in terms of the similar requirements for this healthcare organization.  Meg can best be described a leader that influences people as opposed to a coercive approach. She has the ability to persuade people to see her point of view by well-crafted and presented arguments. An astute visionary leader that not only sees the big picture but is extremely focused on the detail to achieve those objectives.  Meg is very much a conversationalist seeking out others points of view, making the cogs of the machine run smoothly without the over complication of management interventions or control. A management style of facilitation and getting the best qualities out of individuals by persuasion and influence in stewardship. What was somewhat unique about Meg was her ability to both inspire and coach others and thereby empower others towards the goals and objectives of the business. Whilst others aspire to the qualities Meg had them in abundance and equally is a strong character and astute decision maker.
There were no real communication issues here as the leadership team were quick to get the involvement of others in the organization and ensure that the fully participated wherever possible. The leadership team inspired and coached individuals making e-bay a fun place and rewarding environment in which to work. (Pillai, R. 2003)
The new organization
The illustration to the right provides a mechanistic view of a new healthcare administration system brought about by a merger.  Looking at this through this lens it is possible to see a logical degree of change brought about by a changing environment.  The main inputs being investment and revenue, whereas the main outputs are service provision and cost. These both leading to the determination of profit and the decision on the financial viability of the organization.  (Dooley, K. 2001).
The above illustration shows the main structure behind a modern healthcare organization.  It has a main driver in terms of achieving the overall objectives of the new firm. This is then split down into the four main components of (1) Controlling  (2) Planning (3) Organizing and (4) Actuating and motivating.  (Rigolosi, E.M. 2005).
Any organization can be said to contain two types of environment i.e. internal and external. The internal environment considers such aspects as technology, structure, employees etc. Managers will be highly influenced and react according to the composition of the organizational environment. The main thrust of organizational behavioural studies today is focused upon how the external forces of an external environment determine both the shape and structure of an organization. The organization is examined in the context of an organism that is constantly shifting and changing. ( Buchanan, D.A. 2008)
Sociological studies have differentiated between the organizational behavioural patterns of women and men in the workplace. Women have now taken on a much more proactive stance in the workplace, particularly in Management and Executive roles. They are now an active party of society in both the private and public sectors. Women do however often carry the burden of managing the needs and requirements of home and family life.  Men and women are viewed as bringing different qualities to management within an organization. Women are often faced with a conflict of choice i.e. the pressure and needs of the family at home versus the requirements for a challenging career. Many women have been forced to make this choice and give up promising careers. This often proves the most difficult where the man has a job that involves a large degree of travelling around and the women has a professional career like a Doctor or Lawyer.  Balancing the needs of home and family life can prove difficult unless the needs of the organization are balanced with social life considerations
References
Centre for creative leadership. (2012, 7 4). Women in leadership, navigating the narrow band and balance beam. Retrieved from Centre for creative leadership: http://www.ccl.org/leadership/podcast/transcriptWomenInLeadership.aspx
David A. Buchanan, A. H. (2008). Organizational Behaviour. New York: Prentice Hall.
Dooley, B. a. (2001). Mergers vs. E-Mergers: Structural change in healthcare systems. Emergence, Vol 3(4), 65-82.
Pillai, R. (2003). Teaching Leadership: Innovative Approaches for the 21st Century. New York: Information Age Publishing.
Rigolosi, E. L. (2005). Management And Leadership In Nursing And Health Care: An Experiential Approach. New York: Springer Publishing.
Stuck with your Research Paper?
Get in touch with one of our experts for instant help!
Messenger
Live chat
Time is precious
don't waste it!
Get instant essay
writing help!
It's a Free, No-Obligation Inquiry!
Plagiarism-free
guarantee
Privacy
guarantee
Secure
checkout
Money back
guarantee
Get a Free E-Book ($50 in value)
How To Write The Best Essay Ever!