Back to School Offer
Get 20% of Your First Order amount back in Reward Credits!
Get 20% of Your First Orderback in Rewards
The Osmoregulatory Abilities of Clam Worms, Lab Report Example
This Lab Report was written by one of our professional writers.
You are free to use it as an inspiration or a source for your own work.
Need a custom Lab Report written for you?
HIRE A WRITER!
Introduction
Nereis virens, clam worms, are common marine annelids, which are widespread in the intertidal zone of many beaches in New England (Pettibone). It is a large species that may reach almost a meter in length but is usually considerably smaller, around 20-40 cm.   It is a shallow-water, marine, benthic species occurring from the shoreline to depths of about 150 m. They are particularly abundant in the upper intertidal zone, where specimens may be found under rocks and in beds of mussels and algae. Most marine worms are in osmotic equilibrium with the sea in which they live; i.e., their body fluids are approximately isoosmotic to seawater (Pettibone). It is believed that on osmotic and ionic regulation, low salinity levels offer as a good osmoregulator and high salinity levels offer osmoconforms (Fletcher). Respiration is accomplished in a variety of ways.   In some, the general body surface is sufficient but gills are present in most polychaetes. Excretory organs are metanephridia or protonephridia and typically one pair is present in each segment. These osmoregulatory organs are best developed in freshwater and terrestrial species (Pettibone). Therefore it is hypothesized, the higher the salinity level, the more likely it is that the worms show osmoconformity; the lower the salinity the better the osmoregulatory.
Results
Graph 1: 50% Seawater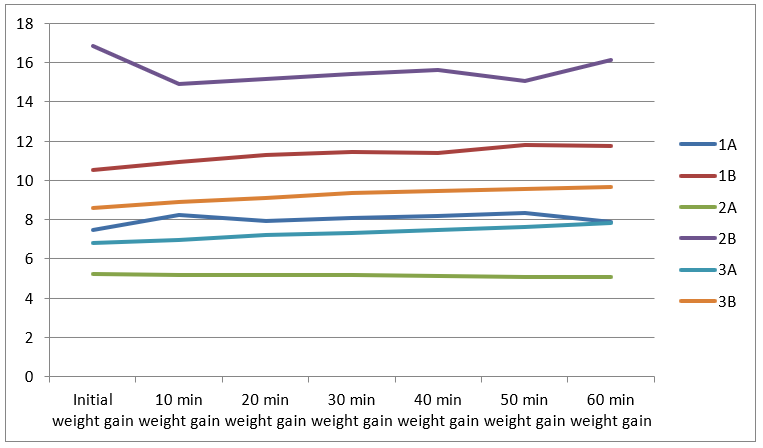 The worms were seen to increase slightly in weight throughout the sixty minutes in 50% seawater. The only two remarkable results were seen in 2B where the worm experienced a drop in weight and hydration, and resulted in weighing less than initial weight. 1A was seen to increase greatly in weight, then drop at 20mins.
Graph 2: 75% Seawater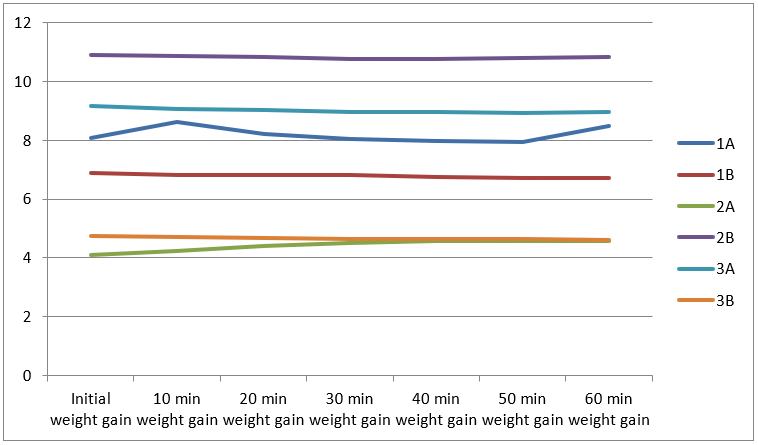 At 75% seawater, the worms' weight gain decreased and showed to be more stable. Only 2A showed a large difference from initial weight gain to 60 minutes. 1A deviated from the rest and increased in weight gain after 10 minutes, dropped at 20 minutes, and showed nearly the same mass at 60 minutes from the initial weight.
Graph 3: 100% Seawater
This graph shows the weight gain of the worms in a controlled environment with 100%. This shows a decrease in weight gain for the worms. Only 1A shows a different pattern where the worm is seen to gain weight at 10 minutes, yet decrease at 20 minutes. The weight at 60 minutes though proves to be consistent with the rest of the worms, which was a decrease from the initial weight.
Discussion
The results show that the worms were more likely to gain weight and increase in volume at salinity levels which are lower. This shows their capability for osmoregulation. The higher the salinity level showed that the worms had a more difficult time to do this, this was seen in the salinity levels of 75%. Whilst in higher salinity levels, the worms are seen to dehydrate, or lose weight from their initial mass. This was seen in higher salinity levels, which were at 100%. This confirms that the higher the salinity levels, the more likely the worms are to osmoconform, and the lower the salinity levels allows, or shows ability in the worms for osmoregulation.
The lab could better improve on this experiment by providing more diverse environments for the worms to be observed in. This would include much lower levels of salinity in the environments. Also, temperature for the environments should be controlled as this could contribute to the worm's osmoregulation and therefore affect the mass changes seen in the organization. If studies were to be more ambitious, variables which include temperature changes could be included and manipulated.
Works Cited
Fletcher, C.R., "Volume Regulation in Nereis Deversicolor – I. The Steady State", Comp. Biochem. Physiol 1973: 47.a. pp. 1199-1214.
Pettibone, M.H. , "Marine polychaete worms of the New England region" (Bull: Mus. Nat, 1963). pp. 227 :1-356.
Stuck with your Lab Report?
Get in touch with one of our experts for instant help!
Messenger
Live chat
Time is precious
don't waste it!
Get instant essay
writing help!
It's a Free, No-Obligation Inquiry!
Plagiarism-free
guarantee
Privacy
guarantee
Secure
checkout
Money back
guarantee
Get a Free E-Book ($50 in value)
How To Write The Best Essay Ever!