The Physiological Profile of Soccer Player, Lab Report Example
Introduction
Soccer is a sport that is played around the world by men, women, and children.  A soccer player's performance depends on a variety of factors to include mental, technical skill, biomechanical, and physiological.  This paper focuses on the physiological aspects of soccer.  Soccer is a physiologically demanding sport that requires players to be capable in terms of aerobic and anaerobic fitness, muscle strength, flexibility and quickness (Svensson and Drust, 2006)  The standards for fitness depend on the individual, their position or positions on the team, and the type of soccer style in which they use; however, each position usually requires quick, explosive reactions of jumping, kicking, changing position, and stopping.  Tolen (et al., 2005), indicates that the elite soccer players run an average of 10km during a 90 minute game.  In addition, it was indicated that they reach an anaerobic threshold at around 80-90% of the maximal heart rate.  Although soccer performance usually focuses on technique to improve a game, it is recommended that physical fitness is a focus as well.  It has been noted that the best teams are the teams that increase their physical capacities. (Tolen et al., 2005)
The required fitness for soccer players has been previously researched in order to compare the physical requirements and physiological responses of soccer players.  Dellal (et al., 2012) found that soccer players with specific conditions, such as 1 or 2 ball touch rules, induce an increase in the amount of high-intensity running, which significantly increases the aerobic system.  In addition, soccer match scenarios using the un-specified number of ball touch resulted in the same outcome. (Dellal et al., 2012)  Other research has been studied suggesting that in order to optimize the physiological requirements needed for soccer, soccer training should output the same type of physiological requirements that occur during the actual soccer games. (Dellal et al, 2011)  In addition, it was suggested that depending on the position of the player that different physical training sessions be implemented due to significant differences in the amount of sprinting, number of sprints, number of long kids, headers and tackles.  Other research directs training towards either interval training (IT) and continuous training (CT) in order to improve a soccer player's performance.  The purpose of this IT  training is to increase the aerobic endurance through high intensity workout followed by intervals of resting period; whereas CT  is continuous training without any type of resting intervals. (Koklu, 2012)  Traditional soccer practices used these types of trainings and included running drills without the soccer ball to increase the aerobic performance; however, results from Koklu (2012) study showed that traditional types of IT practices combine with small-sided games (using the ball) increase aerobic endurance in soccer players.  In addition, Haas (2009) found similar results with both types of training.  In another study, the effects of field endurance and technical tests were examined in 34 young soccer players at an average age of 13.  The authors compared different levels of small-sided games such as three vs. three players and six versus six players in ten games of four minutes in length.  The results of the study found that the three sided game had a significantly higher heart rate than the six sided game.  (Katis and Kellis, 2009)  Owen et al. (2011) also found similar results with altering small sided games within professional soccer training.  It was found that altering the small sided games resulted in a significantly higher technical and physical response.
Performance testing is important for soccer players and through previous research shows that specific types of training can result in increased soccer performance.  Testing physiological factors during and after soccer training is an important part to which types of training is needed or which types of training are working the best for the players and/or team.  Physiological testing allows the sports scientist to analyze different factors and provide individual profiles of soccer players along with their strengths and weaknesses.  Physiological testing for capacity, such as aerobic capacity, shows the requirement that is needed in order to keep up with the physical effort, in this case a soccer match.  Maximal oxygen uptake (VOT max) is the intensity of aerobic processes and illustrates the maximum oxygen capacity that an individual possesses at a given moment. (Rancovic, 2010)  Estimating the oxygen capacity of an individual athlete is therefore a factor to determine their physical endurance.  This type of information can be used by coaches to implement the correct type of practice in order to increase the player performance. Dellal (et al., 2012) suggests that these types of physiological studies can help coaches and players with physical training requirements.  The purpose of the current study, therefore, was to evaluate physiological factors in twenty soccer players and compare the aerobic capacity to weight and height. It is hypothesized that the aerobic capacity of individuals will increase with increasing height and decrease with  increasing weight.  It is predicted, therefore that aerobic capacity will have a positive correlation with height and a negative correlation with weight.
Results
Data for age, height, body mass and aerobic capacity was collected from 20 Soccer Players.  The average age of the soccer players was 20 years old.  (Table 1)  Table 1 indicates the averages and standard deviations for the data collected.  The average height of the soccer players was 175.95 cm and the average body mass was 75.68 kg.  In addition, the average aerobic capacity was 54.62 ml·min-1·kg-1.  The averages are also illustrated in Figure 1.  The standard deviation for age was low at 1.03.  The largest standard deviation was exhibited in body mass (8.90) and aerobic capacity (54.62).
The height and body mass of the soccer players sampled in the study were compared to the aerobic capacity of each individual. A Correlation Analysis was performed.  (Figure 2 and Figure 3)  In Figure 2, the aerobic capacity and height for each player is plotted.  The trend line slope increases.  In Figure 3, the aerobic capacity and weight for each player is plotted.  The trend line slope decreases. There was a positive correlation between height and aerobic capacity and a negative correlation between weight and aerobic capacity.
Table 1.  Data Collected from 20 Soccer Players (n=20).  Average and Standard Deviations for the Groups were conducted.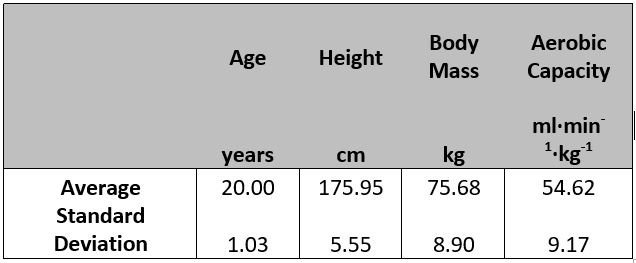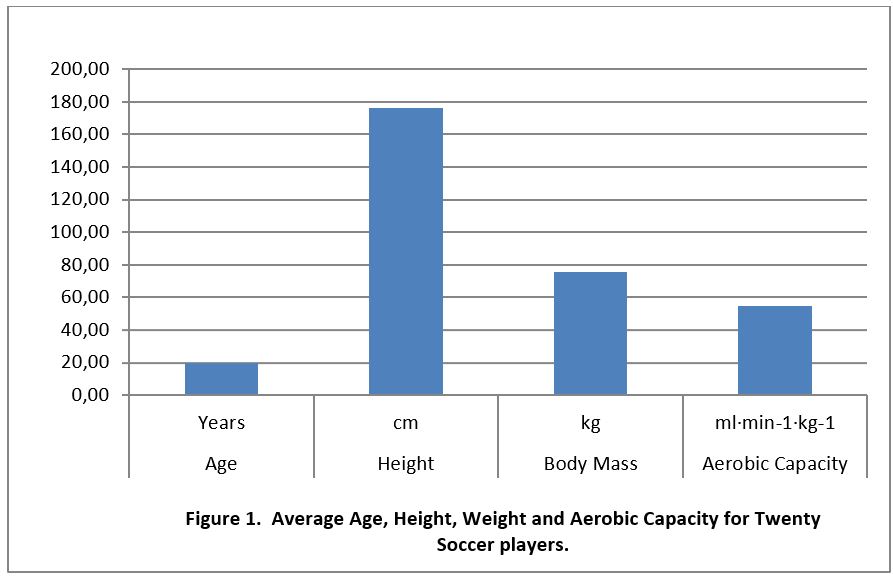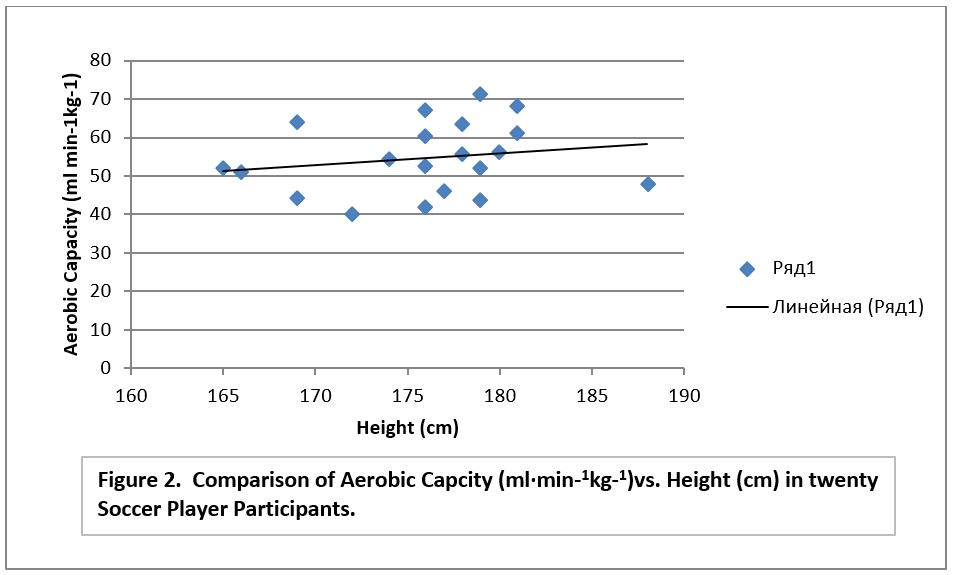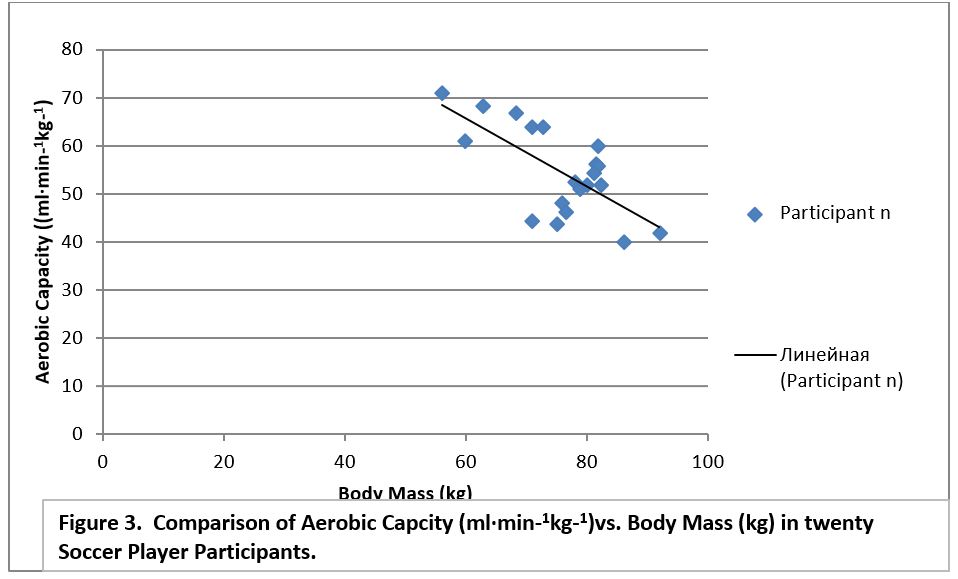 Discussion
The purpose of this study was to investigate different physical properties of soccer players and compare them to the physiological response of aerobic capacity. The physical capacity of athletes is an important factor to the success of athletes.  Aerobic capacity is the major type of physical capacity that is important for athletes.  In addition, aerobic capacity is an indicator of the physiological function oxygen transport throughout the body.  (Rancovic, 2012)  Therefore, low aerobic capacity can imply a decrease in the athlete's physical capacity.  Once recognized, sports trainers and coaches can evaluate the individual and determine what type of training needs to be done in order to increase the capacity.  It is known that aerobic capacity, itself, can be affected by physical factors of the player, such as height and weight.  The absolute value of aerobic capacity can be directly affected by body weight.  (Rancovic, 2012)
Determining the oxygen uptake is a direct measurement and can help estimate an athlete's physical capacity and offer insight into the training necessary.  For instance, decreased aerobic capacity could require the need for high levels of aerobic exercise.  This is especially important in soccer players.  If a soccer player is unable to perform aerobically and last throughout an entire game, their performance weakens.  The player with the greater aerobic endurance may get to the ball quicker or out run their component.  Therefore, coaches and trainers would want their athletes to have high aerobic capacities.
The results of this study show that there was a positive correlation between aerobic capacity and height and a negative correlation between aerobic capacity and weight.   As the height of individuals increased, the aerobic capacity increased as well.  As the weight of the individual increased, the aerobic capacity decreased.  The results of the study correlate with the hypothesis that there would be an increase in the aerobic capacity with increased height and a decrease with increased weight or body mass.  It makes sense that the aerobic capacity of a taller person would increase due to their physical size, the taller the person, perhaps the larger the lungs.  Larger lungs would indicate a larger aerobic factor.  Of course other factors come into play, such as age, weight, athleticism etc.  In regard to weight, it has been found that aerobic fitness is influenced by weight or fat.  For instance, if an individual weighing 100 kg with 25% of fat loses 10 kg, the fitness will improve from 4L/100 kg tp 4L/90kg.   It is also indicated that a combination of weight (fat) loss and training can improve fitness over 30%.  (Sharkey, 1997)
From these results, it can be indicated that weight is a key factor that can be manipulated in order to increase the aerobic capacity.  Since the results illustrate a negative correlation with aerobic capacity, it can be recommended that the team participate in a more aerobic based training to decrease weight and increase the aerobic capacity.  This also can allow the coach to compare the weight versus aerobic capacity of each player in order to ensure they are capable of playing at their specific position.  Previous research has shown that high intensity aerobic intervals are an effective way to increase aerobic endurance in soccer players.  (McMillan et al., 2005)  In addition, studies conducted by Dellal (et al., 2011) have found that decreasing the amount of ball touches per possession during training session should be decreased in order to increase the intensity of the training.
Other factors, such as age, blood pressure, running speed, and agility were not evaluated during this study; however, these factors should also be considered in evaluating the physiological responses to aerobic capacity.  Blood pressure may also influence the aerobic capacity and the amount of oxygen that is able to be carried throughout the body.  Additional research should be conducted with statistical analysis to compare any significant differences between blood pressure and aerobic output.  Since the standard deviation for age was one year, a significant difference in age was most likely not observed for this group.
Aerobic capacity is an important factor and can be useful for coaches in determining their training methods, as well as their selection of athletes for the team and position spots.  Incorporating high intensity aerobic training is recommended for soccer training as it can decrease body mass and increase aerobic capacity.
References
Svensson, M. and Drust, B.  (2005).  Testing soccer players.  Journal of Sports Sciences. 23(6): 601 – 618.
Dellal, A., Owen, A., Wong, D.P., Krustrup, P., van Exsel, M., Mallo, J.  (2012).  Human Movement Science. http://dx.doi.org/10.1016/j.humov.2011.08.013.
Dellal, A., Chamari, K., Owen, A., Wong, D. P., Lago-Penas, C., & Hill-Haas, S. (2011).
Influence of the technical instructions on the physiological and physical demands within small-sided soccer games. European Journal of Sport Science, 11, 353–359.
Stolen, T., Chamari, K., Castagnas, C., Wisloff, U. (2005)  Physiology of Soccer An Update. Sports Med. 35(6): 501-536.
Koklu, Y.  (2012).  A Comparison of Physiological Responses To Various Intermittent and Continuous Small-Sided Games in Young Soccer Players.  Journal of Human Kinetics. 31:89-96.
Katis, A. and Kellis, E.  (2009). Effects of small-sided games on physical conditioning and performance in young soccer players.  Journal of Sports Science and Medicine. Journal of Sports Science and Medicine. 8:374-380.
 McMillan K, Helgerud J, Macdonald R, Hoff J. Physiological adaptations to soccer specific endurance training in professional youth soccer players. Br J Sports Med 2005; 39: 273–277.
 Owen, A., Wong, D. P., McKenna, M., & Dellal, A. (2011). Heart rate responses and technical comparisons between small vs. large sided games in elite professional soccer. Journal of Strength Conditioning and Research, 25:2104–2110.
Rankovic, G., Mutavdzic, V., Toskic, D., Prelijevic, A., Docic, M., Nedin-Rankovic, G., Damjanovic, N.  (2010) Aerobic Capacity as an Indicator in Different Kinds of Sports.  Bosnian Journal of Basic Medical Sciences. 10(1):46-48.
Sharkey, B. 1997. Fitness and Work Capacity: Second Edition (NFES 1596). 9751 2814. Missoula, MT: U.S. Department of Agriculture, Forest Service, Missoula Technology and Development Center.
Time is precious
don't waste it!
Plagiarism-free
guarantee
Privacy
guarantee
Secure
checkout
Money back
guarantee