Theatre in Your Life, Essay Example
Pages: 4
Words: 1141
Essay
This Essay was written by one of our professional writers.

You are free to use it as an inspiration or a source for your own work.
The most remarkable difference I find between how I viewed theatre before the semester, and how I perceive it today, lies in a greatly heightened awareness of participation. In the past, I was typically inclined to let theatre "wash over me." Accustomed by movies, television, and video to passively take in what the experience had to offer, I essentially maintained a distance from it. More exactly, in these media, the theatre was responsible for doing all the work in my eyes. My role was to take in only as much as each presentation encouraged me to take, and even more challenging films were nonetheless obligated to provide me with whatever would render the experience worthwhile. Related to this, of course, is that my presence is meaningless to the art. The film will go on in precisely the same manner whether I am in the room or not, and this "theatre" both empowers the viewer and removes potent elements of what such an artistic experience should, or at least can, possess.
I have heard actors remark many times on why they prefer live theatre to work in films, and I would assume this preference was somehow connected to the greater artistic freedom they are allowed on stage. I still believe this is true, but I also realize that this freedom is only one facet of an extraordinary difference for them. It seems to me that the theatre performance is more enriching to the actor because the audience takes the artistic journey with them, and influences every moment of it. The obvious factors of overt reaction aside, there is an energy in the theater that exists nowhere else. Every second, a mutual interplay of response and performance creates an exponential reality, and this must be very exciting for the actor. Stage actors refer to their "third ear", always attuned to how the audience is responding, and this guides their work in ways they often do not expect. From my perspective, it means that my engaging in the experience is a very real element of what is occurring onstage. Films come to me; theatre compels me to give and go to it, and I contribute through this mysterious collaboration.
No single type of theatre intrigued me particularly, only because I saw how each has a different universe of sensations and ideas to draw me in. I feel that I better understand my responsibility regarding types of theatre, in that I must be in the right frame of mind to embrace each, or I hinder the potential of the experience. Shakespeare, for example, calls for a specific "readiness," if only because of the challenges of the poetry and the brilliance of it. With Much Ado About Nothing, for example, I found that I had to invest more of myself, and in a strangely open way. That is to say, in shutting out language concerns and ignoring difficulties in literal understanding, I was then able to let the poetry work its magic. Conversely, seeing Ghosts, my participation had a more intellectual aspect, even as emotional power grew through the play. The degree of intrigue, it seems to me, depends on just what type of participation the play itself demands.
This goes to another change in my thinking, in that I understand that levels of quality are not static in single plays. There are bad and good plays, of course, but I am more inclined to think now that many fall somewhere in between. Ghosts, for instance, struck me as labored and overly structured. It is not a great play, yet there are moments of greatness in it. Similarly, a play like Master Harold and the Boys presents another sort of challenge, in that I found I needed to ignore the socio/political elements of it to actually connect to it as a human story. I think this is an extraordinary feature of theatre that, as in life, brilliance can emerge from the ordinary, and I think I will be less inclined in the future to categorically dismiss most plays as either good or very bad. Even M Butterfly, which I found somewhat pretentious in its exaggerated appeal to a wider humanity, offered deeply touching moments.
I know I will be far more open to theatre, as I think I wish to explore Greek drama. Antigone revealed to me a raw, different kind of theatre, both primitive and poetic, and I would like to take in the grounding such plays provide. I believe experiencing classics of this era will hone my appreciation for good, modern drama, in that I will be able to trace the basic human themes all great plays address. Already, in the plays we have seen this semester, I note that certain issues are addressed in very different ways, as the element of love in Antigone is approached more obliquely, but just as fatalistically, in M Butterfly. This makes me curious as to how the ancient Greeks first explored all these themes when drama was beginning to evolve as we know it today.
I must confess that I am also attracted to the idea of being a part of a play's production. This is not due to a belief in talent I possess, but more a fascination with the entire process, and particularly in how an actor sustains a completely separate reality for two or more hours. I understand that the work of the production is critical, and often as important as the performances themselves; scenery and lighting earn major awards because, like the audience, they provide a necessary piece of the theatrical experience. Nonetheless, this does not hold my interest as the challenge of performing does. I think, if the opportunity presented itself, I would like to either take classes or perform a very minor role in a community production. Simply, I would like to know what the energy feels like from the other side. Whether or not I have the courage to try this remains to be seen, and I have too much respect for what theatre can be to casually try to enter this world.
Ultimately, I now know that theatre relies on a combination of elements that must be in place for greatness to happen: the play, the performances, the production, the audience, and the unique manner in which these forces merge, every time. Every play is its own world, and I imagine that even these worlds vary with each performance. What has changed is that I perceive myself now as one of those contributing elements, and this makes the experience all the more exciting to me. I cannot say that I am now devoted to the theatre, and will ignore film and television to pursue this more vital art form. I can say, however, that I will never again simply take my seat in a theatre and wait for the play to be handed to me.
Time is precious
don't waste it!
Get instant essay
writing help!
Plagiarism-free
guarantee
Privacy
guarantee
Secure
checkout
Money back
guarantee
Get a Free E-Book ($50 in value)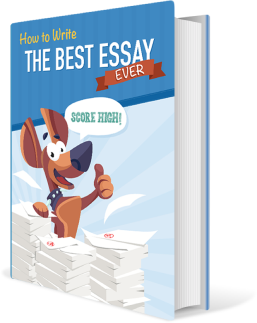 How To Write The Best Essay Ever!