Voxavox Translation Company, Research Paper Example
Translation industry or market involves providing service to those individuals who interact with television and mobile phones and who need translation of phrases from one language to another. This is necessitated by the fact that these clients are in foreign territories whose language they may not understand yet they have interests in the foreign land. In this noble task, technology is greatly employed to facilitate the translation and ensure effectiveness, this is adopted the following manner:
In the modern Machine translation, a machine is installed with software, usually several parallel phased software that can translate up to 5 random languages. It also has common phrases used in every day conversation.
The major players in the industry therefore include: The manufacturers of the translation machine, the developers of the software to be installed in the translation machine, the service provider or the company that provides the translation service. There are also the  vital customers, who seek the translation service, they vary in sex and ages, they are driven by the need to understand the foreign language and sometimes the culture of the foreign land in which they are interested in. The service provider also gets personnel to help him/her deliver the servise.
The market is built up by the existing need and therefore demand for a translation service by virtue of being in or being interested in a foreign land whose language and culture are not known to you, and on the other hand the service provider who is seeking to supply for the demanded need by acquiring the necessary resources (Translation machine, software and personnel), The supplier also seeks to market his/her services to those who may be having the same need and don't know how to meet it.
Having at least regular employees at present and at least four others who are working under contract, Voxavox is currently situated in Ontario Canada operating online to provide a translation service to users of interactive television and mobile phones who need phrase translations from one language to another. Providing services to clients needing translation as they deal with as they continue living in a foreign land. Catering to different individuals from E.U and Canada [and currently expanding to the US market soon as developments for expansion are completed]. Making translation procedures more effective, the Voxavox operation entails the need to embrace modern machine-based translation which imposes the voice-to-voice software program. In the discussion that follows herein, shall better represent a more definite source of understanding as to what market Voxavox is currently serving and how well is it faring in the industry.
The figure below illustrates how the translation process of the company exists: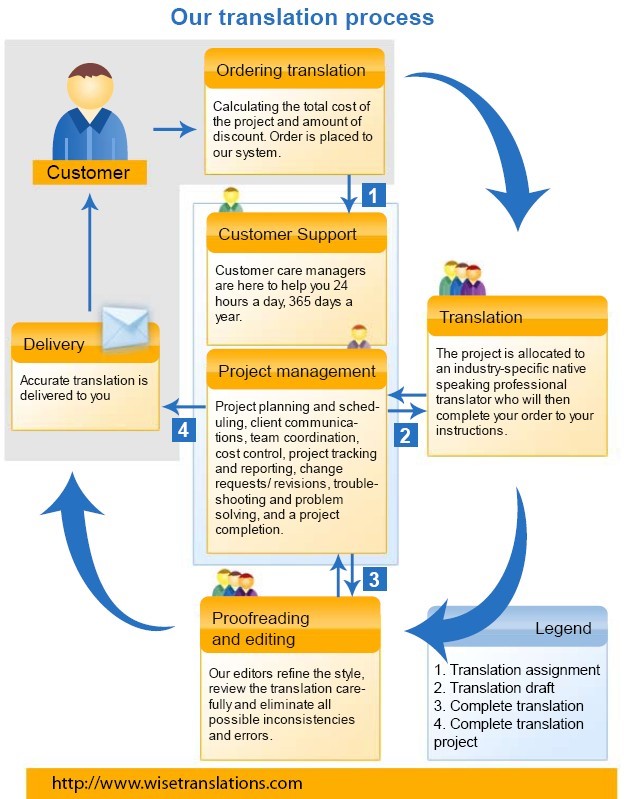 General Overview of Competition and Development
Translation market
The translation market, as illustrated by Romaine & Richardson (2009) was estimated in 2008 by Common Sense Advisory that using annual growth rate of 10.8%, the market will reach USD $ 25 billion over the next five years from $14.25 billion. The projected growth in 2008 recorded a drop of 7% (from 26.7% to 19.7%).  By 2006, the market is also expected to increase by 24% in the US. Expansion in online has attributed this growth. To this effect, translator businesses from US and Europe have spread out to Middle East and Asia hence growth. The figures below illustrate on the breakdown of revenue of the top language services which demonstrate that large LSPs mostly originate from Europe and US.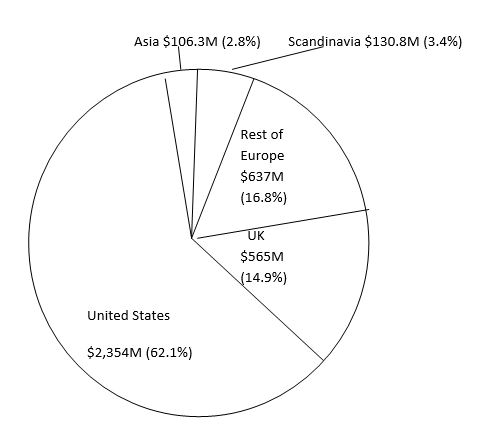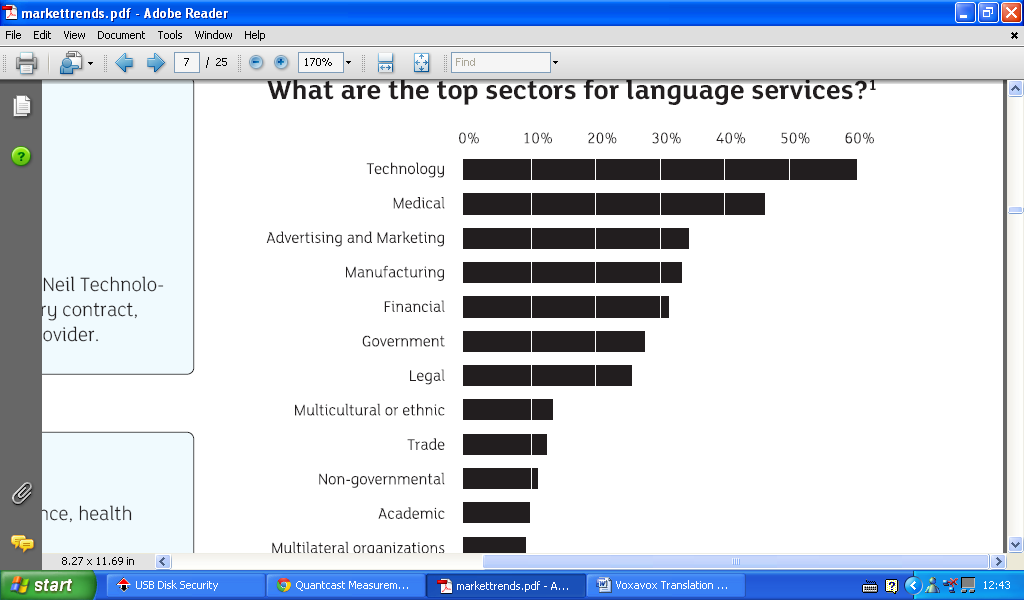 The following screen shot represents survey results in relation to age, gender, experience of a translator, use of machines to translate, types of translation jobs done, average word length, price per word and the percentage of work via agencies.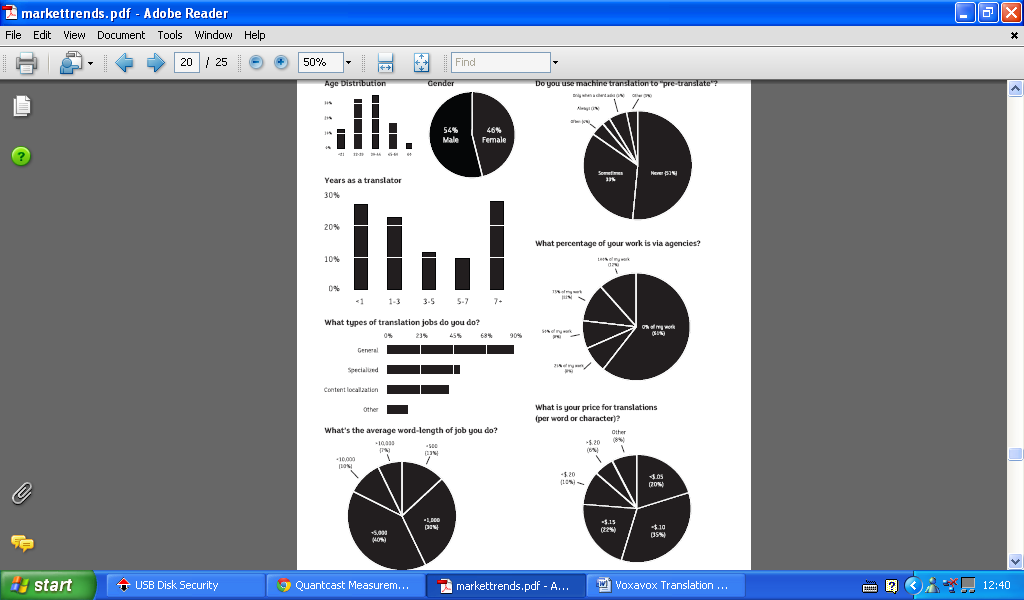 Current technology
Voxavox tries to provide assumptive measures of giving immigrants better chances of immersing themselves into a new culture with the use of good language operation. It provides a considerable support for different technologies that are present in the society today like interactive television and mobile applications that allow voice-to-voice translations. When it comes to marketing their services, the company uses several social marketing options as they try to reach to their target market ages.
Translation accuracy has also been achieved by the use of machine based translation which concentrates on text and literary based content. Through real-time voice to voice translations, it could be realized that the service provided by Voxavox is becoming a great source of support for many immigrants.
At present, MT or machine translation is the primary source operating software used by translating companies at present including that of Voxavox. The program has properly installed several parallel phrases from at least five languages which are random and common phrases utilized to define particular matters in everyday conversation. Accuracy of translation is further improved at present so as to give more relative translation on each phrase being responded to from a particular language to another. The dominant technology used for translation is therefore Vovavox technologies integrated with current translation technologies.
Most often than not, gaps in translation occur due to grammatical makeup and the difference it has on other languages. Understandably, it could be analyzed that with these gaps, accuracy becomes less evident hence making it hard for the actual meaning of a phrase to be properly transmitted from one language to another. The gaps in technology use fo translation are therefore vocabulary and expressions, language gaps and personal skill gaps.
Current Social Media
Some of the competitors of Voxavox include Lingo, Verbatim Solutions, Trusted Translations, MyGengo and ProTranslating.
Lingo24 (2011), a translation company based in the UK has a strong team that is spread out in areas such as Philippines, Romania, New Zealand, Ediburgh and London. Its diverse establishment enables it to give personalized services to the clients. Lingo24 uses Facebook, Twitter, LinkedIn, Youtube and Blog Rss feed to market and advertise itself. The use of internet marketing has enhanced Lingo24's exposure which has in turn maximized their profit. The image below is a screenshot of its homepage.
Verbatim Solution (2011) is another translation company that offers language translation services. Its headquarter offices are in USA while other international offices are in Czech Republic and Singapore. Some of the services offered by Verbatim include document translations, website translation, fast turnaround translation and software localization. It provides translation services in a hundred and twenty languages. Verbatim's main avenues for marketing include Twitter, Facebook, and LinkedIn. Below is a screenshot of its homepage.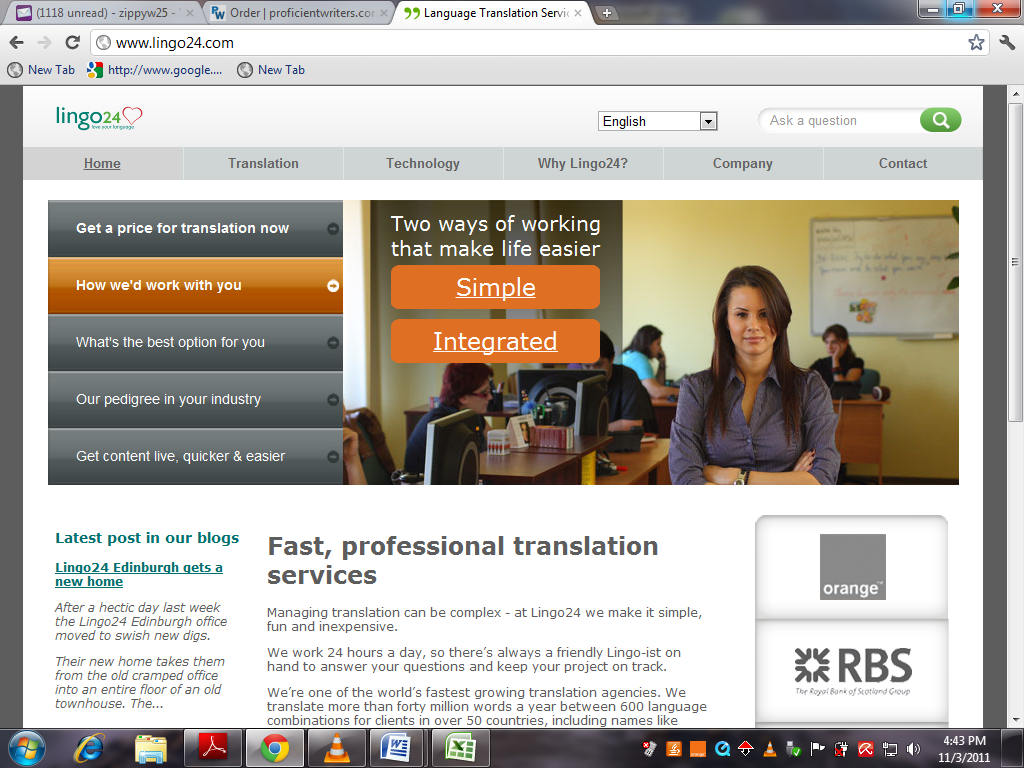 Trusted translation Inc. (2011), is a translation company founded in Washington D.C with about fifteen years experience in the language translation. It has different translation industries which include professional translation, legal, financial, business, manual, marketing, government, media, manufacturing, medical and technical translation. Trusted translation uses Facebook, Twitter, LinkedIn and Google+ as its main mode of advertisement.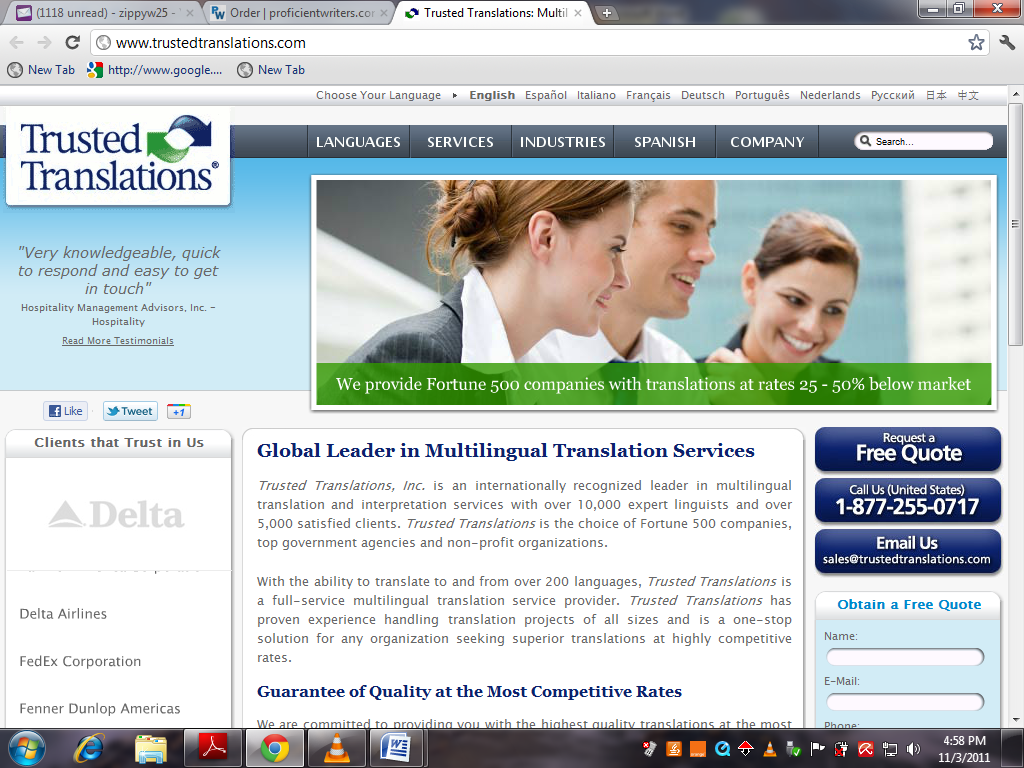 MyGengo Inc (2011), another translation company founded in 2008 has an elaborate mission which is 'to be the fastest way to go global through technology that is innovative'. "Gengo" is a word from Japanese which means "language". The company uses Twitter as its major social media strategy besides several press releases by Tech Crunch, Gigaom, Harvard business review, Inc, Asiajin, Mashable, Financial Times, Japan Pulse and Springwise. Its offices are in Japan, Califonia, Mountain View and Tokyo.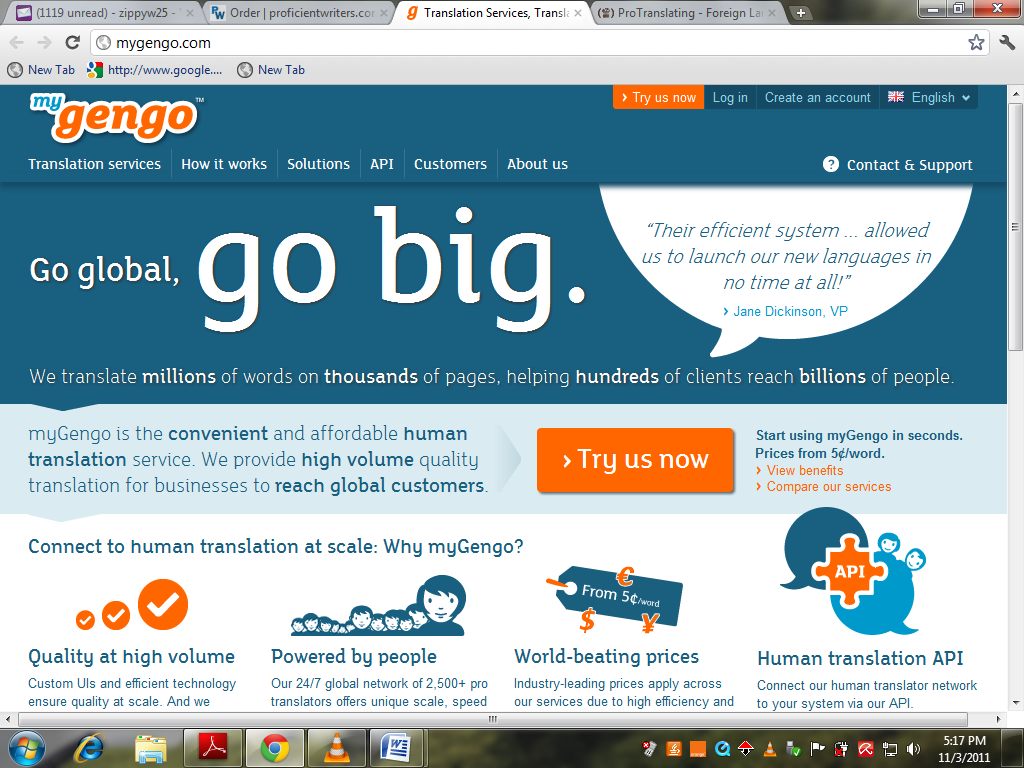 ProTranslating (2008) was founded by Luis A. de la Vega, Ph.D., and Maria Cristina de la Vega and has over thirty five years experience in providing solutions regarding language. Some of the services offered by ProTranslating include web translation, interpreting, localization, transcription and voice-overs, desktop publishing and language training. Unlike the companies discussed above, ProTranslating has no social media strategy to market itself. It is evident in its growth that even after being operational since 1973 it has not expanded to other countries. The figure below shows a screenshot of its homepage.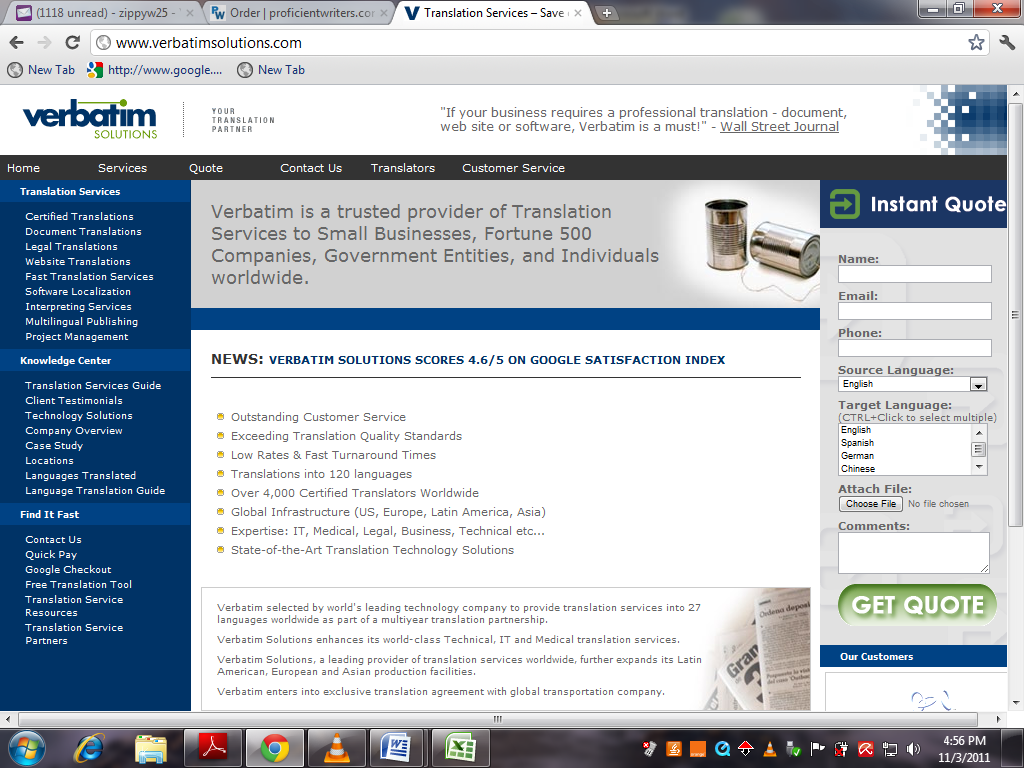 Translation uses
According to Quantcast (2011) there have been 111,921  hits into the site of www.voxavox.com (This is a translation company). This covers theages between 9yrs and 45 yrs with 54% being searches by ages between 35yrs and 45yrs.  As for the sexes, there seems to be a balance, though slightly skewed toward male as it stands at 56% male and 44% female. Most immigrants seek to immerse themselves into foreign speeking (usually english) countries. They are mainly Chinese, Koreans, Arabians and Japanese, they are mainly seeking to migrate to UK and US regions and slowly going outside of the said grid to sell out their services and products.
People who use translation services are mostly immigrants who try to make a definite change and adjustment to their new homelands through the use of proper language acquisition. Others simply need the service during a certain span of time for travel and study.
Among the most translated languages that the company assists their clients with include Korean and Chinese. Likely it could be analyzed that this particular language concentration is based upon the impact of number of immigrants coming from the Chinese and Korean races who are trying to get immersed into the English and Canadian culture. With at least 500 phrases and 27 categories, it is actually easy to provide the most effective and accurate translation needed. Most often than not Asian-to-English and vice versa are the ones that are mostly translated. The figure below shows the latest trend of languages being served in the industry.
There are certain free translation services, however, it could be noted that the basic pay for more accurate service applications such as that of Voxavox's product range from $0.99 to $15.00 depending on the kind of translation service desired. Providing an effective voice-to-voice operation to their clients, Voxavox translation services specifically create a more extensive manner of culture immersion for those needing the service.
Quantcast (2011) gives its measurement as shown below:
Conclusion    
With many people trying to transfer from one place to another and the mobile industry also developing along with the intense progress of globalization, it is expected that the business operation of Voxavox would be a great help for those hoping to immerse themselves in the new cultures they are trying to get into. Taking into consideration that they are the pioneer in the industry, it could be realized that they have all the opportunity they need to set the standard for other companies who are still to enter the industry. Making their system more effective and user-friendly as well as specifically vindictive of their use of modern technology, Voxavox would sure be able to create an organization that does not only provide what their clients need but would also respond to the demands they have as they try to manifest a specific course of pattern and culture in the industry that other business challengers would have to face later on. With this in concern, it could be realized how Voxavox's position is now at the best level placing it in a good status to set the path for others to follow in the industry.
References
Apptek (n.d.). Technology to bridge the gap. Retrieved on November 2, 2011 from http://www.apptek.com/index.php/products
Bar-Hillel, Yeheshua. ((Jerusalem Academic Press, 1964).  "A demonstration of the nonfeasibility of fully automatic high quality machine translation," in Language and Information: Selected essays on their theory and application), pp. 174–179.
Lingo24 (2011). Retrieved on November 3, 2011 from http://www.lingo24.com/company.html
MyGengo Inc (2011). Translation Services. Retrieved on November 3, 2011 from http://mygengo.com/translation-services/
Nagao, M. (1981). A Framework of a Mechanical Translation between Japanese and English by Analogy Principle, in Artificial and Human Intelligence, A. Elithorn and R. Banerji (eds.) North- Holland, pp. 173-180, 1984.
ProTranslating (2008). ProTranslating. Retrieved on November 3, 2011 from http://www.protranslating.com/index.html
Romaine, M. & Richardson, J. October 12, 2009. State of the Translation Industry. MyGengo Inc.
Quantcast (2011). Measurement. Retrieved on November 2, 2011 from http://www.quantcast.com/
Rennert (2007). Proven Expertise in International Market Research Translation. Retrieved on November 2, 2011 from http://www.rennert.com/translations/marketresearch.htm
Research Translations (n.d.) Pricing. Retrieved on November 2, 2011 from http://www.researchtranslations.com/pricing.html
Trusted translation Inc. (2011). Retrieved on November 2, 2011 from http://www.trustedtranslations.com/
U.S. Translation Company. Translation Services. Retrieved on November 2, 2011 from http://www.ustranslation.com/
Verbatim Solution (2011). Retrieved on November 2, 2011 from http://www.verbatimsolutions.com/services.php
Voxavox. (n.d.) Business Summary. Retrieved on November 2, 2011 from http://voxavox.com/invest.php
Time is precious
don't waste it!
Plagiarism-free
guarantee
Privacy
guarantee
Secure
checkout
Money back
guarantee