A Proposal for Berkshire Hathaway, Research Proposal Example
Abstract
As a leading consultant of Embry Investment Group (EIG), this proposal is presented in order to provide a fair and balanced recommendation of the option to acquire Berkshire Hathaway Inc. Berkshire Hathaway Inc. is a conglomerate enterprise made up of several large business units with its specialty and largest, Geico Insurance Company. This proposal will serve to provide an analysis of the background, future performance evaluation of the company, and analysis of the methodology of evaluation used. With the gathered information supported by data from the company, finance charts, and other resources an educated recommendation will be provided based on the information reported.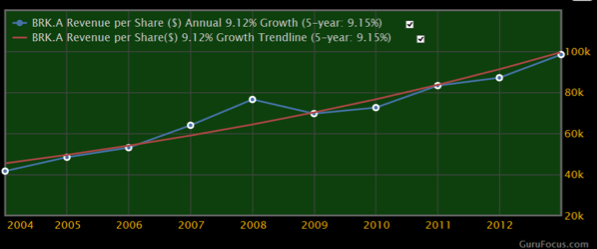 Executive Summary
Berkshire Hathaway started off as a New England textile company until the company was bought by entrepreneur and one of the wealthiest people in the world, Warren Buffet. Since his takeover, the company has transformed into a billion dollar industry serving in sectors including Insurance, Retail, and other services. This proposal will provide a thorough analysis of Berkshire Hathaway Inc. with the supported evidence of data presented from annual reports, business journals, reviewing business reports, and performance evaluation of financials from previous years.
This proposal will provide an analysis of the company's background, future performance, and evaluation of the business metrics. This proposal will determine what factors contribute to the success or failures of Berkshire Hathaway and the valuation of the company's financial performance. This proposal will accomplish the task in of providing business information on the unique company that is largely run and successfully aligned with the success of the CEO, Warren Buffet. In this proposal, it will provide information for future investors in the matter of investing, buying stock, or the opportunity to acquire the company.  This proposal will result in providing a clear recommendation for EIG to acquire the company or not.
An Overview of This Proposal
Berkshire Hathaway is the leading business enterprise of the successful entrepreneur and billionaire Warren Buffet. The multi-billion dollar company is made up of a diverse portfolio with business dealings in several markets. Their diversity in business units has driven their profits and revenues to outperform many of their closest competitors.  In this proposal, it is the job as a consultant to analyze and successfully provide a recommendation for EIG in order to acquire Berkshire Hathaway as part of its business acquisitions.
Background
Berkshire Hathaway Inc. is a diverse conglomerate that is globally known as a holding company. It is engaged in owning subsidiaries in a variety of business sectors, that "includes insurance (GEICO, General Re, Berkshire Hathaway), regulated gas and electric utilities (MidAmerican), railroads (Burlington Northern), manufactured housing (Clayton Homes), wholesale distribution (McLane), and many specialty finance, manufacturing, service, and retail companies."(Locker, Tayan, 2010) "The Company's principal operations are insurance business conducted nationwide on a primary basis, and worldwide on a reinsurance basis."(Bloomberg, 2012) Berkshire has other operations which include; aviation training, The Buffalo News, retail furniture businesses, shoe, candy, and rug manufacturing company. A recent acquisition of a $4.4 billion takeover of Wrigley, the U.S chewing gum company Wrigley, and a partnership with Mars Chocolate Company has help to further diversify its business activities and success.
In 1889, Berkshire Hathaway Inc. was originally incorporated as Berkshire Manufacturing Company back in Massachusetts. In 1929, other textile manufacturers merged into the corporation which was then known as Berkshire Fine Spinning Associates. In 1965, after years of poor performance due to factors that included the Great Depression, a partnership led by the investor Warren Buffet purchased enough stock to control the Berkshire Company. The company entered the insurance enterprise by first acquiring National Indemnity and National Fire and Marine Insurance Company for $8.5 million in 1967. In 1968, they made a significant move in taking over Sun Newspapers, later Cypress Insurance Company, and Buffalo Evening News.
Berkshire Hathaway has made several successful acquisitions that have quickly grown them to be one of the most successful companies, coupled with their impressive strategic plans headed by CEO, Warren Buffett. Their success was further marked when their Class A shares were sold for a record $96,000 in 2008. Their shares were, and still are the highest-priced shares on the New York Stock Exchange.
Assessment of Berkshire Hathaway Future Performance
Berkshire Hathaway biggest business endeavors are its insurance operations, led by GEICO. According to their annual report, "since 1995, when we obtained control, GEICO's share of the personal-auto market has grown from 2.5% to 9.7%. Premium volume meanwhile increased from $2.8 billion to $16.7 billion. Much more growth lies ahead."(Berkshire Hathaway, 2012) Berkshire earned more than $10 million from their five most profitable non-insurance companies in 2012. "Berkshire Hathaway is built on a model that involves extreme centralization of capital allocation decisions within corporate headquarters and extreme decentralization of operating decisions within individual business units."(Larker, Tayan, 2010)
(GuruFocus, 2013)
The performance of Berkshire Hathaway's stocks has been extraordinary. From 1965 to 2008, a share unit of Berkshire Hathaway has yielded an average return of 21.35%. Berkshire is valued at $270 Billion, with a profitability margin of 9.13%. Their revenue at the end of 2012 was $162. 46 Billion and their gross profit was $129.54 Billion. (Yahoo Finance, 2013) Berkshire has never spilt its shares since inception till date; this reflects its high performance. Berkshire's portfolio is made up of is made of highly diversified stocks which implies lower level of risk (volatility). The company reinvests all earnings that are taxed twice, instead of giving earnings back to the shareholders. In order to evaluate the business of Berkshire Hathaway must look at the company in the sum of three parts:
"A collection of insurance companies, including GEICO and General Re.
A substantial investment portfolio, which includes 12.7% of American Express (NYSE: AXP) and 8.6% of Coca-Cola (NYSE: KO).
A collection of businesses that Berkshire has bought over the years, most of which supply goods and services to the American market."(Fool,2013)
Berkshire had only two years of negative returns in forty four years, and these can be attributed to economic catastrophe in 2001 and the 2008 economic crisis. Another reason for Berkshire Hathaway's high returns is that it pays a minimal amount to corporate management unlike some other large corporations of its status. The CEO of a company to some extent influences its returns. As for the future their current big four investments have yielded an impressive return.
"Berkshire's "Big Four" investments – American Express, Coca-Cola, IBM and Wells Fargo – all had good years. Our ownership interest in each of these companies increased during the year. We purchased additional shares of Wells Fargo (our ownership now is 8.7% versus 7.6% at yearend 2011) and IBM (6.0% versus 5.5%). Meanwhile, stock repurchases at Coca-Cola and American Express raised our percentage ownership. Our equity in Coca-Cola grew from 8.8% to 8.9% and our interest at American Express from 13.0% to 13.7%." (Berkshire Hathaway, 2012)
Analysis methodology
The methodology in evaluating the future performance of Berkshire Hathaway Inc. is by using a combination of sources including, future performance charts, the words of the CEO, and a data analysis from past performances. The balance sheets and income statements reveal the financial performance of the company indicating the functional activities and the capability of the business to return on investment to the shareholders. In evaluating the company, the first step is looking at the company's portfolio. The company operates in a number of business units that help to keep Berkshire's profits in the billions.
Analysis of Berkshire Hathaway using S&P
The company's overall performance is regularly compared with other stocks and indexes such as the S&P 500, which the company uses as its standard for measuring their accomplishments and progress. The S&P500 is widely regarded as a leading indicator of US equities; it is a free float capitalization-weighted index of the stock prices of 500 foremost US companies. As at 2009, Berkshire Hathaway was the largest publicly traded US Company not included in the S&P500 as their shares which had never been split, were considered too illiquid to be included in the index. Berkshire has consistently outperformed S&P500 over the years. (Yahoo Finance, 2013)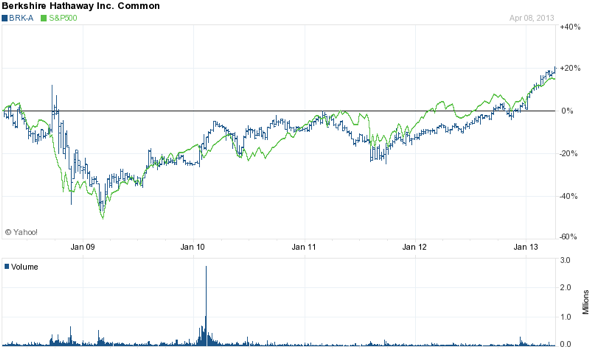 The table 1 shows the company's performance compared to S&P500. From 1965-2009, Berkshire had a compounded annual gain of 20.3% while S&P500 had 9.3%. Within the same period, Berkshire made an overall gain of 434,057 (%) as compared to S&P500 which was 5,430 (%). The graph shows sharp plunges in 2008-2009 where Berkshire and S&P500 recorded significantly low results. Analyst estimate at end of 2013 Berkshire's revenue will be $29.86 billion, and their growth will be 8.20%. (Yahoo Finance, 2013)
Conclusion
The evidence gathered from proposal suggests that Berkshire Hathaway has done tremendously well since the takeover from Warren Buffet. Taken into account a few bumps in the road in earlier years where the yields to investors and the revenue took hits due to changes in the economy. Many look for the success of the company with the Warren Buffet running the show, however, soon he will be leaving, and many wonder if the company's success will continue. Only time can tell but for now Berkshire Hathaway is still significantly getting returns higher than the market.
Recommendation
The long-term economic goal of Berkshire is to maximize its average annual rate of gain in intrinsic business value on a per-share basis. The preference would be to reach the goal by directly owning a diversified group of businesses that generate cash and consistently earn above-average returns on capital. From an evaluation of their future performances, "in 2012 our per-share investments increased 15.7% to $113,786, and our per-share pre-tax earnings from businesses other than insurance and investments also increased 15.7% to $8,085. (Berkshire Hathaway, 2012) This trend will continue over the course of years to come. It is the recommendation of acquiring the company based on financial data, evaluation methods in plotting the trends of the stock market, and past performances showing growth in their companies they have acquired and operate.
References
Berkshire Hathaway Inc. (2013). Bloomberg. Retrieved from http://www.bloomberg.com/quote/BRK%2FA:US/profile
Berkshire Hathaway Inc. (2013). Yahoo Finance. Retrieved from http://finance.yahoo.com/q/ks?s=BRK-A+Key+Statistics
Berkshire Hathaway Inc. (2013). Guru Focus. Retrieved from http://www.gurufocus.com/financials/BRK.A
To the Shareholders of Berkshire Hathaway Inc. (2013). Berkshire Hathaway. Retrieved from http://i.mktw.net/_newsimages/pdf/buffett_letter.pdf
Larker, David, Tayan, Brian. Berkshire Hathaway. The Role of Trust in Governance. (2010). Stanford University. Graduate School of Business. Retrieved from http://papers.ssrn.com/sol3/papers.cfm?abstract_id=1678033
Luckett, Tony. Why Buy Berkshire Hathaway? The Motley Fool. Retrieved from http://www.fool.com/investing/general/2011/01/04/why-buy-berkshire-hathaway.aspx
Buffett, W. 2008. Berkshire Hathaway's official website. Available from: http://www.berkshirehathaway.com/letters/2008ltr.pdf
S&P 500. (2009). Investopedia. Retrieved from: http://www.investopedia.com/terms/s/sp500.asp
Time is precious
don't waste it!
Plagiarism-free
guarantee
Privacy
guarantee
Secure
checkout
Money back
guarantee