American Families Issues, Research Paper Example
Introduction
The family is considered to be the most basic unit of organization in every single society. Each community is made up of several families that provide the foundation for morals, behavioral development as well as the general culture that the community recognizes to be acceptable. The establishment of families is believed to have a great impact on what type of society is being produced accordingly. What then happens when this basic unit of the society begins to crumble down? How much would it affect the society's growth and how would it specifically impact the upcoming generations of a particular community who become the product of those broken homes?
In the discussion that follows, a comprehensive presentation on what divorce is and how it is affecting one of the most advanced communities around the globe, America, shall be given specific attention to. From such discussion, it is expected that the basic causes of divorce and how they could be resolved to produce more meaningful relationship among couples who decide to marry would be given particular concern.
The Current Situation
The era of liberalization and freedom has paved the way to many aspects of modern human living. During the early 1970s towards the early 1980s, the world has become a witness to several innovations and changes that may have simply been a sense of an unimaginable dream for most of the previous generations before the said turn of time (Davies, et al, 1994). Relatively though, not everything during this point of time left a positive impact to the development of a modern society. One of the sad truths that it has left as a marking point is that of the rise of divorce among married partners [especially in America where the concept of liberalization has been embraced fully by the people].
According to recent studies, even though wedding planning and other industries related to creating wedding events still ranks at the top three most lucrative industries in the United States, at least 50% of these supposed marriages end up in divorce within the span of the next two to three years of spending their lives together. This could be further understood through the presentation of diagram noted herein: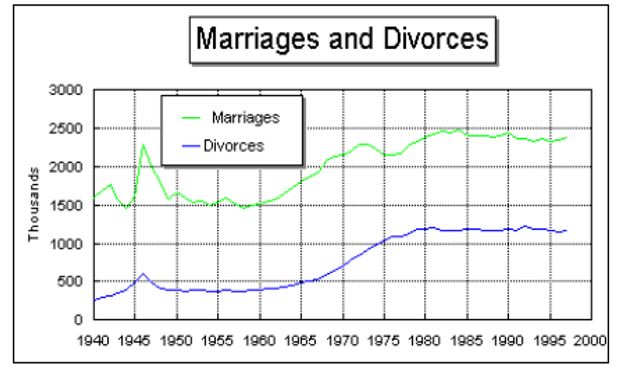 Observably, it could be noted from this graph how in every thousand of marriage, at least 500 of those contracts get dissolved through divorce.
Considerably, such rate of separation among newlyweds usually belong to the 30% of the said rate while the other 70% of the rate of divorces usually decide to go separate ways as they reach the 11th towards the 20th year of marriage (Davies, et al, 1994). The trend goes on. People who get married during this current era seemingly develop a sense of fear as to how their relationships are likely to end in a few years of spending time together. While it still remains an aim for most family experts to resolve the issue, the fact about divorce in US continues to create a distinct question as to why people who decide to wed themselves together often end up in separating their ways in the end, leaving their children off guard from the situations that they are in need to overcome in the future.
Roots of the Problem
The development of more promiscuous acts towards sexual relations has been considered to be one of the many reasons as to why the rate of divorcing individuals  have dramatically raised through the years. Nevertheless, there are also other contributing factors to the matter including that of the psychological bearing of both individuals supposedly involved in the partnership. Some of the said causes include the following:
Because of the rise of number of young couples getting together and engaging in promiscuous relationships, it is most often than not that the rate of unwanted pregnancies rise alongside the said phenomena. Some [or at least 67% of these young couples] see marriage as a relative solution to the matter. They think that if they decide to get wed, they would be able to form a family, and likely still be able to fix the supposed 'mess' that they have already made. Wanting to give a better future to their upcoming child, they try to form a family without the necessary skills or knowledge that they need to be able to withstand the pressures of familial responsibilities and retaining spousal connection through a long period of time (Jolivet, 2011). As a result, when pressures arise, most of these marriages fail to face reality simply ending up into breakage.
Wrong perception about the realities of marriage
Some still view being married to the right person at the right time to be some sort of fairy tale. Some try to avoid all the snare of early parenthood to be able to seek for the right person to share their lives with. They envision such connection to be long lasting while not anticipating the ups and downs of such a relationship.
Too much pressure on parenting responsibilities
Other couples become too focused on their responsibilities of feeding and providing for the family. When the children come, they become disillusioned as to how or if there is still a valuable basis on the way they establish better relationships with their spouses. Wanting to give their children the best, and likely bring their families into better financial freedom, many parents usually lose track of their spousal responsibilities this loosening the ties with their partners (Phillips, 1991). This then results to lesser time given to their mate which affects how each other provide specific attention to the needs of each individual as part of the marriage.
The issue of 'he said'- 'she said' continues to plague most marriages today. Two different people with separate behavioral patterns put together would of course cause commotion and disagreements along the way. The dating period is never the same in comparison with the point of being married as couples (Phillips, 1991). The need to adjust to the other's position is always a helpful course to take, however, because of being focused on one's own ideas, opinions and specific standards, one or both of the said partners often simply choose to part ways than try to create a bridge that connects them to their partner.
Setting the wrong priorities for the couple and for the family
What is most important for developing a better family? Some couples find it hard to set their priorities straight. Usually, the most important elements of marriage get to be the ones to be disregarded first. Time, attention and connection between the couples become neglected along the way until the time when the partners grow apart from each other finding it easier to live their lives apart.
Relatively, the issues pointed out herein involve a commotion between the two people who are put into marriage. Raising a family is no easy task. However, it is not an excuse for people involved in the process to simply lose track of the more important things in their lives that they ought to give attention to. The selfish, and most often than not, the self-centered attitude of couples often lead them to specifically destructive conditions of relationship between each other which causes them to lose interest on each other.
Children of Divorce
Children are likely considered the victims of the process. Having to endure a long time of trials between them and their parents, these young individuals become specifically involved in the hostile environment of two grown individuals fighting for their supposed right to freedom and liberty. Such condition specifically delineates the behavior of the children not only towards their parents and other family members but towards their peers as well. Although divorce has actually become a common way of living in America already, it could not be denied that the pressures it provides are still real and affective especially when it comes to the way that the children's needs are dealt with (Phillips, 1991).
When it comes to deciding who gets custody, children are often subjected to seeing how their parents either accept or deny the responsibility they have over the young ones. Feeling unwanted and specifically broken, these children usually undergo points of depression and are often prone to experiencing desperation over points of dismay and the involvement they may have when it comes to dealing with issues of attachment with either of their parents.
Some children who are subjected to joint custody often are given the chance to live with their mother and their father separately during a specific time of the week or the month [according to what has been agreed upon]. Most likely, it could be understood that such condition is likely confusing especially for these young individuals. While it might seem exciting for some, some of the children experience a point of confusion that going back and forth from their parents' homes becomes a regular drag that they simply do not have a choice but to follow through.
What Needs to be Done
There are two practical ways on dealing with divorce and lessening its impact among young children. One is the better development of moral foundation of marriage and second is the improvement on how couples are assisted to see what they ought to expect in a marriage. There is nothing easy when it comes to getting into a commitment such as marriage. People getting into it are often noted as 'brave' at times even 'courageous'. Relatively, love for each other is not enough to sustain marriage. Understanding and concern for each other are two among the more important elements that make up such a connection. People being put together are supposed to know how and what to adjust to. Given such precautionary expectations, couples who are to be married ought to be given the capacity to withstand family-pressures and make their way around the situation that they are undergoing.
Dealing with partner issues should be considered normal but should not be taken lightly. This is true especially when there are already children involved. Other members of the family [parents or other siblings of the couples] need to know their place in the relationship (Strong, et al, 2011). They ought to know how to give support and not simply meddle with the issues at hand. Overall, it could be considered that the condition of developing stronger marriages relies on the cooperative way of existing with each other alongside the family members who are involved in the partnership.
Conclusion
Strengthening family ties calls for an overall consideration on the different situations that families undergo. Parents, being the primary foundation of the families ought to be well taught on how to handle their responsibilities as parents and as mate to their partners. Retaining an open communication line between the said individuals ought to be given specific attention to and government agencies dedicated to arranging orientation for couples who are to be wed ought to outline the most practical ways on how marriages could be kept strong with the use of open and strategic way of communicating between each other. This way, more families would be saved and more children could be assisted to undergo better process of growth and personal development.
Marriages are supposed to keep families intact and not break them apart. People who are involved in the contract of remaining together should be helped accordingly. Realizing the incapacity of each person to remain as strong as needed especially in times when pressure comes in, parents or married couples need to know how and when to ask for help. Doing so shall subject them to better ways of being able to function as they are expected to do so. Being parents and being mates, married partners need to see their responsibilities and their roles in the family with a balanced understanding of what they are supposed to do. Considering the way they handle the different pressures that life presents should provide them a stronger foundation of knowing when to balance their attention accordingly to what they are expected to do as members and as the primary pillars establishing the family connection. Thinking of the welfare of their children, parents need to be taught and assisted in seeing how they should deal with the twists and turns of their relationship with their mates. True, divorce may have become a common scenario, but this should not indicate that it should be simply accepted as it is, giving attention to it and its solution should still be given attention to.
Works Cited
Davies, P. T. & Cummings E. M. (1994). Marital Conflict and Child Adjustment: An Emotional Security Hypothesis. American Psychological Association Psychological Bulletin, 116, 387-411.
Jolivet, K. R. (2011). The Psychosocial Impact of Divorce on Children: What is a Family Lawyer to Do? American Journal of Family Law, 175-181. Retrieved on March 13, 2012
Phillips, Roderick (1991). Untying the knot: a short history of divorce. Cambridge, UK: Cambridge University Press.
Strong, B., DeVault C., & Cohen T. F. (2011). The Marriage and Family Experience: Intimate Relationships in a Changing Society. Belmont, CA: Wadsworth Cengage Learning.
Time is precious
don't waste it!
Plagiarism-free
guarantee
Privacy
guarantee
Secure
checkout
Money back
guarantee