Awareness of Academic Integrity, Essay Example
Pages: 6
Words: 1732
Essay
This Essay was written by one of our professional writers.

You are free to use it as an inspiration or a source for your own work.
In our days the problem of academic integrity is a sore point in all universities and colleges of the country. Different measures are taken to make students do their work themselves, without cheating. The most popular way of fighting against dishonesty is various kinds of penalty from bad marks to expulsion. In my opinion, the measures like these may make students more inventive in their attempts to accomplish difficult tasks in the easiest way. So, they start searching more sophisticated means of cheating.
The key problem is that students do not see any benefits of being honest. It seems to be the need of the administration to make the educative process as hard as possible and nothing more. So, in my opinion, the most efficient way to instill academic integrity into our universities and colleges is to make students understand the positive effect of integrity.
Academic integrity for me is first of all being honest to yourself. It is quite understandable that while today the contest in all the areas of our life appears to become more severe and people are forced to strive for being the winners of all kinds of competitions, it seems easier to copy information or ask somebody for help, rather than do it by oneself. It can help in achieving success in some particular situations. But the thing is that very often inability to complete tasks without exterior help is explained by the lack of concentration, lack of knowledge or even laziness. These are the qualities that won't contribute to one's success in the future career. Just on the contrary, they will hinder it.
Being honest while obtaining higher education can help students develop such skills, as ability to concentrate, apportion time, define priorities and search and process information in a proper way. These are the very properties one should possess after graduating university, in case he or she wants to get a good job. Moreover, academic integrity enables universities to serve their main function – provide students with knowledge, which becomes impossible, in case students do not complete tasks themselves. So, having read lots of literary sources and having chosen and processing it in an appropriate way, one learns to orientate in the scientific area which is necessary for his future profession.
To add, integrity means being ethical to the authors of the works students are using. It is extremely important to mention whose work you are citing, otherwise you will be thought to deliver someone else's ideas for your own. Moreover, referring to the original text in a proper way you not only abide by the law of the intellectual property, but also let those reading your work know what literary source to turn to for further information on the covered issue. It makes the process of learning easier and more structured.
It is pity that today universities are mostly viewed as the sources of getting higher national diplomas, but not the knowledge. It seems to many students that they can easily accomplish all the tasks they are given by copying information from the Internet or asking someone to do it for them. All this is done to get higher education and then a good job. Few students think that it is impossible, if there is not enough experience in working with information. Absurd is also that today students pay someone for doing academic work for them in order tomorrow to be paid for their work, instead of learning today in order to make a really good career.
Academic integrity in universities is important also, because it helps to provide high standards of education and fair evaluation of students' knowledge. When all the students are known to be on equal terms it is easier to build an effective educational system and be sure that all the students will accomplish the tasks the way it is required. Moreover, as any other public institutions, universities should abide by the universal laws. Among them there is illegality of plagiarism.
It is quite understandable that in order to reinforce academic integrity, one should take particular measures. So, it is a well-known fact that one must give credit whenever one uses another person's ideas, opinions, theories, facts, statistics, graphs, drawings, etc. However few people are aware of the importance of being academically honest, which is why much depends upon the educators. First of all, there should be enough literature on this point which not only explains the necessity of respectable attitude to other people's work, but also learns what student should do to refer to the original literary sources in a proper way, that is how to quote and paraphrase other people's ideas. A good example here may be the work "How to Prepare Citations, Avoid Plagiarism, and Achieve Real Academic Success" by Charles Lipson. In his book the author describes key principles of academic integrity and demonstrates in what way they influence the work of colleges and universities. Moreover, he teaches how to read effectively and determine what pieces of the work should be cited. Finally, he gives detailed instructions on how to paraphrase and cite correctly. Thus, the books like the one by Charles Lipson should be obligatory for reading. Besides, lectures and seminars on the problem of plagiarism in universities and colleges would be of high importance, as all students have to know what counts as academic dishonesty.
To add, the professor should take measures to minimize the opportunities for cheating and tell students that he or she will not put up with dishonesty, so than students know about measures that will be taken in case of cheating.
It should be emphasized that often academic punishment for dishonesty seems inevitable. To get a higher national diploma one should demonstrate not only the knowledge on one particular area of science, but also interest in learning and readiness to obtain additional skills on one's own. Moreover, one should show respect for intellectual properties of his or her colleagues and ability to cooperate with them in study and research work. If the student is not honest in his or her study: copies information or turns to others for help, it means that he or she fails to meet the requirements of the university or college, which imminently results in bad marks or expulsion. The instructor may also require extra work before the course can be completed or the student may get an official reprimand, which will be recorded as a note in the student's file.  So, all the students should be informed about the consequences plagiarism may lead to.
Although the main role of the introduction of academic integrity into the process of getting higher education belongs to the educators, the students should also participate in it. Awareness of the fact that being honest in completing tasks may be helpful in future career should be popularized among course mates. In addition, students should demonstrate their reluctance to be involved into dishonest collaboration with others in order to be a good example of academic integrity.
Academic dishonesty comprises several aspects. First, it is cheating and using the unauthorized material on examinations. With the help of tests professors mean to make sure that students know the material. Cheating in this case leads to inappropriate evaluation of a student's academic performance or achievement. There are exceptions when the professor specifies on tests some books or notes which are to be used as complement the test paper. In all other cases no books, calculators, or other electronic devices must be consulted. Besides, the task should be completed by the student alone, without exterior help.
Second, academic dishonesty includes plagiarism – copying words without indication that they are a direct quotation. It may be also improper paraphrasing when the student changes some words of the statement, in fact leaving the author's statement unchanged one or expressing other's ideas in your own words without referring to the original source.
The next kind of academic dishonesty is presenting other students ideas as your own. Sometimes it is specified by the professor that students should carry out some tasks in pairs or in groups, but it does not mean using other's work as your own. Proper collaboration suggests mutual exchange by the ideas and bringing them to a common result that implies that all the students understand the problem discussed in their own way and, thus, express their understanding in their own words.
Another form of academic dishonesty may be submitting the same paper for different courses. The reason why it is not permitted might be that the student is expected to spend some time on individual study and in case he or she copies one assignment for several classes means that the student failed to improve his or her knowledge or experience in some particular area.
There are several factors that may influence academic dishonesty. They may be grouped into three categories: personal, situational and social factors. To the personal factors one may attribute particular personal qualities that influence the student's decision: to cheat or not to cheat. Some people were brought up in such a way that they simply feel ashamed to deceive other people or consider it reproachful. On the contrary, there are people who find it an ordinary thing to reach their goals by all means. So, they do not feel confused cheating, to say more, they encourage this. Sometimes those who are unable to apportion their tome do not have enough time to complete the task and have to turn for help. As for situational factors, the may include competition, unfair attitudes of professor to some students. Sometimes students are forced to get good marks by their parents and unable to keep up with academic program choose the easiest way out. In addition, the conditions of the course may be so demanding that students being sure that they are likely to fail prefer to secure themselves by cheating. If the punishment for academic dishonesty is not strict enough, it may lead to the situation when students decide to cheat being sure of their unpunishability. Again, general opinion that one should have excellent academic performance and competition make students use dishonest methods of getting good marks. These are social factors. However, the most frequent reason for academic dishonesty is the habit of striving for good marks that was instilled into us since school years.
To conclude, academic integrity is an important part in the process of getting higher education because it enables to provide students with effective and fair learning.
Time is precious
don't waste it!
Get instant essay
writing help!
Plagiarism-free
guarantee
Privacy
guarantee
Secure
checkout
Money back
guarantee
Get a Free E-Book ($50 in value)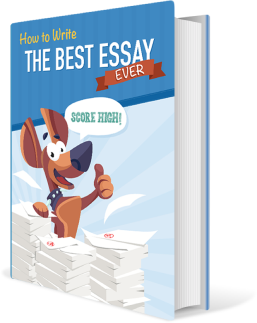 How To Write The Best Essay Ever!