Innovations in Education and Teaching International, Annotated Bibliography Example
This Annotated Bibliography was written by one of our professional writers.

You are free to use it as an inspiration or a source for your own work.
Wisker, Gina. "Innovations in Education and Teaching International." Articulate – Academic Writing, Refereeing Editing and Publishing Our Work in Learning, Teaching and Educational Development. 4th ed. Vol. 50. Rout Edge. 344-356. Print.
The article titled Articulate – Academic Writing, Refereeing Editing and Publishing Our Work in Learning, Teaching and Educational Development—written by author Gina Wisker— is a from an academic journal in the United Kingdom which surrounds the fundamentals of writing. Many elements of writing covered in this article are essential in the rules of writing and grammar.
Wisker makes her points in educational development clear through her contributed knowledge of academic writing. Specific interpretations may vary from reader to reader but based on the content of the article, a general interpretation would be that the importance of proper academic writing in this age of education and it needs to be passed down to all students.
Authors, Various. "Encouraging Personal Voice Through Writing." Ohio Journal of English Language Arts (2006): 1-83. Print.
The article titled Encouraging Personal Voice Through Writing —written by various authors—is primarily a collection of journal articles based on the fundamentals of integrating one's personal voice through practices in writing. There are various authors throughout this journal article that all contribute in different ways the best methods to properly voice your educational teachings through writing.
The articles found within this academic journal achieves many effects that are mostly educational and informative. Different elements of the educational concerns are presented in the collections of journal articles about how writing is an essential way to voice one's opinion. The authors do a fine job of informing the audience about the interpretations of educational voice writing and how they correlate with each other based on on-going academic factors. Although all of the authors in this collection of academic journal articles contribute to the main topic in a variety of ways, they all appear to maintain consistency by being closely related to the same field of voice writing.
This text might affect others in different ways all depending on their academic standing, pre-meditated knowledge of how voice writing should be practiced.
Al Sharouf, Hussain. "A Novel Framework for Teaching Academic Writing." Gulf University for Science and Technology, Kuwait: 484–507. Print.
The article titled A Novel Framework for Teaching Academic Writing—written by author Al Sharouf, Hussain—is a unique academic journal article that covers the factors and criteria for a frame work for anybody who has an interest in the teaching of academic writing.
A specific technique that Al Sharouf integrated in his writing was the use of historical information in the development of his story. This was used to inform his audience on the issues and impacts various literature reviews. He then imposed elements of his personal perspectives to suggest reasons for the importance of addressing these contributions of writing. The story had a strong development with use of current events and historical information to help both inform and persuade the audience for a better understanding of the use of rubrics in education. Al Sharouf also made the choice to use external sources to help support his claims on why academic writing is so important in education. This technique is often used in journalism.
The whole piece of this text is well organized in structured paragraphs, as well as the integration of collected research. This sentence structure is appealing to the audience as Al Sharouf goes into detail about the interpretations of academic writing. This is an example of how well of a job Al Sharouf does at making sure that his audience has a sound understanding of the topic his writing is based on. This informative style of writing can be found throughout the entire structure of the text in different ways.
Cooper, Diane. "How to Write an Original Research Paper (and Get It Published)." Journal of the Medical Library Association 103.2: 67-68. Print.
The article titled How to Write an Original Research Paper (and Get It Published)—written by author Dianne Cooper—is primarily an informative article conveying to the audience the importance of how to write an academic research paper and even to go as far as to get it published.
The article is effectively divided into several parts as can be seen in the format of the text. Firstly, the paragraphs separate different sub-topics pertaining to the publishing of an original academic research paper for anybody interested. At the same time, the transition between paragraphs flows accordingly in such a way that not only makes sense but allows the audience to follow the story in a sequential manner. Every paragraph is related to the main topic, that being the requirements for getting an original research paper published. The author also sequences their sentences from first being informative, and then leaning more towards being directional based on the specific instructions given on how to get an original research paper published in the media.
Each individual part of the text is organized into separate paragraphs initially. After the authors feel that her audience has a sound understanding on the importance of university professors publishing an original research paper, they begin to individualize specific sub-topics with the use of specified criteria for such a research journal. Using sub-titles within the article to cover the specific set of instructions is important in this kind of article as it is a means of providing a lesson on how to effectively execute a skill set. The individual parts of this text are organized in such a way that it fully surrounds all sub-topics relating to the main topic of publishing an original research paper for academic use.
Hinkle, Eli. "Teaching Academic Esl Writing Practical Techniques in Vocabulary and Grammar." ESL & Applied Linguistics Professor Series Eli Hinkel, Series Editor (2004). Print.
The book section titled Teaching Academic Esl Writing Practical Techniques in Vocabulary and Grammar—written by author Eli Hinkle—is primarily an informative piece of writing that educates the audience on how to practice effective teaching in English as a Second Language (ESL) through proper grammar usage, vocabulary, and sentence structure.
The purpose of this book is to simply convey useful information in writing to the audience which they can interpret in their own individual way based on the knowledge provided by the writer. Each paragraph and section of this book section serves its own unique purpose of conveying specific information about the various writing techniques while remaining closely related to each other. The opening section of this book mostly informs the audience of writing styles relating to learning techniques. The mid-section of the article goes more into a "how to" instructional style of writing relating to proper grammar and sentence structure.
A stylistic consideration that went into the writing of these sentences is the strong and appropriate use of organized reference tables that can be found within the book. Reference tables are an effective way to help an audience better visualize the information being presented.
The writing style used in this book is simply well organized into sequential sections that convey information, historical student writings, and a perspective that can leave the audience thinking more about better ways to teach students ESL.
Although some of the material used in this writing can be effectively persuasive for the audience, it is not strong enough to the point that Hinkle can be considered to be carrying an opinion based argument. The author simply relays his research and provides the readers with better methods of teaching ESL through his own perspective and interpretations. The author remains neutral for the most part of the writing, all of which is supported by both researched facts and writing samples from external sources which are mostly students.
The choices in grammar, writing style, sentence structure, divided sections, perspective, as well as organization all correlate with each other to achieve the ultimate effect of leaving the audience fully informed on the subject matter. This effect also gives the audience an opportunity to interpret the writing information on their own and to conduct their own research on it. The various choices used in this writing style are mentally stimulating for the audience, especially with everything being written in a sequence of general data concerning writing styles and visuals of unique text genre.
Stuck with your Annotated Bibliography?
Get in touch with one of our experts for instant help!
Messenger
Live chat
Time is precious
don't waste it!
Get instant essay
writing help!
Plagiarism-free
guarantee
Privacy
guarantee
Secure
checkout
Money back
guarantee
Get a Free E-Book ($50 in value)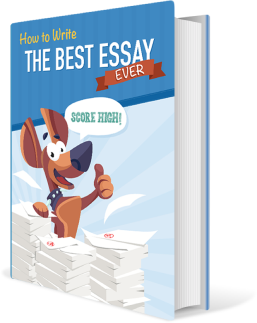 How To Write The Best Essay Ever!