Marketing Strategy for Aquafina, Marketing Plan Example
Brands And Category
Product Background
With the many choices of beverages in the market today, quenching thirst has often been defined under the existence of flavored drinks. Nonetheless, there is still no particular product that outranks the healthful effects of water. As a result to this, it could be expected that water as a sole product would always have its share of general market. Unlike before though, it could be realized that incurring water today has become an expensive choice for many. The entrant of the introduction of bottled water products in the market, serve as a challenge on both the flavored drinks and on water itself. The question would be directed to which of these particular products would most likely be more accepted by the market. The subject of acceptance is the primary reason behind the campaign for marketing that is to be empowered within this documentation.
Non-Carbonated Soft Drinks
Aquafina is a brand of bottled water marketed by the American giant bottlers company PepsiCo Inc. It is available in two forms: flavored and non-flavored. It was first introduced into the American market in 1994, and became a global brand in 2009 when it led the market in the bottled water category. The bottling of Aquafina's unflavored version involves the basic purification process, in which ground water is purified through reverse osmosis, followed by ultra-violet and ozone sterilization (Doria 2006).
When it comes to branding, the Aquafina Flavor Splash brand is derived by adding six different flavors, which include Grape, Strawberry, Raspberry, Wild Berry, Peach Mango and Lemon. Other brands include Aquafina Sparkling, low calorie and vitamin-enhanced Aquafina Alive, and Aquafina Plus, which is a low calorie vitamin supplement. Apart from the fact that water is indeed a basic need for human individuals, the emergence of new sets of beverages specifically challenged the acceptance on water as a basic drink. In this regard, it has then been taken into consideration that paring up the value of water with the taste of newly accepted drinks in the market is a must. In a way, the creation of new bottled-water flavors insists on the creation of new markets that would accept the said product. Flavor on beverage often appeal to the "hip and fun" market which means that with this change in the pattern of product presentation, the younger members of the society are opted to be served by the release of the said item. While serving their healthful demands, it also entails to give a more refined indication on how their value for "taste" is given proper attention to.
The bottled water market is a recent invention in the American market, which began barely 30 years ago. However, by 2006, Americans had spent $15 billion on bottled water products; more than what they spent on iPods or movie tickets (Fishman, 2007).  Among PepsiCo's products, Aquafina is emerging as the fastest growing brand, which reflects trends in the wider beverage industry in America, where bottled water is taking fast into the market (Mans, 2003). In fact, it is the fastest growing brand in the non-alcoholic beverages category, with a market value of $22billion in 2010 (Doria, 2006). Aquafina has dominated the bottled water market for seven years; beginning in 2004 when it became "the first billion-dollar brand and sustained strong growth in 2005 when wholesale dollar sales neared $1.3 billion," according to the business consultancy firm Beverage Marketing Co. (Von Ahn, 2010). Its market growth of between 26 to 29 per cent annually was boosted by marketing strategies that focused on low pricing, with a multipack case of 24 half liter bottles retailing for as low as 3.99 dollars (Von Ahn, 2010).
Changes in consumer lifestyles further contributed to a booming market in the non-alcoholic beverages category, making bottled water to oust juice in 2008 from the number three slot, behind market leaders carbonated drinks (Soda) at number one and milk at number two. Sales increased by a whooping 59 per cent to reach 5.1 billion dollars, with a consumer base of over 70 per cent. However, the recent economic meltdown affected the industry, leading to a fall in sales for the first time in five years. This was further aggravated by campaigns by environmental activists to use tap water as a way of conserving ground water and reducing environmental pollution (Trigaux, 2009).
Segmentation
Although bottled water has a big market potential, its biggest market segments include the sports industry and urban consumers. The consumption of bottled water is still a class-lifestyle, to a large extent, whereby it is consumed by people belonging to exclusive groups. For instance, promotional and sponsorship deals in the soft-drinks market focus on athletic events, for example Coca-cola's sponsorship of the Olympic Games. In the urban market segment, the consumption of bottled water is limited to upper-class consumers and office workers. In the case of the former, it is more of an image thing, whereby drinking bottled water reflects their high social status in society and economic success.
However, there are other potential market segments that have not been fully exploited. In this regard, Aquafina will increase its market presence by not only intensifying promotional campaigns in the sports industry, but by also diversifying into other market segments. These include learning institutions, organizations, the transporter sector, and government agencies. Colleges, government agencies, and organizations present an attractive market because they represent a consumer base with shared tastes, and a relatively uniform purchasing power. As such, the company should establish distribution channels that take the product to the door-step of the consumers. This strategy proved to be effective for the Coca Cola Company when it started operations in India in 1993. The company's market share was lagging behind PepsiCo in sales and market domination. Over the years, Coca Cola's strategy involved taking its products to the consumer's door-step, through a network of wholesale and retail distribution channels. However, even PepsiCo had similar distribution channels in place, and Coca Cola's global strategy was to make their bottled drinks readily available, and in a state that meets specific consumer needs. As Atul Singh, Coca-Cola India's President asserted in an interview with India Knowledge, "Our entire brand portfolio has been designed to satisfy the various mapped-out needs of consumers — hydration, energy, enjoyment or simply having fun" (India Knowledge, 2010). Take note on how these diagrams represent the market segmentation of bottled water in the United States as well as on other countries from the past, the present and future performance of the said industry: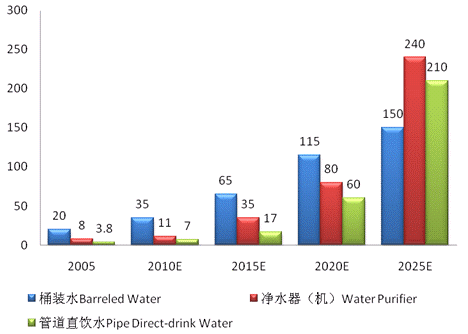 From the diagram above, the blue bar indicates the consumption of barreled water, the red bar represents the consumption of bottled water and the green bar represents the consumption of from-pipe water source. It could then be realized that it is assumed that by the year 2025, the consumption of bottled water would dramatically increase. This forecast is based from the current status of the appeal that bottled water has upon the market as shown within the following chart: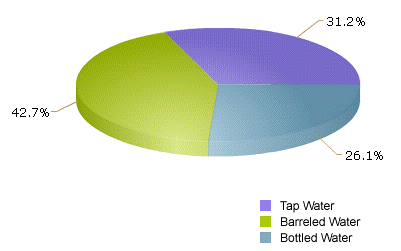 Although it could be noticed how the bottled-water receives the lowest consideration of market appreciation, it is deemed that in the coming future, such evident fact would change due to the adjusting perception of the society towards their health and the effects that modern beverages leave on their health's integral status. In targeting colleges and organizations, Aquafina should be presented in a manner that promotes the group's needs and ambitions, for example portraying it as the ideal drink for "learners with a thirst for knowledge." It can also be marketed as the perfect refreshment during students' outdoor games and inter-college sporting events. For the office workers, Aquafina should cut the image of a refreshing drink that inspires hard work and reflects the consumers' upward social mobility. Coca Cola used the same strategy to popularize its Coke drink in among Indian urban consumers. When it entered the Indian market in 1993, Coca-Cola approached the market "selling an American way of life, which failed to resonate as expected" (Kaye 2004, p. 5).  In 2001, the company's CEO Douglas Daft set a new direction with the mantra "Think local, act local,' which was aimed at identifying specific consumer needs for the urban and rural markets. The urban market consisted of high-income consumers, and the company identified their need as "social bonding." In response, it adopted a marketing strategy that conveyed inspirational messages and the celebration of their rising economic and social freedoms. The tagline "Life ho to aisi," which means "life as it should be" was used in promotional adverts targeting urban audiences. As noted before, it should be about 'self-image.'
Target market
Besides the need to consolidate existing markets, Aquafina should also target new and emerging markets. College students and rural areas, for instance, present unexploited consumer bases that the company should target. The former is largely due to low purchasing power and a consumption culture that favors cheap, locally available resources. In this light, it is necessary for the company to initiate promotional campaigns to transform rural consumers' perception of bottled water as a preserve for the rich and urbane. However, the company should concentrate on learning institutions because they present a market with limited substitutes to bottled water (tap water). Accordingly, it is possible for the company to develop a college-students oriented product that will target only college students. The product, whose packaging should portray the image of an ambitious youth in a learning environment, will also reflect the needs of this market segment through pricing and easy access.
Positioning and marketing strategies
Aquafina's marketing strategy should aim to retain existing customers while attracting new ones through advertisements, promotions, social media marketing and launching of new products.  The said strategies would involve factors as follows:
Product
The soft drinks industry is a saturated one in which there is strong competition among industry players. For instance, there are Nestle's Perrier and Coca Cola's Dasani. Consequently, recent years have seen an unprecedented increase in marketing expenditure in the bottled water industry. By the early 1990s, industry expenditure in advertisements was less than 43 million dollars per year. However, the trend changed by the turn of the century, whereby a single brand would spend over 20 million dollars in outdoor and print campaigns alone (Petrecca & Kramer, 1999). A common marketing strategy in the bottled water industry is laying emphasis on the purity and healthy aspects of water. However, innovations in marketing tend to push the art of advertisement further by presenting the consumption of bottled water as a lifestyle thing. Such is the case with Nestle's Perrier, widely regarded as one of the finest mineral waters, which was promoted by the tagline "Why is Perrier coming out with a PET bottle? Your lifestyle evolves, and Perrier follows suit" (Perrier, 2004). Aquafina should adopt a similar approach in selling itself to college students and office workers as refreshment for good learning and a symbol of upward social mobility respectively.
Distribution
Presently, retail distribution is the most popular means used in the beverage sector to take products to consumers. In this arrangement, companies sell their products through middle men rather than in direct sales. Thus, the company should widen its market reach by contracting with distributors who would take Aquafina products to colleges and organizations. Since the company may not play a big role in direct sales, product packaging will play a vital role in the marketing of bottled water. As is the case with most distribution systems, the use of bottles provides a physical indication of the product's hygienic condition, in addition to attracting buyers by reflecting a desired image. A good example is among sportsmen who regard the consumption of bottled water as a reflection of their personalities and lifestyles. As such, Aquafina has managed to exploit the aspect of 'image' be designing bottles in a manner that highlights their market positioning as a brand of choice, with a "cutting-edge lifestyle, enjoyment and sense of fun" (Sweney, 2004). Similarly, bottle labels provide information about the water source, which may also play a role in influencing consumer choice. This is usually calculated to appeal to the target audience's tastes and preferences, e.g. health conscious consumers who may prefer spring water over purified rain water.  The Hydro-7 purification method the company uses is also significant in creating confidence with regards to water safety. The process removes a number of unwanted mineral elements such as manganese, sulfates and phosphates, unlike tap water which is only treated to kill germs and other contaminants. According to Dawn Hudson, Pepsi-Cola Company's Senior Vice President of Strategy and Marketing, "Aquafina's new advertising emphasizes exactly what consumers have been telling us they want from bottled water – a consistently pure, crisp, refreshing experience — and nothing else," This may partly explain the popular use of pictures depicting pristine mountains or spring fountains on the bottles, as a way of capturing the buyer's imagination (Olson 1999).
Promotion
The promotional process of this product entails to follow the following pattern for creating an effective market strategy:
In line with these factors, the product [Aquafina] is entailed to enter the market first through being introduced as part-brand of Pepsi's beverage-offerings in the modern industry of local trade. This means that the introduction of the new product would first be concentrated on local areas as the reaction of the buyers is being evaluated based on how much they appreciate the said introductory item. The next step is the market development strategy, which entails the need to concentrate on responding to the results of the evaluation based on the course of appreciation that the market had towards the product during its primary launching. Notably, the course of developing the product should depend on how the market reacts upon it and how the people responds to its effects on their perceptions and expectations about bottled water products as well as with the brand it is known from  [Pepsi]. From the development of the product, it is expected that the development of the market would also come into immediate realization. Through the adjustments made on the different factors that make the product more appealing to the target market, it is expected that the product would make a considerable impact to market groups in the industry. Once the product fully penetrates the market, it is expected to take on the different forms of strategic diversifications in responding to the needs and expectations of the new and growing market.  Some of the factors to take note of are discussed within the following sections herein.
Branding
Product branding involves the market positioning of a product to distinguish itself from competitors, such as substitutes. The beverage market is one that has been heavily saturated. As such, products must create a unique image in order to stand from the crows of many brands of bottled water. As Robert Lynn, Executive Vice President of Sales and Marketing for Global Beverage Systems: "If there weren't any branding in the water category, the business would eventually go 100 percent to price and to private label" (qtd in Whitefield Consulting Worldwide 2010). In the case of Aquafina, brand uniqueness is achieved through affiliation with the company name, PepsiCo, as well as undergoing a purification process during which "virtually all of the natural minerals are removed from the water, giving it a light, mellow taste" (My Spring Water 2011).
Pricing
Pricing will also play a big role in attracting new markets. Considering that college students' purchasing power is relatively low, the company should establish lower prices for bottled water sold in learning institutions. Again, to borrow a leaf from Coca Cola's entry into the Indian market, the company revised its pricing strategies for products targeting rural consumers. Coca-Cola adopted a two-pronged marketing policy that met the two needs identified for the rural market: affordability and thirst quenching. Accordingly, Coca Cola's first step in making the price of Coke within the reach of consumers in rural areas was the introduction of a 200ml bottle for the rural market, retailing at Rs. 5 (Mukerjee, 2008). Effectively, this pricing strategy narrowed the gap between Coke and other local refreshments like tea and lemonade. The availability of tap water in colleges may present a big challenge to bottled water, hence the need to make it friendly to students' budget.
References
Doria, F. (2006). Bottled Water versus Tap Water: Understanding Consumers' Preferences, Journal of Water and Health, 04 (2), 271-277.
Fishman, C. (2007). Message in a Bottle, Fast Company. Available at http://www.fastcompany.com/magazine/117/features-message-in-a-bottle.html [Accessed December 1, 2011].
India Knowledge (11 March, 2010). Are Happy Days here again for Coca-Cola India? Marketing.  http://knowledge.wharton.upenn.edu/india/article.cfm?articleid=4457 [Accessed December 1, 2011].
Mans, J., (2003). Multipurpose Pepsi Packaging, Packaging Digest. Available at http://www.packagingdigest.com/article/344105-Multipurpose_Pepsi_bottling.php [Accessed December 1, 2011].
Mukerjee, K., (2008). "Coca-Cola's Branding Strategies in India," The Lefai Journal of Brand  Marketing, vol. 5 (1) 34-46
Olson, E. (1999). Bottled Water: Pure Drink or Pure Hype? Natural Resources Defense Council (NRDC), New York.
Perrier 2004 Why is Perrier Coming Out with a PET Bottle? Available at: http://www.perrier.com/EN/faq/rubrique16.asp [Accessed December 1, 2011].
Petrecca, L. & Kramer, L. (1999). Evian pours $20 mil into Luxury. Journal of Advertising Age 70(17), 8.
Whitefield Consulting Worldwide, 2010 The Myths of Branded Bottled Water: Management Consulting. Available at http://www.whitefieldconsulting.com/wordpress/?p=3249 [Accessed December 1, 2011].
Time is precious
don't waste it!
Plagiarism-free
guarantee
Privacy
guarantee
Secure
checkout
Money back
guarantee