Back to School Offer
Get 20% of Your First Order amount back in Reward Credits!
Get 20% of Your First Orderback in Rewards
Network Security in an Office Setting, Research Paper Example
This Research Paper was written by one of our professional writers.
You are free to use it as an inspiration or a source for your own work.
Need a custom Research Paper written for you?
HIRE A WRITER!
Network security is vital to any successful organization as proper planning and execution is needed to accelerate infrastructure and configuration for efficiency and effective savings. Intel Corporation (2007) is a leading IT development corporation who portrays an innovative idea to develop a wireless LAN (Local Area Network) for small offices, which delivers an estimated 43 percent net savings over 4 years, which accelerated time from months to days.
The network solution which is the most efficient in addressing the wireless network security is Cisco 3845 Integrated Services Router which uses high-level topology of the Cisco architecture, which also includes Light weight Access point protocols, the Wireless Control System and the Wireless LAN Controller, as well as the Cisco Access Control Server and its Authentication, Authorization and Accounting features the solution by providing RADIUS services, as mentioned by the Intel Corporation (2007).  The schematic integration of the 48-power port over Ethernet (PoE) Fast Ethernet switch module for supplying the required LAN  ports capabilities and connecting WLAN access points, that delivers VOIP, Unity Express, a voice mail, wireless controller module, voice and fax extension modules for direct analog fax machines connections as stated by Intel Corporation (2007). Below mentioned are the requirements of the Cisco 3845 ISR system confirming its architecture.
High-availability system that recovers from  access points failures or system interferences.
5 GHz 802.11a and 2.4 GHz 802.11g connection
Client support includes "desktops, laptops, personal digital assistants, and Wi-Fi* phones (2007)"
The system also has seamless out-of-the-box installation and clearly identifiable control access points.
Central management servers also have tracking capability. It can be used for blacklisting clients, and mitigating security offenses.
Sufficient 100/1000 switch ports to support servers, printers, and other office devices; at least 10
Support for numerous digital LANs for different vocal and data activities, power over Ethernet (PoE) 802.3af, Quality of Service (QoS) 802.1p, and port verification 802.1x
Support for different IP routing initiatives, that include Routing Information Protocol (RIP) version 2, Enhanced Interior Gateway Routing Protocol (EIGRP), and Open Shortest Path First (OSPF)
Server abilities with Dynamic Host Configuration Protocol (DHCP). This includes vendor-specific capabilities.
IP multicast system assistance and Internet Group Management Protocol (IGMP) snooping.
The system has support for WAN technologies that are affordable., that includes asynchronous exchange mode (ATM), frame distribution, and integrated providers of the digital network (ISDN). Preferred WAN technologies can be deployed but may depend primarily on the service provider. Certain carriers offering service available to the site depend onservice availability, cost, location , and service level contracts.
Certain bandwidth for small offices is usually between 1 and 45 megabits per second (Mbps)
QoS packet classification is a key aspect of the system as well.
Encryption using IP Security (IPsec)
The system provides multicast support
It should have voice trucking
I should also have the ability for working as a standalone gatekeeper. This should apply even with remote gatekeepers.
Support for popularly used codec's: G.711, G.726, G.729, and special wideband codecs.
It should have support for Session Initiation Protocol (SIP) endpoints
Emergency services such call routing, voice mail capabilities, automated attendant access, and conference calls support.
Remote management can also be provided, with secure management access.
Support for various arays of access controls
The internet protocol journal (2006) mentions the Centralized architecture which is a hierarchical architecture that involves a WLAN controller which is responsible for configuration,
control and management of several WTPs. The Access points receive their addresses dynamically from a Dynamic Host Configuration Protocol and they automatically detect the controller, which is integrated inside the router; the primary wireless service follows the protocol on the 5.2 GHz 802.11a band and is secured using full 802.11i encryption. RADIUS servers that are shared between LAN and WLAN  perform user authentication, and are available on the 2.4 GHz 802.11b and 802.11g band and go thru firewalls for more security, as stated by Wireless LAN design (n.d.).
The following is the model for the Cisco 3845 Integrated Services router as the separation of WAN from LAN is highly encouraged in order to avoid excess wiring, simplify network implementation, and increase agility. As the WLAN requires the Wireless Network username and password every time people try to access it, the firewalls always protect the invaders from misusing the wireless system.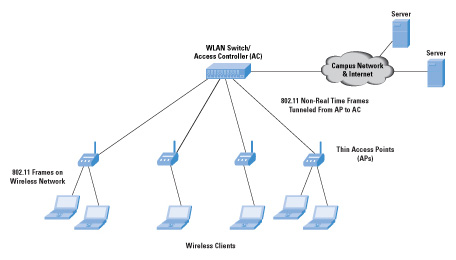 (The Internet Protocol Journal, 2006)
An ultimate way to enhance security feature on the Cisco 3845 Integrated Services system is to disable/ filter SNMP (HTTP) management, keeping AP (access point) firmware updated  and the correct configuration of the BSSIS (MAC address of AP) as mentioned by Patterson & Poudel (2000).
References
Intel Corporation. (2007). Network in a box: Wireless LAN architecture for Small Offices. Retrieved from: http://www.intel.com/it/pdf/network-in-a-box.pdf
Patterson, M., & Poudel, R. (2000). Wireless Network Design & Architecture: Sanog. Retrieved from: http://www.sanog.org/resources/sanog6/peterson-poudel-wireless-archi-tutorial.pdf.
Sridhar, T. (2006). Wireless LAN Switches –Functions and Development. The Internet Protocol Journal, 9(3).
Wireless LAN design. (n.d.). Wireless LAN design. Cisco Unified Wireless Network Architecture (Chap. 5). Retrieved from: http://www.cisco.com/en/US/docs/solutions/Enterprise/Education/SchoolsSRA_DG/SchoolsSRA_chap5.pdf
Stuck with your Research Paper?
Get in touch with one of our experts for instant help!
Messenger
Live chat
Time is precious
don't waste it!
Get instant essay
writing help!
It's a Free, No-Obligation Inquiry!
Plagiarism-free
guarantee
Privacy
guarantee
Secure
checkout
Money back
guarantee
Get a Free E-Book ($50 in value)
How To Write The Best Essay Ever!