Reality, Political, and Benefits of FDI, Research Paper Example
Abstract
This research document discusses electronic health records (EHR) as dispensed by athena Clinicals. Details pertaining to terminologies and uses of the product; system features; benefits of athenaClinicals over similar types of software; the implementation process and a critical analysis of findings will be explored.
Introduction
Electronic health record (EHR) is perceived as an evolutionary concept being often classified a systematic collection of electronic health information regarding individuals or populations of patients. More importantly, electronic health records are storage utilizing a digital format which theoretically expresses the capability being shared across different health care settings. There are a number of features attached to the sharing mechanism (Greenhalgh et.al, 2010).
Depending on the system's application this haring can occur through a series of network-connected enterprise-wide information systems as well as other information networks or exchanges. The elements comprising an efficient electronic health records program can consist of, but not limited to a 'wide range of data, inclusive of demographics, medical history, medication and allergies, immunization status, laboratory test results, radiology images, vital signs, personal statistics such as age and weight, and billing information' (Gunter & Terry, 2005).
As it relates to the software features Healthcare Information and Management Systems Society (HIMSS), a huge U.S. healthcare information technology industry trade group. It was observed  by researchers that EHR adoption rates shows less expected rapidly development in the United States when compared to other industry sectors internationally among other developed nation (Himmelstein et.al, 2009).
A major factor cited as being responsible apart from set up cost expenses there is lost in productivity while electronic health record system is being implemented. Also, it takes time in developing the efficiency needed to operate the system. Subsequently, training is an additional cost and this diminished of efficacy in usability of EMRs currently poses a challenge. Presently, it was reported that the United States of America. National Institute of Standards and Technology, Department of Commerce researched usability of electronic health records software in 2011 and listed some specific issues affecting health care workers' efficient manipulation of the system. The organisations reporting were U.S. military's HER and AHLTA (Himmelstein et.al, 2009).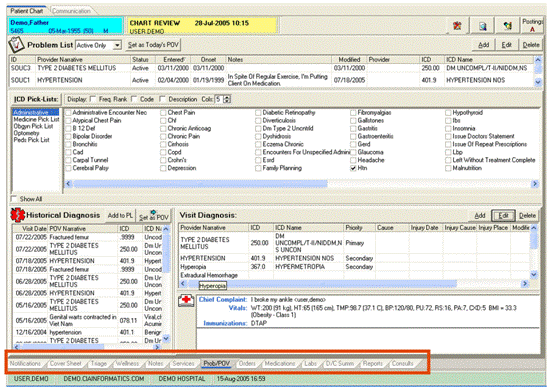 The above diagram shows a sample of how the typical electronic health record program appears on a computer screen.
The affordable healthcare Act which was signed into law in 2010 provided specific regulations through which health information systems can function in execution of their role of improving health care services across the nation. Laws have been passed assisting health care organizations financially as mandatory implementation of electronic health records became active as a regulation of the Act. As such, athenaClinicals among many other companies joined the information technology network in providing this modification to health care delivery practice in United States of America
Name and Uses of the product
AthenaClinicals is an electronic health record (EHR) approach that provides a unique cloud-based data management program. It offers more insights and control that streamlines work-flow, which eventually, gives the greatest revenue opportunities. This company boasts about their exquisite Best in KLAS software that incorporates government programing requirements at a much quicker pace to keep health care facilities ahead of change. To date more than 96% of eligible athenaClinicals providers have confirmed to Meaningful Use in 2012(athena health, 2013).
More importantly, there is an efficient back-office service. The teams attached to this department save customers time because they provide routing of all clinical information at no additional cost. Even more they construct and sustain electronic connections that are attached to labs, pharmacies and hospitals. The mission is to be a caregivers' most trusted service, helping them do well doing the right thing' (athena health, 2013).
Terminologies
Terminologies used when describing this electronic health record system/program include:
Cloud-based Software means that athenaClinicals conducts cloud computing which actually is a terminology describing a various forms of computing concepts involving a set of computers connected through a real-time communication network known as the internet. Athena Clinicals regularly updates their computing system, which is accessible from anywhere. This is done at no licensing costs, neither maintenance fees (athena health, 2013).
Networked Knowledge at athena clinical is describes as being unique containing powerful clinical rules engine that often updates to be in alignment with current clinical guidelines and incentives provided by the software licensure. Through the cloud-based application mechanism patient record-keeping can be monitored online along with connectivity to lab and clinical information; clinical fax categorization and routing with many other capabilities that facilitate easy management of the system (athena health, 2013).
Back-office Service technically is a very high technology data processing system that monitors records through organization and clearance. At athena clinicals Back-office Services are managed by a committed team of specialists who make clients'
clinical paperwork and reporting requirements a priority (athena health, 2013).
System Features
Integration with other information systems
Researchers have confirmed that athenaClinicals is just a portion of a fully integrated suite of trusted cloud-based services currently utilized by over more 39,000 EHR providers within United States of America. They include:-
Producers have proclaimed athenaCollector® is the best in KLAS physician billing and practice management services ever because it that helps in boosting revenue while reducing administrative work costs significantly. This allows more time for focusing on other practice priorities. Besides, the patented Billing Rules Engine facilitates keeping claims cleansed while athena health back-office teams work towards getting providers paid the maximum more quickly. This is accomplished by tracking claims and monitoring discrepancies being part of the company's scrutinizer program. The importance of relating all these additional features is for customers to know that their electronic health record system can be built with no exorbitant start-up costs. More importantly, customers do not have to worry about a monthly maintenance fee. It is all covered in one package (athena health, 2013).
A recent KLAS usability electronic health record report published in June of 2013 stated that 'Providers Rated athenahealth's Cloud-Based EHR Above Eight Other Leading Ambulatory EMRs in WATERTOWN, Mass., June 6, 2013 (GLOBE NEWSWIRE) — athenahealth, Inc. (Nasdaq:ATHN), a leading provider of cloud-based services for electronic health record (EHR), practice management and care coordination, today announced that its cloud-based EHR, athenaClinicals®, is now rated the most usable ambulatory electronic medical record (EMR) system, at both go-live and in current state, by health care providers, according to a new KLAS report on Ambulatory EMR Usability, released today'(athena health, 2013, Press release)
User friendliness of data entry and data retrieval
Reports have been that this company offers both live and automated communication services. These services align patient-physician interactions within the examination room and beyond. There is a unique automated messaging system. Specifically, the live operator services and online patient portal minimizes the amount of phone calls to be managed on a daily basis apart from reliving the number of patients who do not keep their appointment. These mechanisms have far reaching effects meeting a large portion of patient populations in effectively closing gaps of care between availability and accessibility (athena health, 2013).
Athena Clinicals offer a coordinator device they describe as a breakthrough model of care coordination. It uniquely aligns the entire order processing mechanism to make the best use of the available time while ensuring that care distributed with grater connectivity in a communities. Specialized interventions offer transmission ordering, insurance pre-certification and patient registration. These practices obtain visibility through order patterns built into the system. These devices provide optimum patient satisfaction particularly by reducing the time spent in preparation of orders (athena health, 2013).
Benefits of athenaClinicals software over similar types of software
AthenaClinicals offer extensive clinical control, insight and revenue potential—all with low up-front costs and zero maintenance fees (athena health, 2013).
Advantages
Athena Clinicals software presents numerous advantages to the electronic health records industry. For example, during 2011 there were 380 reported significant data breaches among electronic health record systems in United States in 2011. Among them more than 500 patients' records listed on the United States Department of Health and Human Services (HHS) Office for Civil Rights web site were tampered. To date according to postings between September 2009 to December 8, 2012, 18,059,831 individuals have been affected (Wager et.al, 2009).
Analysts believe that even with this disclosure there is more to the breach issue which is not revealed to the public. Importantly, further reports have been that the civil rights office does not release breaches with fewer than 500 patients per incident. Hence, this means that many thousands of irregularities are still under-reported due to this federal of 500 patients per case. All these breaches relate to privacy and confidentially is a tragedy occurring among electronic health record data systems nationwide (Wager et.al, 2009).
However, Athena Clinical Intelligence Team monitors and manages requirements for Meaningful Use, PQRI, and other government and payer-driven incentive programs continually. As such, providers have an opportunity to quickly identify and satisfy required data discrepancies during a clinical encounter (athena health, 2013). There are three significant components of the Meaningful Use policy employed by athenaClinicals that ensures privacy is maintained. They include using a certified EHR according to the regulations related to e-prescribing polices. Secondly, the certified EHR technology to legally provide health information electronic exchange catered to enhance health care quality. Thirdly, a certified EHR technology must be used for to submitting clinical quality along with other measures (Wager et.al, 2009).
Reduction of cost
A survey conducted by DesRoches (2008) and some other researchers revealed that 66% of physicians who did not subscribe to implementation of electronic health record systems in their practice said that is was due to the enormous start up and maintenance cost of the device. 50% of physicians did not think it would have added any viability to their practice. Approximately, 56% of physicians who did not use electronic health record systems claimed that if financial incentives were provided in purchasing and maintenance it would encourage more providers to invest in the system (Wang et.al, 2003).
Researchers discovered in 2002 that the estimated cost was $50,000–70,000 per physician for a 3-physician practice. After the primary escalated costs and physicians' refusal to buy the product electronic health records manufactures were forced to reduce the prices at $32,000 per physician in a 5-physician practice during the first 60 days of the implementation process, which is still a steep expenditure. More importantly, a case study conducted by Miller (2005) and a few other researchers found that on an average 14 small primary-care practices paid the required initial cost two and a half years later they were still paying that price as an ongoing cost. However while it may be an initial disadvantage a 2003 cost-benefit analysis discovered that in utilizing electronic medical records consistently for five years it save many practices much income to the tune of $86,000 per provider (Wang et.al, 2003).
The startup 2013 cost at athenaClinicals is significantly lower and more affordable. They offer a number of achievable goals without the cost and hassle of buying servers, paying hefty licensing fees, and installing disruptive software upgrades. Providers Gain greater clinical control, insight and revenue potential—all with low up-front costs and zero maintenance fees (athena health, 2013).
Improved quality of care
Reports from the Boston, Massachusetts Brigham and Women's Hospital achieved marked net savings estimated $5 million to $10 million per year after installing a computerized physician order entry system. This system greatly minimized serious medication errors by 55 percent. Another large hospital in the same vicinity was able to generate approximately $8.6 million in annual savings after replacing paper medical charts with an electronic health record system for outpatients. Another $2.8 million was saved annually after establishing electronic access to laboratory results and reports. As such, these institutions can attest to the improvement in quality of care when an efficient electronic health record system is installed (Wang et.al, 2003).
Athena clinical provides an innovative five-stage workflow physician/client optimization that also maximizes revenue and efficiency. Unlike other electronic health records, athenaClinicals offers multiple charting options, and collects clinical data and Pay-for-Performance measures outside of the exam stage wherever possible. These features significantly enhance quality of care delivered to patients/clients (athena health, 2013).
Promote evidence-based medicine
Electronic health records software contains programs, which facilitates implementation of evidence-based practices. In many organisations these programs come at an extra cost. Athena clinicals through its back office monitoring clears and cleans data to bring them in alignment with evidence based practices as data is updated,
Record keeping and mobility
The main purpose of introducing an electronic health record system in a health care facility or doctor's practice is to facilitate accurate record keeping. Athena clinical have a centrally-hosted EHR service. It scans and categorizes all faxes that enter the system then aligns
clinical documents to current patients along with physician/patient orders. This strategy has placed athenaClinicals above many other electronic health record providers. Besides they demonstrate of a very high level of process control on the clinical as well as operational phases of functioning (athena health, 2013).
The EHR implementation process
Implementation cost at athenaClinicals is free for a limited time offer. It is simple and easily accessible through a computer program. However, the process varies across states; countries and providers. A typical implementation attitude for United States of America consists of implementing electronic health records across states in the development of the Nationwide Health Information Network. This is still being developed. He process began with the North Carolina Healthcare Information and Communication Alliance in 1994. They received funding from Department of Health and Human Services to finance the project (Wager et.al 2009).
A typical implementation flow chart looks like the one below: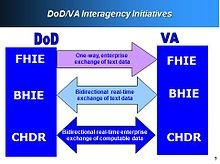 Governance, privacy, and legal issues, Privacy concerns
These issues are monitored by Department of Veterans Affairs and Kaiser Permanente pilot program which share health records between their systems mainly VistA and Health Connect, respectively. The software name is 'CONNECT and utilizes Nationwide Health Information Network standards and governance in ensuring compatibility of health information exchanges among other exchanges such as anthenaClicncals, which are established nationwide. CONNECT has been recognized as an open source software solution supporting electronic health information exchange systems to a variety of locations. This CONNECT ideology is a Federal Health Architecture project which began in 2007 being constructed by 20 different federal agencies. Presently, there are over 500 organizations inclusive of federal agencies, states, healthcare providers, insurers, and health IT vendors (Wager et.al 2009).
There are always privacy concerns in implementation and maintenance of electronic health records systems across the world. For example, United States, Great Britain, and Germany, have not fully embraced the concept of a national centralized server model in healthcare data preservation. Subsequently, serious privacy and security issues surface in this type of model. Major concerns apply to two specific areas namely paper and electronic records itself. A recent report from Los Angeles Times revealed that an estimated 150 people have daily access to some of patients' records. These people fall into the category of doctors; nurses technicians; billing clerks) besides some 600,000 payers, providers and many other agencies responsible for billing data during a single hospitalization or doctor's visit (Ash et.al, 2007).
More recent concerns regarding secure data breaches at centralized data repositories have emerged in the banking industry and financial institutions. The retail industry has also been seriously affected. These privacy and security breaches all occurred through government databases. Obviously, this has made providers more alert to storing electronic medical records at central locations and the dangers of violation of privacy. Evidently, records exchanged through the Internet are exposed to similar security violations as many other data transaction that must pass through internet sites (Ash et.al, 2007)
In 1996 United States authorities passed the Health Insurance Portability and Accountability Act (HIPAA) which created rules for accessing, authentication, storage and auditing, as well as transmission of electronic health records. Standard restrictions were established making it more difficulty to breach regulation governing electronic records paper ones. Nonetheless analysts still express concern regarding adequacy of the standards themselves since threats to health care information ae diverse falling into three distinct groups. First there are human threats occurring as employees or hackers; secondly natural and environmental threats resulting from earthquakes, fires and hurricanes. Third and finally there are technological failures, which happen when system crashes occur (Ash et.al, 2007).AthenaClinicals are obligated to comply with HIPPA regulations in pursuance of their license to operate as a IT vendor
Legal issues/Liability
Legal liability is always a healthcare concern. Within the emergence of electronic health records system and the emergence of HIPPA regulation the problem has escalated during 1990s and 2000s. Also, exorbitant attorney's fees along tort system changes it has influenced rise in health care cost nationally. Healthcare technology was not left behind since numerous breaches in electronic health record systems occur daily (Ash et.al, 2007).
Legal interoperability
Legal interoperability as it relates to electronic health records arises in cases of cross-border use implementations. Various countries could have established district requirement inconsistent with the implementation nation. In order for their content of electronic health records to be used in that country adaptions of the technical makeup of the electron health record mechanism becomes necessary before any implementation work begins. It is important that IT vendors such as athenaClinicals explore these issues legal interoperability when giving access to providers in other countries (Ash et.al, 2007).
Regulatory compliance
With regards to athenaClinicals regulatory compliance comes under HIPPA, the Consumer Credit Act of 2006 and Health Level 7 (athena health, 2013).
Technical Issues ?Standards/Open specifications
These include transaction protocols used for transmitting data from one country to the next as well as among systems. They include, ANSI X12 (EDI) a United States billing protocol; CEN's TC/251, electronic health record standards for Europe and DICOM, an international communication protocol. SMART is an open specification model (Ash et.al, 2007).
Customization
Electronic healthcare record systems vary with the specific environment. As such they must be designed to fit that setting. This process is known as customization. Ideally electronic health records standardize, but still interfaces. If these properties are active then it facilitates customization to a wide range of provider environment (Ash et.al, 2007).
Long-term preservation and storage of records
Predictions have been that that long-term storage of electronic health records are complicated due to the way they are used on a daily basis. One time they can adapt a longitudinally attitude; yet at another and they could be integrated across sites of care. Potentially, they can be created, used, edited, as well as viewed by a number of independent entities. Entities may be primary care physicians, hospitals, insurance companies, and patients. Immense storage issues occur in relation to who owns these records after they have been perused by a number of entities and the privacy information has been widely exposed. Whose responsibility it is to store this data in the long term has been the serious concern? These concerns have been clarified by HIPPA regulations (Wager et.al 2009).
 E-health and tele-radiology
In order to facilitate global shared workflow, studies have been locked when being read, then opened and updated once reading is complete. At this time radiologists can serve multiple health care facilities, read and report across large geographical locations balancing workloads.  This technique is called E-health and tele-radiology, but the practice is still in its evolutionary stages (Wager et.al 2009).
Conclusion
Critical analysis of findings
AthenaClincal was compared to the main format of electronic health record software and a critical analysis of its programs and services were undertaken during the discussion. In summarizing this exposition it can be concluded that while according to 2013 statistics the introduction of electronic health records has created efficiency in the health information systems across the world. Certainly, it has reduced the tedious need for clerks tendering to paper work along with huge file cabinets in doctors' offices and nursing stations. Quality care has improved and patients' records can be better accessed through these systems (Wager et.al 2009).
However, costs incurred when managing electronic health records has been a serious challenge to providers and healthcare institutions across the nation. AthenaClincal has responded to this challenge in providing affordable startup cost with free maintenance back office services. In the process electronic health record system are still apply new techniques in an effort to become aligned to HIPPA regulations and international record sharing standard to avoid any legal liability in execution of their services.
References
Ash, J. Sittig, D. Poon, E. Guappone, K. Campbell, E. Dykstra, R. (2007 ). The extent and importance of unintended consequences related to computerized provider order entry. Journal of the American Medical Informatics Association, JAMIA, 14 (4); 415–23.
Athena health (2013). athenaClinicals. Retrieved on July27th, 2013 from http://www.athenahealth.com/_doc/pdf/datasheets/The_athenaClinicals_Advantage.pdf
Athena Health (2013). An EMR that guarantees Meaningful Use payments. Retrieved on July, 27th, 2013 from http://www.athenahealth.com/our-services/athenaClinicals/EMR.php
Greenhalgh, T. Stramer, K. Bratan, T. Byrne, E. Russell, J., & Potts, H. (2010). Adoption and non-adoption of a shared electronic summary care record in England: A mixed-method case study. BMJ 340
Gunter, D., & Terry, N. (2005). "The Emergence of National Electronic Health Record Architectures in the United States and Australia: Models, Costs, and Questions. J Med Internet Res 7: 1.
Habib, J. L. (2010). EHRs, meaningful use, and a model EMR. Drug Benefit Trends 22 (4): 99–101.
Himmelstein, U. Wright, A., & Woolhandler, S. (2009). Hospital Computing and the Costs and Quality of Care: A National Study. The American Journal of Medicine. 5(12); 120-123
Wager, K. Lee, F., & Glaser, J. (2009). Health Care Information Systems: A Practical Approach for Health Care Management. San Francisco. Jossey-Bass.
Wang, S. Middleton, B. Prosser, L. Bardon, C. Spurr, C. Carchidi, P. Kittler, A., & Goldszer, (2003). A cost-benefit analysis of electronic medical records in primary care. The American Journal of Medicine 114 (5): 397–403.
Time is precious
don't waste it!
Plagiarism-free
guarantee
Privacy
guarantee
Secure
checkout
Money back
guarantee