The Impact of Education Reform on English Language Learners, Assessment Example
Education in America
Education in America is a consistently discussed topic and the value of education is a major focus of success-minded people in this country. It is a value that is considered an asset to the country and something to instill in the country's youth, as a way to secure the country's future, because the future lies in the hands of today's youth. According to the United States Department of Education's Blueprint for Reform (the Reauthorization of the Elementary and Secondary Education Act), America no longer holds the highest rank as the world's best educated nation. America now ranks 11th in this category, and the consensus is America must educate students more efficiently, because "the countries that out-educate us today will out-compete us tomorrow." In response to this, the passing of the Elementary and Secondary Education Act (ESEA) of 1965, later amended as the No Child Left Behind Act of 2002, high educational standards for schools in each state in the nation are in place (U.S. Department of Education, 2010).
Illiteracy in America
There are countless cases reported in the news that depict the educational downfalls of many students in America. Many students are failing out of school and many more drop out altogether. There are also admissions from adults, including celebrities, about being illiterate and unable to read well or not at all. According to an article in USA Today, 1 in 7 adults (32 million) in the United States are unable to read, as reported from results of a 2003 federal study by the National Assessment of Adult Literacy. The study also reveals that out of the 23 million adults added to the population between 1992 and 2003, 3.6 million have low literacy skills (Toppo, 2009).
In contrast, the blueprint for education reform states the goal for America is raising standards for all students and helping them achieve the goal of graduating from high school ready for a successful college course and a career. This goal is proposed for all students, regardless of their socioeconomic status, race, ethnicity, disability status, or language background (U.S. Department of Education, 2010).
Education and Language
The focus of this essay is education and language background, and the impact of education reform on those who are learning English as a second language. English Language Learners (ELLs) are a large part of the student population in America, and ESEA programs are in place to assist this diverse and growing portion of the population with achieving high educational standards. This iniatitive includes improving learning programs for ELLs and implementing innovative practices to support their unique needs. Also included is a proposal for providing grants to fund school districts specifically for implementing high-quality language instruction progams for improving the education of ELLs. Funding is used for a variety of ELL-centered educational programs such as dual-lanugage, transitional bilingual, and English immersion (O'Bryon & Rogers, 2010). In addition, grant funding is used for professional development of ELL teachers.
Impact of ELLs on School Operations
As stated, ELLs are a significant portion of America's student population. According to a 2005 study by the National Education Association, nearly 5 million ELL students enrolled in public schools in the United States. This number represents 10.3 percent of the total student population of public schools. The study also reports that the ELL student population is the fastest growing population in the U.S. public school system, with a 40.7 percent increase of ELL students since the previous decade. In addition, many ELLs are recent immigrants and more than 1 million immigrant ELL students enrolled in U.S. schools in 2001 (McKeon, 2005). It is significant to note that these statistics are from a 2005 study; therefore, it is likely safe to assume that the trend continues into the current decade with an increasing number of ELL students entering the population. This speaks to the impact that ELLs have on school operations. There is a great need for targeted, efficient and organized instruction practices to accommodate the specific needs of ELL students (McKeon, 2005). The image below shows a count of ELL students by state as of 2008 (Grantmakers for Education, 2010).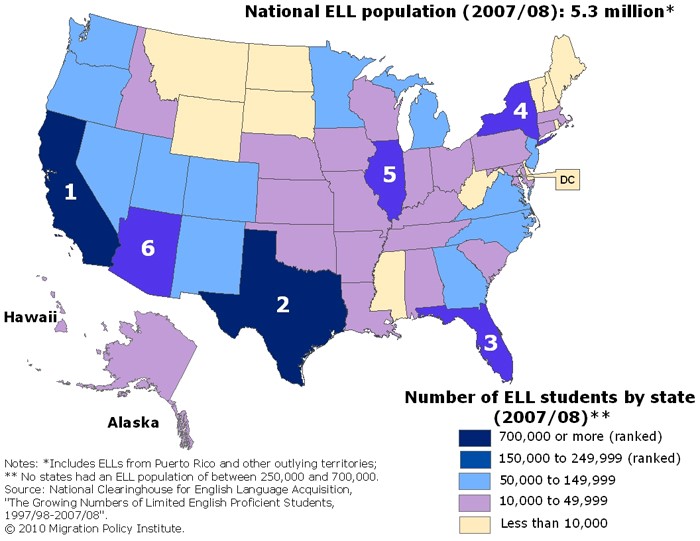 Source: Grantmakers for Education (2010).
In addition, the ELL student population counts include students from over 400 different spoken language categories, with Spanish (79%) and Asian languages (21%) being the most commonly reported native languages (McKeon, 2005), as illustrated below.
Languages Commonly Spoken by English-Language Learners
In the U.S. 2000-2001
| | | |
| --- | --- | --- |
| Rank | Language | ELL Students |
| 1 | Spanish | 3,598.451 |
| 2 | Vietnamese | 88,906 |
| 3 | Hmong | 70,768 |
| 4 | Chinese, Cantonese | 46,466 |
| 5 | Korean | 43,969 |
Source: Payan & Nettles (2007).
Continued Growth Trends of the ELL Student Population
According to a report by the Educational Testing Service, a nonprofit organization that administers and scores tests each year to more than 50 million test takers in more than 180 countries, a growing number of ELLs seek admission to U.S. colleges and universities (Payan & Nettles). Accordingly, the report mentions national education policy initiatives, as outlined in the No Child Left Behind (NCLB) Act, as having great influence on state actions concerning ELL students.
Best Practices to Educate ELL Students
As stated by Payan & Nettles, the "NCLB requires all states to identify English learners, measure their English proficiency, and include them in state testing programs that assess academic skills." This also includes a requirement of every state to implement proficiency standards focused at best practices to meet the needs of ELLs, and assessments are required to meet the same standards. In addition, the Department of Education's Blueprint for Reform proposes best practices for English learner education to include establishing new criteria for consistency in ELL student identification in every state, ensuring the validity and reliability of English language proficiency assessments, and ensuring accurate eligibility, placement, and duration of ELL programs and services.
The proposal also includes implementing an effective system to evaluate all language instruction programs for ELLs and providing statistical data on ELL student achievement levels. The purpose of this initiative is giving school districts the necessary information for making sound decisions about program improvements. Additionally, each state is required support the adoption and implementation of statewide grade-by-grade proficiency standards for college- and career-ready ELL student programs. The standards must link to the academic standards of the state's college- and career-ready programs (U.S. Department of Education, 2010).
Payan & Nettles (2007) outline best practices for ELL student initiatives from the perspective of national and state policy implementations, particularly the No Child Left Behind program initiative. In conjunction with the requirements mandated by No Child Left Behind program, all ELL students must have the opportunity to participate regular state assessments designed to evaluate their academic progress, along with other students in 3rd through 8th grade, and once while in high school. In reference to this, as a best practice initiative, all states must include the assessment scores of ELL students in determining the standards for Adequate Yearly Progress (AYP). Along with this, Annual Measurable Achievement Objectives (AMAO) for ELL students must be set by each state. These achievement objectives are in the areas of English-language proficiency and academic performance. The objectives are measured by progress in yearly English-language learning, attainment of yearly English-language proficiency, and improvement in yearly academic content areas (Payan & Nettles, 2007).
Additionally, as it pertains to best practices for ELL students, Rance-Roney (2009) states, "We need to move beyond the labels and implement proven practices that recognize students' diverse needs and strengths" (para. 1). This author focuses on adolescent ELL students and points out that educatin the ELL student population poses challenges to ELL teachers. ELLs have specific individual needs, based on several variables such as citizenship or immigrant status, education background quality, native language, cultural implications, permanent or non-permanent residency, and socio-economic status.
The author also cites Plyler v. Doe which proposes the right to an education for all adolescent ELLs, if they meet the state age eligibility requirement, whether they are citizens, residents, or undocumented. However, the addition of large numbers of ELLs to schools put them in jeopardy of making adequate yearly progress requirements. This is challenging because this puts schools at risk for funding and budget cuts. For this reason, ELLs are sometimes seen as burdens on schools and a drain on already limited resources, particularly when they present with low literacy levels and speak little to no English. With this in mind, the implementation of targeted principles and practices to facilitate improvement in academic achievement for adolescent ELLs is proposed, with responsibility for ensuring the success of this initiative in the hands of educators and school leaders.
The Role of School Leaders and Educators
As it relates to educating ELL students properly and ensuring that they are appropriately served, the responsibility is that of the teachers and school leaders. However, Rance-Roney (2009) reports that in many schools, the ELL teachers are left to fend for themselves in taking on the responsibility for teaching the ELLs, as well as for testing and counseling them. At times, ELL teachers are also left with translating for the ELLs and helping them with other non-curriculum related tasks such as editing college applications and tending to their healthcare needs. This is all challenging, especially because school leaders and other school personnel erroneously believe ELL teachers need no help because they are more in tune with the ELL students. This limits the ELL students' access to all of the school's resources.
Much of the challenge in teaching ELL students lies in how well the ELL teachers are prepared for the impact of the large presence of ELLs in the schools. ELL teacher preparedness is an important element of ensuring the students are well-maintained and appropriately taught. According to McKeon (2005), not many ELL teachers possess a degree in ESL or bilingual education and are less likely to have full certification. In addition, a 2002 study done by the National Center for Education Statistics revealed that only 12.5 percent of ELL teachers received eight or more hours of professional development training with a three-year time span. It is also reported that only 27 percent of ELL teachers felt they were very well prepared for teaching ELL students with limited language proficiency in English. In line with this, a majority of 60 percent of the ELL teachers felt they were somewhat or moderately well-prepared, and 12 percent of the teacher did not feel well-prepared at all.
Furthermore, school leaders are responsible for ensuring that ELLs have access to all of the school's resources. Rance-Roney (2009) proposes the creation of cross-disciplinary teams in the schools, comprised of ELL specialists, ELL content-area teachers, ELL-oriented counselors, school administrators and other staff geared toward ELL students. This is a way to give the ELL students full access to the school's resources because the leadership teams are charged with organizing ELLs' curriculum, plan cross-content projects, address their concerns, and also monitor each ELL student's progress throughout the school year.
Conclusion
The education of English Language Learners in America is a shared responsibility of the United States educational system and the nation, as a whole. It is an effort requiring the skills, experience and dedication of many. In addition, education reform is meant to positively impact the educational opportunity and delivery of all students, particularly ELL students in this country. The improvement of learning programs for ELLs and the implementation of innovative practices to support them in their areas of need is imperative (Rance-Roney, 2009).
In light of the initiatives, concepts and proposals concerning the importance of helping English Language Learners succeed in this country, it is without a doubt not contingent on race, ethnicity or socio-economic status, but it is contingent on the teachers in their classrooms and how well-prepared they are. As well, it is contingent on the strength of the American education system as a whole and the empowerment of the nation to ensure compliance of English-language learning initiatives, because as quoted by U.S. Department of Education's Blueprint for Reform, every child in America deserves a world-class education.
References
Grantmakers for Education. (2010, April 21). Education's Next Big Concern–That Not Enough People Seem Concerned With [Image]. Retrieved from Buzz: http://buzz.edfunders.org/?p=46
McKeon, D. (2005, June). Research Talking Points on English Language Learners. Retrieved from National Education Association: http://www.nea.org/home/13598.htm
O'Bryon, E. C., & Rogers, M. R. (2010). Bilingual School Psychologists' Assessment Practices with English Language Learners. Psychology In The Schools, 47(10), 1018-1034.
Payan, R. M., & Nettles, M. T. (2007). Current State of English-Language Learners in the U.S. K-12 Student Population. ETS Research and Assessment of English-language Learners. Educational Testing Service.
Rance-Roney, J. (2009). Best Practices for Adolescent ELLs. Educational Leadership , 66(7), 32.
Toppo, G. (2009, January 8). Literacy study: 1 in 7 U.S. adults are unable to read this story. USA Today.
U.S. Department of Education. (2010). ESEA Blueprint for Reform. Washington, D.C.: Office of Planning, Evaluation and Policy Development.
Time is precious
don't waste it!
Plagiarism-free
guarantee
Privacy
guarantee
Secure
checkout
Money back
guarantee