Travel Guide to Lebanon, Capstone Project Example
Lebanon is located in the Middle East bordering Israel and Syria. The capital city is Beirut. It has a population of 3,971,941. The Constitution of Lebanon states in Article 11 the official language is Arabic however French and English is spoken by most of the population. There hasn't been a census since 1932 due to the sensitive nature of the politics where ones religious affiliation is the most important thing in the country. Any major shift will have massive political ramifications. Therefore the population numbers are estimates based on births and deaths. This sectarian division between the people is a consequence of the past.(Carlton, 1996)
France was given mandate over Lebanon and Syria after world war one. The Breakup of the Ottoman Empire led to a scramble for colonies by the 'great powers.' The French decided to split Syria from Lebanon in order for there to be a Christian majority in 1920. After 20 years of administration by the French Lebanon declared independence on Nov. 26, 1941.(Carlton, 1996) A National pact after independence lead to the power being divided as follows. The president would be Christian the prime minister Sunni Muslim and the Speaker would be Shia. This has maintained uneasy peace which breaks down from time to time and civil war has been known to have broken out in various times in her history.
In 1975 civil war broke out between Christians and Muslims. In 1976 Syrian get involved at the behest of the president who is Christian and the troops side with the Christian president. The troops are used to control the Palestinians who are refuges from Israel who were evicted by Israeli troops from their land systematically since 1948.All of her Neighbors have been involved in the internal affairs of Lebanon and is a major source of the conflict within. The civil war comes to an end more or less in 2005. There has been relative peace since. (Carlton, 1996)
Lebanon is not what you would imagine its weather is Mediterranean, there are mountains and yes skiing too. It is a beautiful and ancient place. Pictures are better than words.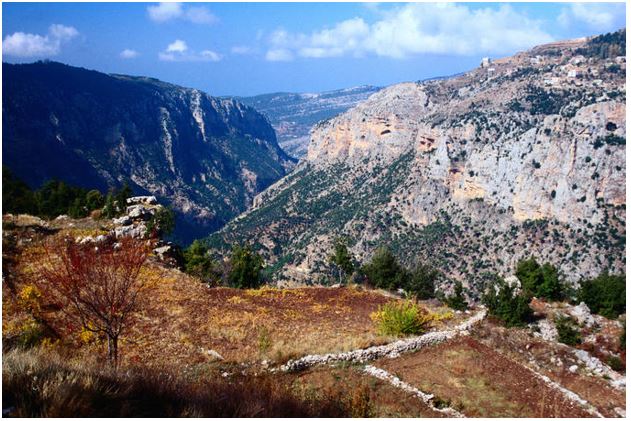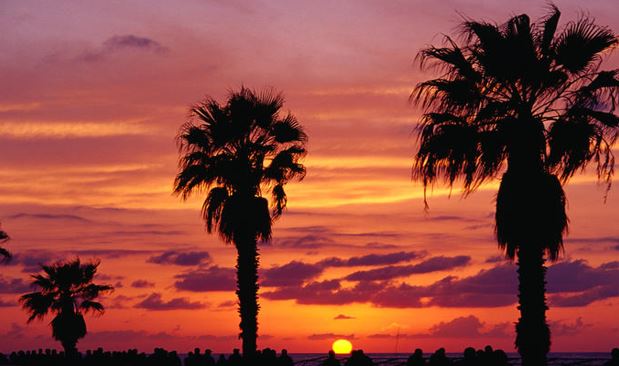 Strolling along the Corniche in Beirut.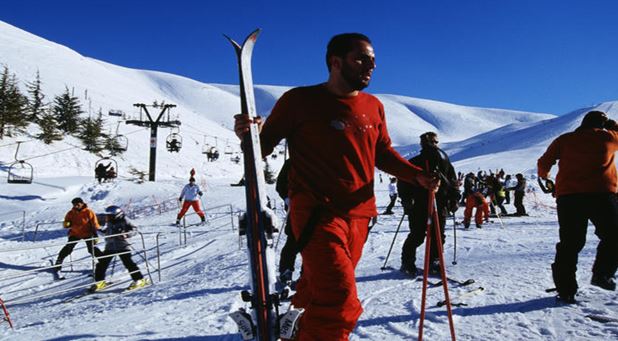 Skiing in Summer between June and August.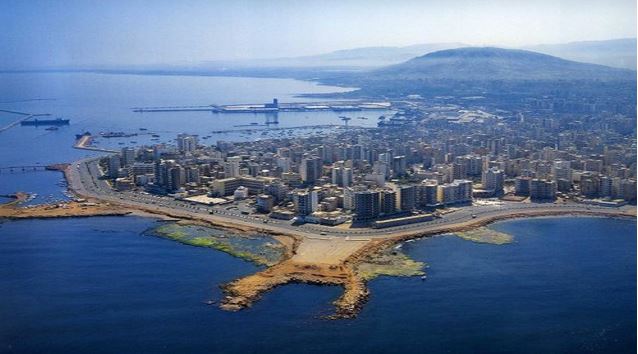 Tripoli aerial view.
Itinerary
Day 1 Beirut
Arrival at the airport. Visas are issued at the airport for US citizens however if you have an Israeli visa they will not grant you a Visa and you can even be deported or worse arrested. (travel.state.gov.2009) The New York Times voted Beirut the number one City to visit in 2009. The Safir Heliopolitan is minutes away from the airport and is 5*. It is in the Prestigious Raouche area and it has a good view of the sea. It is close to all major shopping malls and restaurants. It is 155 dollars for the Grand Deluxe Double Room has a partial sea view and includes Wi-Fi, LCD satellite tv, Coffee/tea making facilities and a sitting area. On the first night it's about getting rid of Jet lag. Take a walk in the evening after arrival. (Safir Heliopolitan Hotel,2012)
Day 2 Beirut
Morning go south to Tyre.  Visits the public baths, Hippodrome and  triumphal arch. From there go to Sidon in south Lebanon there proceed to the souks for shopping. Then on to the Sea castle an old crusader castle. On the way back visit Maghdouche church. For dinner visit any one of the restaurants seen in the evening walk and back to the Hotel. (McGowen,1989)
Day 3 Beirut
Go down town to the museum which has 60 centuries of history in them. Then depart to Chouf Mountains to see the Christian town of damour. Then proceed to western slopes of Massif or Jabal Barouk Mountain. Chouf is where the druze Christians live and there is a wonderful palace Beiteddine. Then the monastery of the moon also known as Deir al Qamar(McGowen,1989)
Day 4 Beirut
Move North to Becharreh birth place of the infamous poet and writer Khalil who wrote the book the prophet. Then move on to Qadicha, "Holy Valley" where there are many monasteries you can go to. Then on to Cedars the trees that are famous in Lebanon.
Day 5 Beirut
Visit Tripoli to see St.Gilles and explore the narrow streets and see the souks and shops. Then on to Rachana in the south of Tripoli to museum village and have lunch there.  Then go see the Balamand monestary. Then back to the hotel. Visit the many bars for a night cap.
Day 6 Beirut
Departure to Chtaura , continue our route to Baalbeck, the famous site for  ruins of the Roman period. Lebanon's Roman treasure, and some of the biggest and best well-preserved Roman remnants. See Bacchus Temple, Jupiter's Temple, and Temple of Venus. Drive to Ksara, this is the wine region for some wine tasting. Lunch in a local restaurant. Back to the hotel.
Day 7 Beirut
Get packing and begin check out procedure with hotel. The whole trip would cost 1038 for the hotel 1000 dollars travel expenses and tours. 2000 dollars for shopping and food.
Citation
Carlton Reid, Kathryn Leigh, Jamie Kennedy., "Lebanon, a Travel Guide" PELICAN PUB CO. 1996 Print.
Lebanon Country Specific Information. travel.state.gov. Web. Apr 1 2012
Lebanon, Wikitravel. Web. Apr 1 2012
Cheap Flights from Miami to Beirut.' Farecompare. Web. Apr 1 2012
Safir Heliopolitan Hotel. gc.synxis.  Web. Apr 1 2012
(PDF) World Population Prospects, Table A.1. 2008 revision. United Nations Department of Economic and Social Affairs. 2009. p. 17. Retrieved 1 Apr 2012
McGowen, Afaf Sabeh "Historical Setting". In Collelo, Thomas. Lebanon: A Country Study. Area Handbook Series (3rd ed.) 1989.  Print.
Time is precious
don't waste it!
Plagiarism-free
guarantee
Privacy
guarantee
Secure
checkout
Money back
guarantee