Back to School Offer
Get 20% of Your First Order amount back in Reward Credits!
Get 20% of Your First Orderback in Rewards
You Decide Transcript, Case Study Example
This Case Study was written by one of our professional writers.
You are free to use it as an inspiration or a source for your own work.
Need a custom Case Study written for you?
HIRE A WRITER!
In charge of planning the event
David Smith the event co-ordinator should be placed in charge of planning the event for next year, subject to finding a suitable replacement.  This means providing him with the delegated authority to perform and carry out this function. David has clearly demonstrated that he understands the nature of the role and has previous experience in this function. It is clear that a formal organization chart needs to be drawn up showing the role of the event planner and those reporting to him. In addition his superiors in the reporting line for any actions that require escalation and Executive approval.  Further there is a need to produce a formal job description that shows the role and responsibility of the event planner, together with suitable selection metrics to evaluate the candidate.  Leadership qualities will be an important part of this.
Path Goal Leadership style is one such quality that should be explored. This type of leader encourages and supports their co-workers in goal attainment by establishing a course that is both easy to follow and understand.  This makes it easy for them to work and achieve their objectives.  This leadership style would be particularly effective in an educational administration context.
This type of leader has four key attributes:  that of being supportive, directive, participative and achievement oriented.  This leader wants to work with you in getting the job done and achieving success.
Effective Organization charts
The best type of organization chart for this purpose would be that of a functional hierarchical chart. These show the relationships that exist between specialist positions i.e. The Event Planner and the other areas that interface with this role.  The specialist normally has delegated authority to insist that line Managers carry out his / her functions.  Basic hierarchical diagrams illustrate both horizontal and vertical reporting relationships; see example below that shows basic organizational hierarchical chart and other representation forms.
There are numerous software packages that assist in the compilation of these charts, for example E-Draw, Smartdraw, Visio etc. (Christine Irwin, 2011)
Other Techniques for tracking event history
The concept of Project Management planning  will help in the tracking and planning of event history.  There are three important charts here: (i) A timeline or Gantt Chart that show activities, tasks and milestones over time  (ii) A PERT chart that illustrates the critical path and dependencies between varying activities (iii) A Milestone Chart that illustrates the key deliverable or key events that take place.
Gantt Chart –  In order to develop a Project Schedule you will need to obtain a number of important pieces of information.  Most of this information should be obtainable from the Scope and Definition Report of the project. A Gantt chart is the best way of illustrating both a timeline of events and a Work Breakdown Structure (WBS).  These are normally structured in a hierarchical sequence of Phase, Activity, Task, Sub Task and Milestone and often termed Activity Based Planning. (Meredith, J.R.  2008).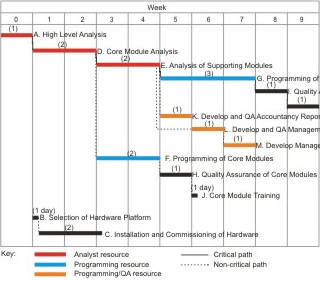 PERT Chart –  A PERT chart is produced to show the relationship between the varying tasks in the plan.  These dependencies can also be used for Critical Path Analysis (CPA) to show the shortest time to complete the project.  This helps in the reordering of the work contained within the work breakdown struicture in order to facilitate the most efficient means of delivering the project on time, within budget and to specification.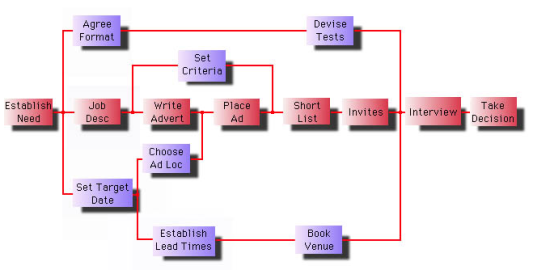 Milestone Chart –  This is essentially a simple timeline diagram that is used to track and record the key events or deliverables over time.  It is extremely useful in order to see the big picture or helicopter view of the project and demonstrate where the key events will take place on the project.  Gantt Charts are also capsable of recording this information and producing milestone chart reports.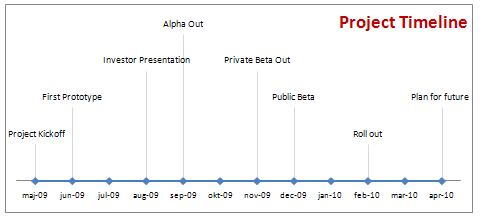 The goals of the University are to ensure that the event is delivered in a timely fashion and meets all of the stakeholder requirements.  As such proper project management planning would be considered critical in terms of goal attainment.
Building Effective Checklists
By way of illustration a concept of a Project Management checklist using PRINCE2[1] will be discussed.  The checklist is to ensure that all of the required products are accounted for within the event process. In order to compile this for the various elements of the event, the following procedures would be followed:
List all of the products or deliverables that will be delivered and completed in the event;
List these in order of time delivery sequence according to the plans
Record the planned completion dates for each of these products
Provide a column for recording the actual completion dates
Analysis for plans and actuals might be over three categories:

Draft Ready
Quality Check Completed
Approved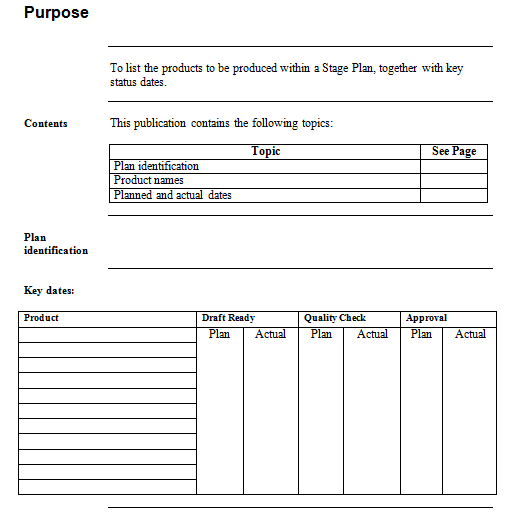 There are varying approaches to the compilation of checklists and this is offered as one type of example related to project management of an event.  They can be customized in accordance with specific needs but are essentially an 'aide memoire'  or completeness check in order to ensure that there are no missing components.  The checklist should correlate to the milestones that are produced on the project plan and Gantt Chart.  More sophisticated software applications facilitate this approach in the compilation of Work Breakdown Structures (WBS's).  (Hobbs, P. 2002)
References
Christine Irwin, P. C. (2011). Organization Design: A Guide to Building Effective Organizations. London: Kogan Page.
Hobbs, P. (2002). Project Management. New York: Dorling Kindersley .
Jack R. Meredith, S. J. (2008). Project Management: A managerial approach. New York: John Wiley.
[1] A UK project management methodology PRINCE2
Stuck with your Case Study?
Get in touch with one of our experts for instant help!
Messenger
Live chat
Time is precious
don't waste it!
Get instant essay
writing help!
It's a Free, No-Obligation Inquiry!
Plagiarism-free
guarantee
Privacy
guarantee
Secure
checkout
Money back
guarantee
Get a Free E-Book ($50 in value)
How To Write The Best Essay Ever!