High School Salutatorian, Speech Example
This Speech was written by one of our professional writers.

You are free to use it as an inspiration or a source for your own work.
It is both a privilege and an honor to be addressing you all on such a momentous night.
All of our lives, we've heard about other people changing the world. Take history class, for example, where we learned about iconic figures such as Lincoln and Martin Luther. That's all in the past now. It is our turn to accept the torch of change and instigate our own change within this world. With the responsibility of education comes great power, and we must take it upon ourselves to assume our rightful position.
If there's anything I learned in my four years here in high school is to believe in myself. While it may sound corny at best, the constant encouragement by my teachers have instilled in me a yearning to want to be successful, and I'm not the only one. Each and every one of you has come to understand that in order to change something, you have to do it yourself. This means that no one will be willing to put in the hours necessary to make the change that you want to see.
Not too long ago, none of us had any idea of where what we wanted our life to be like in the next few years, but now, as we have grown older, we have become more aware of what we really want. Keep your eye on the prize, Class of 2015. High school has taught me to always give back to my community no matter where I am. We've been so blessed to have an amazing education, so we should use this education to empower other individuals. We will not not fail. It is up to us to collaborate in problems in order to fix society.
Look around you. In this auditorium here today, we have individuals who plan to do great things with their lives. These people will without a doubt be change-makers. I'm talking about us. We are the future, and it is time to prove it. Through our four memorable years of high school, we have been able to become the men and women that we are today. It goes without saying that if anyone is to change the world, it will be us. There are those who don't believe in our generation, which is why it is our responsibility to work hard to prove them wrong.
Never forget where you came from, Class of 2015. Always humble yourself when you succeed and pick yourself up when you fail. After all of the long nights of studying and all the fun nights with friends, we finally made it. I guess hard work really does pay off after all. While we may be going on our own separate ways, we will always have the cherished memories that we have made on this unique adventure. As for me, I would have not chosen any other class than the one I received.
My experience in high school is one that I will always hold true to my heart. The friendships I made I know are meant to last a lifetime and I can only hope that my friends feel the same way about me as I feel about them. We may be scattered across many universities in various countries years from now, but we will always have that touch of unity within us, for we all intend to maximize the manners in which can impact the world significantly.
Be a leader, not a follower, but keep in mind that a leader has been a follower at least once in his or her lifetime. We came into high school as sheep, and today, we leave as lions. Ferocious. Risk-takers. We are here for a purpose, and while some of us may not have that sense purpose yet, life is about finding that certain purpose. From this day on, let it be known that as long as we stand together, we are unstoppable. Class of 2015, never settle for mediocrity.
Whatever career you may choose, whether it be the humanities, the sciences, or the politics, thrive in that area. Excel and achieve more than you could ever have imagined so that when you are old and all you have left are memories to look back on, you will know that you were the epitome of success and an exemplary humanitarian to follow. Realize that it is okay to break the rules sometimes. Create and follow your own dream, not someone else's.
We are blessed to be part of a generation that is at the peak of innovation. We know that we can do amazing things if we are willing to give it our all. Years from now, in our high school reunion, it will not come as a surprise when I come to the realization that each and every one of you has come so far in their own life. Godspeed, everyone.
With this speech, I big you all farewell for now, my friends. Even if you don't realize it, this class has inspired me throughout my high school career, so I hope this pep-talk serves as a good payback for all that you have done for me. I know that we will all meet up once we are on top of the world, running it.
Last but not least, remember that in between all the studying and the hard work, it's okay to have some fun once in a while.
On behalf of the class of 2015, it would be my honor to extend our appreciation to our parents, our teachers, the administration, and all of those remarkable people who have pushed us thus far in order to be closer to attaining our dreams. It is because of your constant dedication and individual attention that we have never allowed failure to overwhelm us. You will never be forgotten. As a wise man once told me: "I dare you to change someone's life for the better." And so, I challenge you, class of 2015, to impact society in a way that changes the world. Most of you probably won't remember half of the things I've said here tonight, but if you do intend on recalling something years from now, remember this: Our mission is to cultivate this Earth and declare it our own.
Time is precious
don't waste it!
Get instant essay
writing help!
Plagiarism-free
guarantee
Privacy
guarantee
Secure
checkout
Money back
guarantee
Get a Free E-Book ($50 in value)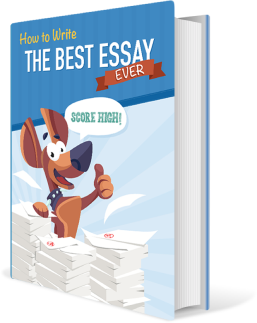 How To Write The Best Essay Ever!